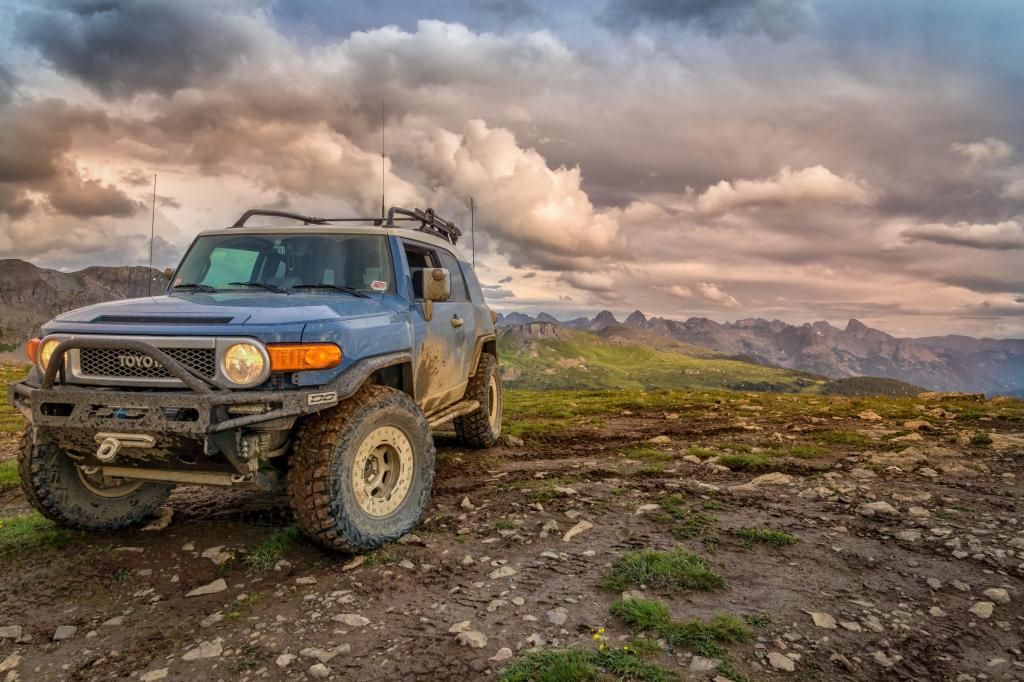 I'm not sure how much of a build thread this will be since I didn't start with any sort of plan and haven't documented much with pictures or whatever. I've never modified a vehicle before and didn't really intend to with my FJC, but I'm addicted to wheeling so all of this has just been a means to make that a more enjoyable and breakage-free experience.
I bought my FJC new in February, 2011. I can't remember what option packages it had, but it has a locking rear diff and ATRAC. Here is an early pic of it with less than 100 miles on it: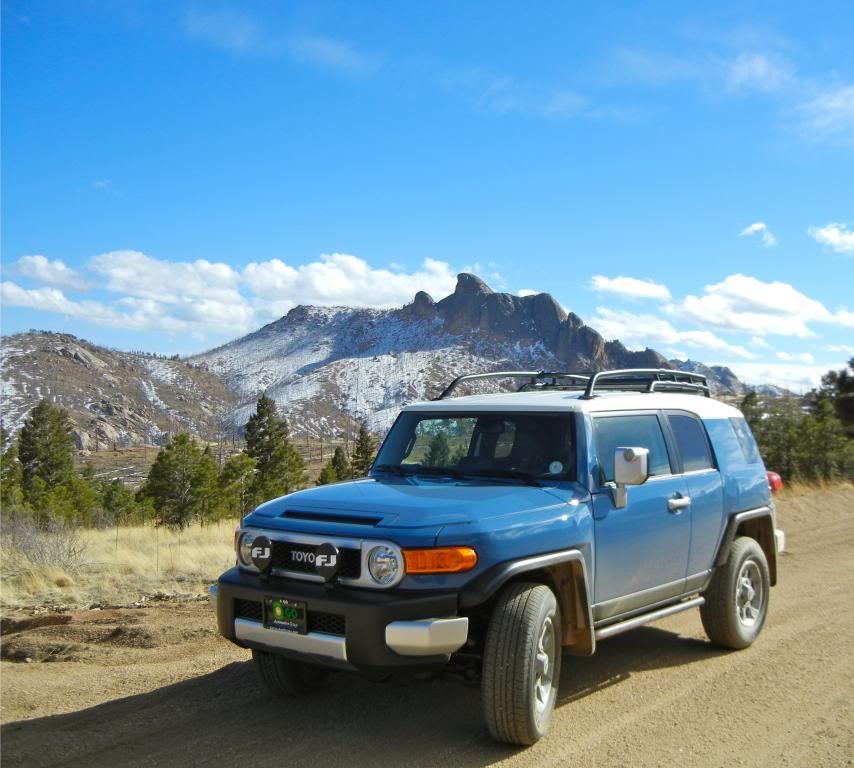 Here's an article on the TLCA Toyota Trails website that mentions my FJC when it was stock (there's a username and password mentioned at this link, with a link to the actual article):
Home | FJC Magazine - For FJ Cruiser Owners and Enthusiasts
The evolution, starting with Thanksgiving 2011 Moab trip: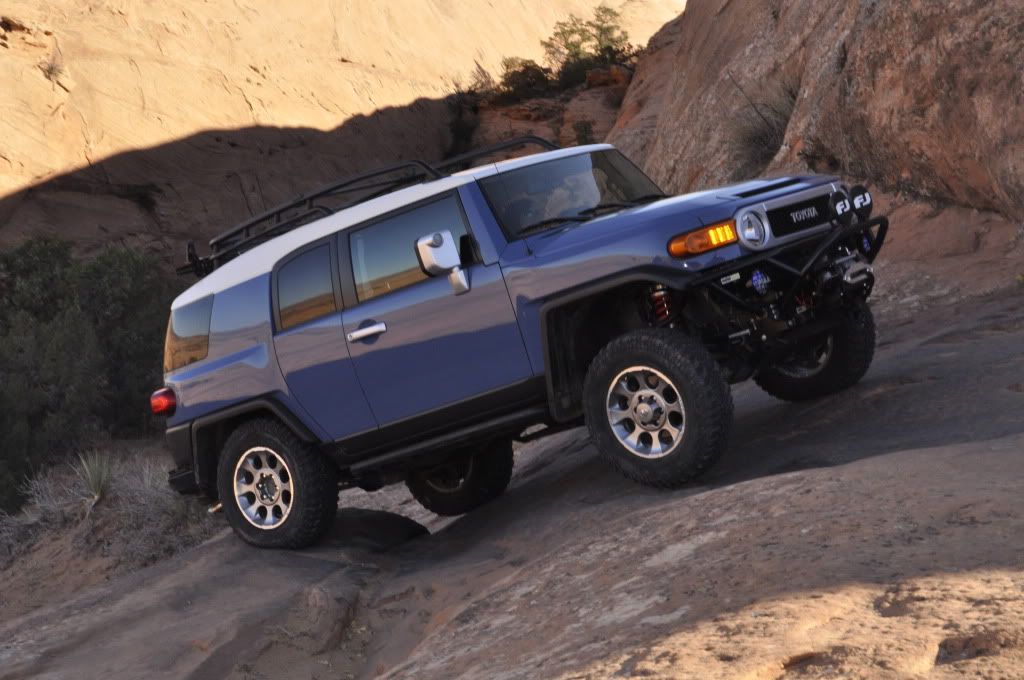 2/12/2012 Chinaman Gulch trip:
4/7/2012 China Wall: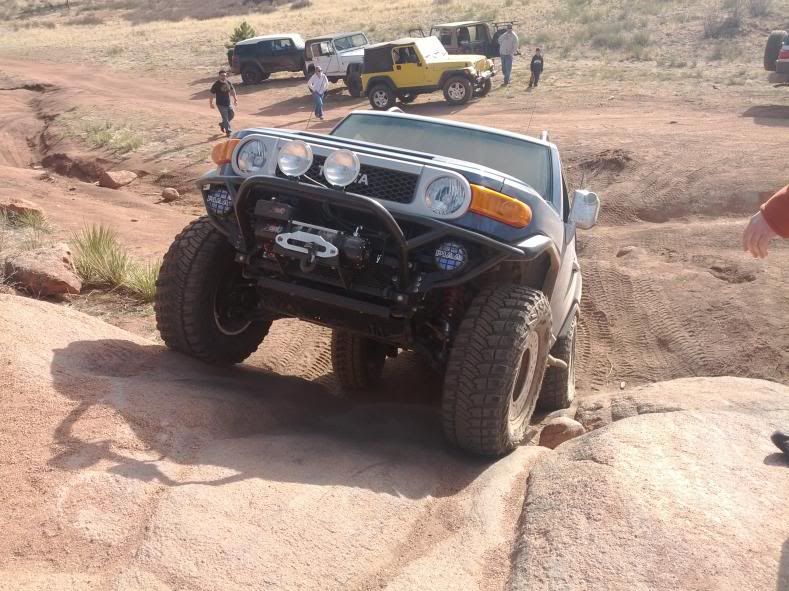 4/30/2012 Top Of The World: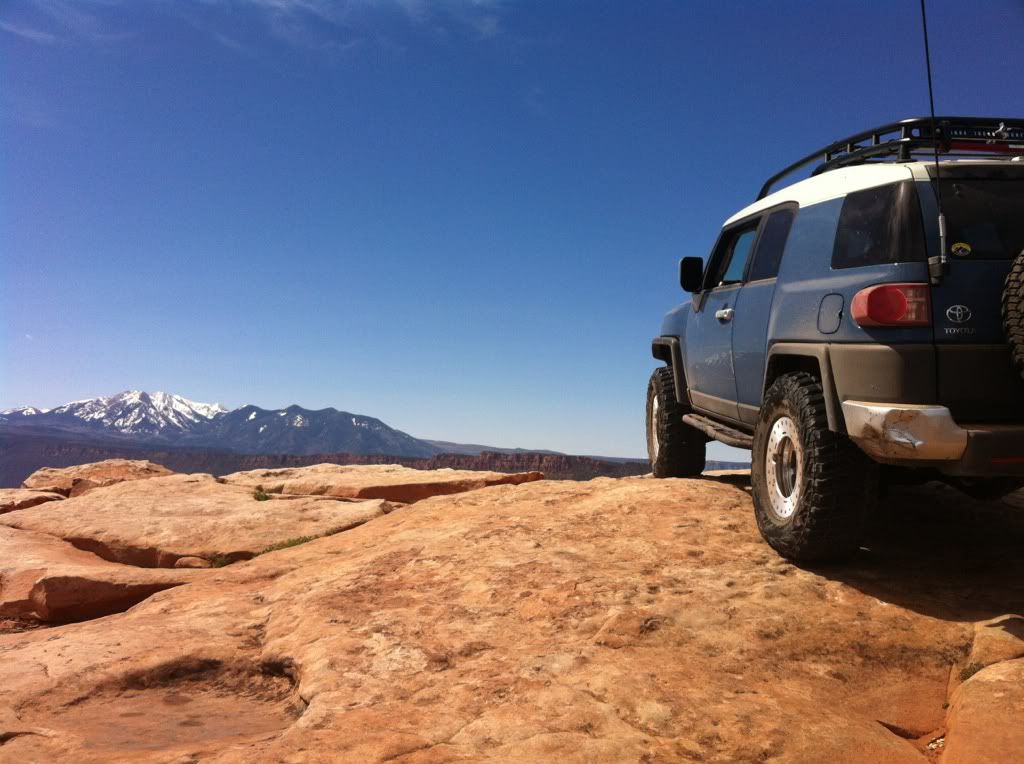 6/24/2012 Ironclads: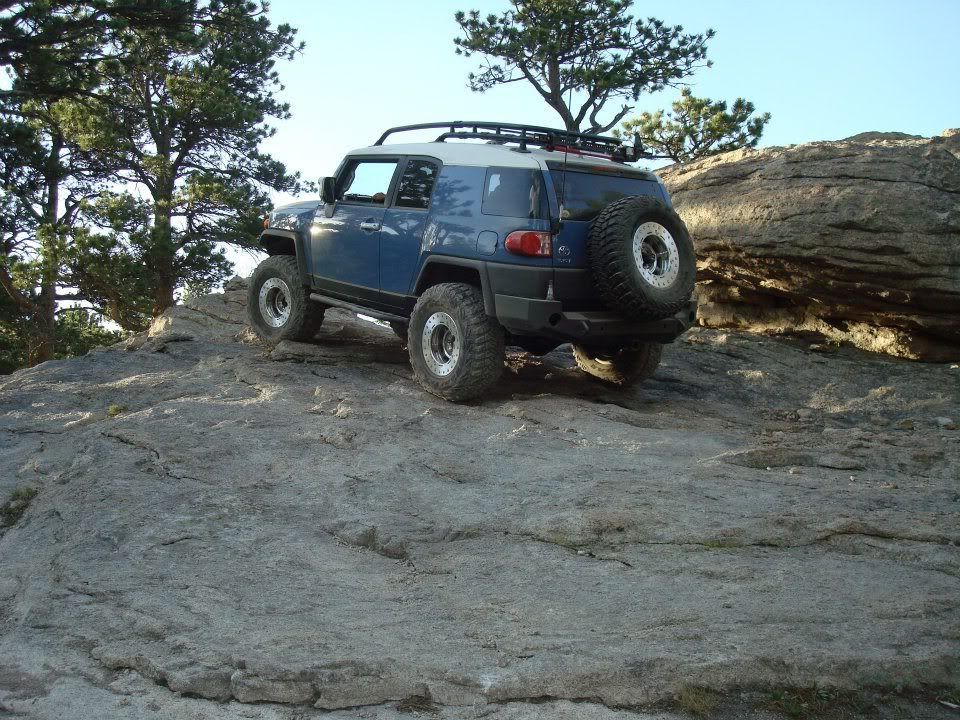 7/22/2012 Ouray: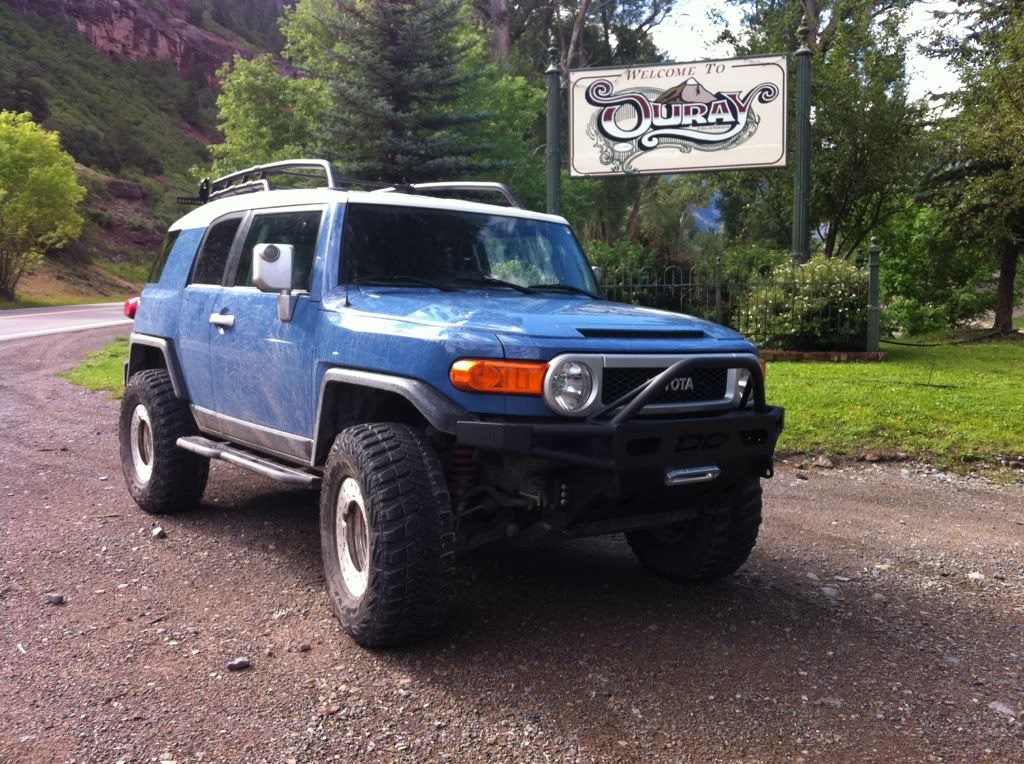 8/5/2012 Spring Creek:
9/4/2012 Rubicon Trail:
9/29/2012 Holy Cross: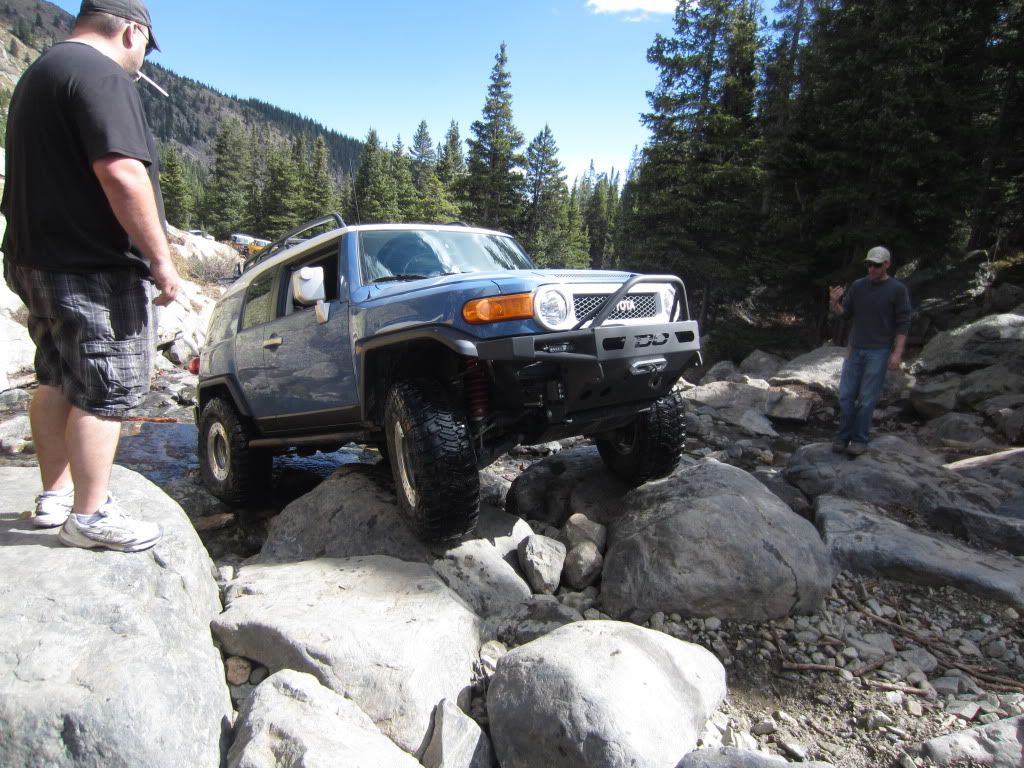 8/23/2014 Blanca Peak:
With the exception of any welding, I've done all of the modifications so far myself with the help of friends and family. I really want to learn how things work and I've been surprised at just how easy the FJC has been to work on (so far).
Ok, here's the list of stuff:
Suspension
ToyTec Ultimate 3" lift
"Digger" rear lower links (destroyed)
Toytec/Rokmen alminum rear lower links w/johnny joints
Light Racing front upper control arms
Custom rear bump stops thanks to Briareos (removed)
Toytec aluminum rear bump stop extenders/relocators
Armor
Demello 3 stage hybrid kick-out sliders
Outrider suspension armor (everything except the diff skid; leading edge of rear link front bracket skid welded to frame)
BudBuilt bash, engine, transmission skids
Wheels/tires
Goodyear MT/Rs 35 x 12.50 R17
BFG KMs 255/75R17 (removed)
Trail Ready HD Beadlocks 17 x 8.5, 3.5 BS w/Rock Ring
RimRock RADS (built-in deflation valves)
Exterior
DeMello Offroad Rally front bumper
MetalTech Red Eye rear bumper
Rigid SR-Series 6" LED lights in the front bumper wings
MetalTech tube front bumper with winch plate (removed)
Hella 500 driving lights (removed)
PIAA 540 fog lights (removed)
Bandi mount
Expedition One rear bumper w/tire carrier (destroyed)
Interior
MPAC HD side rack
10 lbs. PowerTank CO2
Fire extinguisher
Recovery
48" Hi Lift (removed)
60" Hi Lift Extreme
Hi Lift road base
Hi Lift winching kit
Hi Lift 5-piece shovel/axe/sledge hammer/pick axe kit
ARB snatch strap
Bulldog static tow strap
Smittybuilt XRC10 comp series winch w/synthetic line (wore out winch line and replaced)
MasterPull 100' synthetic winch line (blue)
Rocktek rock rail Hi Lift adapter
Red Rock 4x4 12K lbs. land anchor
12K lbs. come-along
An assortment of d-rings
some chain
Other
Staun deflators (set ~15psi, set 7psi)
Cobra 75wxst big bill combo
Yaesu FT-60R VHF/UHF transceiver w/magnetic external antenna
Yaesu FTM-400DR Dual Band transceiver
Diamond K9000 motorized antenna mount
GoPro HD Hero3+ camera
Off-road camping trailer with roof-top tent (sold)
Special Thanks
Demello for the sliders (forum give-away) and the front bumper
FJinCO for technical support and showing me what an FJC is capable of
Old Cruiser, Chris Delancy for responding to all of my PMs bouncing ideas off of them constantly
jimmy-buffet for helping me feed the addiction the first couple of years
Pics with the trailer: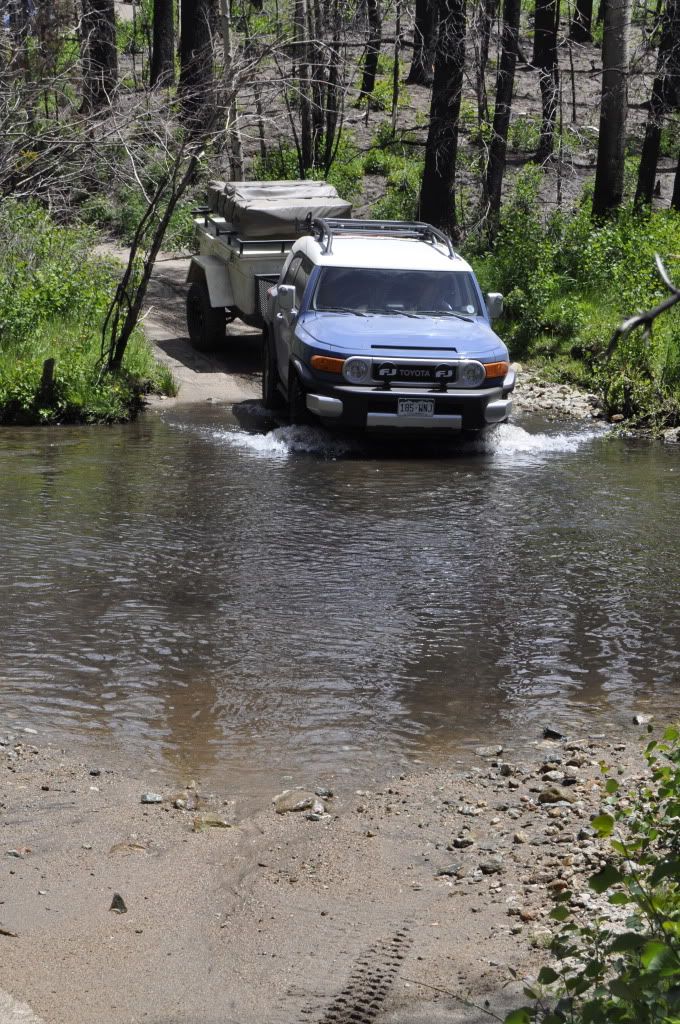 Advertisement with my FJ in it: