Discussion Starter
•
#1
•
This is the ToyTec that includes the custom rear springs, and I got the n71e rear shocks. I got 4" of lift in the front!!! The back is about 2 3/4". I know it will settle some but right not it seems huge. It actually raised my front bumper 5". Way better approach angle. The FJ sits almost level, with the back being slightly higher. This was installed yesterday, and I went wheelin today. Didn't feel, or hear, a thing on the bottom. Here are the before and after lift pics. Notice the difference from the top of tire to the bottom of flare.
before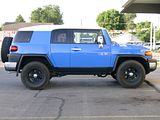 after
I haven't had a chance to put on the 295's, but there's plenty of room.
The ride in front is a little more firm than stock, and the back feels smooth as stock. Doug and ToyTec are great, give 'em a call.