Discussion Starter
·
#1
·
Marlene and I started packing the FJ up for the trip and found out that we did not have enough room for all the camping supplies and my three kids. Because she is such an awesome Girlfriend she bought me this for the trip: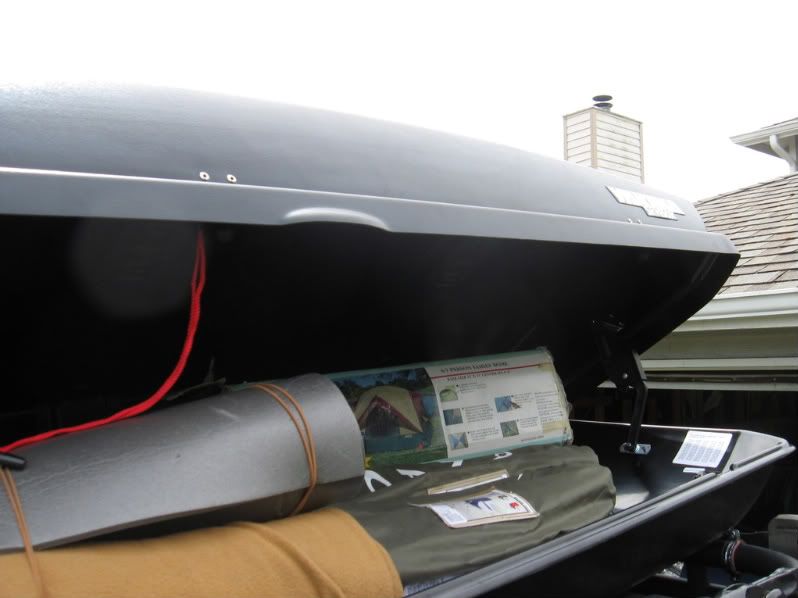 Even with the carrier the back was still full. We took I-90 over the pass since 410 was still closed. I could definitely feel the weight difference as we climbed the mountain. I watched the gas gauge drop as I listened to the engine revving at about 4000 rpm @ 75 mph on some of the steep inclines. That TRD cold air intake gets loud. I used the GPS coordinates that Jeff posted (Decimal Degrees (WGS84) Latitude 47.020432 Longitude -121.139627). We ran into trouble last year on the Brown's Camp run when GPS put me about 20 miles away from where we were supposed to be (user error). When we did not see any other FJs I began to panic a little. I hopped on the CB on channel 16 for the corresponding day as posted and Curtis answered back. We were about 200 yards from the camp! Chris, Jamie, Curtis and Mary already had camp set up. Chris said the original campsite was under water due to the rapid melt off of the snow and the raging river. Marlene and I struggled with the tent a little bit so Chris jumped in to give us a hand. Thanks Chris you saved a fight. Dave had left Ellensburg around 1200 PM and was supposed to save me a camping spot. Well he was not there yet. He showed up a couple hours later and had a story of scouting out the area for us (He just got lost). Here are some pictures of our campsite: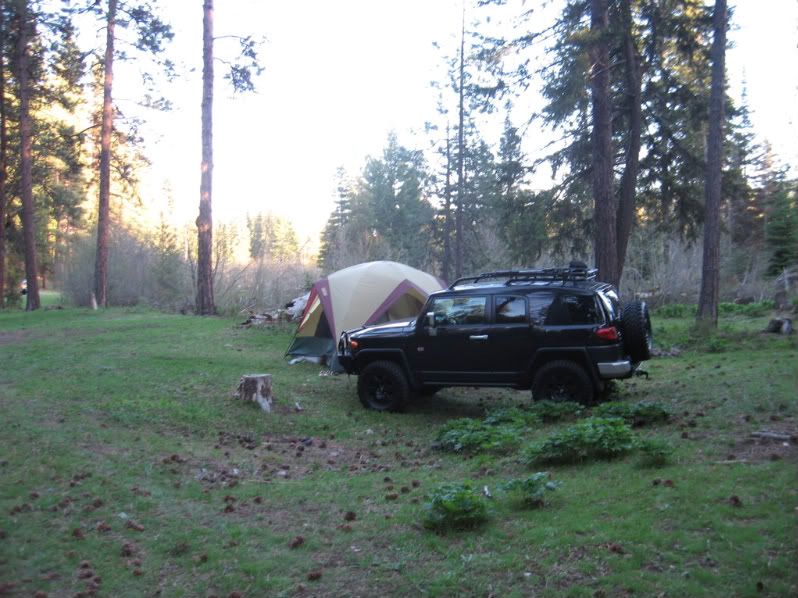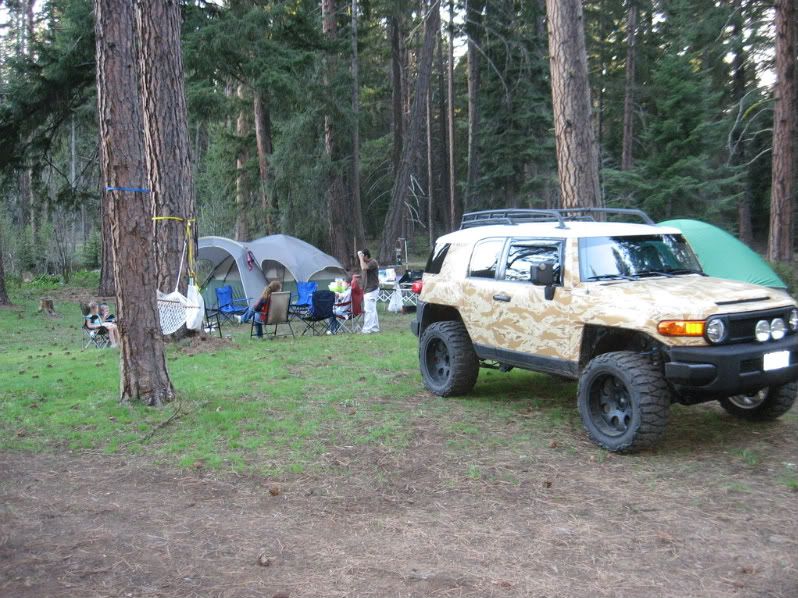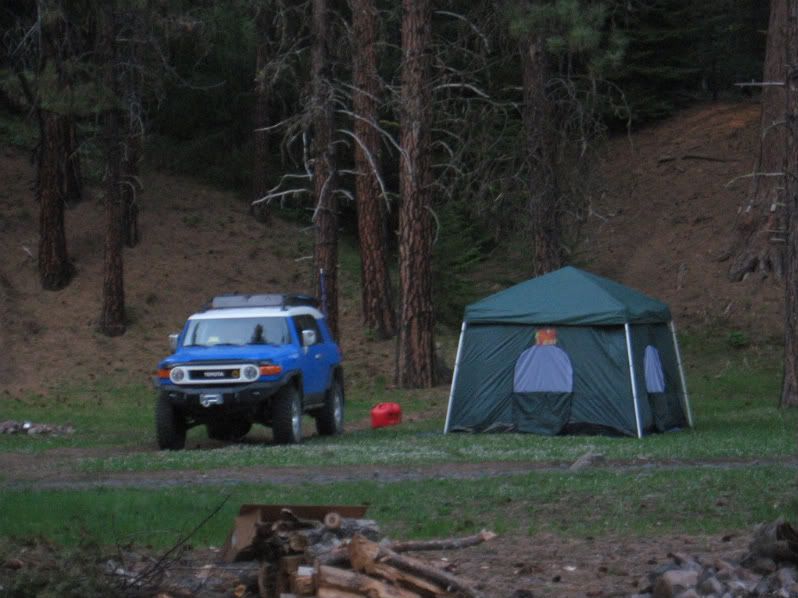 Curtis made some great chili. He was concerned due to forgetting the tomato paste but it was still very tasty. I loved the big chunks of steak. After dark and the chili Curtis wandered out to find so more FJs. He came back with Joe and Jesse in the Sandstorm and Tim and Ryan in the Iceberg. After diner: (Yes Marlene is old enough to consume intoxicants!)
Everyone was settled in we all gathered around the camp fire (Started by a flare compliments of Dave and KCSO) and toasted smores: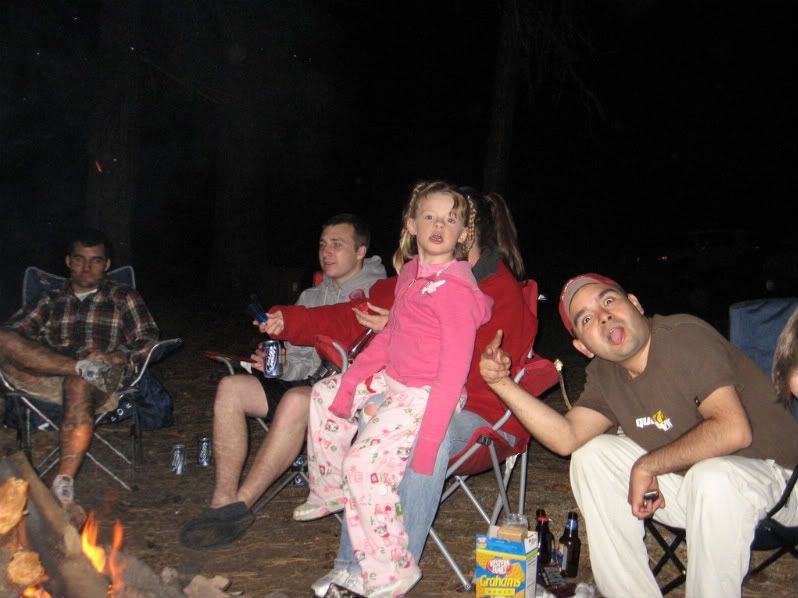 The next morning we are all ready to hit the trails but Joe and Jesse are still sleeping in their tent. We sent in my little minions to handle the situation: (The one on the right, McKenzie was the best at it)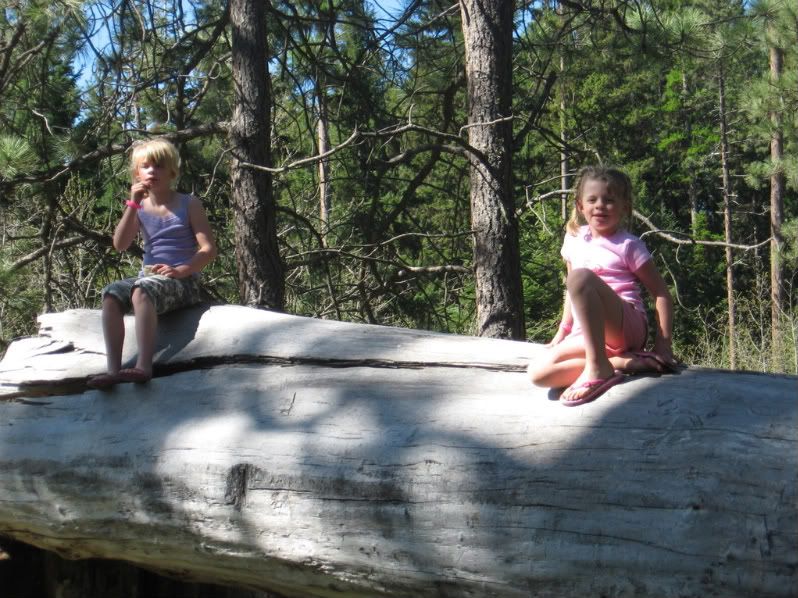 After some screaming and tent shaking Joe and Jesse joined us for breakfast. We hit the trails and started it off with a Bang. We probably should have taken some lighter trail beforehand due Tim's first time out 4x4in in the FJ. He did great though. We hit the 676 trail off of Quartz Rd. There was some serious pucker factor involved due to the steep inclines and declines. Dave was ahead of me with my daughter McKenzie in his car she "Loved Jessica" At one point he took a weird line and he was on three wheels sliding down the hill. I should have taken a picture but all I could think of was my daughter in his rig! If you look at my inclomentor you can see in is almost pegged out on this decent: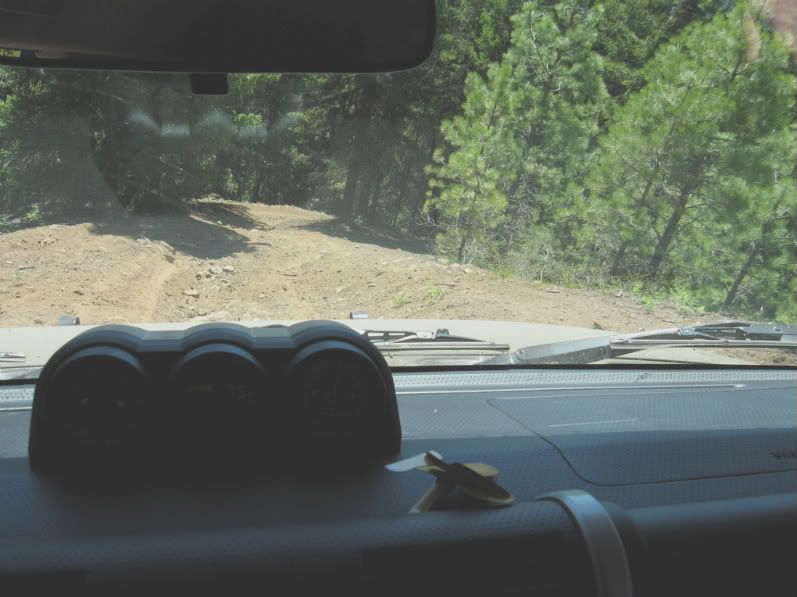 A word to the wise, do not forget to take your rear locker off before making a step decent. It shuts off your ABS and you don't have the control you would otherwise have. Curtis noticed my tires locking up on the way down. I figured out why on the next day's run. We stopped at the bottom to let our (most of us) racing hearts slow down: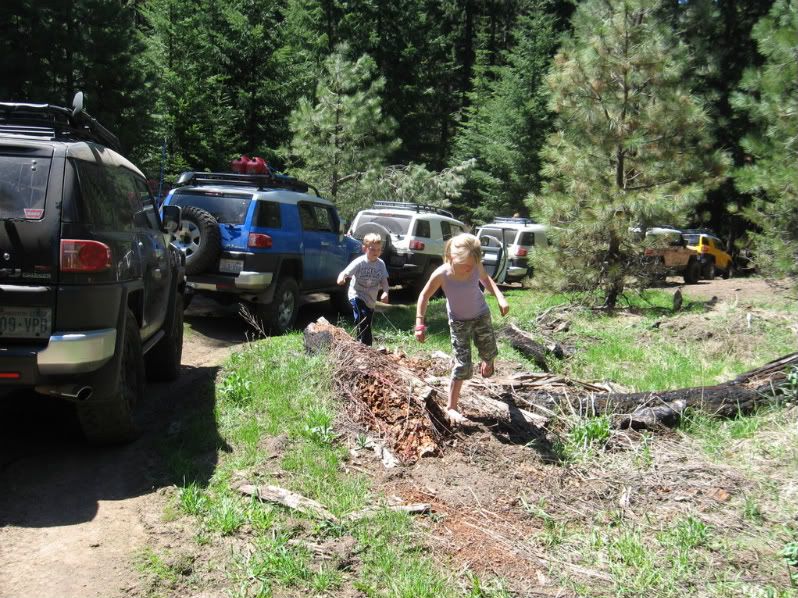 After the 676 we decided to try to make it to Moon Rock/Funny Rock due to how hot and dry it was out there. This is us on the way out: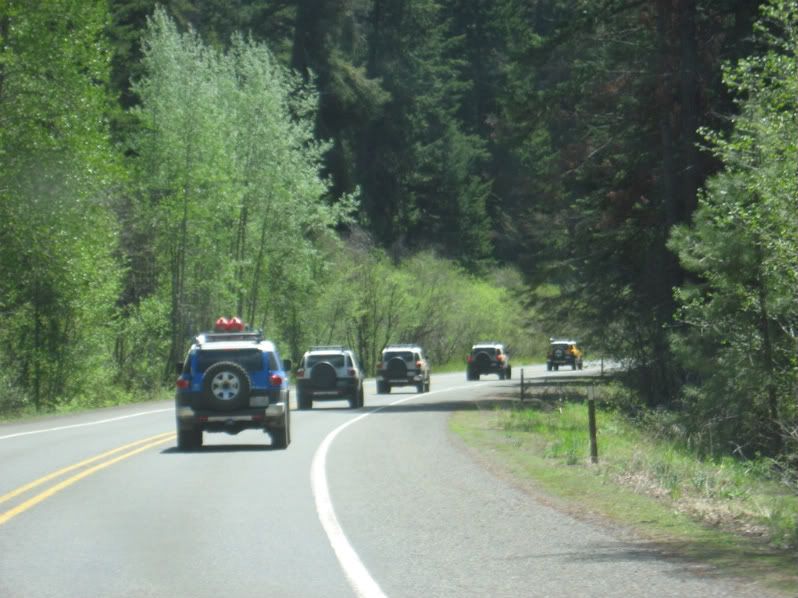 We took Bald Mountain Rd and the scenic route towards our destination and saw several Elk: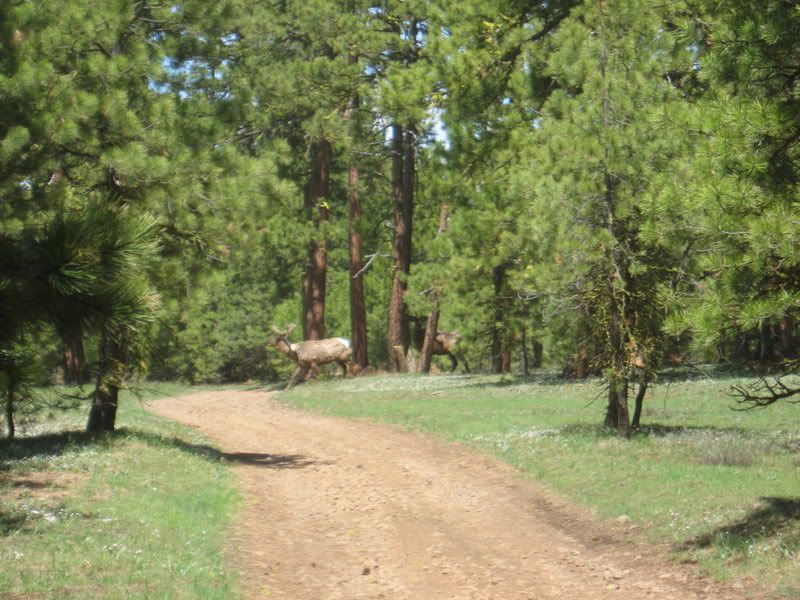 We came close to getting there but were stopped in our tracks due to about two feet (in places) of snow covering the shaded part of the road. Dave attempted to traverse a portion of it but it was too much snow to push as it was wet and heavy. We took some side trails in the area and found some mud puddles to play in. Dave won the splash contest:
You can see Curtis in the back ground of Dave's Run. We even peer pressured Him to give it a try: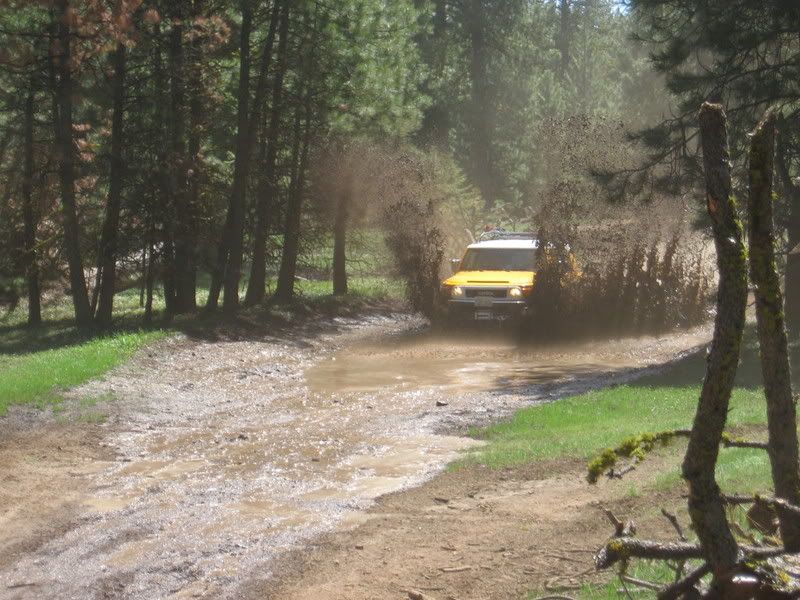 Tim learned the importance of having the window up while romping through the mud:
Joe found a log to play on: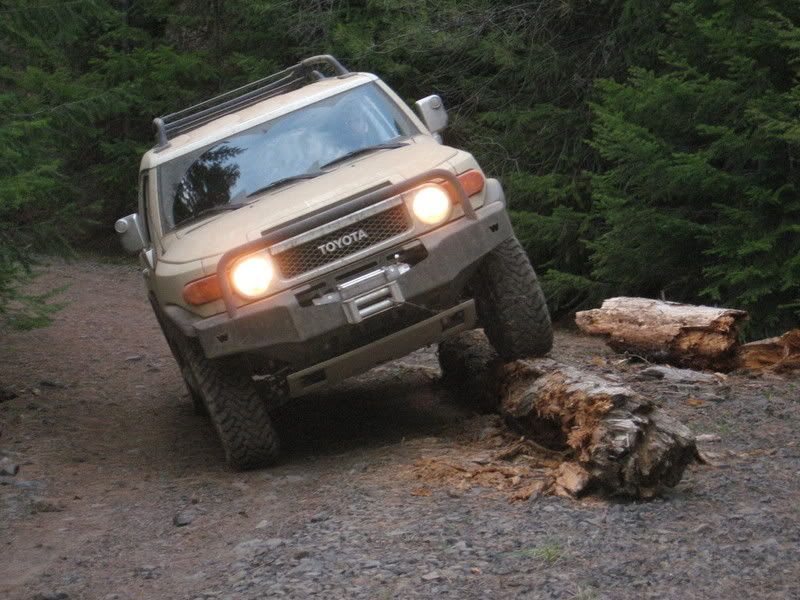 My rig nosing into some muddy water:
After a long adventurous day we gathered round the fire again: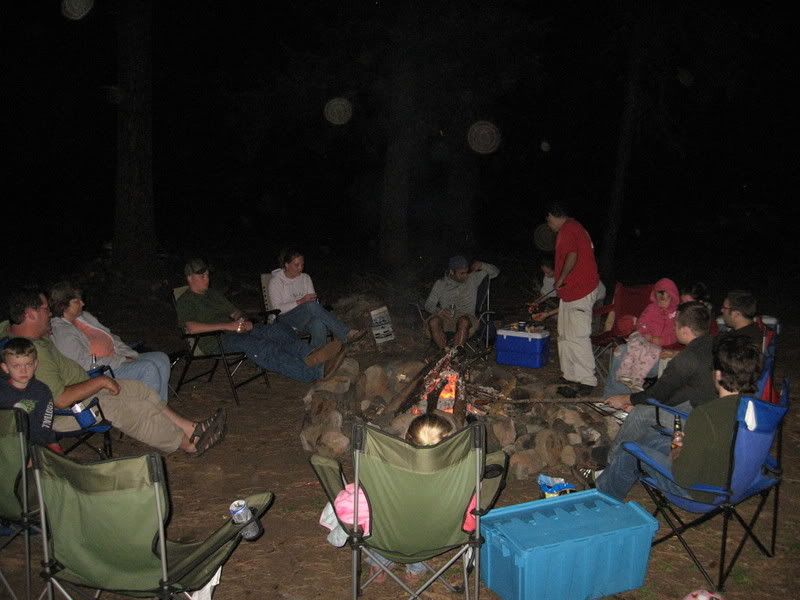 Curtis and Mary and Joe and Jesse had to head back the next day. The rest of us were ready for more. We went back to the 676 trail to take it up where we left off the day before. Dave wanted to try and get stuck (I think to use his never before used winch). He did not succeed and was able to back out of this mud trap: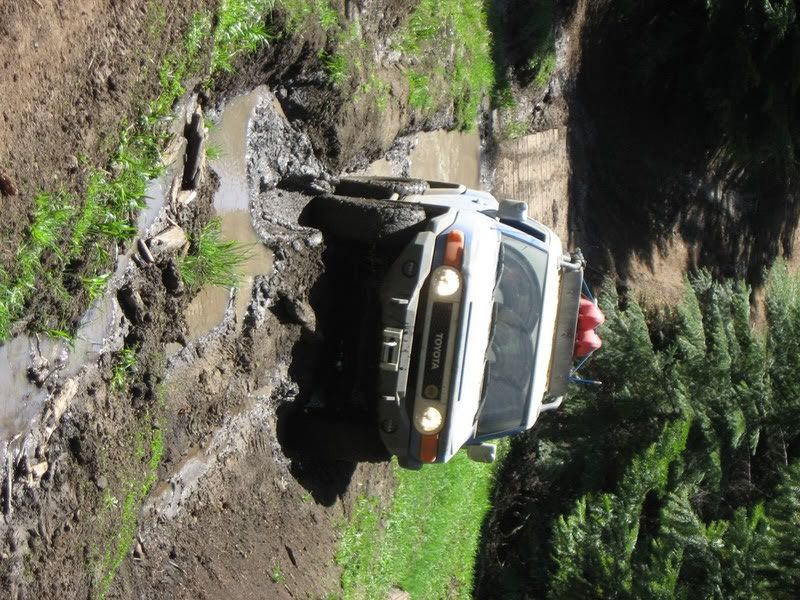 We had to clear a few trees off the road. Dave had this saw he bought and Joe's for $25. It is just a chain of saw teeth with two loops on the end. We put branches through the loops and used it to cut through an 8 inch diameter tree in under ten minutes. I was very impressed with it and will be getting one for my rig. Here is Chris on one of the many fun climbs on the 676:
At the top of the longest, roughest, tightest and steepest climb I have been on, I ran into two jeepers at the top: (I think in this picture they were trying to make a baby jeep? AKA Liberty)
They said last year a Tacoma was trying to make it up the same climb without lockers and could not make it. The Tacoma tried backing back down and turned it sideways. It rolled over twice, hit a tree, and caught on fire. Luckily no one was hurt. The Jeepers were part of Yong Yoon's Jeep club. He has been on two runs with us (Father's Day Tahuya and Reiter).
Here is Tim making that same climb: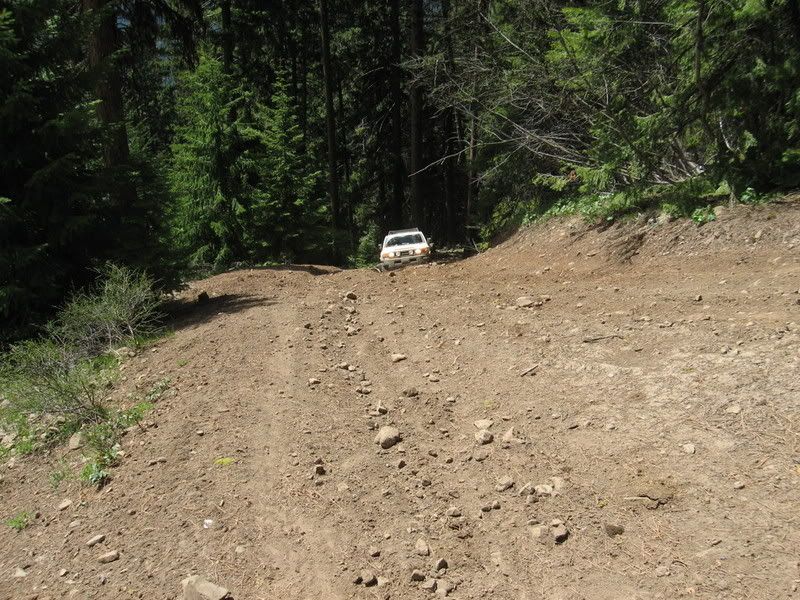 As always the camera does not do justice to how steep it actually was. Here is Jessica at the top:
She was driving Dave's Standard FJ up this crazy hill. When she got to the top her whole body was shaking. (I'll be honest, mine was too a little and I have an automatic.) We headed back to camp where Marlene cooked up some chicken (It was chicken this time not pork). We had that and the delicious pasta salad she had prepared before we left: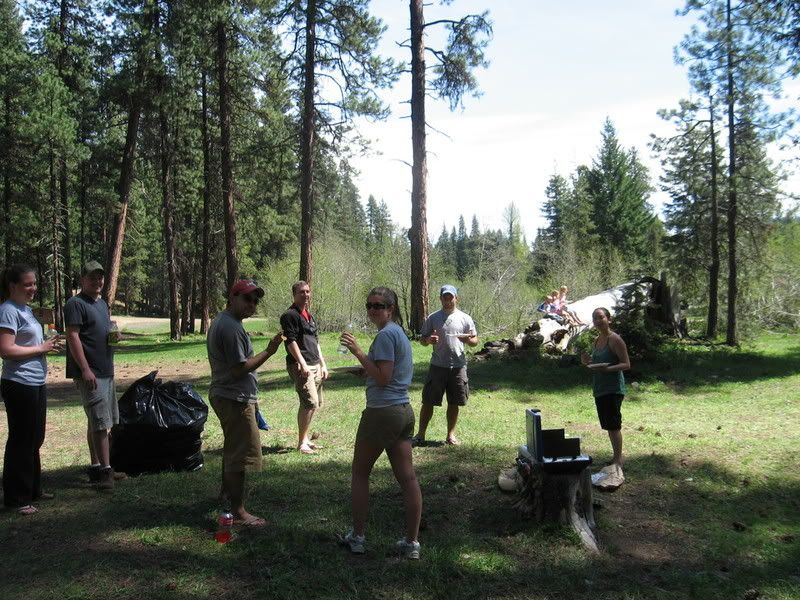 We all packed up and head out. Jim even though it was not a club run we treated it like it was and left the camp site cleaner than we found it with wood left over for the next campers. Thank you, Chris and Curtis for the fantastic adventure. I now have a new favorite place to camp/wheel and look forward to many more runs in this area. We did not even come close to exploring all the different trails in the area just around the camp. This does not even include the Naches trail and Funny Rock/Moon Rock.