Not so quick explanation of my experience buying a 2011 quicksand FJ (pics)
Thanks everyone for all the guidance in this forum. Although all of the reading almost made my eyes bleed, I was really glad to have this resource.
So, I just wanted to give a breakdown of the 6 week process I went through with my FJ, to provide some instruction for anyone else going down the same path. As a disclaimer, I spent hours and hours on the forum and the internet for about a month to make these decisions.
First, was the decision to buy an FJ. I was deciding between an FJ, Audi A3, and Q5. A3 was too small and they don't make a true "S" version anymore, and the fully loaded Q5 was too much $. Plus, the FJ is a Toyota (reliable), infinitely customizable, and perfect for my lifestyle (surfing and snowboarding).
I really like the color-matched roof, so I first decided that I was going to get a 2011 TT Edition. Then, the more I looked at the photos, I decided that I liked it better in lighter colors (like the last two TT Editions (white and sandstorm)). I'm so glad I changed my mind as I would still be waiting…. I thought that maybe I could find a new/leftover 2010 TTE, but quickly found that to be tough. Buying used wasn't an option because they are priced so close to new ones. So, because I like the matched roof, I decided that I was going to get a white FJ.
Next, where to buy. I actually decided that I wanted a FJ before I had a job (I was out of work for a bit) and before I had ever even been in one. So, once I got a job, I decided to go test drive one. I test drove a Quicksand one at Mossy Toyota in San Diego. I like it more than I even thought that I would. The sales guy, Alejandro (Alex) seemed really nice. Of course they wanted me to buy on the spot, but I definitely wasn't ready for that and was only working on a temporary basis. I told Alex that once I was more comfortable with my job situation, I would be ready to buy. I told him that could take a month or so.
I also wanted to work out all the pricing before I was ready to buy. Turns out that Alex didn't want to really deal with me until I was ready to buy. He actually kind of sucked. Once I was ready to buy, I continued to try to work a deal with Alex, but he would not work with me like other dealers.
After thinking about my color choice for about a week or so, I had a change of heart. I really like the quicksand, but knew that I wanted a color matched roof. Without job security, I couldn't decide if I wanted to spend the extra $$ to get the roof matched. Friends and family would just tell me to buy the FJ and get the roof done later. I, however, didn't even want to drive the FJ until everything was exactly the way I wanted it. I decided to bite the bullet and buy the quicksand and figure out how to get the roof done.
I also decided that I would want to get the bumpers blacked out, and the door handles, mirrors, and bezel around the headlights color matched to the body – why not go all out, right? I knew it wasn't going to be cheap. The prices I found on the forum were all over the place. From $500 up. I called a few body shops and was quoted $3500-$4000. That was definitely NOT what I had in mind.
When dealing with Alex at Mossy Toyota, I kept prodding him to get me a deal with his body shop, but he wanted me to deal directly with them, insisting that they were completely separate deals and businesses. That was another reason I didn't want to buy from him. I didn't want to have to negotiate 2 different prices. But, I was able to get some information about how much they would charge, and it seemed it would be somewhere around $2000. I took this information to the internet.
I learned that you need to talk/email the internet fleet manager at the dealerships. I eventually, after about 2 weeks, was able to get the FJ at dealer cost with all of the accessories also at cost, and all of the paint work for $1750. This was no easy task and it involved pitting one dealership against another. However, since it was all done via email, it was not that painful.
I wound up buying from Carlsbad Toyota. Their internet manager, also named Alex, was so easy to deal with. Basically, I presented him with my best offer and he agreed to it, with no haggling. Buying a car from Carlsbad Toyota couldn't have been a better experience thanks to Alex and Duff Joy (another salesman there). To top it off, they worked out the pricing with their body shop for me and their body shop was also amazing to deal with. They also gave me an unadvertised finance rate that was better than any I even found online. I told them what rate I was getting from a local credit union and they beat it without batting an eye.
Although I got charged $1750 for the paint work, it turns out that it costs a lot more than that to do, and that cost had to be eaten by the dealership. I don't think they ever even considered trying to get any more money out of me. Also, they even figured out how to paint the bumpers in a matte finish, when they originally thought they couldn't. They would call me with updates on the paint work, and they gave me a free rental car. This was huge since they had the truck for 4 weeks. During those 4 weeks I got to drive a brand new Camry, which is way better on gas than the FJ, so that was key.
Once I got the car from paint, it was time for the real fun to begin – rims, tires, and lift. I drove the car directly from the dealership to Offroad Warehouse in San Diego. I had been dealing with Offroad Warehouse for at least a month, bothering the hell out of Jason Edwards, one of their sales guys. He showed amazing patience and restraint. From all of the information I got from the forum, I asked Jason every question in the book to make sure I was getting all of the right parts. I also bothered guys at several other shops mentioned in the forum, including Jason Demello, who was also very helpful. I really considered getting the work done at Demello's, but the fact that it is about 1.5 hours from where I lived and that Jason Edwards at ORW had been so helpful and upfront sealed the deal. As for pricing, they were pretty similar – Demello's was a bit less for labor, but a bit more for parts (although I'm sure they would have matched ORW's cost). Jason Edward was accommodating with pricing, that he was literally giving me discounts the day that I picked up the truck. It is one thing to figure out what you want to buy, and yet another to get the best price. Luckily, everyone I wound up dealing with was willing work with me on pricing – all I had to do was ask.
I changed my mind no less than 10 times when deciding on the parts. Of course, I wound up with almost exactly what I was first told to get by Jason Edwards at ORW (before I spent weeks on the forum). At first, it was Icon Stage 1 with Total Chaos UCAs and a diff drop. I wound up with Icon Stage 1 with Light Racing UCAs with the diff drop. In between I thought about and priced Bilsteins, Toytec, OME, and every other combination that I could think of. I should point out that the FJ is going to be used almost exclusively for onroad driving, with maybe a few snowboarding trips in the mountains, some beach driving, and maybe a trail or two. Mainly, I was going for onroad performance, and aesthetics.
At the conclusion, I picked the LR UCAs because of the closed ball joint, and less maintenance (and cost) than the Total Chaos. I picked the Icons because of the universal praise for their products. It seems that unless you are super hardcore, you will end up with Icons at some point anyway, so I decided to bite the bullet and start there.
I was really hoping, however, to simply level the truck, and only have the fronts done for (1) cost, and (2) the security of keeping it more stock. Jason was going to do the best he could do to make that happen, and only do the rear if it was necessary. Unfortunately, based on the tire size (rubbing), getting the rear lifted was necessary, or else the front would have been substantially higher than the rear (to avoid the rubbing), which is definitely not the look I was going for. As it turns out, I couldn't be happier that I got the rear done as well. I looks sick and drives great. Thankfully, it fits everywhere I need to park (so far). I actually had to get special parking at work – the FJ is almost 7' tall now.
As for rims and tires, the internet was also instrumental. I quickly figured out that just about every internet tire/rim store will price match. I wound up getting my rims and tires from Truckaddons.com. Jamie (ext 1510) was awesome. Not only did he get me a great deal, but he helped sort out a major snafu. Originally, the rims I was sent had some flaws (scratches). I called to see what they could do, and they tried their best to get me new ones, but there weren't any available. They offered to give me the rims at dealer cost, which wasn't the best outcome, but since the scratches weren't too bad, I thought I could live with it. Turns out, it was a good thing that they didn't get me replacement rims, because the ones I was sent were the wrong offset. Thankfully, this was resolved quickly and they sent me the correct ones right away. Jason at ORW, Jamie at Truckaddons, and the guys from American Eagle all coordinated to get this done as quickly as possible. At that point, I was paying to rent a car, and it wasn't cheap, so it was really important that there wasn't a delay.
I bounced back and forth between getting 18"s and 20"s. I also bounced back between Nitto Terra Grapplers and BFG KO A/T (both seem to have great reputations), but that decision was made for me when I realized that the BFGs were almost $100 more per tire. When I finally found the exact rims that I was looking for and figured out that the 18" version didn't have the correct offset, that sealed it for me, so I wound up with 20"s. I know that 20"s aren't ideal for offroad, but since most of my time is spent onroad, I didn't think it was a big issue.
I put the OEM rims and tires on Craigslist and got $850 for them. They guy even met me at ORW the day I was picking up my truck to pick up the rims and tires, so it worked out awesome. I'm currently trying to unload the suspension. Hopefully, I'll get something for them.
Anyway, here is the final product: 2011 Quicksand Toyota FJ with the UR package; roofrack; TRD exhaust; TRD airfilter; 20% tint; Nitto Terra Grappler tires (285/55R20); American Eagle Alloy 20" rims; de-badged; color-matched roof, door handles, sideview mirrors, and bezel around the headlights; blacked out bumpers; floor mats; and passenger armrest (I couldn't believe I actually had to buy that). I love this truck!
Next mod is possibly some Demello sliders. I would also like to get the TRD exhaust tip painted black. If anyone has any good ideas, I would appreciate it. I was afraid to do it because I figured it would just chip off, since the paint would be going on chrome. Other than that, I'm done for a while. I still don't even have a permanent job!
I'm happy to say I highly recommend everyone that I dealt with during the process (except for Mossy Toyota):
Jason Edwards at Offroad Warehouse on Balboa Ave. in San Diego (just don't be as much of a pain as I was)
Alex Ordonez, Duff Joy, and the finance woman (Mandy, I think) at Carlsbad Toyota
David Smith at Carlsbad Toyota Service
Pablo at Carlsbad Toyota Body Shop
Jamie at Truckaddons.com (ext 1510)
Jason Demello
My girlfriend for putting up with my obsession
Here's what it looked like when I bought it: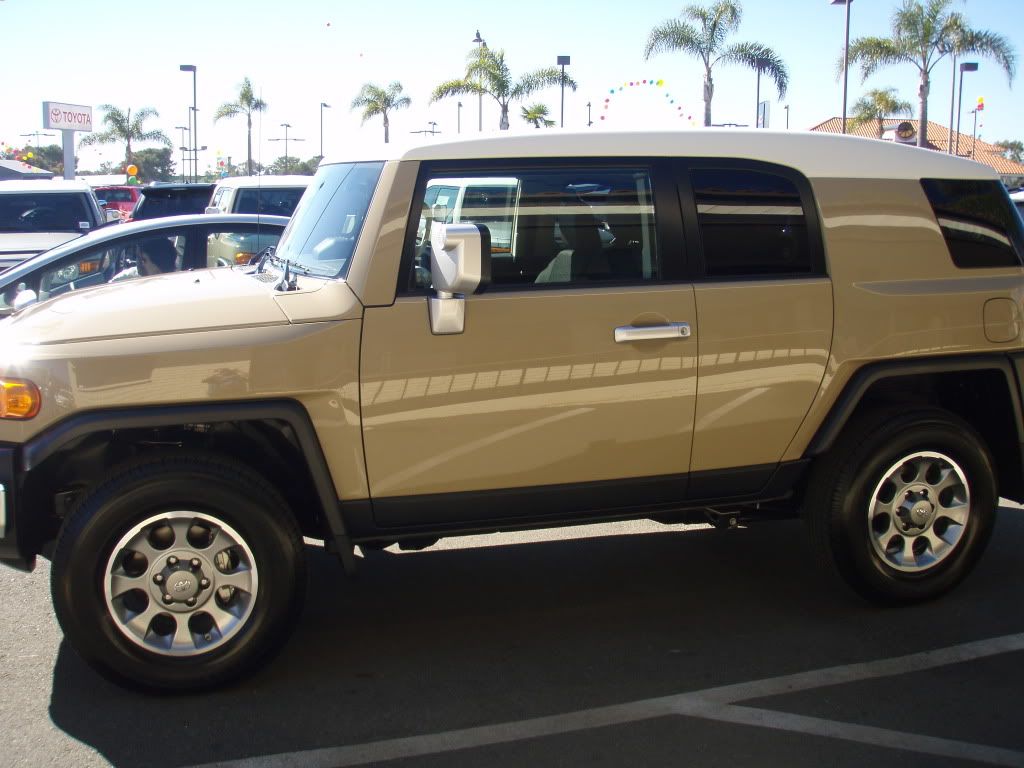 After paint: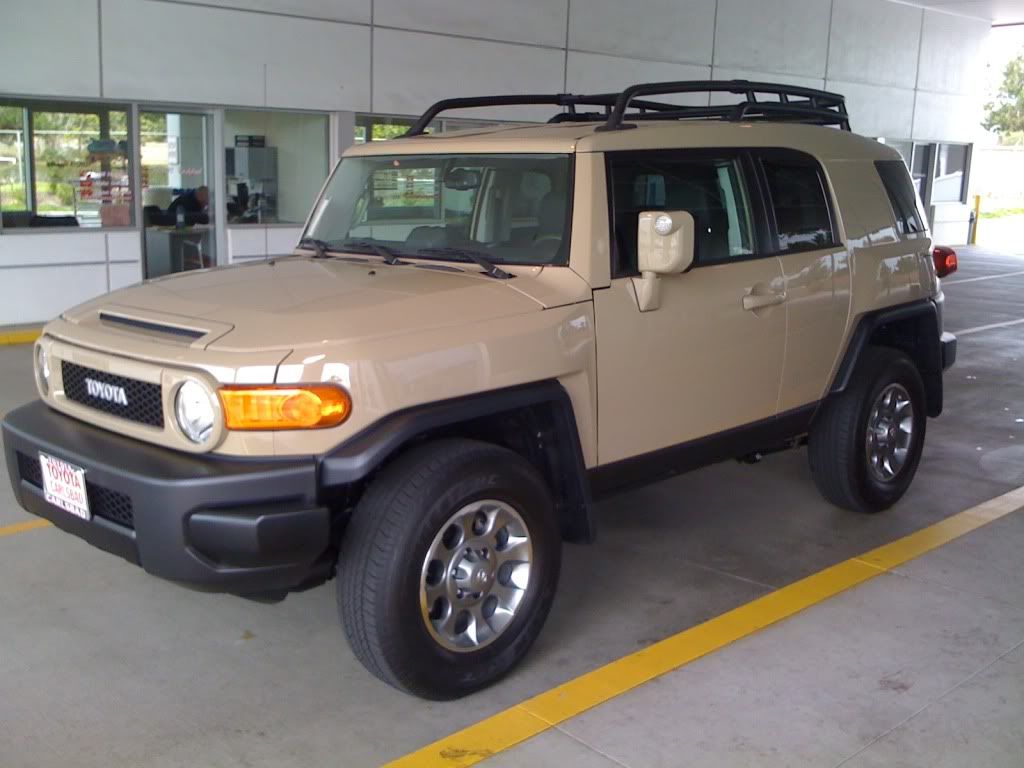 Now: