2007 FJ Cruiser, 2021 4Runner, 2002 Lexus SC420
To read the original full thread and post questions/comments on this topic, please go to
http://www.fjcruiserforums.com/foru...moval-instructions-w-pics-12.html#post1023808
The center switch panel between the radio panel and the console will come equipped with a variety of different OEM switches, depending upon which options were included at the time of purchase.
Whatever switches that are
not
included will still have a connection harness snapped into the rear of the blank covers, so that the various optional functions can be added at a later date (i.e., A-TRAC, roof rack lighting, etc.).
Here are the intended usage and location of the OEM switches in the center switch panel.
(Top row, left to right):
Roof Lights
Rear Diff Lock
A-TRAC
Sub-Woofer
(Bottom row, left to right):
Front AUX Lights
115V Power Inverter
Back-up/Parking Sensor
Optional OEM Security System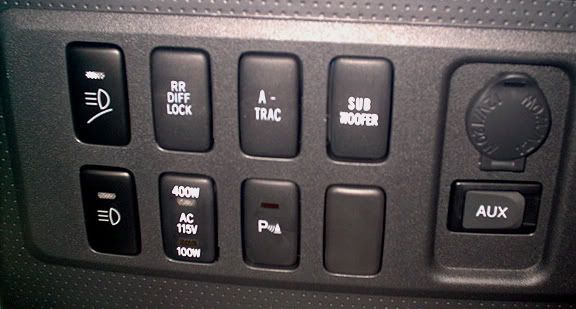 (Photo courtesy of RoverGGM.)