Discussion Starter
•
#1
•
To read the original full thread and post questions/comments on this topic, please go to
http://www.fjcruiserforums.com/forums/stereo-electronics/42211-gps-overhead-rear-view-mirror-installation-mod-w-lots-pics.html
If you happen to have a GPS that uses a swivel base mounting system, such as this Garmin 276C . . . .
. . . . you can securely mount your GPS right above your inside rear-view mirror by following these (
relatively
) easy modification instructions.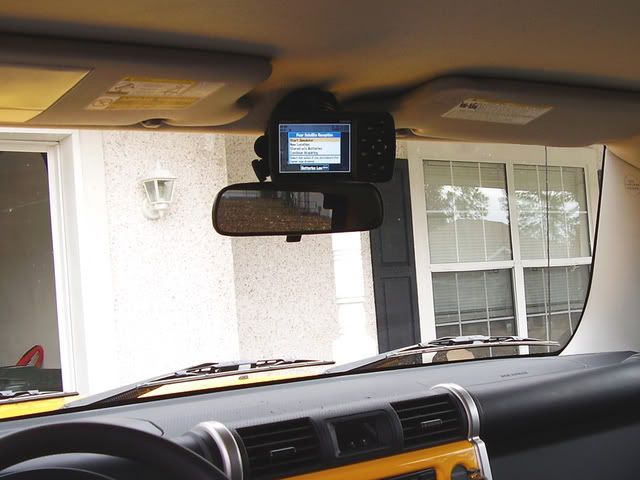 Step 1 - Remove your rear-view mirror by sliding off the plastic cover plate and use a Phillips-head screwdriver to remove the screws.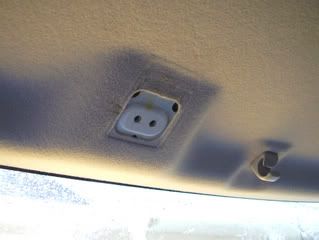 Step 2 - Feed through your headliner (from behind the inside A-pillar cover) any cables that will be necessary to run your GPS . . . . such as a power cord, external antenna cable, etc.
Step 3 - Notch back (cut) 1 1/8" of the sides of the rear-view mirror base so that a flat platform results. (File and paint as necessary.) This will allow the GPS mount base to fit flat against the mirror base.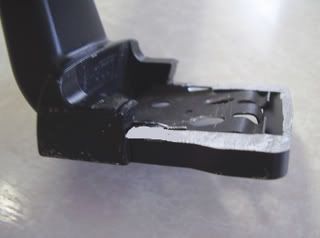 Step 4 - Drill two holes in the rear-view mirror base that are even with the original holes, but are 5/8" rearward of the original holes. (These will be the new mounting holes through which the OEM mirror screws will go, thus setting your rear-view mirror 5/8" forward towards the windshield.)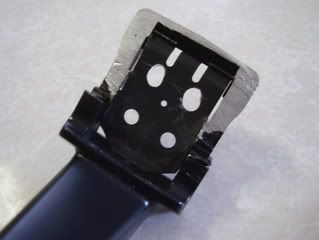 Step 5 - Drill a pair of matching holes through the removable circular base of the GPS mount. (Take advantage of an existing hole and add a second hole the same width apart as the rear-view mirror mounting holes.)
Step 6 - Insert the OEM mirror screws through the GPS mount base and the rear-view mirror base, attaching both to the existing ceiling screw holes.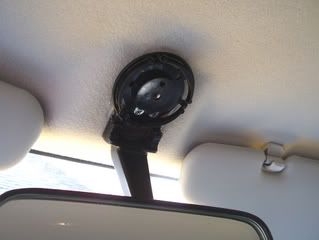 Step 7- A self-tapping screw (for additional support) can be drilled and inserted through the GPS base and into the metal that protrudes slightly beyond the mirror screw holes.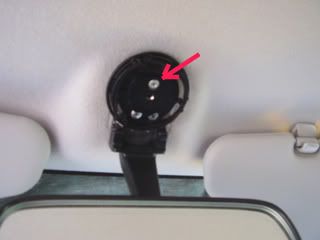 Step 8 - After all screws have been securely tightened, the GPS swivel mount can be attached to the mount base with the thumb screw.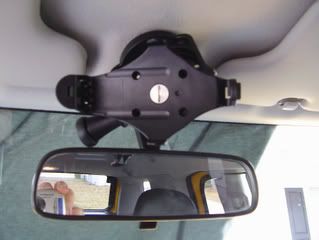 If necessary, rotate the GPS mount cradle for proper orientation.
Step 9 - Install GPS unit into the mounting cradle, connect necessary cables from behind, and adjust the swivel mount for optimum viewing.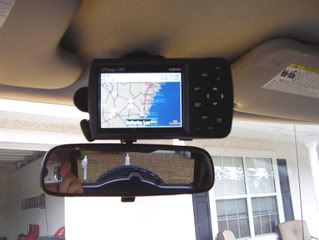 Even a large GPS unit like the Garmin 276C GPS will sit
above
your rear-view mirror, as to not block your rearward view. And, either the GPS unit itself,
or
the entire swivel mount can be easily removed from your FJ to prevent theft.
Plus, sitting as high as it is within the FJ, little of the GPS can be seen from the exterior.
This GPS mounting modification will result in a very sturdy platform for even the heaviest of GPS units. The swivel base will allow your passenger to rotate the unit in his/her direction. And, since it is aimed at eye-level, noting your location is literally as simple as glancing in your rear-view mirror.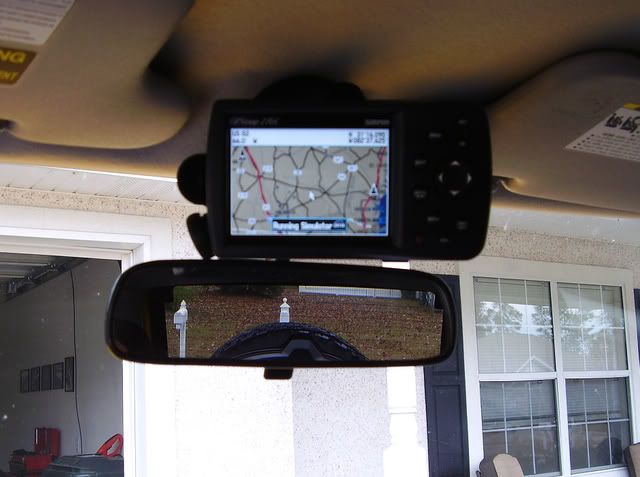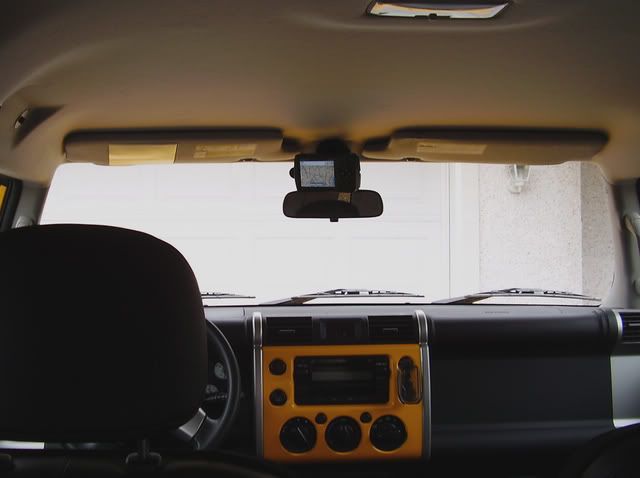 For a similar overhead GPS mounting modification, take a peak at Shadow-Warrior's Lowrance GPS set-up.
http://www.fjcruiserforums.com/forums/stereo-electronics/41702-lowrance-baja-540c-gps-install-thread.html