I feel like the FJ has so many shortcomings as an stock vehicle. Or I guess you could say potential to be positive. /forums/images/FJCruiser2/smilies/tango_face_grin.png
I came from a land rover that didn't really need much from factory to conquer most California trails. Realistically, I don't have time to upkeep an old vehicle . But after getting the FJ, I feel like so many parts need reinforcing. Weak spindles, control arms/links, skids, fender ripping, elocker that doesn't lock etc. Please don't think I'm bashing the FJ, I feel like there's so much from the factory that needs attention. Also coming from my rover which felt top heavy, I'll be trying to keep this vehicle near stock height. Low and wide, instead of lifting and realizing I need larger tires to fill the wells.
I'm not planning a major build but hopefully most all things I can do are bolt on or what I have time to DIY since much like you, we're shorter on time these days. Growing up but not growing out of having fun! Edit: Welp this didn't last very long. Major updates to come soon 9-14-17
I just wanted to use this thread to document things that were going to make my ride more enjoyable and reliable for me and my girlfriend. I enjoy desert running and the crawl and climb. If you're not in California, there's everything from beaches to mountains here, so it's best to be prepared.
Current
Mileage: 150k
Future plans
(am i getting ahead off myself?)
√ Replace all fluids with synthetic
√ Gas/water can carrier
Trans cooler
√ Long travel
Cam tab, shock tower, engine mount gussett.
Engine
√ Toyota oil and air filter
√ Supertech full synthetic 10w-30
√ Amazonbasics full synthetic high mileage 5w-30
√
OEM oil cooler mod
√
Derale 13249 power steering cooler with PSC reservoir
Suspension/Wheels/Brakes
√ Wheels: Method Roost 17x8.5 +0
√ Tires:
Mastercraft Courser MXT 37x12.5R17
√ Wheelers bumpstops front and rear
√ King 2.5x8 LT coilovers with CSS rear springs +.5" 205 lb-in
√ ZerosFJ coilover covers
√ Dirt King Long Travel +3.5
√ Whiteline adjustable panhard
√ 2" Bulletproof Offroad hubcentric wheel spacers (rear)
√ RR Racing--Wilwood Aero6 DS 6 piston calipers with BP-20 pads
√ EBC slotted rotors (front)
√ Centric Stoptech pads (rear)
√ Centric Premium rotors 120.44128
√
Addco 2301 7/8" rear sway bar
Centric Brake shoes
Interior
√ Sparco Pro 2k/Sparco side brackets/Planted base mount
√ Sparco 350mm rally wheel/NRG slim mount hub/10mm spacer
√ RAM mount tab holder
√ Joying 8" android head unit
√ 2.5 lb Halon fire extinguisher (driverside mount)
√ 2.5 lb All purpose fire extinguisher (trunk mount)
√ OEM JL subwoofer
√ ARB twin air compressor to 3 gallon air tank
√ RTIC 45qt cooler
Exterior
√ Factory fender removal
√ Trailer Products front fenders/McNeil Racing rear fenders
√ Scuba Mod
√ Deezee ladder
√ Rotopax 4 gallon gas can mount
√ JTA metalworks prerunner bumper
√ Philips h4 ultinon led
√ 7" Lightforce HID driving lamps
Armor
√ BudBuilt skids to custom tuck
√ RCI gas tank skid
√ Iconic fab charcoal canister skid
Amp Research power steps
Removed
Bluetooth adapter
Coverking seat covers
Demello sliders
RCI skids
9" round led
Rocksteady aluminum skids
16x8 -25 wheels
315/75R16 Goodyear Duratrac
Toyman gussetted spindle
Allpro UCA
EBC Green Stuff 7000 pads (front)
EBC slotted rotors (front)
10/20/18
9/8/18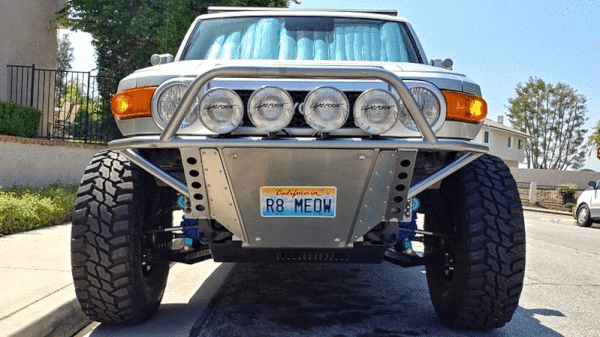 7/12/17