Which side of the wall is 'easier' so to speak? Or should I ask it this way: which side is less difficult or risky?
Here's the two GPS + Photo tracks that I've run for the last two years on Poughkeepsie:
2012 -
Poughkeepsie Gulch At Ouray - Driving trip | EveryTrail
2013 -
2013 FJ Summit - Poughkeepsie Gulch - Driving trip | EveryTrail
The climb is basically split into two halves, divided by a rocky outcrop with some grass/weeds on top. Everything to the right of that outcrop is the "right side":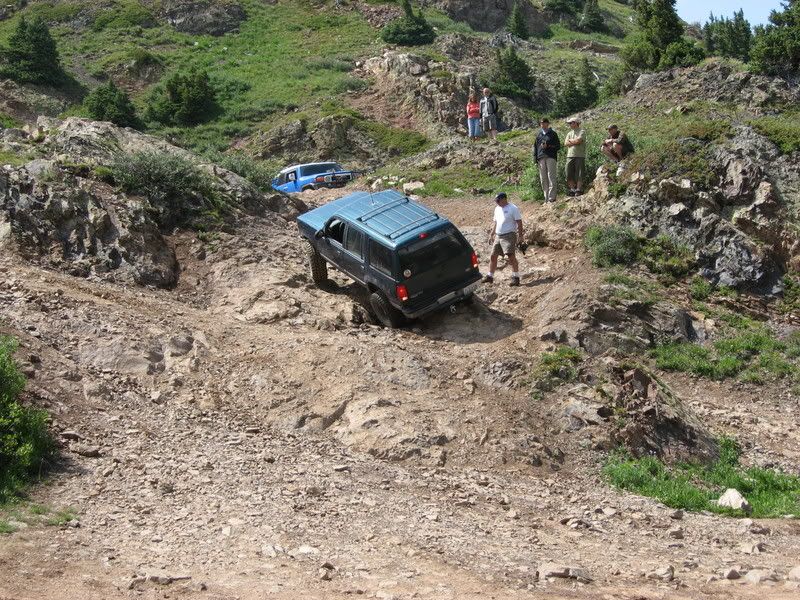 The "left side" is behind the green FJ where all the people are standing, the rock outcrop in the first photo is where the girl in the shorts is standing:
There's multiple lines up the right side, most people who climb it successfully put their passenger tire where the puddle is on the photo above (green FJ).
The left side is much easier to climb when the hill is wet, that's how most of us had to go up last year. One exception is just to the left of that rocky outcrop, here's the MetalTech FJ taking that line:
I wouldn't worry too much about it, you'll see it all when you get there. Everybody makes it up, most under their own power (no winching). We had to winch a bit last year because it was wet. I've never successfully made it up the right side myself, I led it last year but it was super wet. Only 1-2 FJ's made it up (they avoided the puddles better than I did) and then some jerk in a Jeep rolled up with both lockers and climbed it like a billy goat :flame::rofl:
My advice: bring a photographer, you're gonna get some cool photos out of it :rocker: