Discussion Starter
•
#1
•
So, the theme for this one is obviously different. This is the most technically challenging trail at the Summit and that was the focus of most of these photos.
Our journey jumps right to the most difficult obstacle, and it may not actually be part of Poughkeepsie. Not sure! It was what looked like a near vertical rock wall that no FJ has been able to conquer. If you have evidence to the otherwise, please provide pics (or it didn't happen). First to challenge is a Yota Pickup!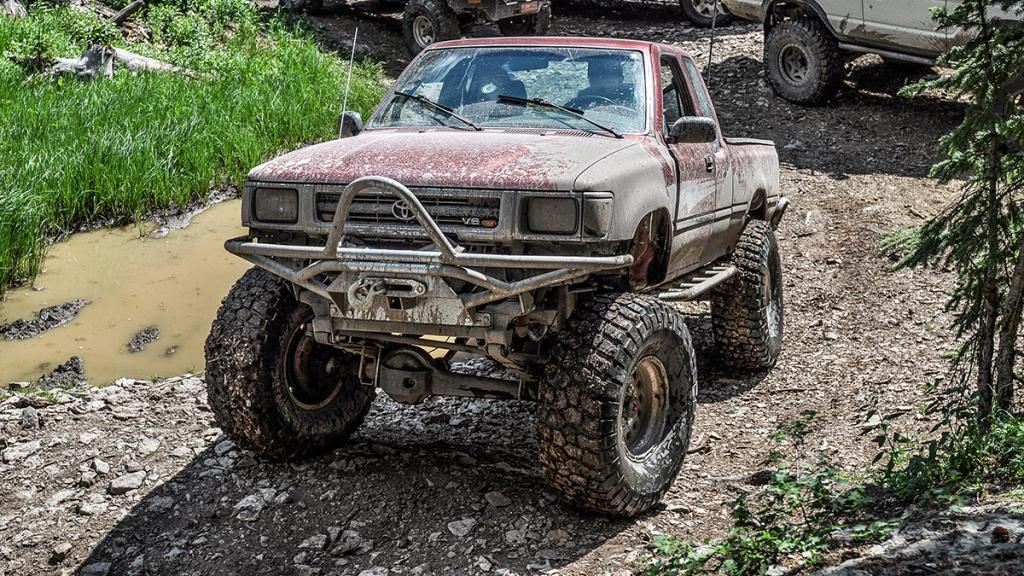 Despite carefully avoiding the large mud puddle, the tires were wet from a couple other puddles on the way over. Just getting started here.
Up the step, but so much further to go.
I swapped sides to get closer to the action.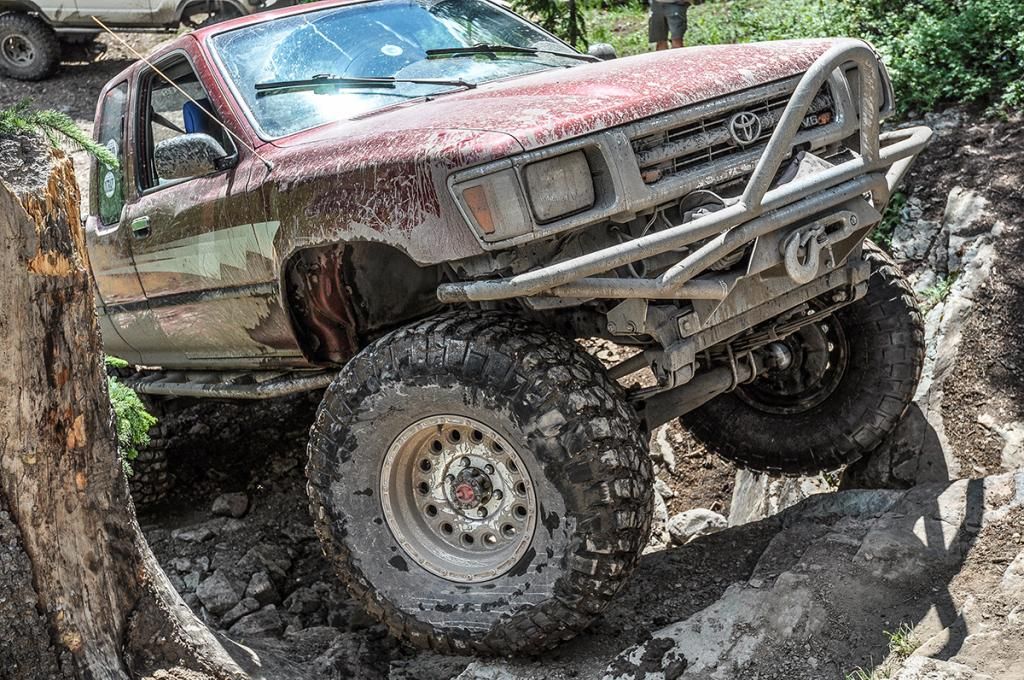 Not quite sure what that expression is. Thoughts, anyone? After a couple more tries, the pickup backs down, choosing to walk away and challenge again another time.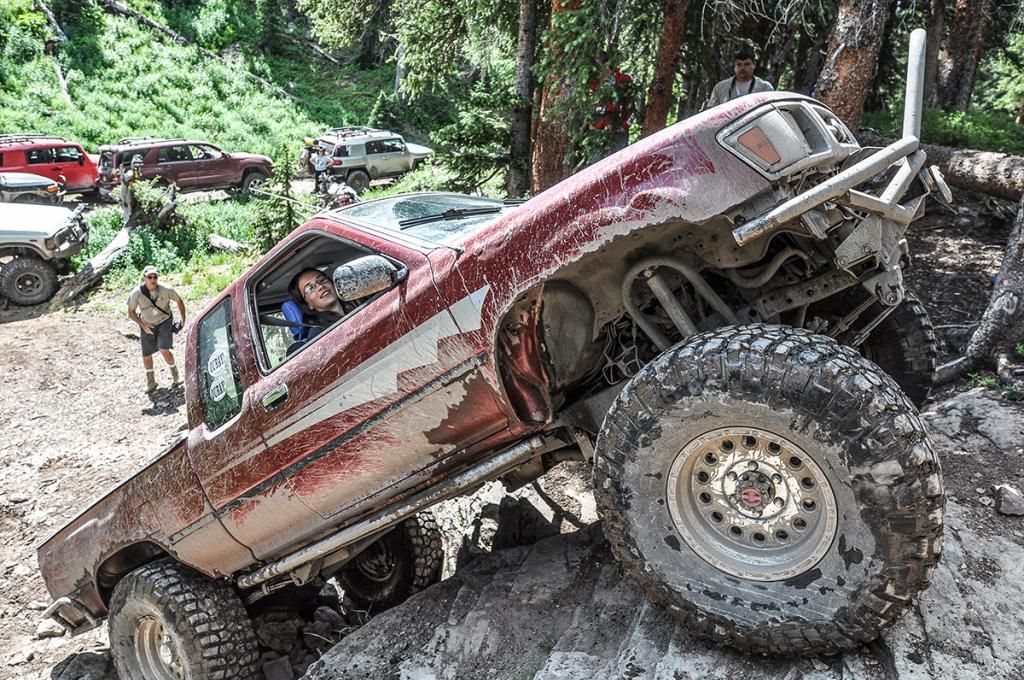 Another challenger! This vibrant red Yota immediately crawled the front tires up to the ledge.
I thought I was in a safe spot! This was shot at 24mm.
Nice stache!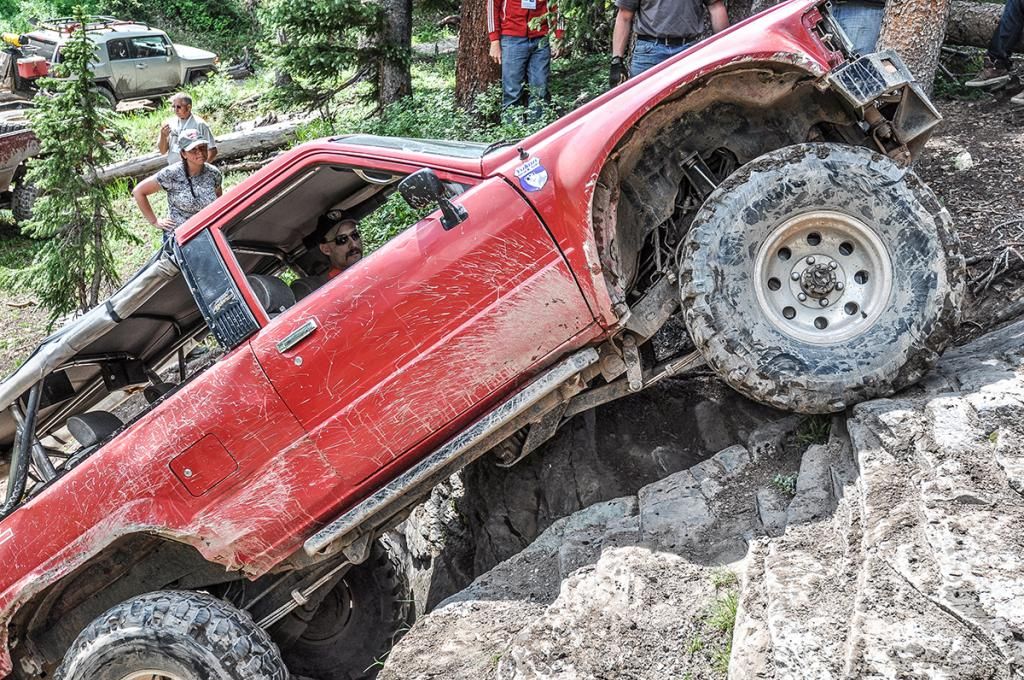 Bouncing to get that extra reach. Sadly, after going back and forth, left to right, and some very close moments, he wasn't able to surmount the obstacle. Valiant effort, regardless.
Colorado's very own Desert_Fox taking on Poughkeepsie Wall.
Working on getting traction on that dusty rock.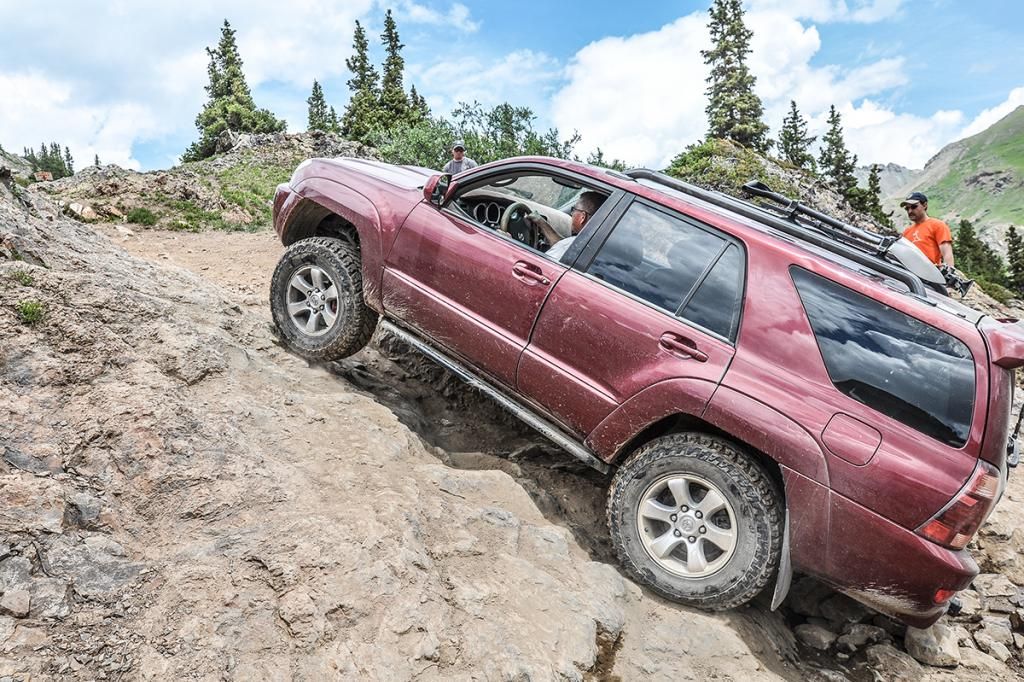 Kicking up some dirt.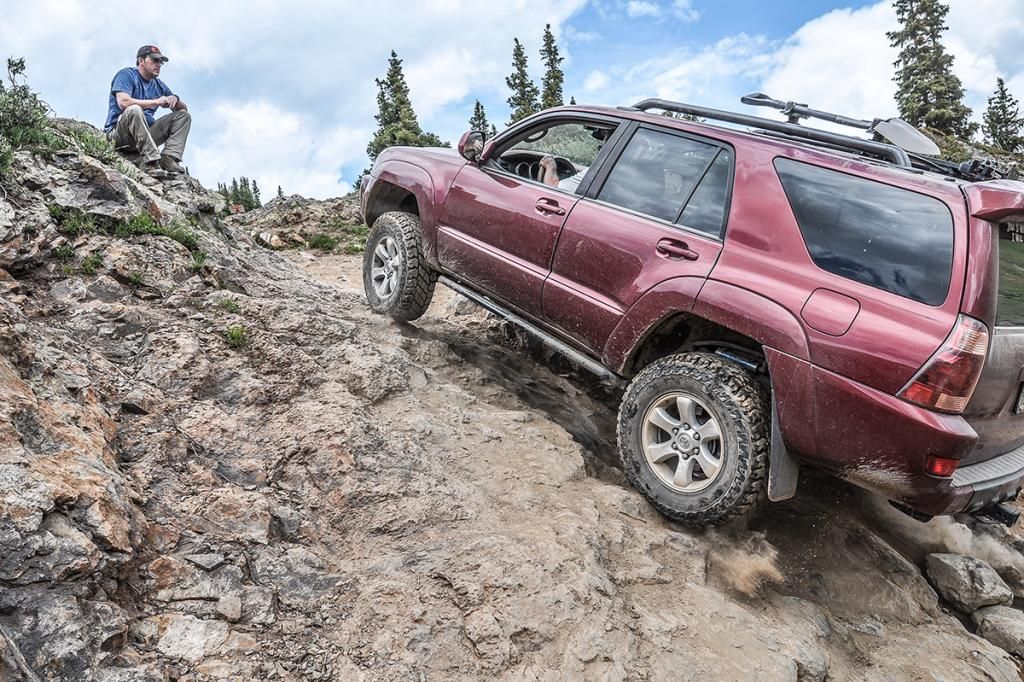 Who needs a rear locker?!
...Because the rear locker doesn't help when you're on a bad line! My rear passenger tire nailed a flat wall of rock which stopped me in my tracks. Suspension took a beating on that hit, I'm sure.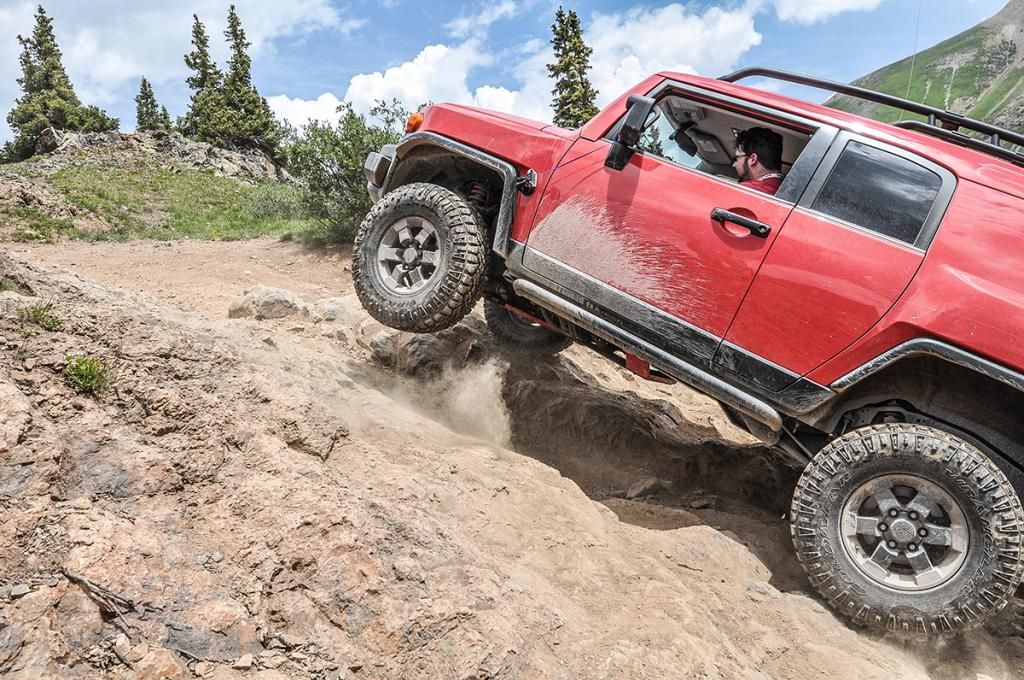 Eating my own dust, here. Had to bump it to get over that rock ledge and was on my way...
...until I caught my skids (thankfully, just the skids) on a huge rock with a full head of steam. Kicked up some dust when my forward movement was suddenly arrested.
It took a little work, a gentle shove back down the hill, and with yet another line correction, I was finally up and over.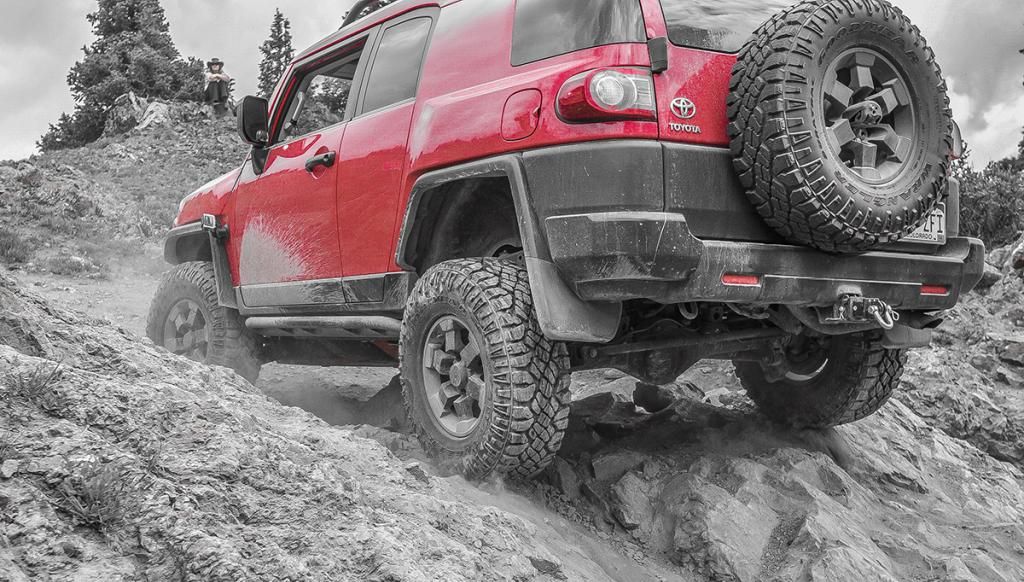 Slammed that T-case skid pretty good which earned me some deep gouges and, surprisingly, some nice deformation. That skid is no longer flat. :lol: You can even see the rock weld rings were doing their job protecting the bolt heads.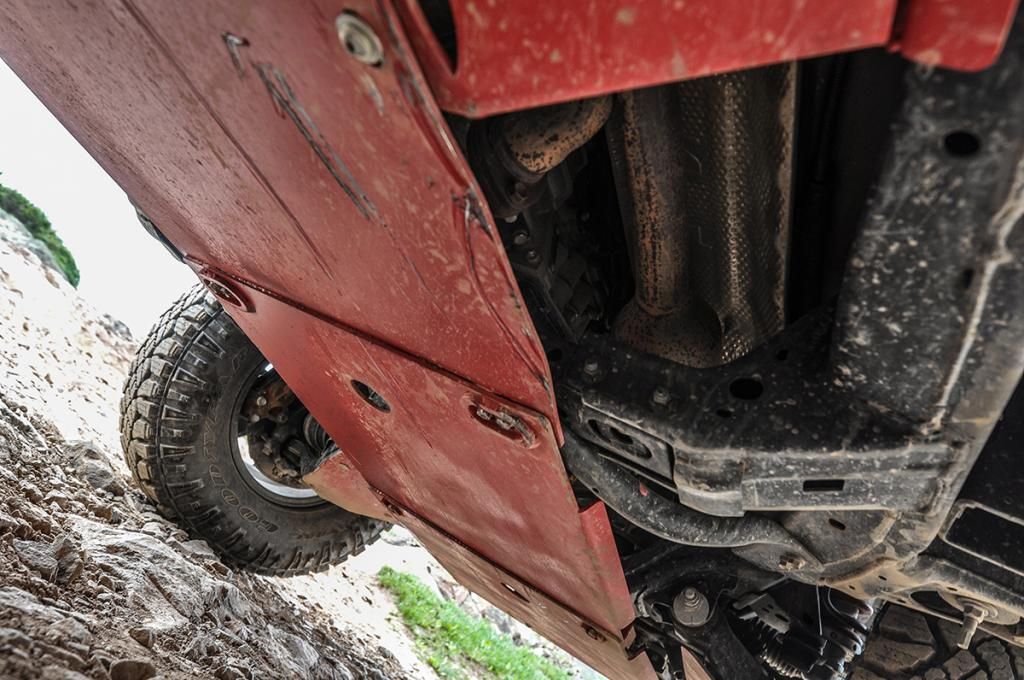 Following the leader to the next toughest challenge on the Gulch. Partially obscured in the middle is the line up that mountain. It's a long climb up loose large rocks with a hairpin at that first ledge, then continues on up a bit further.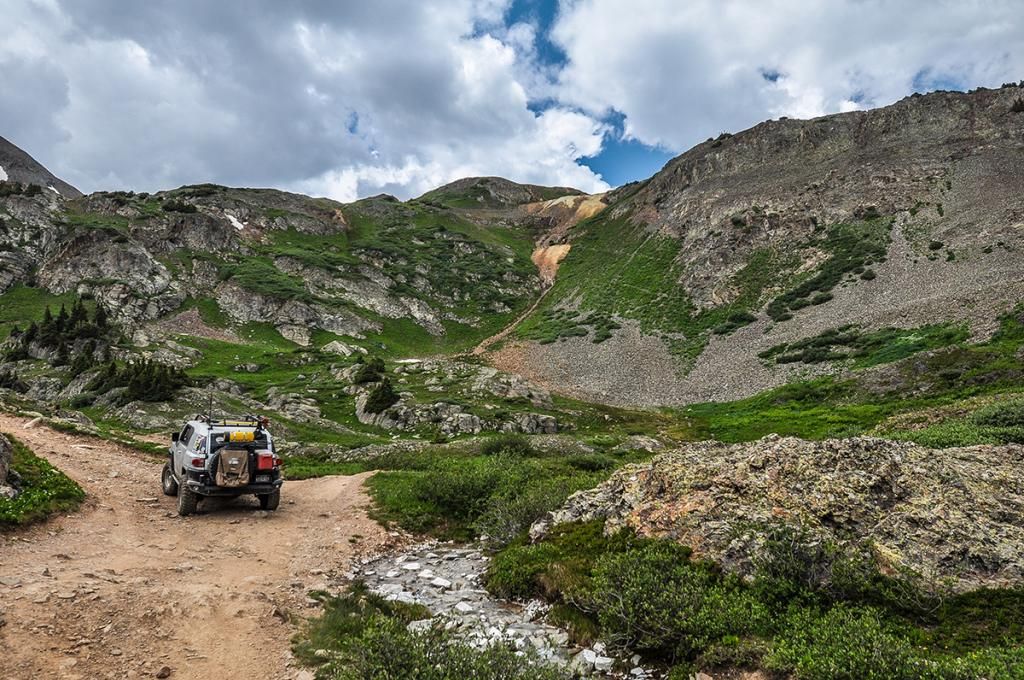 Coming down the other side, this was a final ledge prior to getting to the lake. Couldn't see a damn thing, not his line, not my own. It was one of those "just do it" moments.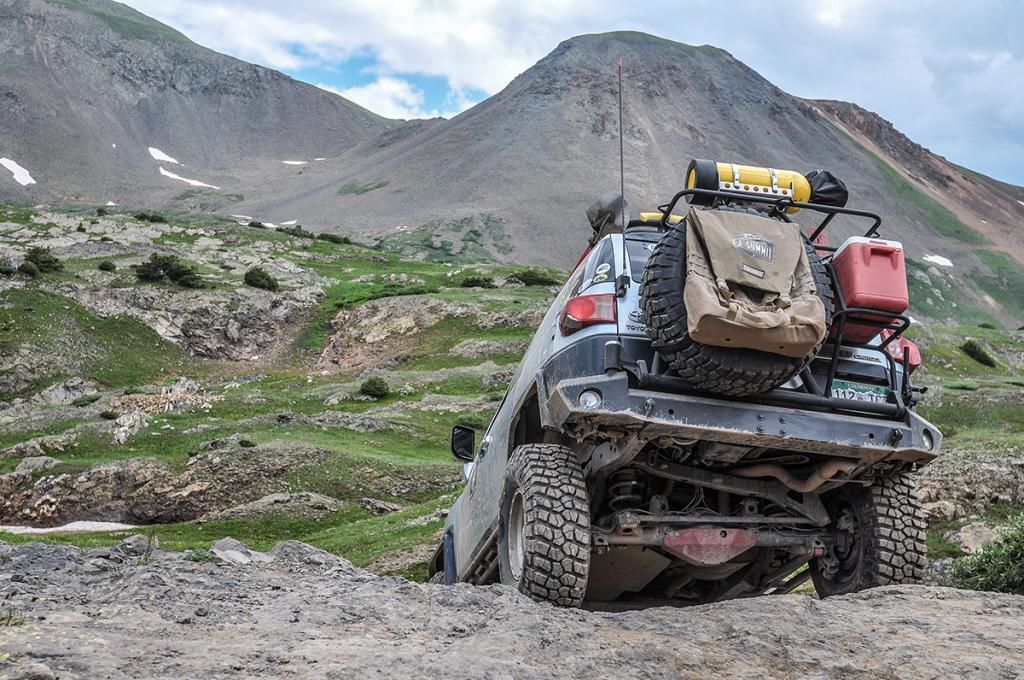 Lunched at Lake Como for a bit. Watched a crazy kid jump into the water. Hung out with some cool folks, and captured this cool Cruiser with a cool personalized plate. UPRCKS. What do YOU think it stands for? Hahaha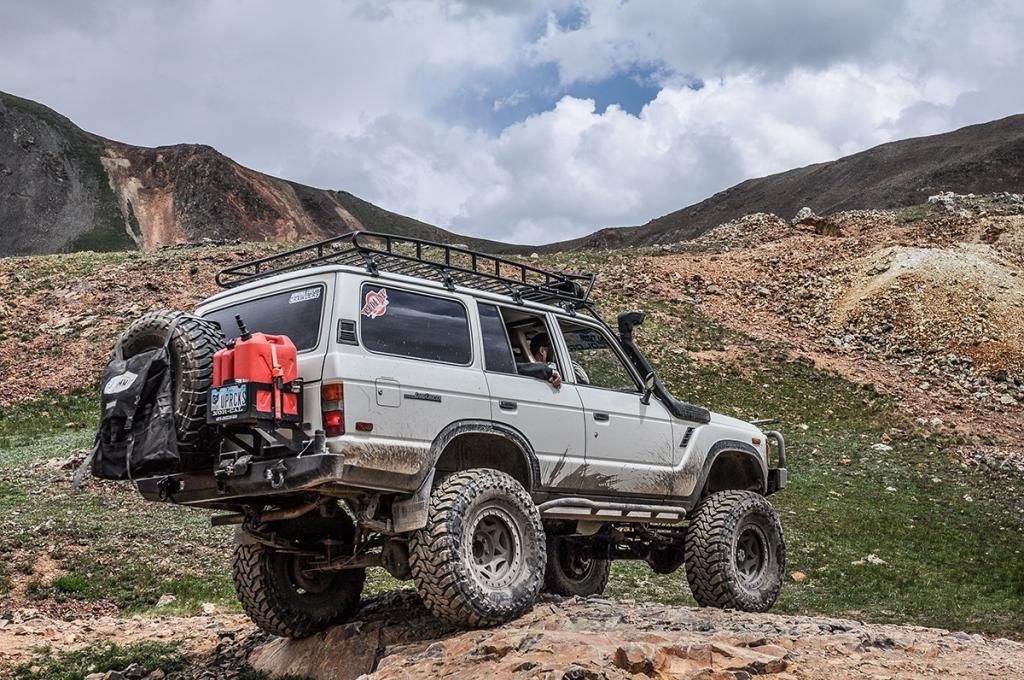 Lake Como from above. Apparently that's a very popular name for lakes in Colorado.
At the top of the pass. I believe this was Hurricane Pass...
My last shot of the San Juans at Summit 2014.