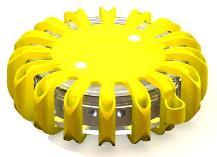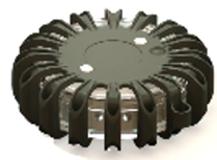 These use LED lights instead of a flame like a regular road flare uses.
These come in two formats, a replaceable battery type (CR 123), and a rechargeable type.
At the time I wrote this, to get the rechargeable ones you must buy then in a six pack which comes with a case they all fit into and it plugs into a 12v outlet.
I got to use these at work on 1-16-2008.
I often move freight at work on a shuttle when it is dark out.
Workers come into work when it is still dark out, and I usually set out orange safety cones around my shuttle so they will see that the shuttle is there and not drive into it.
For the most part that works, but often workers drive in to fast, I guess they are in a hurry to find their favorite parking spot and get inside to get that first morning coffee.
I set one Powerflare on top of my safety cone, and it was visible clear at the other end of the parking lot.
I was really impressed with it.
Later in the day when it was light out I had to use the shuttle again over at the corporate building where they often drive in very fast too.
I set the Powerflare about 15' behind the shuttle so they would have plenty of warning that I was working there.
I talked to a few of them and they said they could see it very well and though it was a great idea for safety.
Here is a video I made at home showing the various patterns the Powerflare is capable of doing.
YouTube - Powerflare
I am going to dispose of my road flares I carry now as soon as I find out the correct way to dispose of them.
These Powerflares are a lot safer, and I can see many uses for them from working along side the road if your vehicle breaks down, in the back country where you need help, to using them at work like I did the other day.
They are also waterproof down to about 80', the number of uses for these you can come up with is many.
Links:
Website
Online store
Red/amber LEDs with orange shell
(I ordered a yellow shell instead)
PDF file I scanned in of the brochure that came with them