Discussion Starter
•
#1
•
Prologue:
Spent the last 6 years doing my daily 60-70 mile commute in an 09 Audi S5 6 speed. The Audi is now well over 130K and want to stop driving it everyday for fear of the repair bills that will come if I continue to drive it like that much more. Decided to purchase an FJ to take over commuting duties for at least the next 1-2 years. Wanted something fun, cheap, reliable and I could modify. I liked the S5 buy there is not much you can do to modify it unless you want to spend a small fortune and have get a degree in weird **** germans carmakers do.
The Hunt:
Took me well over 2 months, 2 wasted 8hr round trips, lots of disappointments to find an FJ that had lower mileage in the price I was willing to pay. I was seriously fed up and about to give up when a local dealer 20mins away put one up for sale. The add was so new it didn't even have pictures yet up I just saw it was the mileage, history, and price I wanted only 20mins away. I went expecting to be disappointed again, only to find the best FJ I had seen yet. Even though it was a color lower on my list its condition made up for it. When I test drove it the rear-end had a pretty bad howl to it but the dealer was a big new Honda dealership that had taken it on trade 2 days before and promised the would fix it before delivery. So I signed papers and had to wait... and wait... 3 weeks it took the local Toyota dealer, the ended up replacing the whole rear differential.
The Canvas:
So here is the FJ I settled on after 2 months of searching.
2007 AT 4WD Titanium Metallic 78K miles
1-owner stayed in the same area it's whole life
Convenience Package
Upgrade Package 2
Completely stock(except stupid phone ram mount on driver side a/c vents.)
Paint needs to cut and buffed but pretty sure 95% will come out.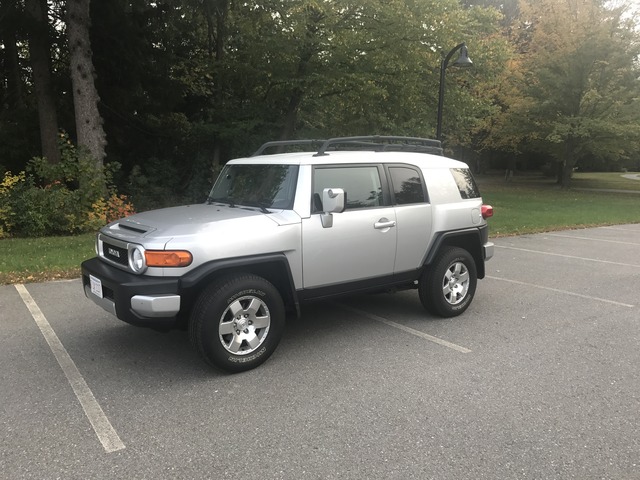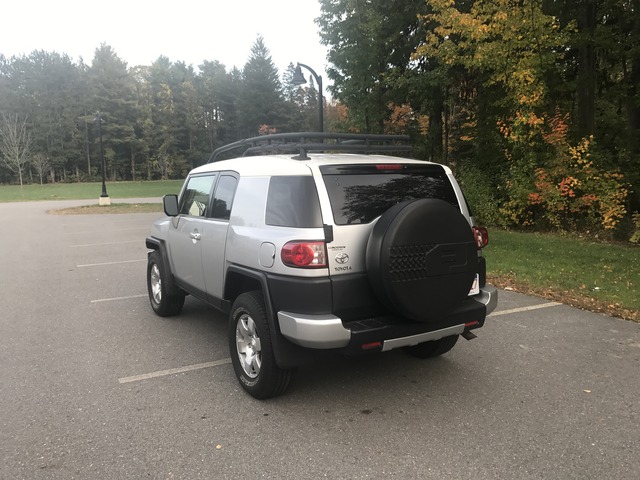 A Poser is Born:
I could try to lie to you and myself and act like I will be doing off-roading etc.., but other than maybe going out on the beaches of the Cape. The majority of this FJ's life will now be commuting the highways of Mass. Even so I bought my FJ to modify and have it look even more badass than the pack of modified Wrangler Unlimiteds at my office park. The 3" lift, wheels, and tires are already on order.... :angel
So all hail Project Mall Crawler!​