This thread is dedicated to the build up of my 2013 Iceberg 6MT known as Snow Leopard. Surely it secured this name due to its sleek and stealth like characteristics (sarcasm).. or possibly from some bizarre love of Apple operating systems?
No, the name arose from the scratches and dings I have already managed to put into the paint of the first new vehicle I have ever owned. My off road ambitions have transformed what was once glossy white with pristine black plastic to a somewhat mottled, but unique piece of machinery. I write it off as a bonding experience.
Anyway, I have a bit of catching up to do as I purchased Snow Leopard in July of 2013 and have already done a good bit of modification. I intend to keep the most up to date pictures below, with the build in chronological order following: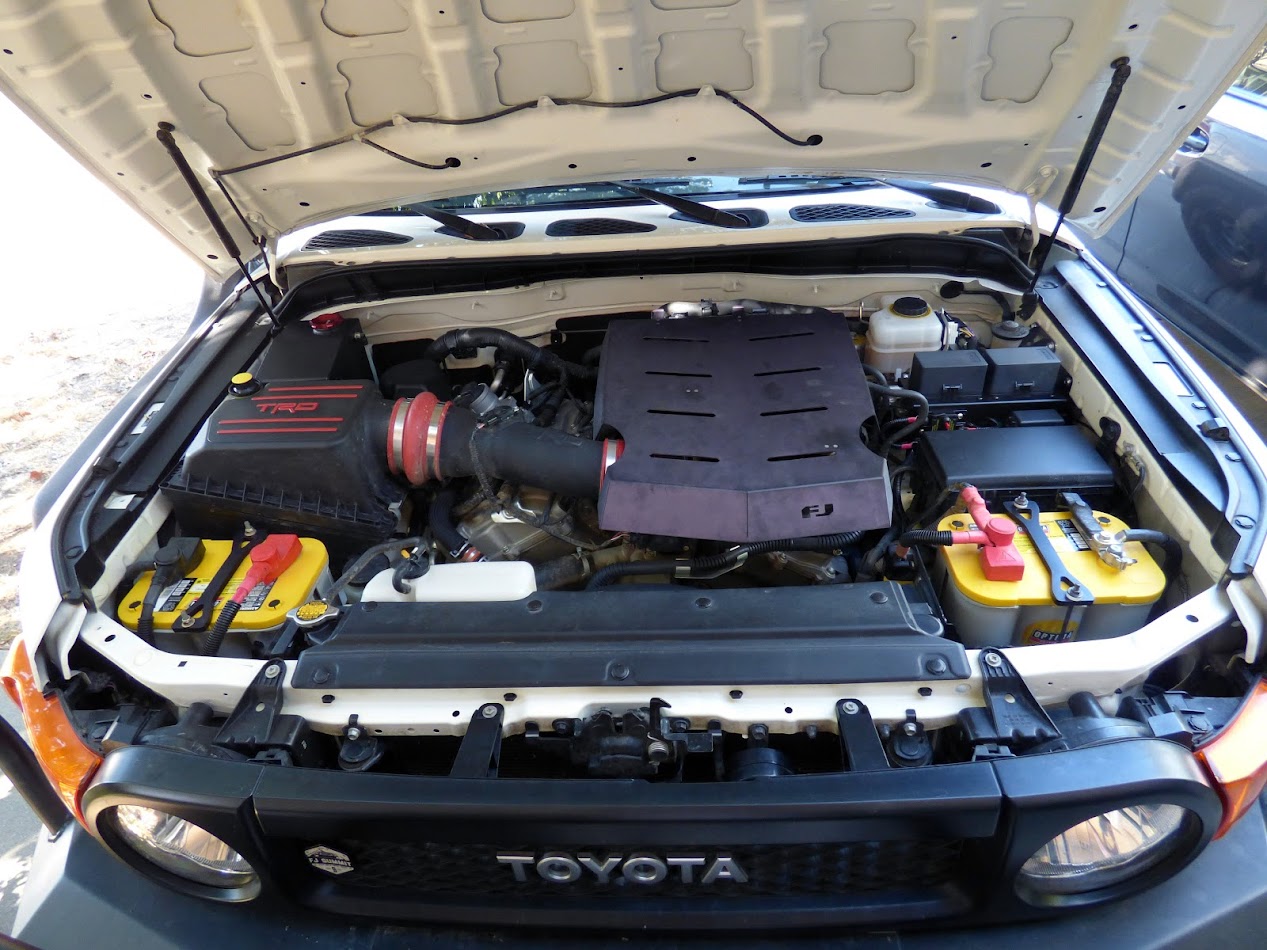 Okay, from the beginning. Bought the truck 7/2/2013 with 6 miles on it. She is a 2013 Iceberg 6MT with the following options:
Off Road Package
Rock Sliders
Roof Rack
TRD Quick Shifter
Tow Package
Here she sits around 7/15/13, with the only addition being Nitto Trail Grappler M/T's in 265/70/17. Figured I would sell the stock tires with as few miles on them as possible.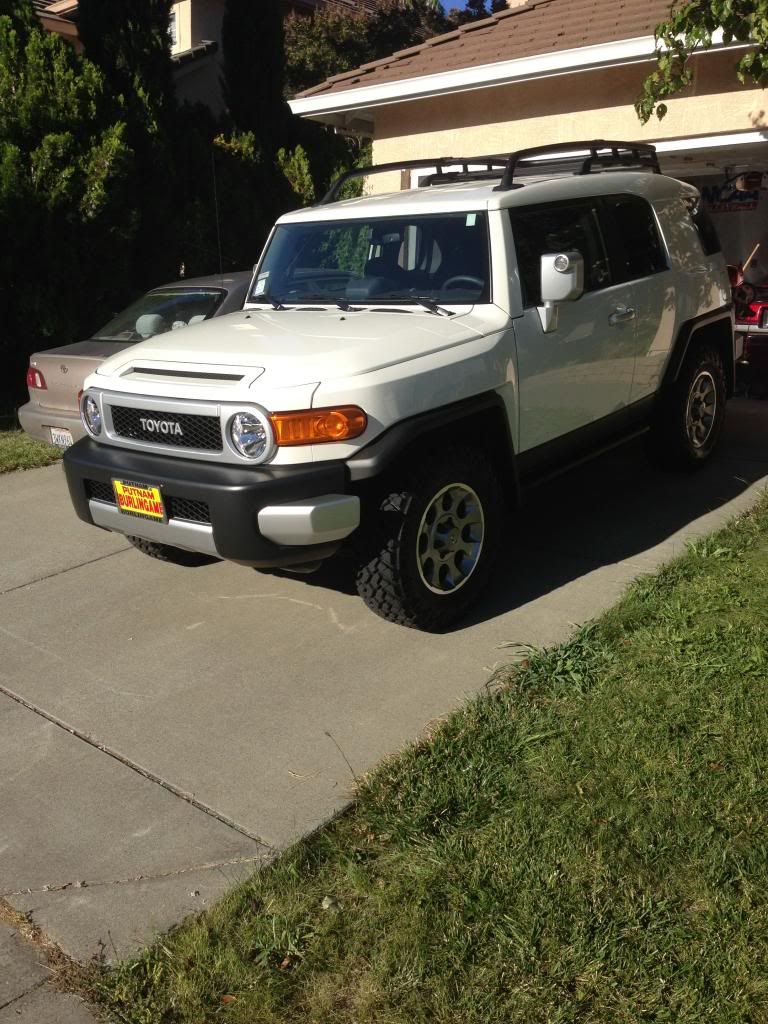 One of my only dislikes with the styling and function of the FJ is the flimsy and weak front bumper. There was only one thing to do, replace it with an Expedition One Trail Series Kodiak front bumper. This thing is solid. My wife was a little concerned when our brand new FJ looked like this at 5K miles:
Bumper install went well with minimal grinding or interference issues. I went ahead and installed a Warn M8000 with synthetic rope shortly after. I hated the polished fairlead that came with the winch so I swapped it out for a black anodized one.
In mounting the winch I decided that the control box was not well protected and looked strange protruding from the bumper, so I chose to mount the contactor to a subplate that is installed inside the bumper on one of the supports. I used a replacement connector and pigtail for another Warn winch to provide the interface to the hand controller. The electronics are well protected inside the bumper and I find this approach more visually appealing. There large opening in the bumper over the winch was a bit of an eyesore in my opinion, and it left the winch (synthetic cable) unprotected from the sun. To remedy this I went ahead and designed a cover that allows access to the winch free-spool lever and provides for visual inspection of the drum while offering a layer of protection.
Here it is being fitted:
And Installed:
If anyone has the same bumper / winch combination and wants a cover like this, just PM me and I will send you the CAD file / Drawing.
To control the fog lights included with the bumper I went ahead and used the overly priced Toyota switches and harnesses for ease of installation. Taking the dash apart and installing this switch was tedious and time consuming in my opinion. I would rather install another bumper than do that again. The part numbers that I used are as follows:
Fog Light Switch PN: PT297-35070-SW
Switch Harnes PN: PT297-35070-SH
Lamp Harness PN: PT297-35070-LH
AUX relay PN: PT297-89016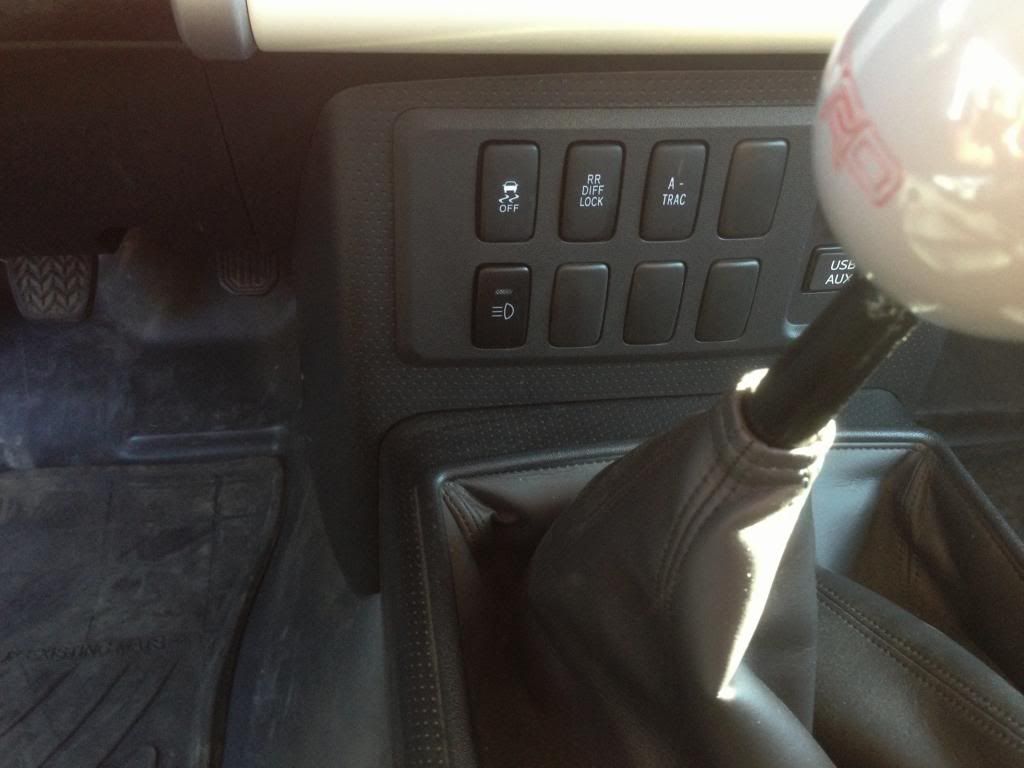 Well, once the new bumper was installed I determined that the stock washer fluid reservoir was completely inadequate with its protrusion into the wheel well. Being that this is a 2013 and has an air injection pump in the alternate washer location I was out of off the shelf options.
I instead set out to create my own, which admittedly turned into a larger project than I had hoped. I am very happy with the final result though:
And the accompanying bracket, wiring extension and hardware: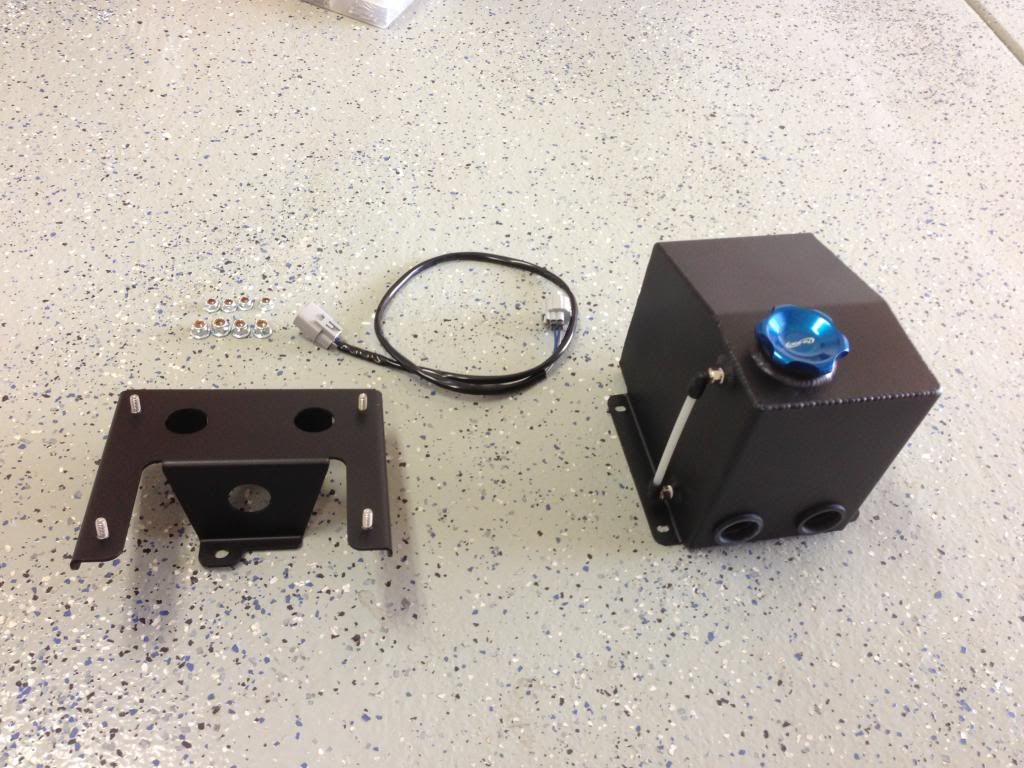 Mounting bracket installed:
And finally, the entire unit. What a PITA:
2/20/14 Update: Finally got the front Icons and Camburg Arms. Install was slow but went great. Ended up with 2.95" lift in the front along with 3.14" droop. Alignment tech was able to get caster back to the low end of stock with the Camburg UCA's.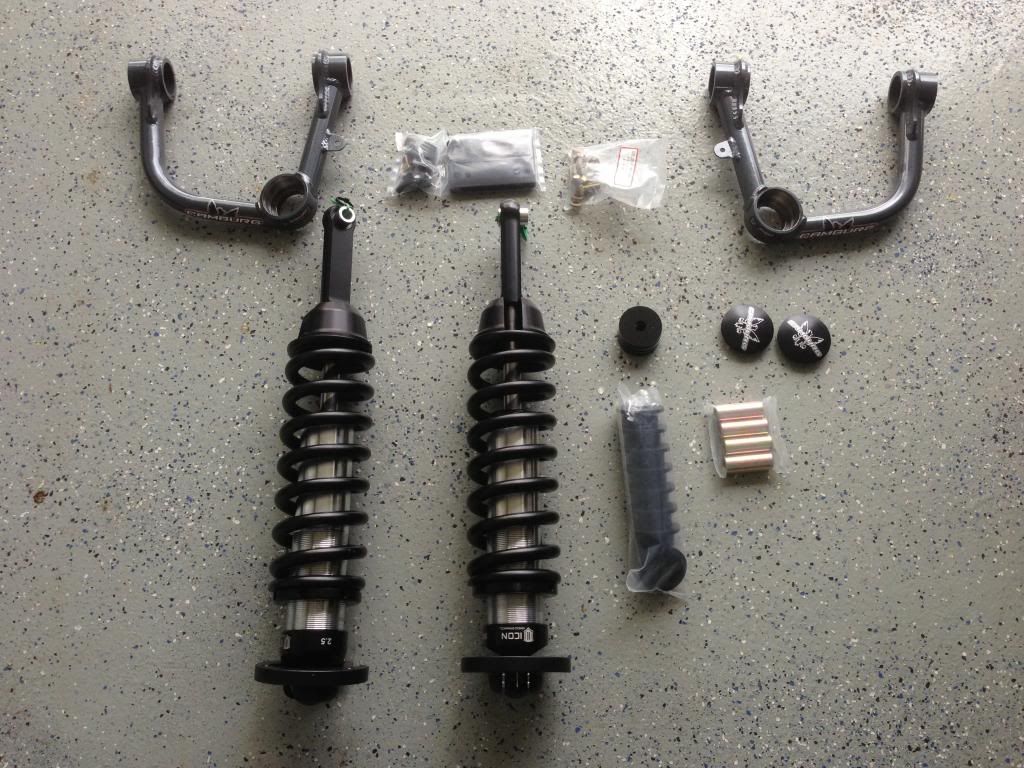 Icon Install (Page 5)
2/27/14 Update: Designed a new engine cover to replace the crappy stock one. Not exactly a "functional" mod, but it makes me happy when I look at it.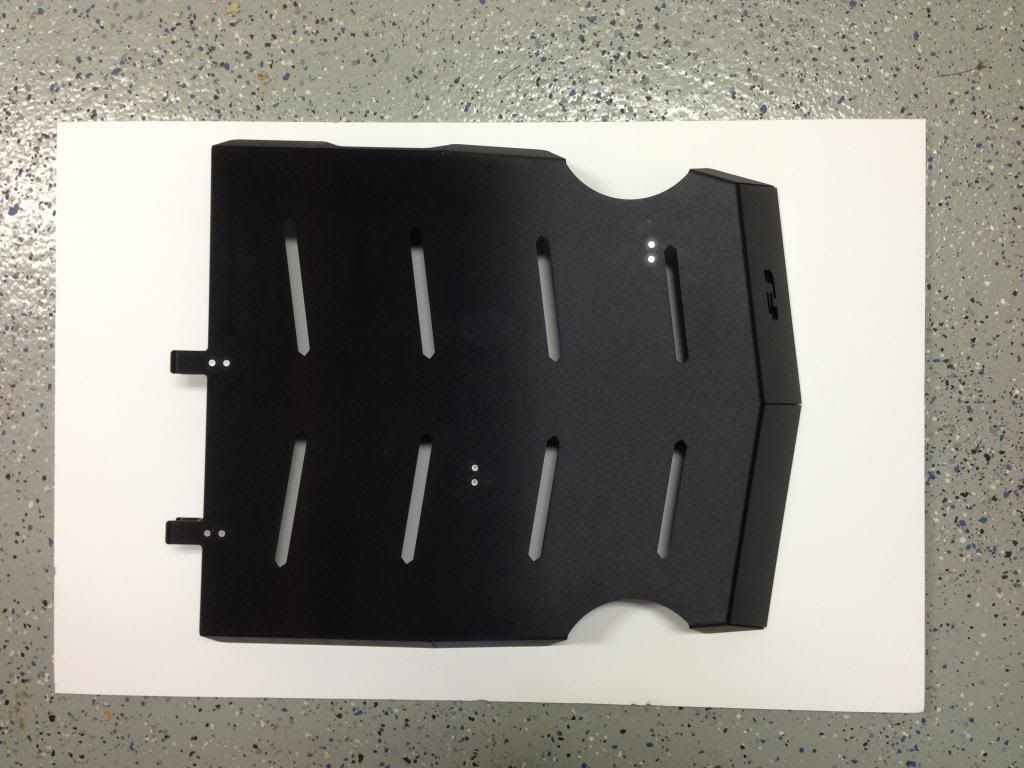 Engine Cover Install (Page 6)
~5/14 Update: Designed and installed a breather setup for the front and rear diff, transfer case and transmission.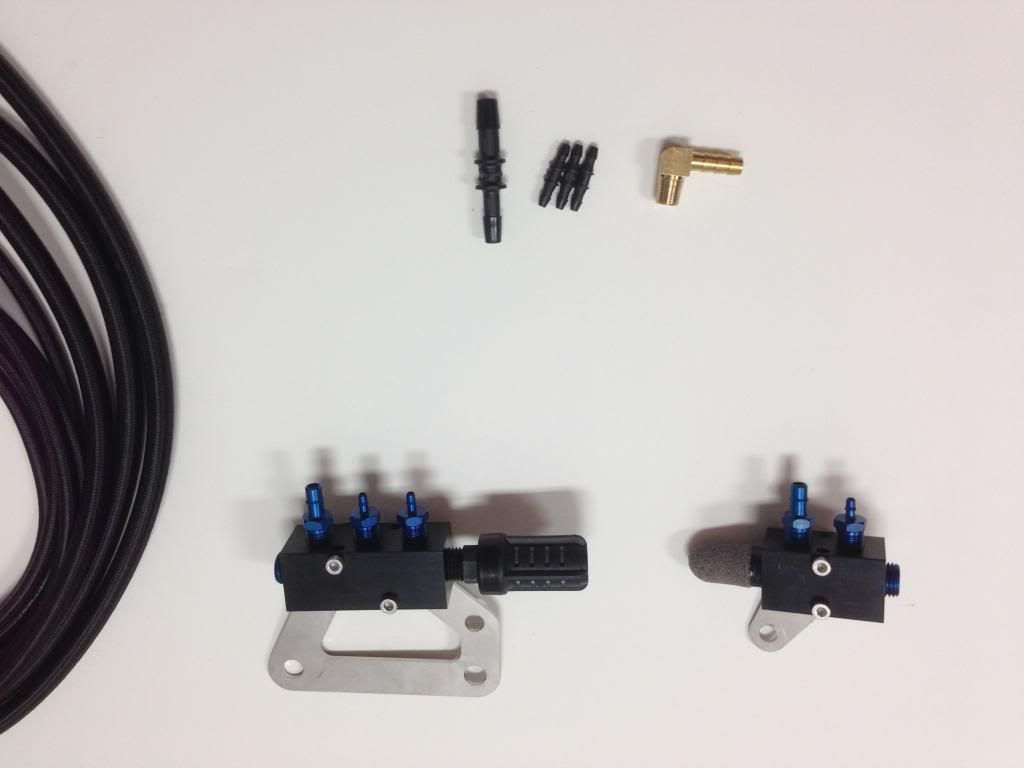 SCUBA Mod (Page 11)
Also Installed AFE Hightuck exhaust and upgraded to 295/70/17 Trail Grapplers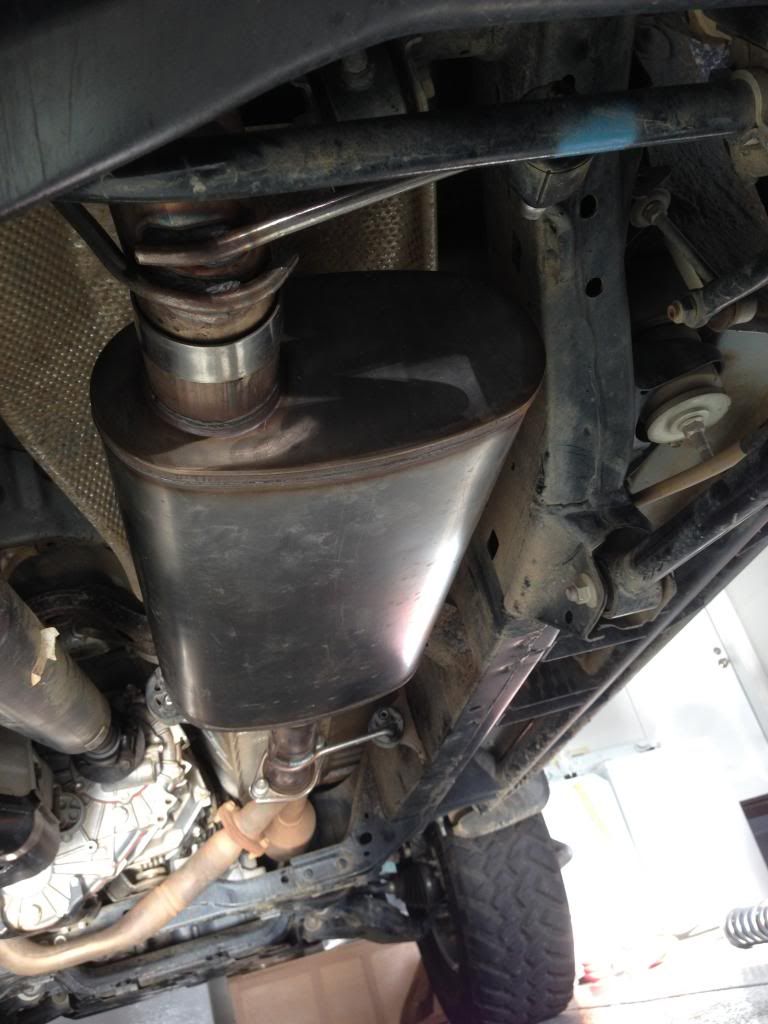 6/4/14 Update - Body Mount Chop:
Body Mount Chop (Page 13)
Late 2014 Update - Auxiliary Battery Tray Design and Installation:
Auxiliary Battery Tray (Page 15)
1/2015 Update - Completion of Dual Battery Setup: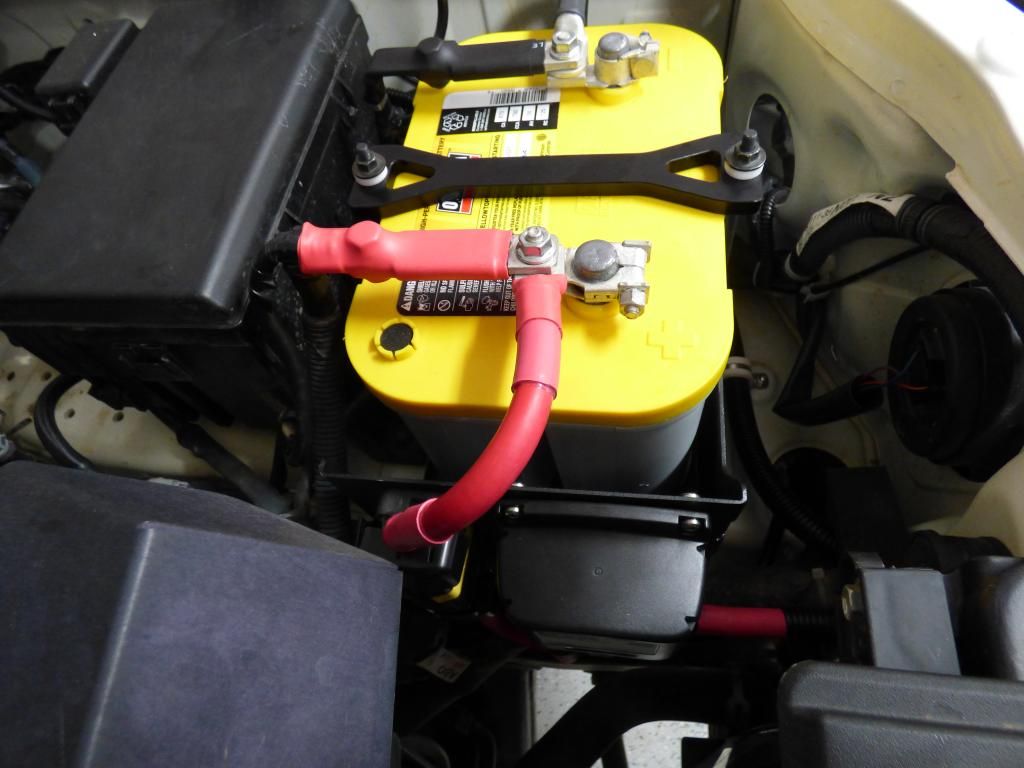 Completion of Dual Battery Setup (Page 37)