March 2018 Rig of the Month: jamesepoop
BEFORE:
AFTER:
We'd like to congratulate jamesepoop – James for having the March 2018 Rig of the Month.
Hayden
: Tell us a bit about yourself (age, family, school/job, hobbies, where are you from, how long you've lived where, etc.)[Really whatever you'd like to share, like what you would tell someone if you were meeting them for the first time.]
James:
First off, thank you FJCruiserForums! Oh my, what an honor!! And where to start. I'm James. Born and raised in southern California. I've been a little bit of everywhere, getting some experience and learning all the time. I've aged 34 years and went to school at UC Santa Barbara years ago. Up north, I earned my first (pin) stripes and the grit for offroading in a Jeep ZJ Grand Cherokee and dirtbikes. My hobbies have always been something hands on friendly. I'm a big advocate of world travel. However you get there, just get out there :bigthumb: I've been back in California for the past 6 years and found a career in the electronics test engineering field. If you've flown in any commercial or private airplanes lately, most likely you've used our components. On the side, I've been pursuing freelance photography. If you follow any of my posts, sometimes I share stuff from my work in the field. In the near future, I'm looking to move up to the Pacific northwest to pursue more opportunities and experience more of the great Americas with my fiancee.
Hayden
: What is the story of how you got your FJ Cruiser?
James:
I wasn't looking for one at first. I saw my first ever voodoo blue on the Lake Naciemiento Trail near San Luis Obispo, CA in 2007 and it was coming down a muddy path that looked all too narrow for it's chubby wide stance. It was imprinted in the depths of my medial temporal lobe ever since. While it sat latent in my memory, I had completely forgot about the FJ. Fast forward 10 years, I was planning to buy a car for my fiancee. What better timing than now and we all know the FJ is a mighty tank when it comes to safety. Surprisingly, a conversation came up with my co-worker about him being interested in an FJ or built Jeep Wrangler. I had a little background with the Jeep ZJ and I knew of it's infamous issues so I fully supported his decision for an FJ. Since that conversation, I got to researching and was looking for my girl's future car. Well, long story short, I found her FJ! BUT, a big BUT, she wasn't completely sold on the FJ and I rushed into purchasing after looking at only 4 vehicles :lol: Secretly... I just wanted the FJ all to myself, so I started to make this FJ my own!
Hayden
: Is the FJ Cruiser your first off-road vehicle? If not, what was the first vehicle you took wheeling?
James:
My first personal off-roader was a '96 Land Rover Discovery I. I know there's a few of us here from the LR camp that have moved on to the Toyota family and I'm really glad that I made the jump. With the my first vehicle, I found out about the importance of line selection. It does not have all the bells and whistles of electronic traction so you learn quickly or get stuck.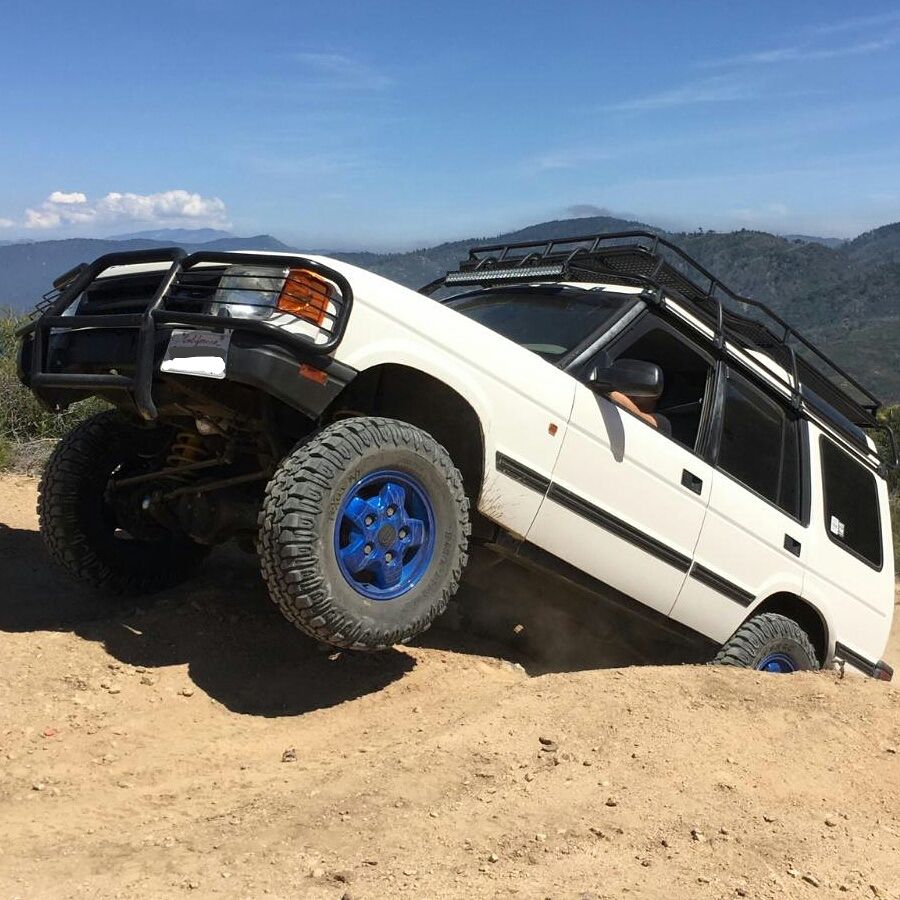 Mod List:
ARMOR: Rocksteady primary, Ricochet gas tank/rear bumper, RCI diff, FJ Toyman lower link, Demello Offroad hybrid sliders
SUSPENSION: King Shocks 2.5, All Pro UCA, FJToyman Gusseted spindles, Wheelers bumpstops, Trail gear strapped, no sway bars
WHEELS/TIRES: Stealth Customs F5 16x8 -25mm/Wrangler Duratrac 315-75R16s
ENGINE PERFORMANCE: Castrol Synthetic 5W-30/AFE 2.5 hi tuck exhaust
LIGHTING/ELECTRONICS: Philips Ultinon LED H4, 4x Lightforce Striker 170mm, 2x7" Amber LED and 1x30" LED chase lights (still wiring these, don't judge me :lol
EXTERIOR MODIFICATIONS: Removed fender flares, JTA Metalworks Pre-runner bumper, D3 rack with custom 80/20 t-slot bars, DeeZee rear ladder, Olympic 4x4 Rotopax carrier with 10 gallon fuel capacity, Simpson Offroad hood vent
INTERIOR MODIFICATIONS: Carjoying TM-138N2 8" headunit, Coverking Hawaiian blue neoprene, 10" tablet ram mount, iOttie phone mount, Sparco 350mm Wheel on NRG slim hub, Chevy/GMC map lights, removed airbags/center dash console gauges, Weathertech floormats, rear storage drawer/RTIC 45, Halon Extinguisher
​