2008 Toyota FJ Cruiser Trail Teams Special Edition
Discussion Starter
·
#1
·
March 2019 Rig of the Month: bandi
BEFORE:
AFTER:
We'd like to congratulate bandi – Leroy for having the March 2019 Rig of the Month!
Hayden
: Tell us a bit about yourself (Family/pets, work/school, hobbies/interests, location, etc.)
Leroy
: THANK YOU, this is an honor!... I am a long-time member here on the FJCruiserForums, since May 2006, a few months after purchasing my Blackdiamond' (love the FJ color names) FJ, and just a week before purchasing our second FJ (Sunfusion').
I was born in the 60's and grew up mainly in the small town of Forked River in the pinelands sections New Jersey, although being the son of a Navy Chief Petty Officer, we moved quite a few times outward but always landed back in our Jersey' town. I am the youngest of six, three brothers and two sisters, and currently the father of four and grandfather of the same, and now raising our 8-year-old autistic grandson (no rest for the weary).
As a kid, I was always into creating/fabrication, from model kits, powered planes, boats, to modification of bicycles into choppers, along with mini bikes and go carts… pushing the envelope, with some broken bones too (no real rules back in the 60-70's). Ever since sixth grade, I was working towards architecture/engineering, which lead me to the career path I am on now. I have worked two full time jobs in my lifetime, including twenty-six years for an engineering company, and the last ten years for a certain government agency that provides assistance for natural/man-made disasters, both basically designing newer and stronger infrastructure projects. Time flies when you are doing something you really love… envisioning ideas, and seeing them through to fruition.
I have sooooo, soooo many hobbies/interests of past and present besides the FJ world, most of which I have had no time for, but including rc trucks, gaming, building computers, metal detecting, astronomy, outdoors/nature, off-road racing/fabrication (SODA/CORR), to name a few, along with my strongest which is fabrication. To put it simply, If I did not have to work for a living', I would still never be bored a day in my life!!!
I am married with four adult children, I have four grandkids, of which one with special needs that we are raising…
Hayden
: How did you come to own your FJ Cruiser?
Leroy
: Well, back many years before its release in 2006, I read an article on it and fell in love with it from then going forward, although I never saw it again…. That is until I was shopping for a new SUV for my wife. We were working dealer-row here in Jersey, going from one to the other looking at prices and models, and a semi-truck car hauler pulls up alongside the Toyota dealer we were at… I looked at the top of the trailer and there it was, this dream vehicle I had only saw once in what seemed a lifetime ago.... I was so mesmerized, I climbed on the trailer and was looking at ever square inch of it.
A salesman came over quickly and asked if he could help me, and my reply was just "write-it-up, I'll take it". He replied "what about a test drive, don't you want to look it over?", for which I said "I know exactly what it is, and I'm buying no matter what, so write-it!"... It was a Blackdiamond' FJ (MT6 manual trans), build date Feb' 2006, and loaded with all options, including rock rails, skid plate, roof rack, tow package, locker, atrac, fjammer/sub, all for $27k. I told the salesman to call me when a Sunfusion' roles in, and in about a month or so, I bought our second FJ with the exact same packaging.
The first person to comment on the FJ when we were out in public was this sweet young lady, bless her heart, with the comment "Is that the new Hummer?"…. Of course two weeks later when I received my new license plates, it read "UMR…" [facepalm]….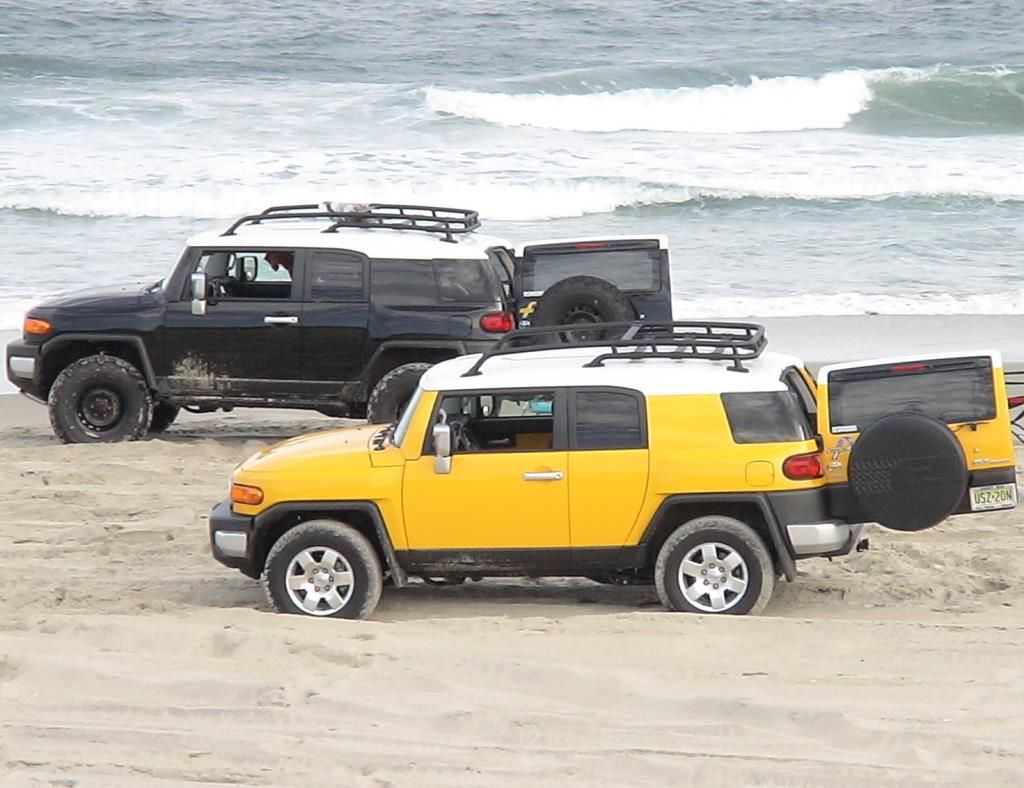 Hayden
: Is the FJ Cruiser your first off-road vehicle? If not, what was the first vehicle you took wheeling?
Leroy
: I've been wheeling most of my life, so the FJ was not my first (sorry FJ). My first time wheelin' was with my parents/older siblings in the 70's down in the good ole' pine barrens of Jersey'.
When I got my permit to drive, my parents said "we have a car for you" and took me to my uncles autobody shop. They pointed into the back-storage yard and said "that there is the front of your car, and over there is the rear... a 71'/72' Plymouth Duster" for which all I had to do was weld it together as one car (along with swapping the engine and all the wiring). I lifted it some, bigger tires, and that was my first wheeler (more of a rally car) I used for a few years until I bought a used 78' Toyota Hilux!!!
Later on, I bought an 87' Toyota 4x4 pickup, and then an 88' 4runner, and also built two Fords' on 38's with worked engines, and one Dodge (none of which I currently own). I thank my parents for the life lessons, having me assist when wrenching on his cars, and having me build my first car, it led me to where I am today. There is almost nothing that I don't do myself with my vehicles, other than internal transmission/gearing.
Mod List:
ARMOR:
FJtoyman rear shock skids, 4-Plus skid plates for front engine to trans/transfer case, Bandi front bumper/transfer case transition plate, Boztec rear diff' skid, Demello single hoop flat top steel bumper (with Demello hi-lift mounts on the hoop), and All-Pro basic rock rails.
SUSPENSION/WHEELS/TIRES:
Walker Evans remote reservoir w/ adjustable dampening front 2.0 coilovers and rear shocks, rear ARB extra heavy 600lb over stock springs for towing capacity, and Camburg ball joint UCAs, FJToyman gusseted spindles, all allowing me 3.5 inch lift up front and 4 inch lift in the rear. Stock OEM steel wheels with 315/70/17 Goodyear MTR kevlars (w/ counteract balance beads) mounted with Spidertrax 1.25 spacers. My original setup was 34/10.5/17 Super Swamper LTB bias ply tires (sounded/felt like riding in a B17 without ear protection). I did the Dapurak cv axle boot placement mod (to eliminate boot rub) and the Bandi cv axle boot clamp mod too (to prevent grease seepage). Also added the Toytec diff' drop kit to further help the cv angles. Additionally, I performed my iconic Bandi body mount chop, and installed my Bandi half (0.5) inch body lift kit (I did not need the Bandi one (1.0) inch body lift kit, but I was thinking of switching to it anyway).
ENGINE PERFORMANCE:
Absolutely no engine upgrades. IMO, the FJs always had more than enough power to the ground… as I need it, as I want it, it's there… this is due to the MT6 (6 speed) transmission allowing me to fully control the throttle to gear ratio. I have towed my 18ft car trailer with a full-size extended cab 4x4 and it gets the job done well. Only a few things I can think of, the Flowmaster Super40 w/ three (3) inch exhaust/high tuck tail pipe, the first EllisPrecision battery mount (before there was an EllisPrecision) holding down an oversized Optima D31A yellow top, and an URD stage 3 clutch w/ light weight flywheel (next time I'm going with the stage 2 with the extra heavy flywheel for better low crawl stability).
LIGHTING/ELECTRONICS:
I have always wanted to add perimeter and undercarriage lighting… all for functionality of seeing/wrenching, but no HID/changes to stock roadway lighting (as to not blind my fellow roadway motorist). I actually have around 18 smaller led light blocks/bars in boxes for many years now… I just need that time that I just can't seem to find.
EXTERIOR MODIFICATIONS:
I kept all the exterior basically stock except for some basic mods. I did paint all the silver components flat black, ie: mirrors, door handles, grill. I also performed my iconic Bandi body mount chop, and installed my Bandi half (0.5) inch body lift kit, and of course a Bandi mount cb antenna holder and two (2) foot red cb antenna. I also modified my rear door tire carrier to fit my 315's with a stock vertical look, by cutting off the three studs and mounting an extra Spidertrax 1.25 inch spacer mount upward on the mount some 2-3 inches or so, and also installing half (0.5) inch spacers at the two top door mount bolts to make the tire vertical and allow the rear window to open fully without interference. I performed the Bandi simplified scuba mod too, along with adding an ARB Safari snorkel, and installing the BajaRack extra large flat rack for functionality.
INTERIOR MODIFICATIONS:
I installed the original Cobra 75WXST remote hand-held cb which was later made infamous by BIGBILL25 here on the blue room and at Walcottradio.com with their "Big Bill Combo". Other upgrades include a custom Raingler cargo net made to my spec', FJToyman paracord grab handle w/ billet mount blocks (top), GZilla' custom billet grad handles (front), custom folding rear storage deck w/ two (2) large sliding fiberglass storage boxes, Bazooka 200 watt sub (replaced the FJammer sub for cargo net clearance/custom storage deck), Iron Mountain Performance Shift Handles (pool ball style, black w/ red engraving), Clazzio perforated seat covers with seat heaters, URD short through shifter along with generic 4 inch shifter height extension on both the MT6 and Transfer case.
RECOVERY MODIFICATIONS:
Titan 12k winch with 7/16 inch synthetic line and recovery pulley, 2 and 3 inch snatch straps, VanBeest 3/4 & 7/8 shackles, ARB tow strap, tree savers, and safety gloves, C4RS 7/8 inch kinetic recovery rope, and multiple sizes of C4RS soft shackles, hi-lift jack extreme 60 inch, ARB Twin compressor with ARB tank/Manifold mounted on a Bandi compressor mount, along with ARB gauge/deflator, Gzilla rear receiver shackle mount w/ 7/8 inch VanBeest shackles.
Hayden
: Any modifications unique to only your FJ Cruiser?
Leroy
: As I do custom work for others and sell my custom fabricated items, I'd only be able to say my one-off front and rear transition skid plates, one-off EllisPrecision battery mount bracket, one-off Raingler cargo net, my custom spare tire mount, and my custom Jersey' pine barren paint job, all are unique items on my rig.
Hayden
: What modification has been your favorite or has been the most worth the money/time/effort that you'd recommend it to someone else?
Leroy
: My favorite modification I would say was the Goodyear 315' MTR's… I literally pushed every extreme with them to try to get myself stuck, and it never happened, black trails and all, they keep on pulling you through. These were still over 50 percent life after 3 years/33k miles. Although, my next tire is going to be a Cooper 315' STT Maxx's as I want to get back to more of a challenge on the trails, there needs to be a fear of getting stuck in order for trailing to be challenging. The basics MINIMUM PROTECTION is what I would recommend for anyone starting out, skids, sliders, and snorkel…
Hayden
: What upgrade has been your least favorite, or what modification would you do differently if you had to do it over again?
Leroy
: The worst I would say were the All-Pro 1.5 uniball UCA's, as the uniballs wore out too quick in the Jersey' pines (fine sand kills them quick), going through 2 sets inside a year, thus I switched out to the Camburg ball joint UCA's… lesson learned and money lost.
Hayden
: What future modifications do you have planned for your FJC?
Leroy
: Well, the world is my oyster at the moment. As of April 24, 2016, my Blackdiamond' went off to heaven after a 60mph head on collision caused by a young kid texting and slamming a car with a mother, father, and infant into my on coming lane… I was able to react just fast enough to turn hard right as to not drive through their cabin area resulting on a glancing blow (thanks to my Demello flat top bumper which performed flawlessly) as I drove through their engine bay (all parties survived and walked away), completely tearing my front drivers side wheel/suspension off, and sending me into a roll. A 2016 4runner replaced my Blackdiamond' as my wife's new ride, and I took possession of her Sunfusion'. The FJ was bought for $27k, and the insurance paid $22k and I got to keep all my mods (110k miles and 10 year in age), not a bad investment….
Soo, at this moment I have most of my modification from the Blackdiamond' except my beloved Demello flat top and Walker Evans front coilovers, and I sold off the 315 Goodyears' and OEM steelies. I have mounted all my armor onto the Sunfusion', along with the exhaust setup, the shifter mods, grab handles, battery, etc. My planned modification (which I already have stacked up in my garage), in access to all the salvaged ones listed above in the tech' section, are OME front heavy setup to go along with my Walker Evans rear shocks, Cooper 315/70/17 STT Maxx's mounted on new ole' school gray OEM steelies', ARB awning, Spingtailsolutions Tailgate rack/table, ExpeditionOne rear bumper, my own custom aluminum roof rack, and any new product I come up with. For the front, I am still hoping on a Demello Off-Road sale to obtain a new bumper (still praying).
I'm starting on a CLEAN SLATE !...
​