Discussion Starter
·
#1
·
May 2019 Rig of the Month: IDFJ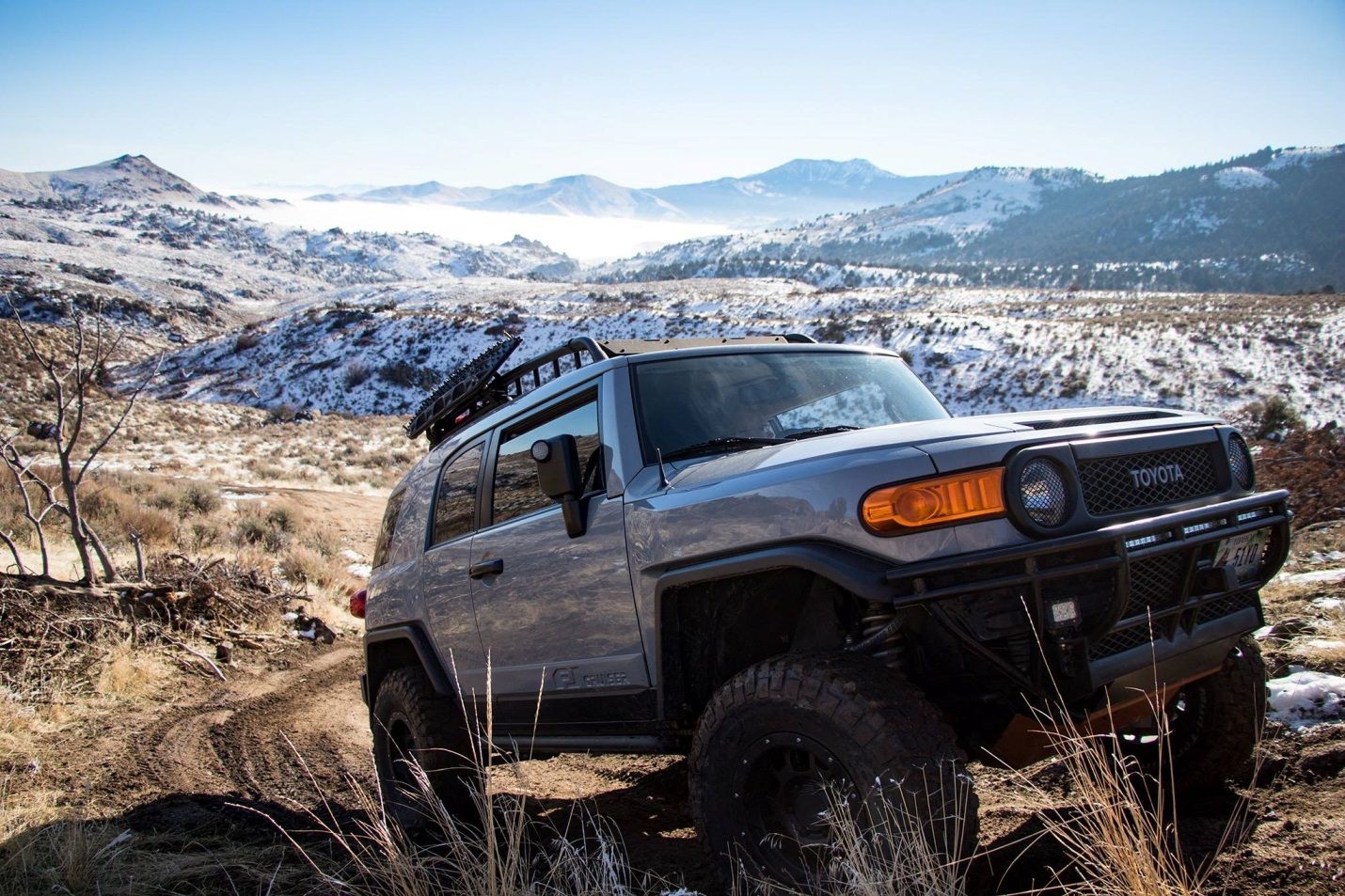 BEFORE:
The day I bought it, December 1, 2012. [Alex Trebek apparently moonlights as a car salesman.]
AFTER: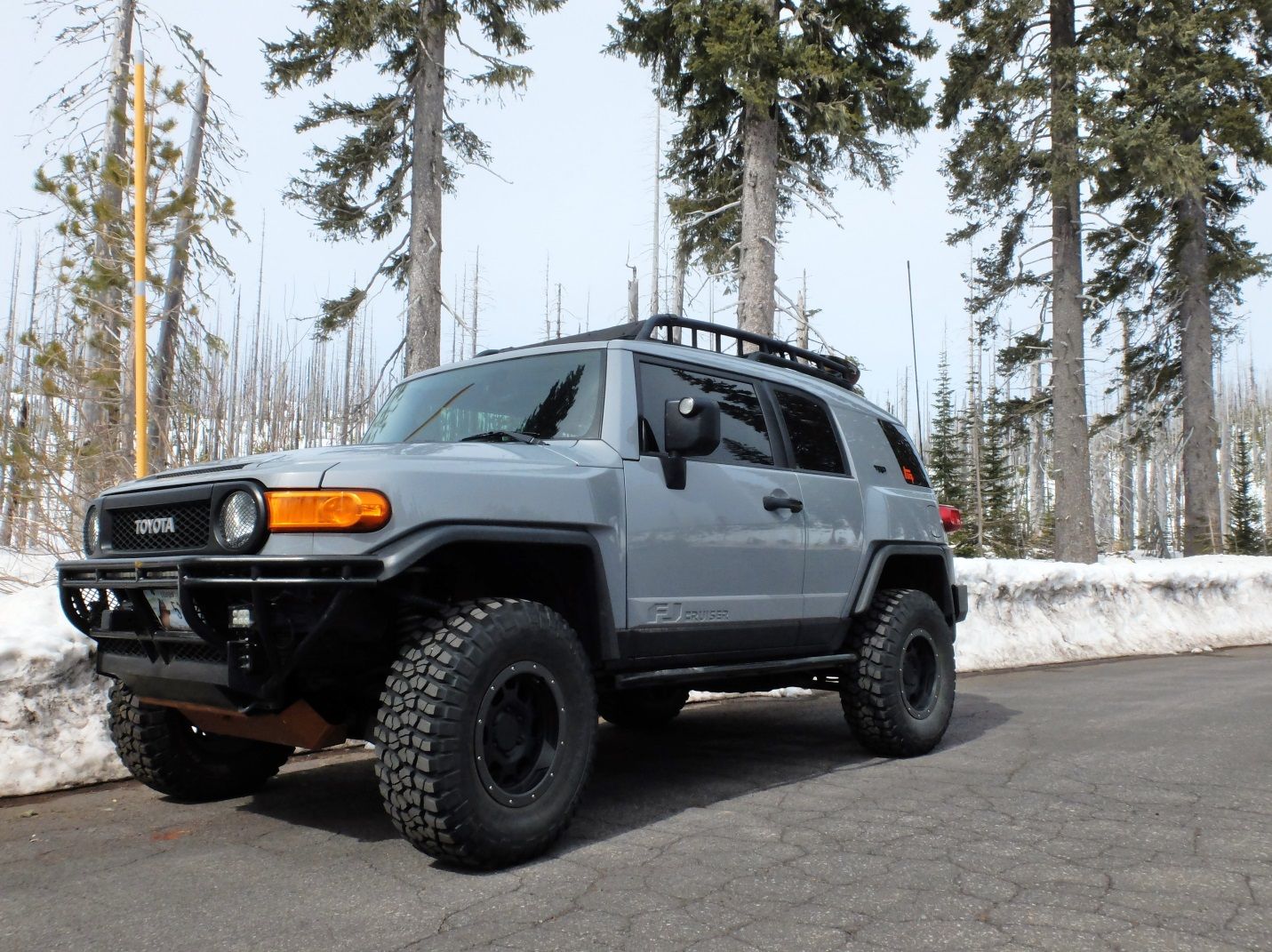 We'd like to congratulate IDFJ - Brad for having the May 2019 Rig of the Month!
Hayden
: Tell us a bit about yourself (Family/pets, work/school, hobbies/interests, location, etc.)
Brad
: Thank you for this honor, even if there is no cash prize. Cheap bastards. As I told Hayden, I'm not sure my FJC is really worthy of being "Rig of the Month," but I'm not turning it down. I really enjoy the forum and interacting with all the members, so thanks again.
I'm 47 years old and live in Boise, Idaho with my wife Melissa. I grew up in a military family and we were stationed in Michigan, South Carolina, Nebraska, Florida, England (Lakenheath AFB), and finally in Virginia (Langley AFB). I went to high school in Virginia, then I attended college in Michigan. I'm a proud Michigan State Spartan (Class of 1995).
As I approached graduation, a friend named Terry cornered me and asked if I'd be interested in a summer adventure he was putting together for the next summer (1996). He convinced me it would be a good time and he was trying to put together a group of 7-9 people to join in. I half-heartedly committed, then forgot all about it.
After graduation, I worked for the U.S.D.A. as a Soil Scientist for a year in the Upper Peninsula of Michigan. I soon decided that was not for me and started looking at grad school options. I took the LSAT (for prospective lawyers) and the GMAT. I did well on the LSAT, so I thought maybe law school would be a good idea. I decided since I'd never set foot farther west than Omaha, Nebraska, I'd go to law school out west somewhere. I ultimately ended up deciding on Lewis & Clark Law School in Portland, Oregon. I was all set to begin law school in August 1996, so I planned to quit my job early and join Terry and others on a summer adventure.
I quit my job in May of 1996, drove from the Upper Peninsula of Michigan to Portland, Oregon with Terry (drove straight through, taking turns sleeping—oh to be young and dumb again), put all my worldly possessions in a storage unit (including my crappy Nissan Sentra hatchback), and we caught a ride to Astoria, OR with nothing but our touring bicycles and camping gear. Ultimately, everyone Terry attempted to recruit to come along on this bike trip dropped out, except for one other person. Her name was Melissa and I had never met her before we arrived in Oregon. Needless to say, we hit it off…we have been married now for almost 17 years. Thanks Terry!!
We spent the next 68 days riding our bicycles across Oregon, Idaho, Wyoming, South Dakota, Minnesota, Wisconsin, Michigan, a small part of Canada, New York, Vermont, New Hampshire, and finally Maine. It was the trip of a lifetime, and changed my life forever, in many ways.
I started law school in Portland after the bike trip and graduated in June 1999. By then, Melissa and I were living together in Portland. We really liked Portland, but I landed a good job in Boise, so we moved to Boise in July of 1999. We've been here ever since and we continue to enjoy everything Boise has to offer, even though the infrastructure has become inadequate over the last couple years. Tons of people are moving to Boise and the surface streets and service businesses just aren't equipped to handle it.
I currently have a small law practice with one partner. I practice primarily family law and employment law. We operate our Firm out of a four-square house in downtown Boise which was built in 1888 (before Idaho achieved statehood). Learn more here if you're interested:
https://www.khsidaholaw.com/our-offices/the-historic-atkinson-house
Circa approx. 1905
Present day:
Melissa worked for Boise State University for about 12-13 years in different roles, before deciding to run for public office. In November of 2014, she was elected to the Idaho House of Representatives in District 19 (basically downtown/north Boise). She has been a legislator ever since. It certainly has its ups and downs (and it pays ****), but she is making positive changes where she can. I like to tell my frustrated clients "I don't make the laws…my wife does."
Melissa and I used to have pets (two cats and a dog), but they have all since passed on. About a month ago, our dog Jack passed away after a valiant and courageous fight against an aggressive and largely untreatable form of cancer. He made it way longer than the vet expected and we are very grateful for the last five months we had with him. Jack was the best friend anyone could ever have. I still miss him terribly every day. Not a day has gone by since he passed on March 26 that I haven't cried. He was one-of-a-kind. He loved hiking and FJ adventures, but not those damn rear windows that would not roll down no matter how long he stared into them and panted! R.I. P. Jack. Love you boy.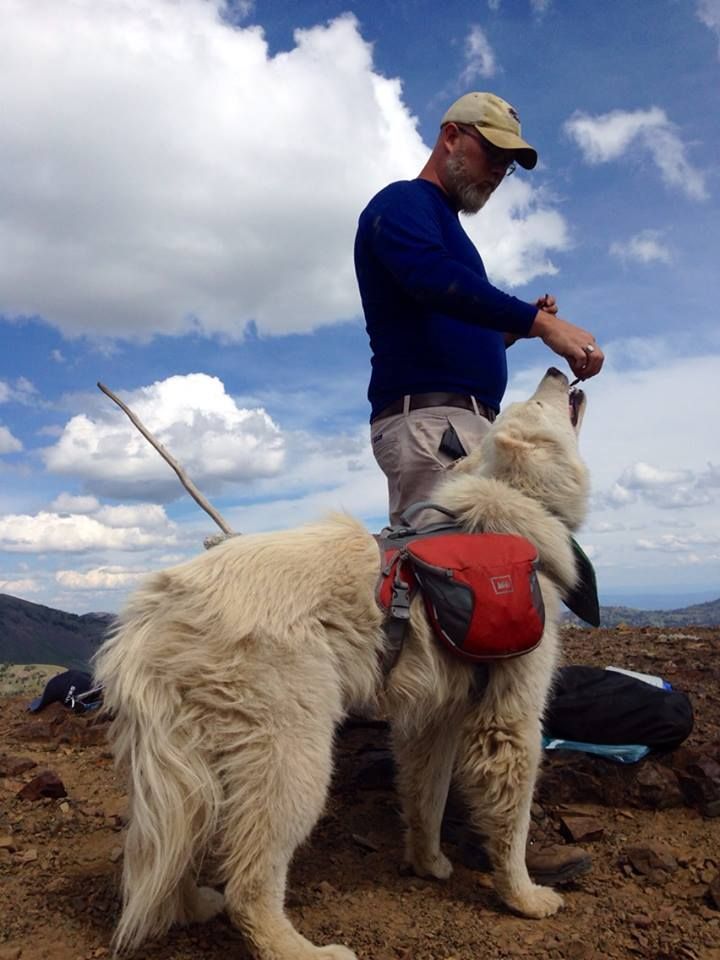 My primary interest/hobby is fly fishing (and other forms of fishing). I spend a lot of time (spring/summer/fall) chasing rising brown trout on the Owyhee River in Oregon (about 65 miles west of Boise), but I'll go anywhere there are rising trout and fewer people. I also chase steelhead in March/April, and try to get up to Canada every couple of years to fly fish for salmon. What kind of fisherman would I be without a few pics?
Hayden
: How did you come to own your FJ Cruiser?
Brad
: I've owned a 1997 4Runner since 2000. I still own and drive it. It sold me on Toyotas overall. Like many here on the forum, when I saw the first FJC concept vehicle in 2003 (I think), it piqued my interest. Then when Toyota announced it would be put into production, I started to really think about buying an FJC. When they started showing up on the roads in 2006-7, I became pretty infatuated and obsessed. I would point out to my wife every FJC we saw (we still call them out – FJ!), and usually pull over to look at the vehicle if it was parked, or try to follow it in traffic to get a better look. She was constantly telling me to "just buy one." Between 2007 and 2012, I probably test drove every color/option/package FJC from multiple dealerships, but in the end I would end up deciding my 4runner was doing just fine (and it was, and still is).
I was very close to buying a 2012 TT, but I still couldn't pull the trigger. The next year, the rumblings began about the FJC being discontinued in the U.S., so I "got serious" about finding the right one. In about August of 2012, people were speculating the new TT color would be a cement Scion color. Someone on the forum did a photoshop rendition and then I think the first actual pictures I saw were from a dealer in Dallas, TX. I decided that was the one I wanted and with a manual transmission. I began the hunt, and finally located two regional dealers (one in Washington and one in Utah) that had what I wanted. I ultimately decided to buy from the Utah dealer because it would save some money in taxes. On December 1, 2012, Melissa, Jack, and I drove to Ogden, UT (Tony Divino Toyota), test drove the 2013 TT MT, and bought it.
Hayden
: Is the FJ Cruiser your first off-road vehicle? If not, what was the first vehicle you took wheeling?
Brad
: No, my first off-roading vehicle was a 1969 Pontiac GTO…oh wait, that was just that one time when I got stuck in a muddy corn field, while trying to do donuts at 3:30am. Never mind. In reality, my first vehicle MEANT for off-road use was my previously mentioned 1997 4runner. It has a 3" Toytec lift, sliders, and 255/85/16 tires. Nothing too crazy, but it has gotten me where I want to go.
Mod List:
ARMOR:
• Toy Outfitters tube front bumper with 2" receiver
• Expedition One rear bumper with tire carrier
• Bash Fabrication Offroad sliders
• Ricochet bashplate/transmission/LCA skids
• Boztec Rear Diff Skid
• FJToyman rear shock skids
• Headlight rock guards
SUSPENSION/WHEELS/TIRES:
• 285/75/16 BFG KM2s
• OEM Fake Beadlock TRD Wheels (painted gray/black)
• Radflo 2.5" coilovers with 650# springs
• Total Chaos UCAs
• Toytec Superflex HD rear springs (2.5" lift)
• Ironman Foamcell Pro rear shocks
• Metal Tech lower links
• SkyJacker rear sway bar links
• SuperBumps (front)
• Toytec aluminum bump stop drops (rear)
ENGINE PERFORMANCE:
• Airaid CAI (not really a performance mod)
• SprintBooster (noticeably helps with throttle response)
LIGHTING/ELECTRONICS:
• LED headlights (cheap Chinese; so far, so good)
• 31" LED light bar (mounted to interior of tube bumper; wired to rocker switch)
• (2) 4" LED cubes mounted on bumper (wired to rocker switch)
• 3.5" round LEDS in rear bumper (wired to rocker switch)
• Amber LEDs in mirrors and added to faux hood scoop
• LED map/dome lights
• LED reverse bulbs
• Replaced OEM speakers (6x9 Kickers in the doors; 3" Pioneers in the dash)
• Three amber marker lights in front faux hood scoop
EXTERIOR MODIFICATIONS:
• BMC
• Shrockworks washer tank
• Scuba mod (rear breathers only)
• Ellis Precision battery clamp (anodized pewter)
• Hella Supertone horns (covers painted cement)
• Vinyl hood decal
• 1.5" Outpost Offroad spacers
• Stubby antenna
INTERIOR MODIFICATIONS:
• Wet Okole seat covers (front/rear)
• Ellis Precision grab handles (4)
• Ellis Precision climate control knobs
• Springtail side rack combo
• Springtail basket
CYA MODIFICATIONS:
• Factor 55 Hitchlink w/ D-ring shackle
• Midland CB/ 4" Firestick/ stainless steel antenna mount
• MaxTrax
• Rotopax (2 x 2-gallon gas; mounted to OEM crossbars with well nuts)
• Halguard fire extinguisher (mounted to Springtail side rack)
• BajaRack basket
• Shovel/axe mount on roof rack
Hayden
: Any modifications unique to only your FJ Cruiser?
Brad
: Hmm, I have a somewhat rare front bumper (ToyOutfitter tube bumper), but it's not unique. I think there are at least 4-5 other forum members with the same bumper. Oh, I did anodize the aluminum lid on my Airaid CAI to match my Ricochet skids, does that count? Ha!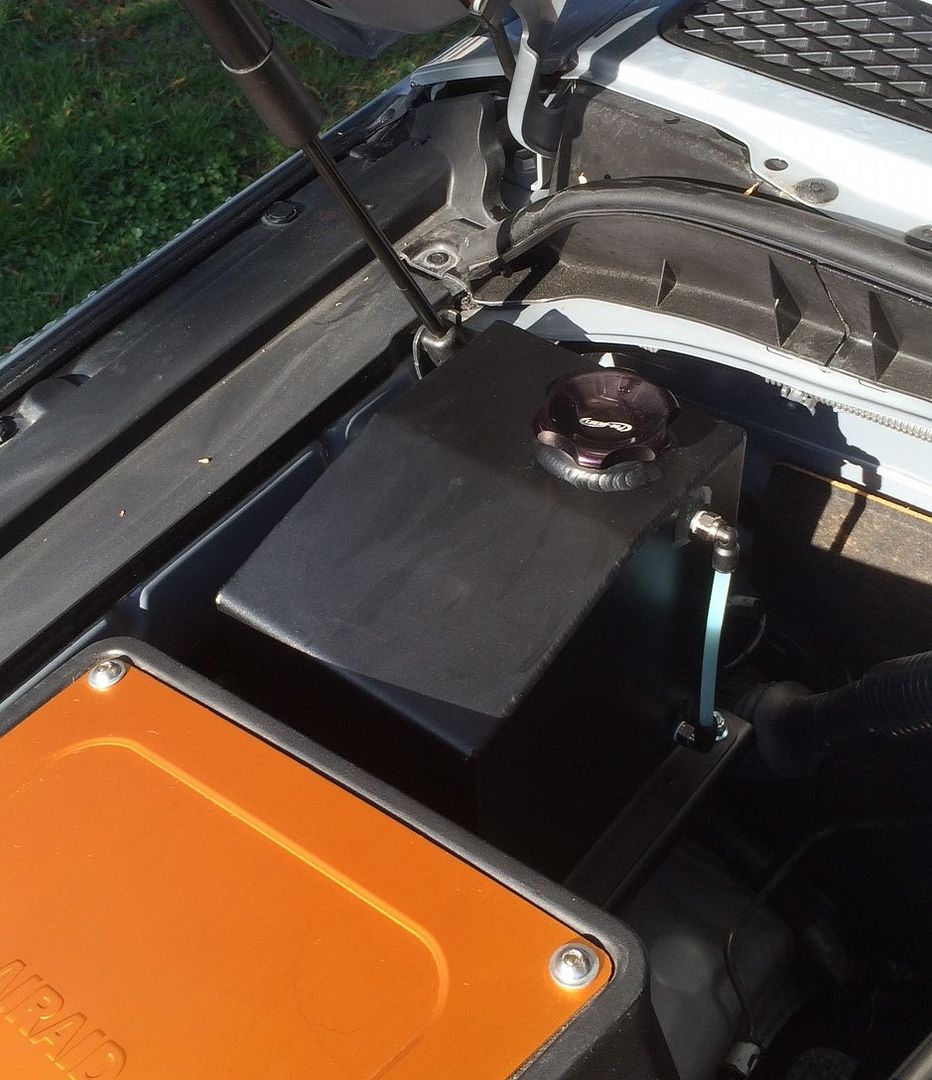 This forum is such an inspiration (and money-suck) because of the ingenuity and resourcefulness of its members. I've copied many modifications I read about on the forum, most of which I never knew I even wanted! Most recently, Iconic (Devon) figured out how to retrofit a Camry glovebox lock to work with an FJC glovebox. That floored me how he figured it out and shared it with everyone. I didn't even really want a locking glove box, but I've got one now. Thanks Devon!
People here love their FJs and love modifying them even more (myself included). I think the level of mod-fever is unique to the FJ community. I've never seen anything like it.
Hayden
: What modification has been your favorite or has been the most worth the money/time/effort that you'd recommend it to someone else?
Brad
: I think my favorite modification is the Expedition One rear swingout bumper. I eyeballed that bumper for a long time, before finally pouncing on a deal too good to pass up (20% off with free shipping). I love how OEM it looks and the functionality of taking all the weight off the rear door. I have no qualms at all about hanging a heavy Trasharoo off the spare and it is just operates so smooth with the rear door.
Something else I would recommend to anyone is the Wet Okole seat covers (or any quality seat covers). The fit is great and they protect the seats from all kind of spills, dirt, and wear/tear holes. If I ever buy another FJ, seat covers would be one of the first things I would order.
Hayden
: What upgrade has been your least favorite, or what modification would you do differently if you had to do it over again?
Brad
: I don't really have a modification that I regret or a least favorite. It's not like I walk out to my FJ and there is just something that gnaws at or irks me. I've installed a few badges/decals that did not last long, but that is easy to remedy. I tend to go in cycles about whether I like decals or not. I've got about 10-12 decals/badges on my FJ now, but lately I've been thinking about taking most of them off. The Airaid CAI has been fine, but it is completely cosmetic/aesthetic…it makes the engine growl at higher rpms, but I don't think it does much. So maybe I wouldn't do that again if I bought another FJ. I still have the stock airbox if I want to go back to stock, but I like the Airaid fine.
Hayden
: What future modifications do you have planned for your FJC?
Brad
: Nothing too big in the near future. I have a set of rear pillar speakers waiting to be installed. That is likely next. Just got to figure out how to get power to the rear harnesses. I'll likely upgrade the head unit in the next year or so.
Eventually, I'd like to make the jump to 35s and maybe re-gear if necessary. I've also been closely following the Raptor ECU Flash thread. I'm waiting to hear some real world feedback from a user with a manual transmission. It sounds like forum member amaclach might be flashing his ECU next month, so he will be my guinea pig. Ha! If it really can squeeze 25-30 more hp out of the engine, it'll be well-worth the price (about $850 I think).
Hayden
: Where all have you been with your FJ Cruiser? What trail/park/location is your favorite?
Brad
: I have driven my FJ off-road in Idaho, Utah, Oregon, Nevada, Wyoming and Washington. Other states I've driven to/across include Montana, Colorado, Nebraska, Iowa, Illinois, Indiana, and Ohio.
I'm not too much a thrill-seeker off-road. I'm not really interested in sketchy drop-offs, slippery side hills, rock gardens, etc. I'm more of a casual off-roader in an explorer type of mindset. For that reason, the trails I've really enjoyed the most were the Magruder Corridor in central Idaho, the Washington Backcountry Discovery Route (did sections 5&6 last year), and the Steens Mountain area in the eastern Oregon desert.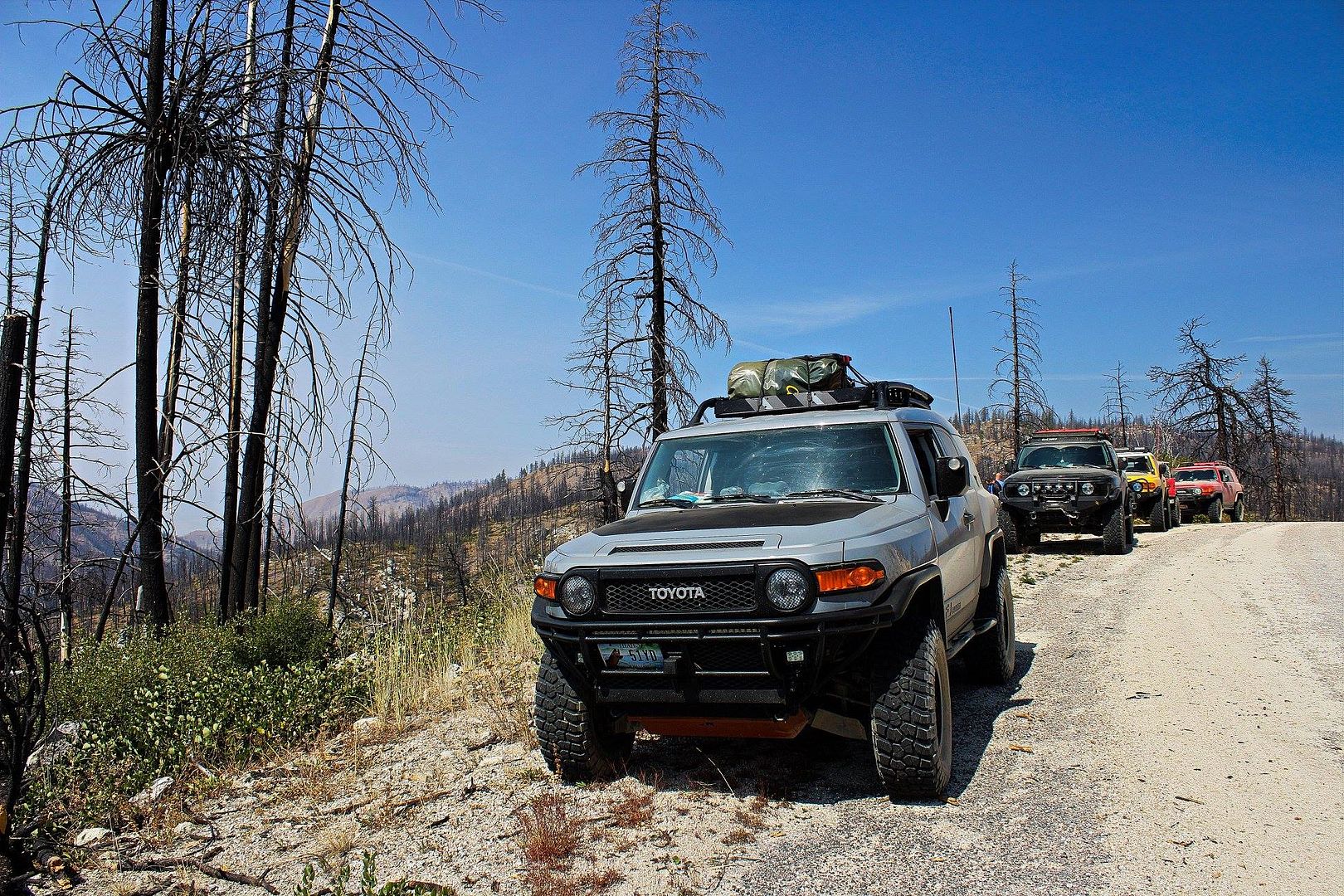 Hayden
: What park/location have you not been to yet that you would like to take your FJ to?
Brad
: Death Valley NP in California and Baja, Mexico. I may get to Death Valley this fall. We'll see.
Hayden
: Has anyone on the forum inspired your build or been a go to resource for you?
Brad
: Too many to list. I pull inspiration from all kinds of builds. In the beginning, I really took inspiration from "The Rock" and forum member Primer (Alan). I guess because they both had cement colored FJs. A lot of the really built rigs on the forum are way beyond anything I'll ever do to mine, but still fun to watch the builds. Primer and I have become friends the last few years after meeting up a few times at the Oregon dunes. The Oregon dune rally has provided me several new friendships. I've made a lot of friends (both virtual and IRL –as the kids say) through the forum. I know it's been said before, but the comradery of the FJ community is so welcoming.
Hayden
: Are there many FJs up in your area? Do you guys get together for trail runs, meet and greets, wrenching days, etc?
Brad
: There are quite a few FJs in the Boise area, both modded and stock. In fact, in the two or three block radius around my house, there are probably 5-6 other FJs, including another 2013 TT (stock) and a 2014 TTUE (lifted/tire upgrade). Forum member Zed71 (Ron) and I have become friends through the forum. Ron is good people, always willing to lend a hand…and his 2012 TT is sweet. We have done a few trail runs with some local clubs, but I would like to do more. Ron has helped me out a few times with electrical issues, CB install/tuning, etc., but we really haven't organized a "mod day." Ron and I have convoyed over to the Florence dune rally a couple times. If you are anywhere near the Florence dunes (Oregon coast), you should check out the FJ roundup each March. The dunes are great fun.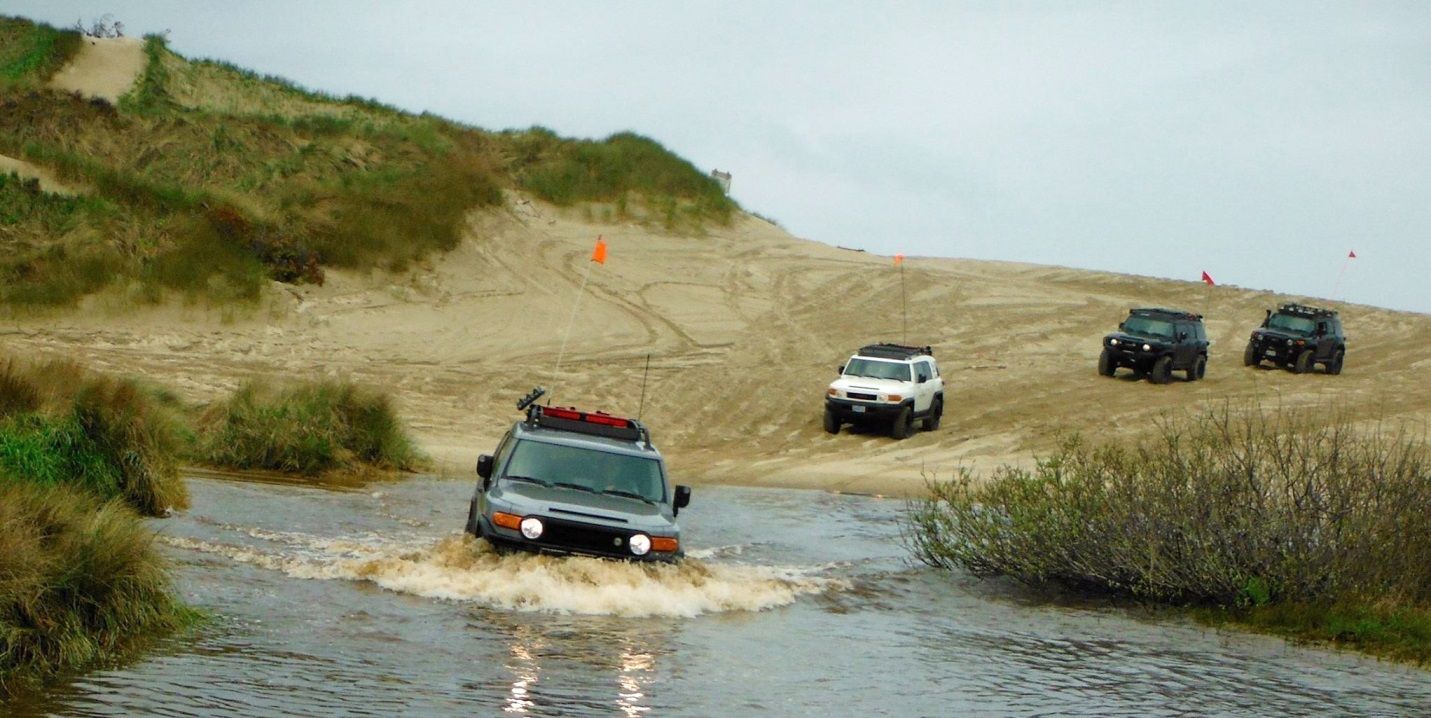 ​