Discussion Starter
•
#1
•
Ladies & Gentlemen, may I introduce November's "Rig of the Month"
Woodsman
The Mods:
I purchased my 2008 FJ Cruiser on Oct 31st, 2007. The primary purpose for purchasing it was for traveling/vacations/seeing this great country of ours. With about 21K on the odometer, it's been to three FJ Summits, a Kokopelli Trail/Moab run, Cruise Moab 2010, a Bill Burke "Expedition" in SE Utah, and several small Midwest runs. A trip to The Maze district of Canyonlands National Park next week will probably complete the year.
Modifications with approximate dates:
11/07 Nitto Terra Grapplers LT285/70/17E on American Racing Teflon Chamber wheels
2/08 OME medium/Toytec Superflex lift was installed
2/08 Expedition One front bumper with bull bar
2/08 Superwinch Epi9.0 Winch with synthetic winchline
2/08 Well-stocked recovery gear bag with various straps and other gear
4/08 Budbuilt steel skids (full set) with "Hill-Rom" black powdercoat
4/08 Viair 450A compressor
5/08 (2) Scepter jerry cans and (1) Scepter water can
5/08 ARB tire plug kit / Staun tire deflators / ARB deflator
4/09 Dual battery kit from Dirty Parts with Optima Yellow Top battery
4/09 Cobra 75WXST 40 channel CB radio
4/09 MPAC rack on rear door from Springtail
4/09 Lightforce 170s on front bumper
4/09 Baja Rack roof rack and Hi-Lift jack
4/09 Switched over to Mobil 1 synthetic fluids
4/09 Total Chaos Upper Control Arms
4/09 Lower Control Arms from Toyoutfitters
6/09 Built custom rear platform/storage - plywood with bedliner coating - simple and light
4/10 Co2 tank from TRDparts4u.com
5/10 Upper Rear Links from Toyoutfitters
6/10 Expedition One rear bumper with tire carrier/swingout
6/10 Replaced the OME lift with a complete Radflo suspension lift from Overland Suspension
9/10 "Ghetto" dash-mounted map/guide book pocket
10/10 All-Pro rock rails with bump-outs
This winter: Stereo upgrade(Kenwood DVD w/GPS, Polk Audio components front and back, Wicked CAS 2x10 sub with Alpine PDX-5 amplifier ), find better methods to organize gear for trips/camping, build custom air dam on Baja Rack, black-out the grill, mirrors and door handles
The modless 2008 FJ . . . looks a bit wimpy IMO
First mod, new meats !
Mounting of the Expedition One bumper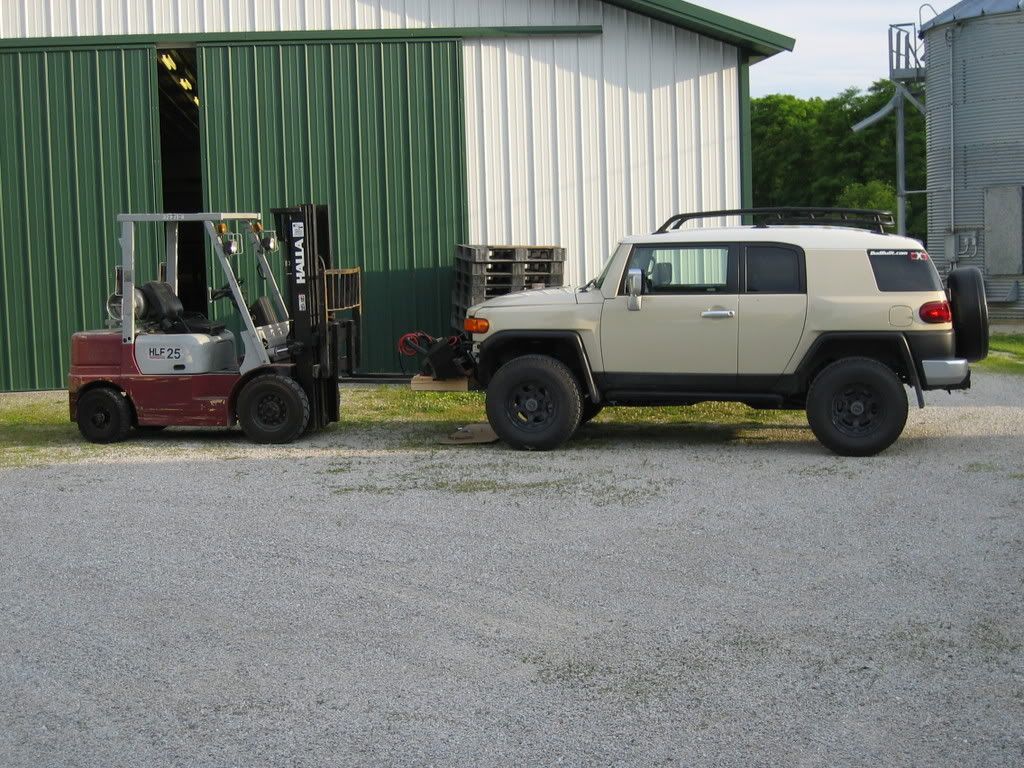 The Classic Woodsman pose :lol:
At the beginning of the Kokopelli Trail 5/09
On the way up to Top of the World 5/09
On Poison Spider Mesa 5/09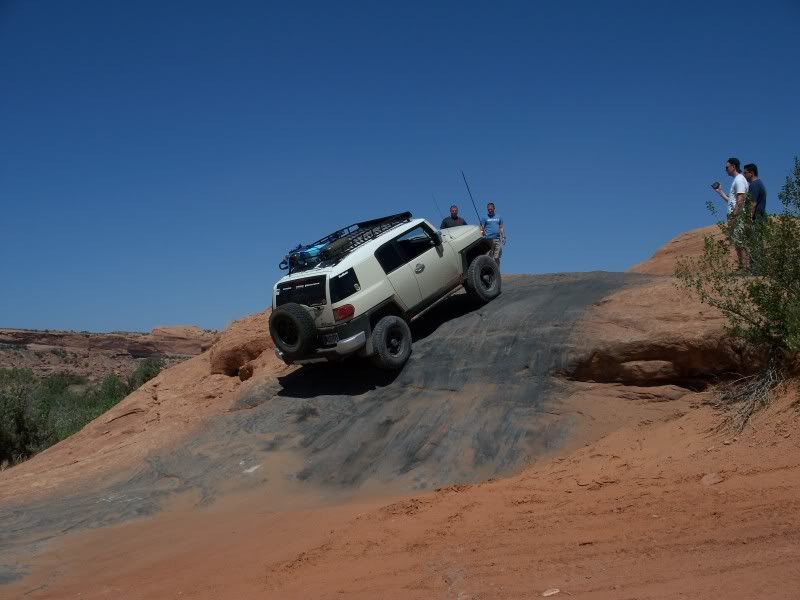 On Elephant Hill Trail, Cruise Moab 4/10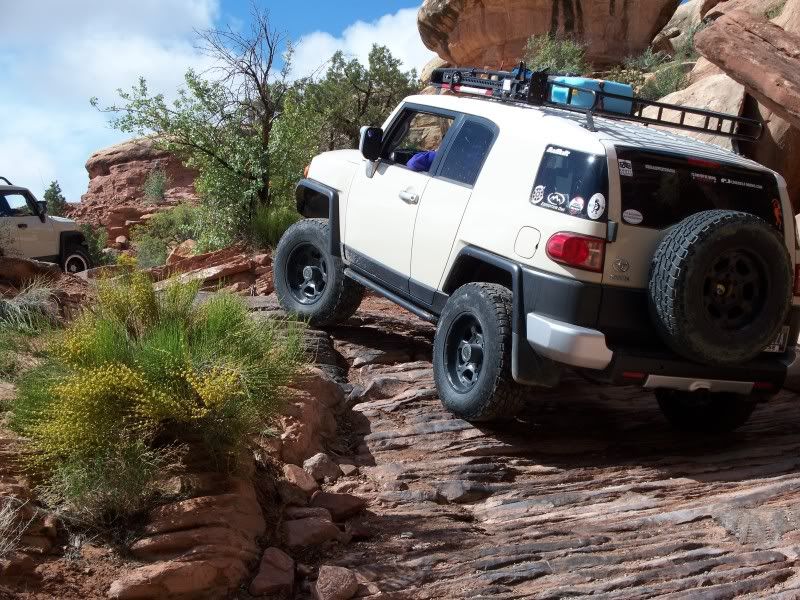 On Elephant Hill Trail, Cruise Moab 4/10
Tip-Over Challenge on Hells Revenge, Cruise Moab 4/10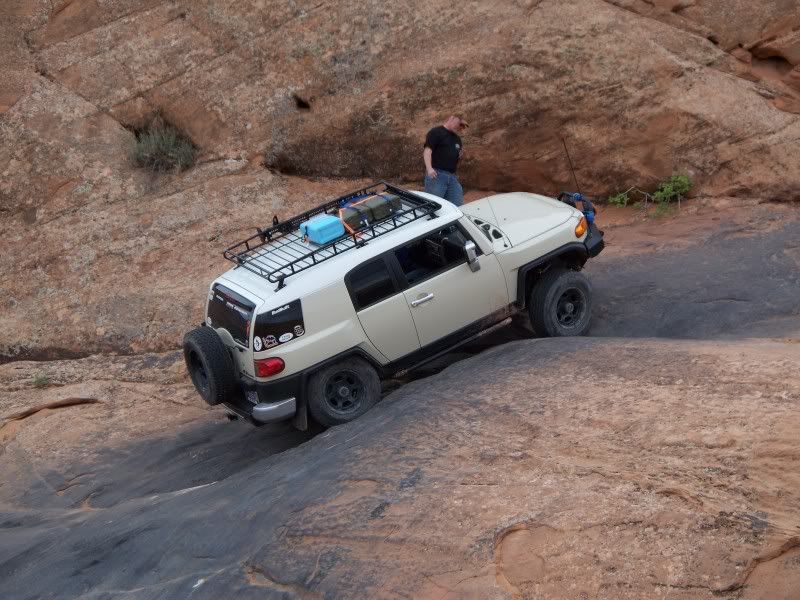 Kane Creek Canyon, Cruise Moab 4/10
On Bill Burke's Hotel Rock to the Needles Expedition 5/10
A video from Bill Burke
YouTube - bb4wa's Channel