Discussion Starter
•
#1
•
November 2018 Rig of the Month: FJ4 Tahoe
BEFORE: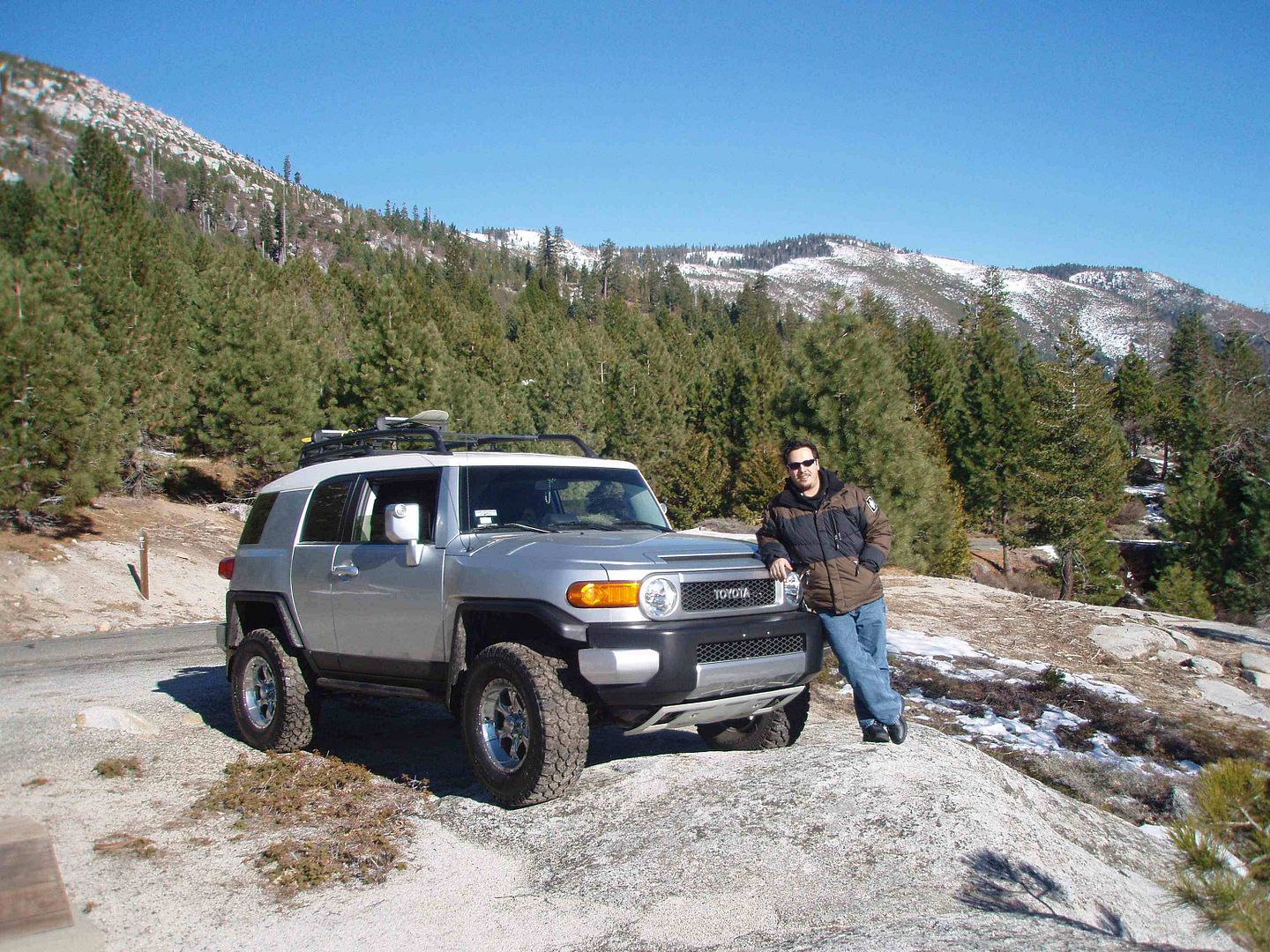 AFTER: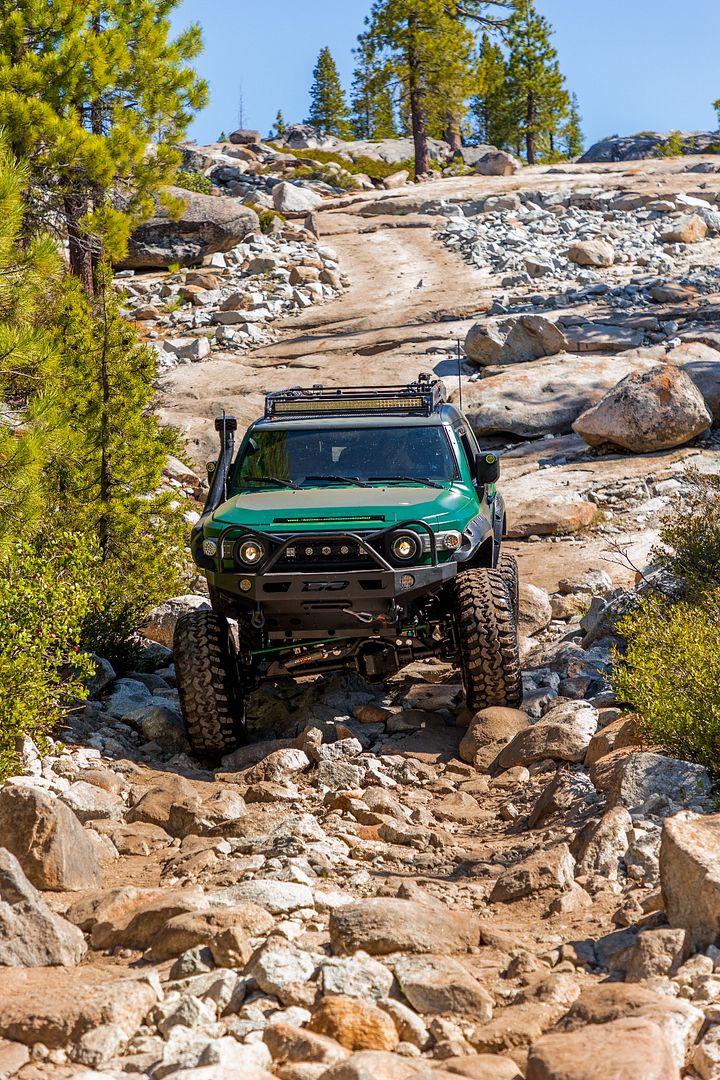 We'd like to congratulate FJ4 Tahoe – John for having the November 2018 Rig of the Month!
Hayden
: Tell us a bit about yourself (Family/pets, work/school, hobbies/interests, location, etc.)
John
: Hi, I am John and I am addicted to modifying my FJ. I was born and raised in California. I love being outdoors. Now that I have a family, I enjoy spending time with my daughter, showing her all the stuff that I've come to love. My wife and I love to camp, explore new places, and enjoy the places where few have gone. I'm originally from the Bay Area, but moved the Sacramento Valley so that I could be closer to the mountains, among other reasons.
Hayden
: How did you come to own your FJ Cruiser?
John
: Well, the first one was a 2007 Titanium, purchased new in October of 2006 with 0 miles on it. On our way home from Lake Tahoe, my girlfriend (my wife now) and I saw one on the road. We were intrigued and went straight to the dealership to find out more about this strange looking Toyota. I ended up buying it two weeks later. I negotiated with the dealership to throw in a 3" OME lift with some HILO 5 Stars. I did quite a few modifications after that, including a 6" Rough Country lift and some 35" tires. This first FJ didn't fair so well. I ended up totaling it at Surf 'N' Turf 2010. On Thanksgiving of the same year, I bought my buddy's 2007 Black Diamond with a ProComp 6" lift and 35" tires. The second FJ4Tahoe was pretty well decked out when I bought it, having an ARB front bumper, a Rhino lined top, lift, and tires. But me being me, I wanted the FJ to have my feel, so I ripped off the ARB bumper, took off the ProComp tires, pulled the stock rear bumper off, and before you know it FJ4Tahoe #2 is dialed in the way I want it. After a few pretty extreme wheeling trips, I started looking into a solid axle conversion on my existing FJ, but found out the costs were out of my reach…or so I thought. I ended up finding a really good deal on a solid axle FJ; a deal too good to pass up. But FJ #3 was not in good shape (at all). There was a long history of neglect and abuse I was not fully aware of at the time of purchase, but I had a master plan to swap parts between them. I took all of what I wanted to keep from each for the 3rd FJ and put all the stuff I no longer needed into the 2nd one. Both were whole in the end. My wife and neighbors must have thought I was nuts. I had 2 stripped FJ's in my driveway for months. My garage looked like a used monster truck garage sale and the UPS and FedEx guys were making frequent deliveries. The third FJ was in terrible shape having been flopped on its side, the steering pump fluid spewed throughout the engine bay, and mis-matched wiring webbed throughout the FJ. Plus, it was yellow…not my favorite. I had to enlist forum veteran Nester Angeles to spearhead the project. There's no way I was going to be able to put Humpty Dumpty (2nd) and Frankenstein (3rd) back together on my own.
Hayden
: Is the FJ Cruiser your first off-road vehicle? If not, what was the first vehicle you took wheeling?
John
: My first off-road vehicle was a 1988 Nissan Pathfinder, which I beat. The Nissan motor lost power after 120,000 miles and I swore I'd never own another Nissan. Instead, I bought a trusty, brand new 1999 Toyota Tacoma which was always dependable for countless trips to Tahoe for snowboarding and many other adventures.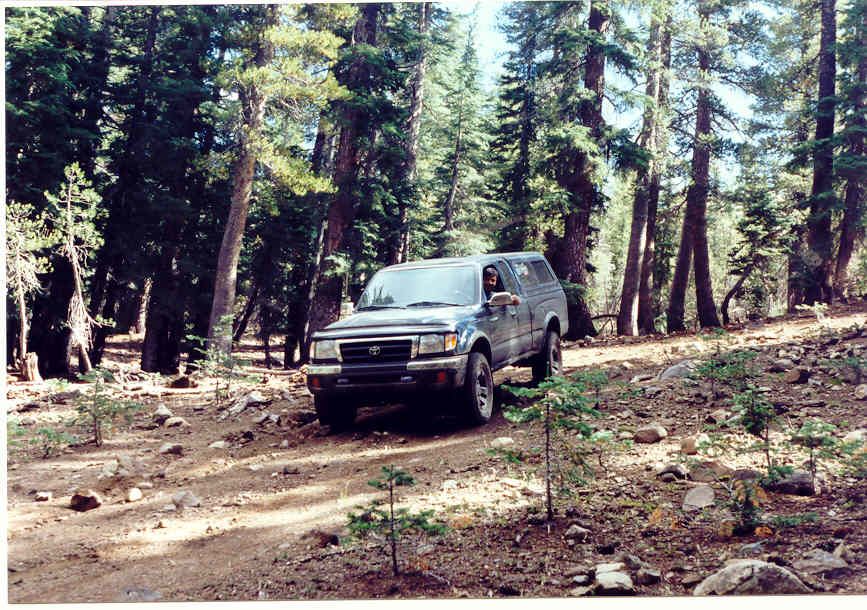 Mod List:
ARMOR:
* Demello 3 Hoop Custom Front Bumper with HL LED Fogs
* Demello Rear Bumper with Calif swing out tire holder/Jerry cans
* Califab kick-out Sliders
* Califab Full interior roll Cage
* Full custom underbelly skids
* Full Warrior diamond plating
SUSPENSION/WHEELS/TIRES:
* Dana 60 Front Axle SAS with 3 link 14" King coil overs with Remote Res (ARB locked) Full Trussed
* Dana 70 Rear with 14" Bilsteins with 63" Chevy Leaf springs (ARB locked)
* Double Beadlock (Humvee) 16.5" rims With 39.5" IROKs
* Frame extended 4 inches in the front to accommodate the Dana 60
* King 8" Bump-stops
* PSE Hydro Assist
ENGINE PERFORMANCE:
* Flow Master pipes
* Scuba Mod
* Snorkel
LIGHTING/ELECTRONICS:
* Pioneer AVIC-Z120BT Ipod connection/charger built into dash
* VIAIR Heavy Duty Onboard Air System
* VIPER 5902 Alarm with remote starter
* SPod
* Cobra 75 3' Firestick with quick relaese
* Boztec CB Mount
* 400watt Fosgate punch 2X P2 Punch 10" woofers
* 500watt Fosgate punch Hertz Energy 6.5" / 4" / TWEETER
* Dirty Parts Dual Battery
* 200 watt USB and Power inverter
* LED Diamond Cut Parking Light and Turn Signal Light Assembly
* LED Halo Mirrors
* Headlight hid bi-xenon projector lens
* Warrior Product LAD tail lights
* Oznium led rock lights
* Knight Rider Light
* Pyle Bus 4 camera system with 10" monitor
* 42" LED (front of rack)
* 40" LED (rear of rack)
* 2x 9" LED (right/left sides of rack)
EXTERIOR MODIFICATIONS:
* Custom 2 tone paint
* Califab Custom Rack
* Bushwacker Fender Flares
* FourTec Axe/Shovel mount
* Blackout Mirrors & Handles
* Warrior Products black diamond plating (all panels)
INTERIOR MODIFICATIONS:
* Califab custom aluminum headliner
* All Plastic painted green
* PRP Seat with Metaltech brackets (4 point Harness)
* Wickedcas A-Pillars (painted green)
* Wickedcas 10" Sub box
* MPac Side storage
* Ellis Precision Anodized knobs and E-brake Cover
* Rear Door Dual Axe Mount
* Industrial Forming Roll-top Console Cover
* Rock LED Dome lights
* Full Interior Dynomat for sound proofing
RECOVERY MODIFICATIONS:
* Wheel with Friends
* XRC-10K WINCH Synthetic Line
* 60" Hi-Lift Jack X-Treme
* Air tools ect...
Hayden
: Any modifications unique to only your FJ Cruiser?
John
: Haha, a few inside and a few outside.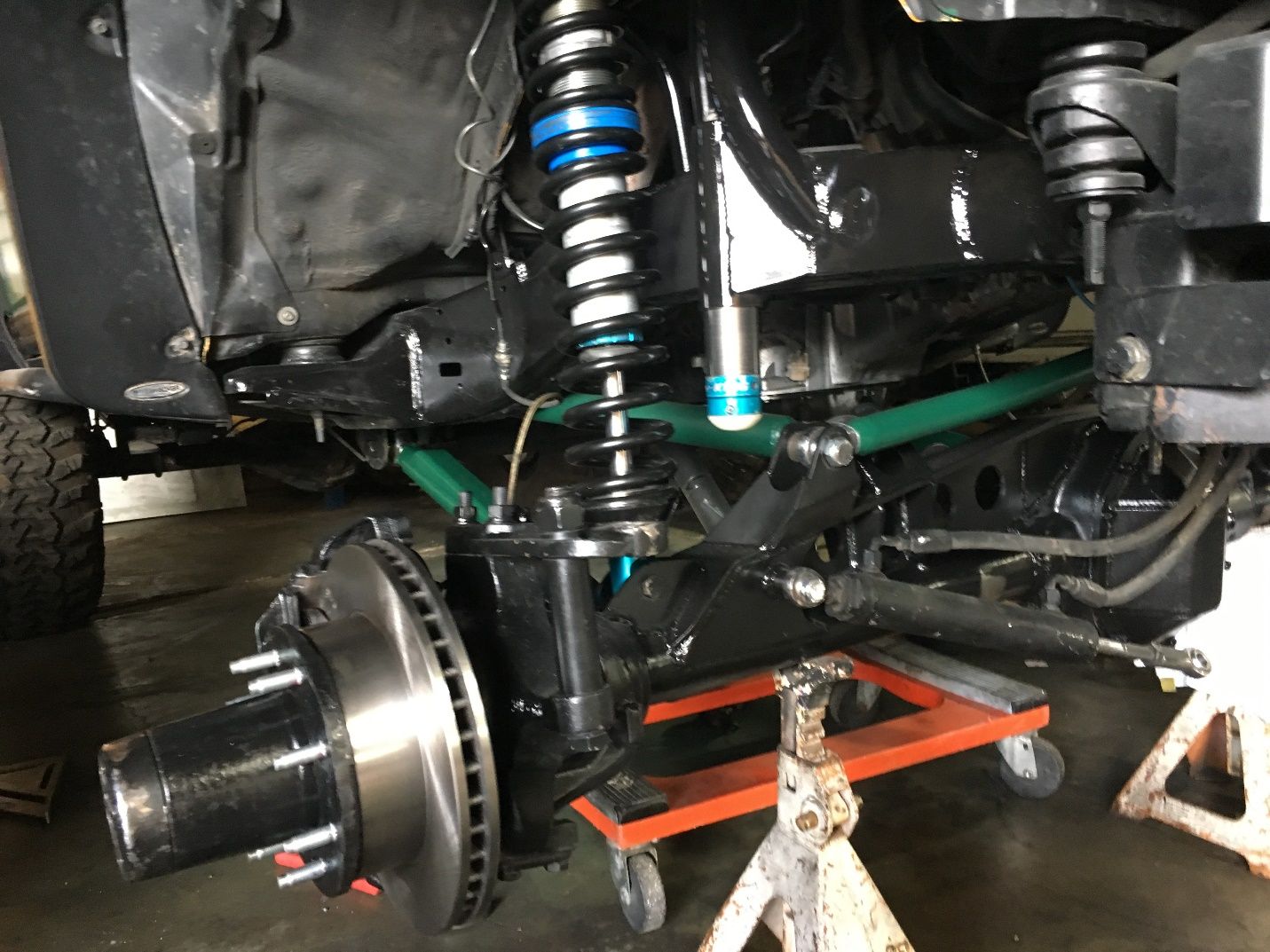 Hayden
: What modification has been your favorite or has been the most worth the money/time/effort that you'd recommend it to someone else?
John
: Maybe I'm an audiophile, but I would have to go with the stereo. The Pioneer head unit paired with the 1000 watt system has gone from FJ to FJ. I've just upgraded the componentry here and there. I like my music. There's something about wheeling or cruising down the road to your favorite song that makes you forget about all the hustle and bustle and traffic during the week. I will say that the interior roll cage/head liner is pretty amazing, too, above and beyond my expectations.
Hayden
: What upgrade has been your least favorite, or what modification would you do differently if you had to do it over again?
John
: There've been a few. My wife was quick to point out the inconvenient latch on the rear bumper, not the easiest thing to open and close on flat ground, nearly impossible to open if the trucks at an angle. Having a 200lb. spare tire and an inconvenient rear swing out has been a pain. My first thought was the ARB overhead console I installed on my second FJ. I don't want to bag on a great company like ARB, but I was regretting the install the moment after completion.
Hayden
: What future modifications do you have planned for your FJC?
John
: There are huge plans for FJ4 Tahoe #3. I'm pretty excited. As we speak, Josh (Boosted FJ) at 530motorsports is adding some much-needed crawling gears A Titan 205, gearing will be an awesome spread. We will also be pulling the rear leaf spring setup/ shocks and adding a 4-link setup with coil-overs. Putting in the 4-link means I will also need to replace the fuel tank with a 22-gallon fuel cell. Stay tuned, we have a few surprises in store.
Hayden
: Where all have you been with your FJ Cruiser? What trail/park/location is your favorite?
John
: I've been all over California, mainly in the Tahoe / High Sierra areas, but I've also ventured south. Some of my favorite places are Alabama Hills, High Sierra/Mammoth Lake area, Lake Tahoe, Long Canyon Trail, Silver Lake Trail, Rubicon Trail, Pismo Beach, Hollister, etc.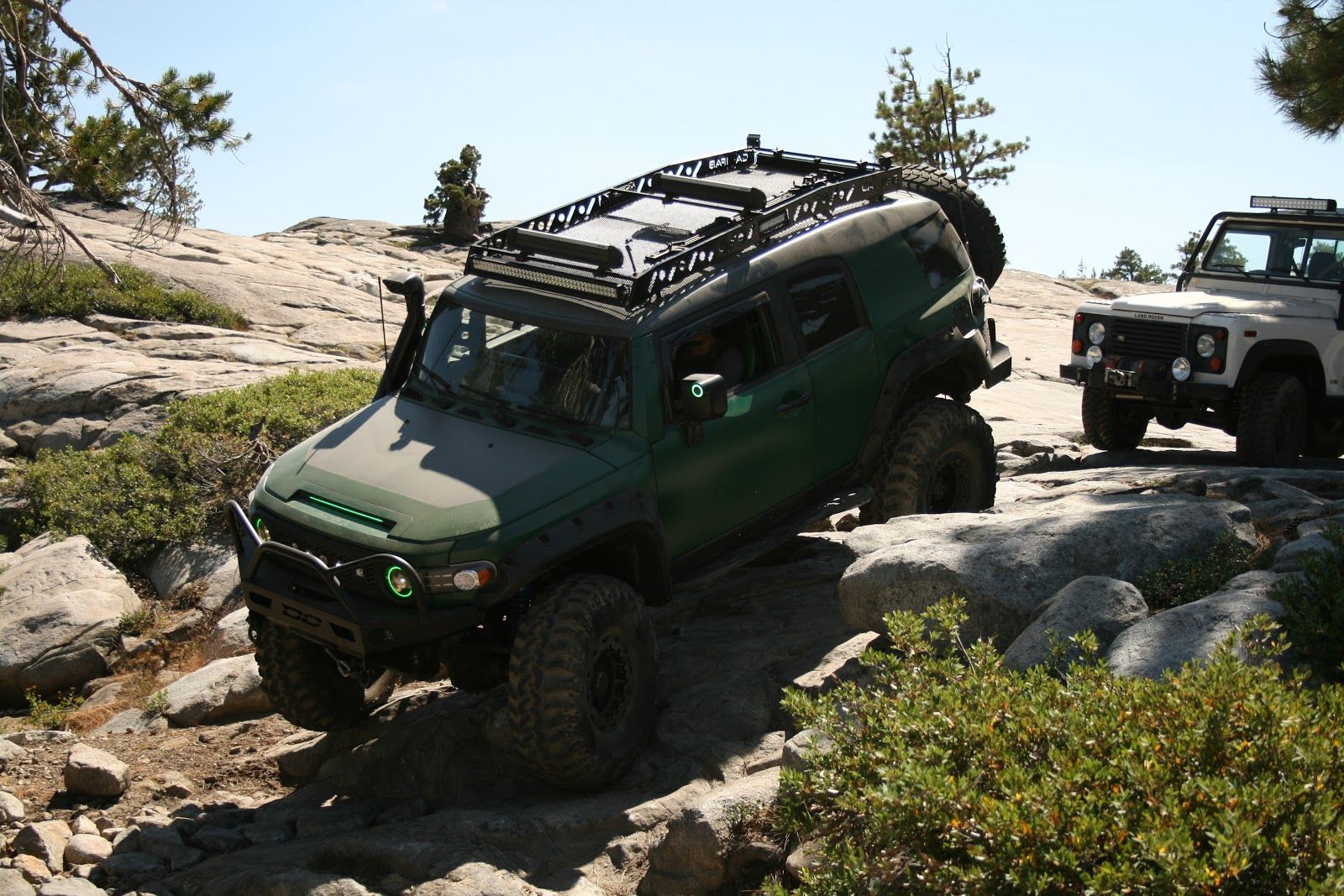 Hayden
: What park/location have you not been to yet that you would like to take your FJ to?
John
: I'd love to go to Moab and Colorado for Summit.
Hayden
: Has anyone on the forum inspired your build or been a go to resource for you?
John
: Yes. In general, this forum has inspired me. I've been fortunate to meet lots of cool people in the FJ Cruiser 4-wheel community and have build a few life long friendships in the process. Many of the build threads have inspired my next mod or future purchases. We've had many build days at my house, so many hands have touched my FJ's. Mainly, forum master Nester, who I consider a great friend. Brandon (BZ Wires) is a good friend, too, and all the hard work he's put in. I think he broke his foot kicking my spare tire in frustration one day. There have been so many cool builds and people willing to give instruction or insight when asked. This place has been a blessing and a curse. Had I not found this place, I probably wouldn't have modified my FJ's nearly as much.
Hayden
: What has it been like owning multiple FJ Cruisers? Which has been your favorite build?
John
: Owning 3 FJ Cruisers over the last 12 years has been a blessing. I've yet to be stranded and I've pushed my FJ's harder than most. The weird thing is that when you look over the steering wheel, out the windshield, you see 3 windshield wipers and a hood. Sometimes I forget that I'm not still driving the original one anymore. No question about it, though, FJ4Tahoe #3 is my favorite.
Hayden
: What has been the most memorable experience with your FJ Cruiser?
John
: I don't really have a most memorable time because they're all memorable in different ways. It would be a shame to discount all the other great times by calling one the best. I just hope that I can continue making new memories that are comparable. Alabama Hills/All Cal where we had about 60 rigs and spent 4 days exploring the Lone Pine area. Then there was All Cal at Hollister Hills where about 150 rigs had a great weekend hitting all the trails and drinking the night away. Then there was Surf 'n' Turf at Pismo Beach, an absolutely epic party with hundreds of nice people.
Hayden
: Any additional thoughts about your FJ or FJ Cruisers in general that you'd like to share?
John
: I bought the FJ, thinking it was going to be something to take me back and forth to Tahoe and wheeling. It ended up being much more than that, like a friend. A friend that had friends who kept introducing me to more new friends and cool places. That's what my FJ Cruisers have meant to me.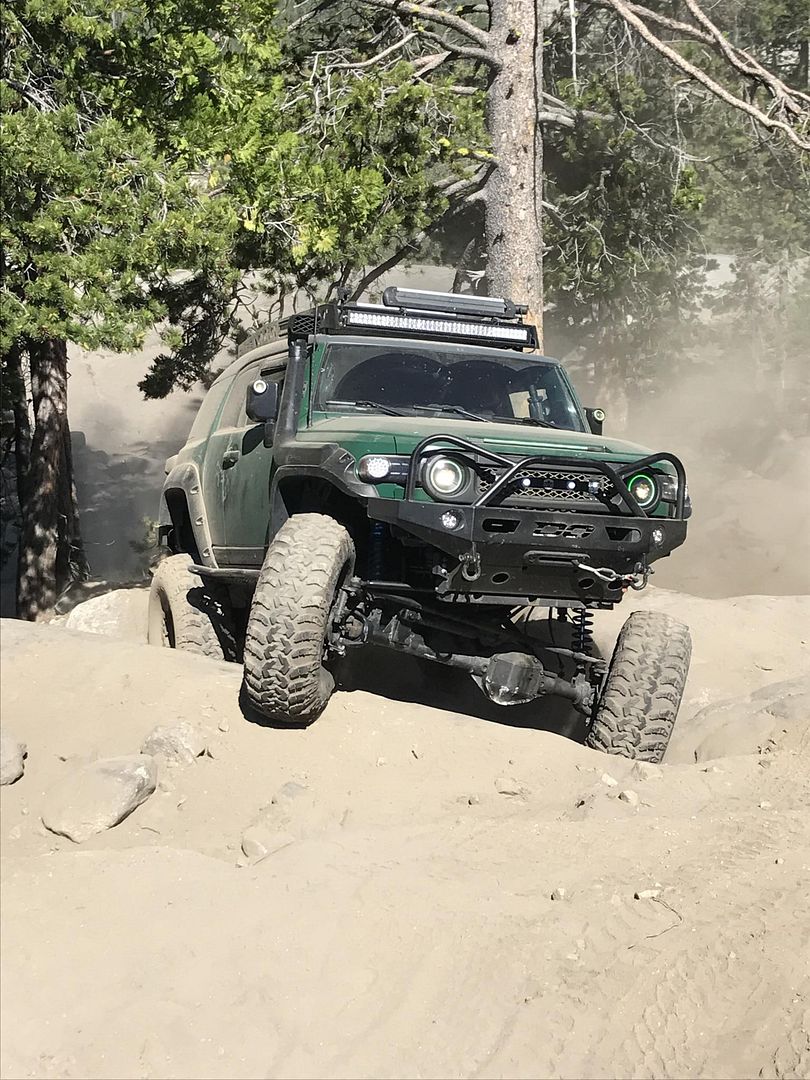 ​