Some of us consciously chose not to have a roof rack. In the FJ world that seems to be like chrome parts... Not unheard of, but not the norm either. I started looking into hitch-mounted cargo carriers and quickly deduced several things. I didn't want cheap, I did want lights, and I did want a place to relocate my license plate if it was going to be covered up. Not being satisfied with what I found at Harbor Freight, Northern Tool, or Tractor Supply, I had to broaden my search.
This is what I found, another quality
Australian
-born product. It's a beast at 60-ish pounds, but I will gladly exchange a few pounds of load capacity for long-term quality.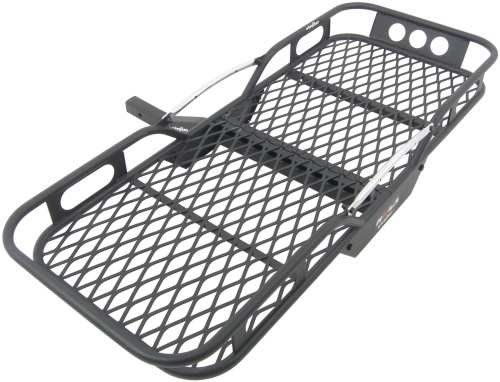 MSRP is $250 and most of the places I found online had it closer to $200. Then I found
Drawtite Trailer Hitches And Trailer Hitch Accessories. Draw-tite, Reese, Valley, Curt, B&W products.
out of South Carolina and, bingo! Just under $170 and only a few dollars over $200 shipped. Being in the daily shipping business myself and thinking about all the rock rail/bumper shipment horror stories I called them up. The gentlemen I spoke to assured me they used FedEx Ground and that they did not have any reported problems shipping these cargo carriers. He also told me that if I ordered through their website it would say 'UPS Ground', but they would really ship it with FedEx. So I placed my order last Friday afternoon, but they had already processed their outgoing orders for the day. When they processed orders on Monday I got an email receipt and a tracking number. Today I got my purchase. I know most of us can walk into any local auto parts or Tractor Supply and get a lot of what these guys have, but I highly recommend them.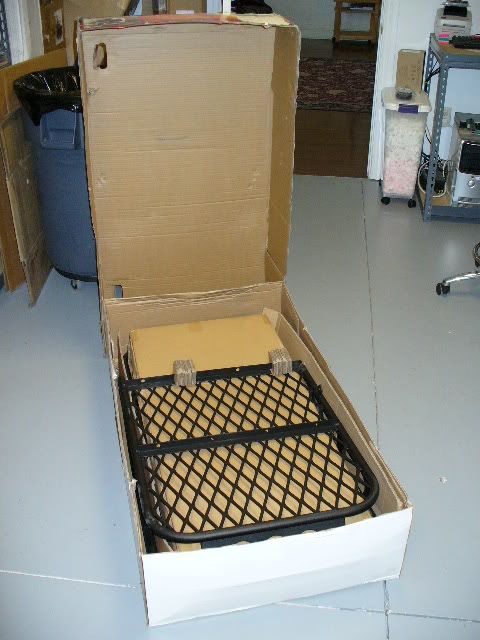 The box is still in good shape for having been across 6-7 states with only a couple of actual penetrations. The powder coat is really a rather rough/coarse finish, and shows some marking where the basket's been grinding against the cardboard, but in all it looks good. I'll probably put it together tomorrow and then post up some pics of the finished product. Assembly should be a no-brainer.
Side Note: Even though I said before that I wanted lights, they do not come with this unit (and neither did a hitch pin) so I'll update on that later.
UPDATE: 10/08/2010
Assembly went
mostly
as expected. When I tried to slide the two halves of the basket together one side's pin would not go all the way in the tubing on the opposite half. Seems that in the process of welding the mesh to the tube frame some slag got into the tubing. A minute with the rat-tail file fixed that and then it all went together fine. Because the box had been in good shape I received the full set of hardware and instructions. Just bolts and Nylock nuts, no washers (which I'll probably add later on). But the biggest bugbear?.. After all my careful measuring I was sure the rear door would clear the basket without any cargo in it, and I was right. But the spare tire doesn't, LOL. Yeah, I'm laughing. Laughing at the prospect of getting one of the offset spare tire spacers most people get to carry a larger tire. Oh well. I'll update again when I get the lights on it.