The SCORPION Cargo Rack
The concept of this rack came from lack of storage space in the back of the FJ for trips, expeditions, etc. When Doc introduced his M-PAC racks, the concept became far more clear since the marriage of a cargo cage and the M-PAC's makes perfect sense. Thomas Sinclair (COWBOY 4x4) took the concept and we worked together to generate the rack in the photos below.
It is still going through field testing to determine what minor changes may be needed. At present it may be sold through this forum but I don't have vendor status yet. We're exploring the possibility of making them in China out of Stainless Steel. I couldn't do that in the US and keep the cost reasonable.
My Concept had these requirements:
(1) Easy to take out - under ten minutes
(2) Still allowed you to sleep in the back of the FJ when camping
(3) Light weight and strong
(4) Provided many hard points for cinch-strapping to
(5) Added at least 25% to available storage space
(6) Provided the ability to mount a ready-shotgun
(7) Integrated M-PAC racks/MOLLE mounts
(8) Made it possible to put a cargo net on the back of the cage to allow for storage to the roof.
(9) Did not interfere with the seating and comfort of the rear passengers.
(10) Had the ability to be modified to particular user requirements.
So far, so good.
FORWARD RACK W/SHOTGUN MOUNT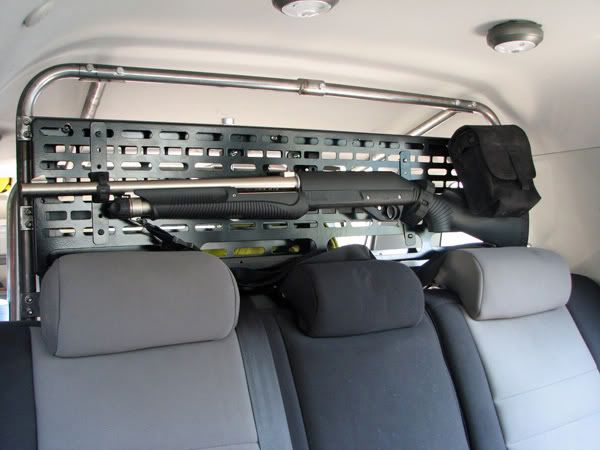 I added an M-PAC rack, the same rack that many of you have on the back door of your FJ - facing forward toward the rear passenger seat. You'll note that the rear passengers retain their headroom even with a shotgun mounted there. The MOLLE bag is for a SAW (squad automatic weapon box linked ammo box magazine) but it holds shotgun shells too.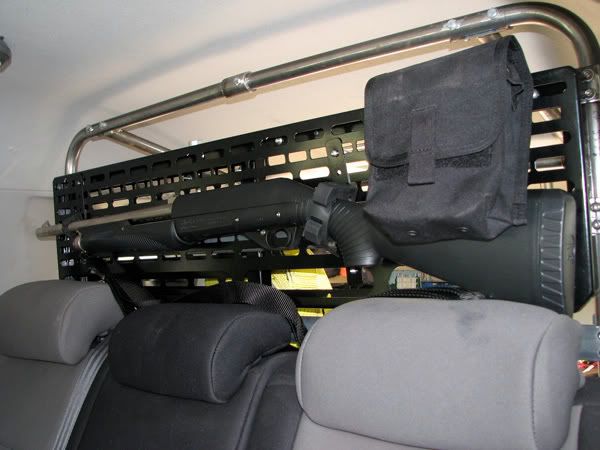 REAR FACING 1/2 RACK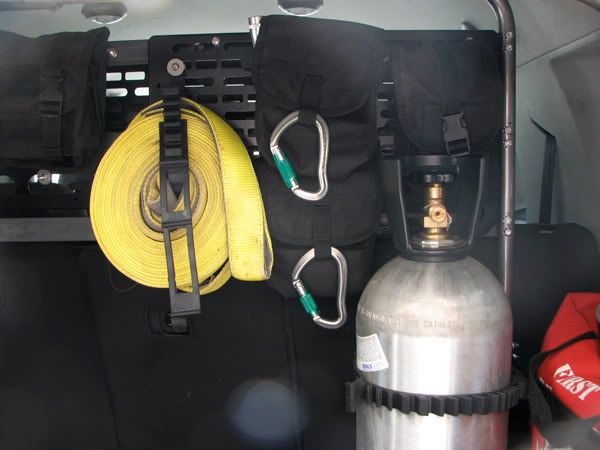 The rear facing M-PAC rack is the one they made for the Jeep TJ. It works perfectly with the Scorpion Cargo Storage solution. You can put two Jeep TJ racks on the back or one more full length rack just like the one that faces forward. You'll note that the MOLLE bags can be double layered on the TJ rack to the rear and you can truly make it your own by adding a recovery strap mount or any of a dozen other solutions to your own particular storage needs.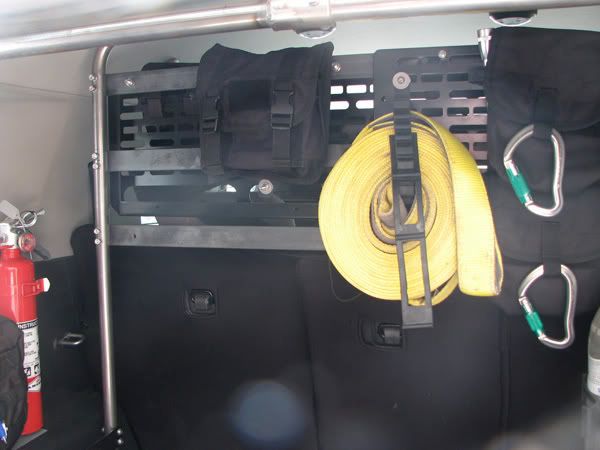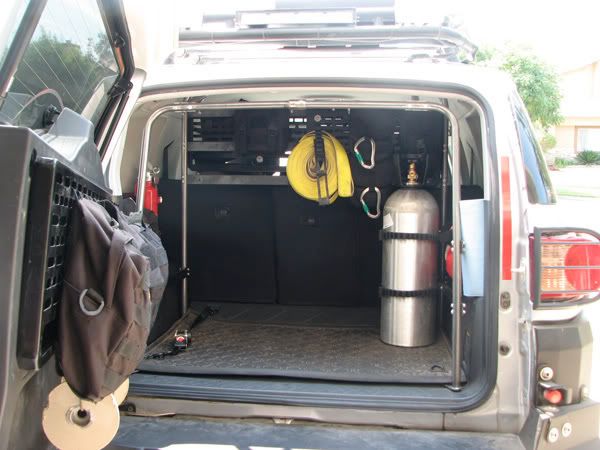 I make use of the M-PAC racks everywhere because they seem to me to be the best solution for storing "ready gear" that you need now and don't want to unpack.
M-PAC side rack
M-PAC rear door rack