I spent the last 3 days finishing up "the system"...
6 months ago:
Pioneer AVIC-D3
w/ Bluetooth (microphone upper right corner of windshield--out of the wind)
w/ Ipod interface (in the glovebox)
w/ XM (Antenna under far right hatched plastic section in front of passenger
side windshield wiper)
w/ Nav Antenna (on dashboard in between 3 gauge cluster and windshield,
can't see it from driver/passenger seat)
Viper Security System
Shorty rubber FM Antenna
This week:
Alpine PDX-5 (mounted below driver's seat--I notched an 9" x 10" to fit
under/around the floor vent, then put the rubber flooring in on top.
amp screws to the wood so no floor penetration, the rear two screws
are on risers to allow the flow of air)
TacoTunes 1" MDF Adapters for 6.5" speakers (needed to round the edge
with a dremel to widen it to accept my speakers)
w/ Alpine SPR-17S components in front doors
w/ tweeters in dash location on piece of plastic from speaker
packaging and some dynamat on the back.
w/ crossovers mounted on back/top of the driver/passenger kick
panels
WickedCAS rear pods
w/ 2x Alpine SPR-17C coaxials in the pods
w/ polyfill behind them
WickedCAS dual 10 box (passenger side)
w/ 2x JL 10w1v2 (4 ohm)
w/ 1/2 polyfill
40 feet MonsterCable twisted speaker wire (16 AWG)
12 feet MonsterCable twisted subwoofer wire (12 AWG)
17 ft Rockford Fosgate power wire (2 AWG)
Rockford Fosgate Power Distribution block (mounted under driver's side
panel below the pod behind driver's seatbelt)
5 feet Rockford Fosgate power wire (4 AWG)
3 feet Rockford Fosgate ground wire (4 AWG) (grounded next to emergency
brake on freshly ground down section of sheet metal with a large
screw/washer/lockwasher holding it down)
3x 10 foot Rockford Fosgate Twisted Pair Patch Cables (should have gone
with 6 or shorter, but couldn't find decent ones at a cheap price)
36 square feet FatMat sound dampening sheets on:
rear cargo area (everywhere)
suicide doors
1x Dynamat Extreme Door Kit on front doors
5x Pink R-13 insulation (small craft kits) stuffed into:
voids behind subwoofer box (avoiding the air vents by the lights)
voids above jack compartment
both fender wells
between rear door and door panel (left the clear plastic alone)
All the wires are hidden and out of "high traffic areas" ie. not under driver's or passenger's normal feet location. most are under the seats or along the seam between the seat and the floor.
The system sounds incredible, and i hope the following pictures give you a sense of how "clean" the install went. I wish I would have had time to take pictures during the install, but my camera was dead and I couldn't wait for it to charge, so here's the after shots (and some earlier ones to show some of the other items...)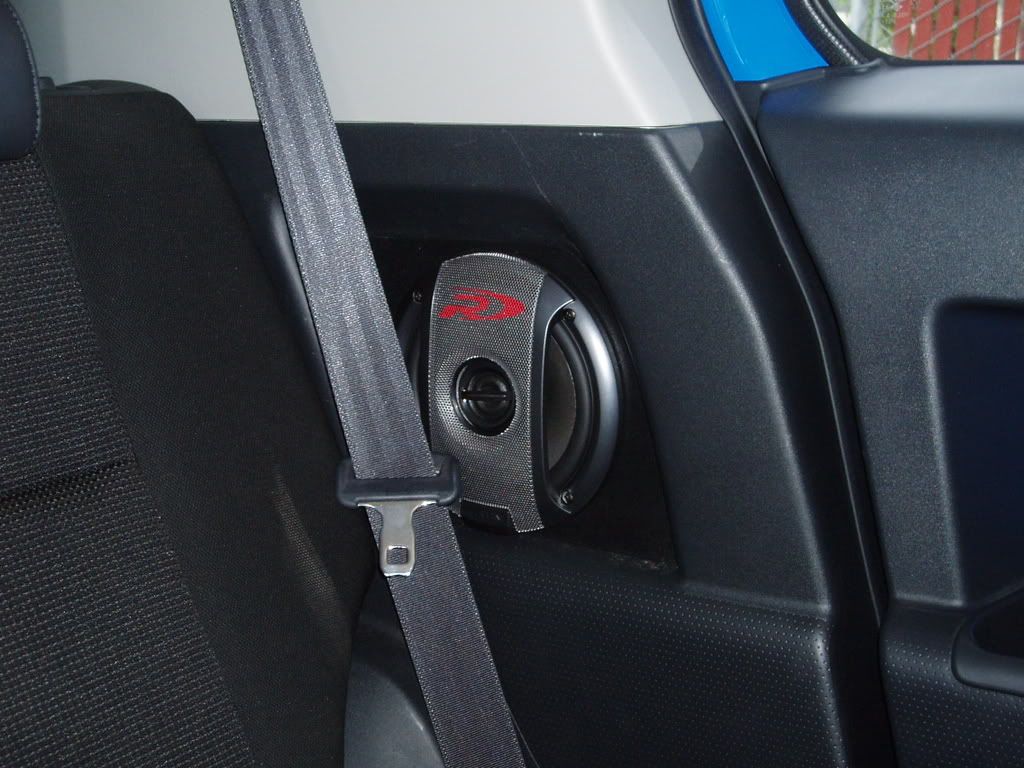 Oh yeah, and I impulsively bought the TRD shift knob, painted the retaining nut with the gray primer I already had, and put a pice of shrink tubing around the top of the stick to keep the narrow section from showing...
(I know i'm missing a panel, but I sold the stock sub, and am waiting for the replacement panel from vhram...)
You can see the wood under the sub which is painted black. I tucked the flap from the vents under the wood to make sure that it didn't block the flow of air from the vents which exit about an inch from the edge of the amp)