First off, if you clicked this thread after reading the title. I'm concerned.:browsmiley:
For father's day my wonderful wife got me brand new basic recovery tools (Shovel, Axe, Hi-lift). So as a gift to myself I decided to get them out of the cargo area.
I started looking for existing solutions, and none of them clicked with me. (most cost more than the tools themselves, or too bulky or whatever)
Much thanks to those on here that answered some questions about the ebay ballast mounts (even though I chose another route).
My local hardware store, must have SOMETHING I can shape into a tool holder. I walked around the store back and forth scratching my crack for about 2 hours, picking up, putting back, walk around, repeat.
Here is what I came up with, and I don't mind tooting my own horn by saying that it turned out better than I thought it would.
I give you the Stanley Rack Enhancer:
Top View from the back: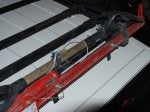 Close-up:
View from roof looking back:
Close-up:
The meat 'n' potatoes of the set-up are galvanized steel pieces used for chain-link fencing. With misc carriage bolts (6 total, 3 different sizes), nuts, and lock washers as needed. I powdercoated the main hardware at work, and plan to paint the bolts black as well. Rustoleum is just as black as powder.
I had to force the steel open a little to get it around the roof rack, and the hole for the connecting carriage bolt through the longer straight pieces was really tight.
I think my favorite feature is the compactness of it.
It took a total of 30 min to put together by myself. And I am borderline remedial when it comes to mechanical stuff.:ack:
It ran 3 days of trails in Ouray, and 2 trips since then and has not slipped a mm (I measured, worried the heavy high-lift might torque downwards into the fragile steel roof below)
My only complaint: high-lift rust drip. It's a problem a lot of us have, but not many are comfortable talking about. There I've said it and I feel like a weight has been lifted. I urge those of you with the same problem to join our support group. We won't judge you.:worried:
Fourtreks cost for EACH tool: $100+
ARB Mount: $79.00
Ebay mounts: $10.00 Each (x6) $60.00
Your mount: $________
Final price for the Stanley Rack enhancer: under $25.00
Get yours today. And enhance your rack. The guys will notice you as you drive by.
:jawdrop::jawdrop::jawdrop::jawdrop::jawdrop:
Edit: Stanley is the name of my truck if anyone is confused