2008 Toyota FJ Cruiser Trail Teams Special Edition
Hey everyone! So here is my build thread, I hope you enjoy!
Also this FJ is now sold.
Pics of now...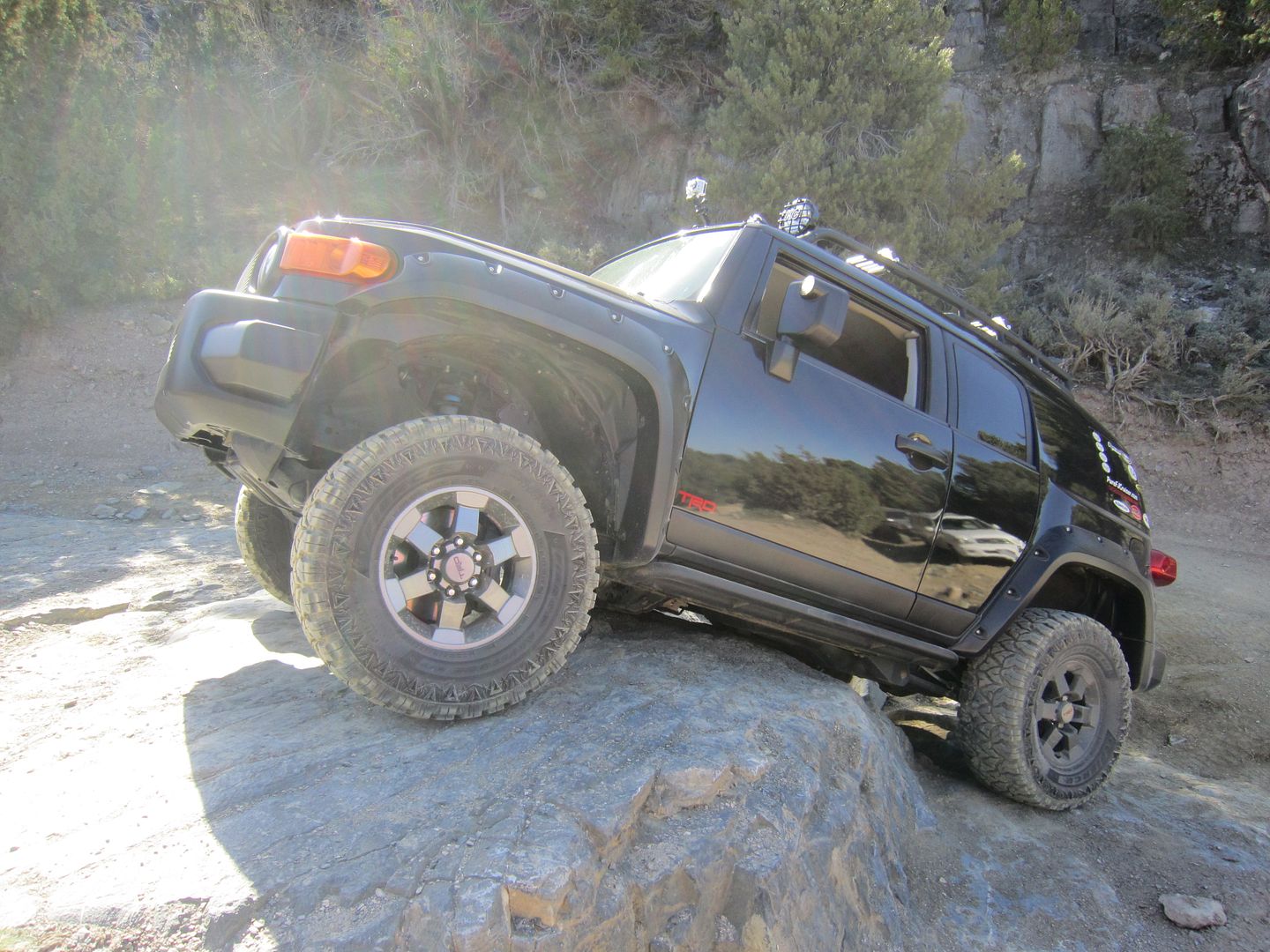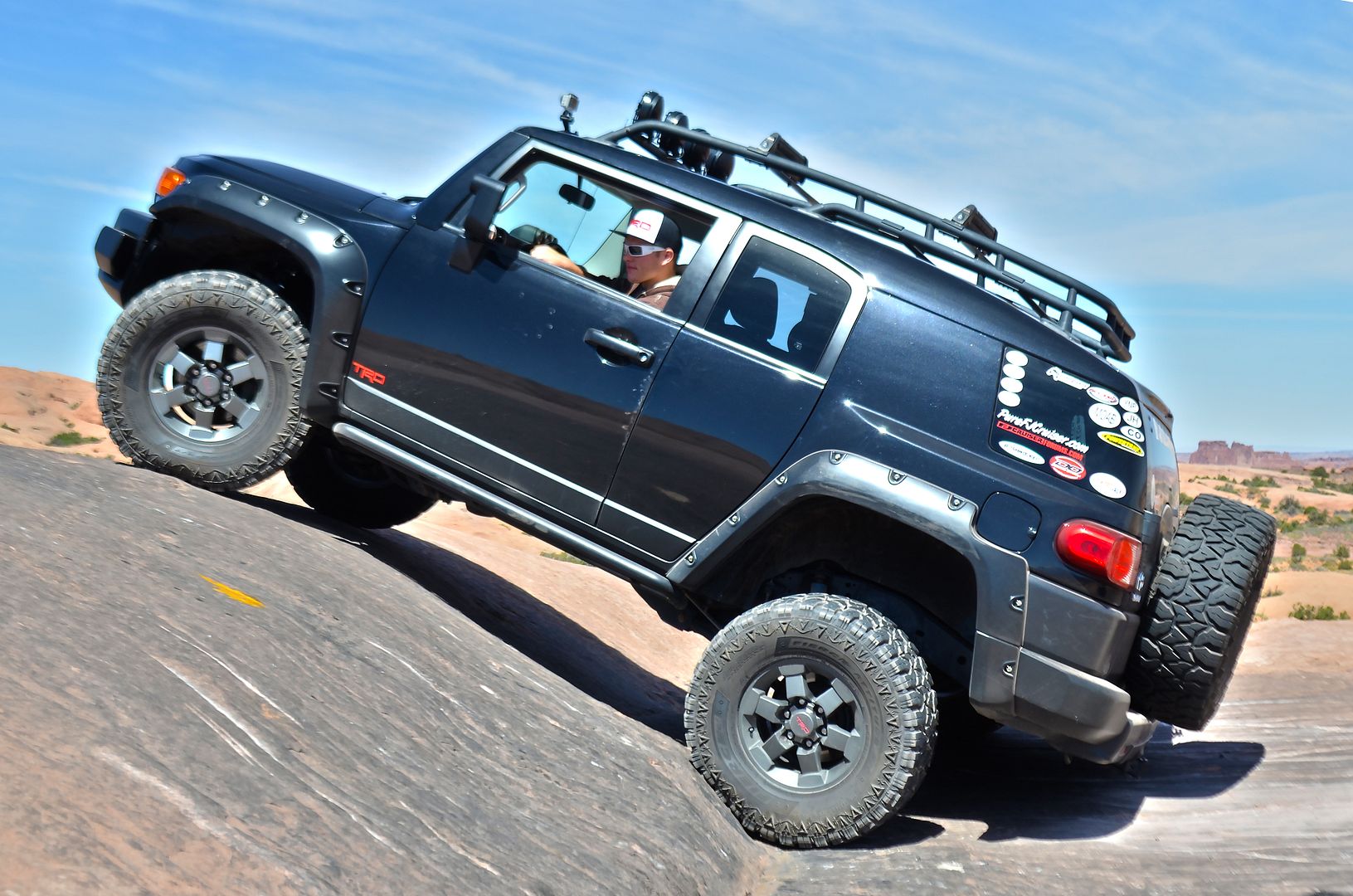 Here is my
MODS
list:
Suspension
TRD Bilstein Off-Road Tuned Shocks
3" ReadyLIFT Lift Kit (comes with front and rear spacers and a differential drop)
Light Racing Upper Control Arms
Wheels/ Tires/ Accessories
16" TRD Special Edition Gun-metal Grey Finished Alloy Wheels
285/75R16 BFGoodrich All-Terrains
305/70R16 Goodyear/Dunlop Fierce Attitudes
1.25" Spidertrax Wheel Spacers
Trail Gear Tire Plug Kit
Body Mount Chop
Armor/ Exterior
OEM Rock Rails/Sliders
Rocktek Front Link Armor
Rocktek Shock Mount Armor
Bushwacker Pocket Style Fender Flares
Blacked Out Trim Pieces (Matte Black to Match Stock Plastic)
Transformers Autobots Car Emblem Badge Stickers
Carriage Works Billet Aluminium Main and Bumper Grille
OEM Roof Rack w/ Added Cross Bars
Snow Board Carrier
Lighting
DDM Tuning HID KIT - 8000K 55W HI/LO
RealWheels Toyota FJ Cruiser Roof Rack Light Bar
4 KC HiLiTES SlimLite Off Road Lights #121 (Long-Range)
"Cool white" colored LED bulb replacements for mirror lights and licence place lights
"Natural white" colored LED back up bulb replacements
Rapid-flash Resistor added to 3rd Brake Light
Daytime-running light off switch (Swiss Method)
Recovery
27,000 LB Recovery Strap
3/4" Black Finish D-rings
Metal Recovery Tire Grip Tracks
Communication
Handheld Midland CB Radio - 40 Channel
Engine/ Performance/ Mechanical
TRD Cold Air Intake
Tucked TRD Cat-back Exhaust System
Active Traction Control (A-TRAC)
Rear Locking Differential (RR DIFF LOCK)
Back-up Assist Sonar
Compustar 2W900FMR-3A Alarm/Remote-start system
Interior
"Cool White" Colored LED Dome Light Replacements
Two 8" blue LED light strips added to the center console
TRD All-weather Floor Mats
OEM Security Disable Switch
Stock Sub Woofer
Drake Off Road Billet Aluminium Anodized Black Shift Knob for Transfer Case
Drake Off Road Billet Aluminium Anodized Black Shift Knob for Automatic Transmission
Drake Off Road Billet Aluminium Anodized Black E-Brake Handle Cover
Threads I'm Responsible For:
http://www.fjcruiserforums.com/forums/suspension-steering-tech/156303-new-complete-lift-listing-comparison-theyre-all-here-updated.html
http://www.fjcruiserforums.com/forums/4x4-off-road-tech/161181-new-complete-front-bumper-listing-comparison-thread-updated.html
http://www.fjcruiserforums.com/forums/engine-performance/162181-trd-exhaust-tuck.html
http://www.fjcruiserforums.com/forums/lighting/158139-ddm-tuning-hid-install-8000k-55w-hi-lo-kit.html
http://www.fjcruiserforums.com/forums/trail-report-photo-section-gps-coordinates/159443-fjx2000-wheeling-trips-adventures-thread.html
http://www.fjcruiserforums.com/forums/general-discussion/148450-modified-front-mud-flaps.html
http://www.fjcruiserforums.com/forums/general-discussion/147950-fj-game.html
http://www.fjcruiserforums.com/forums/general-discussion/163038-fjs-hawaii.html
__________________________________________________________________________________
Now here is my rig when I bought it in April of 2011 from a seller in Idaho and I have absolutely loved it! I was so fortunate to get it as my first car! It is a 2007 and is an automatic 4x4 model and it came with the A-Trac and rear locking differential.
It came with the awesome TRD Special Edition set up such as: Black Diamond Pearl body and roof paint, TRD gun-metal grey alloy wheels, TRD Cat-back exhaust system, TRD Cold-air intake, TRD labeled all-weather floor mats, TRD SE emblems, OEM rock sliders, and TRD Bilstien suspension which are off-road tuned among other standard features.
But it also had the 4 KC Slimlights on the roof rack which are the long range lights as opposed to the driving or fog lights that KC sells. I do not know how many owners this FJ hadbefore me but it became obvious to me months later that one of the previous owners had been the one to install the roof lights. The FJ also came with a Compustar alarm/remote start system installed in it but I didn't get all that hooked up until after owning it for a few months. I actually had to take it to a Compustar dealer so they could replace some faulty wires, the antenna, and order me a remote since my FJ only came with the regular factory key chain remotes.
It was also interesting because my FJ had 285/75R16 BFGoodrich All-Terrains on it as opposed to having the 265s that they come with from the factory. So it must have been an upgrade someone had made around the time the car was first delivered or bought at the dealer because of the amount of tread wear that the tires had.
But these pics show what it looked like after only 2 weeks of ownership. I snapped these right after I had a somewhat local auto shop put a "leveling kit" on there but because at this point, I had no knowledge really of lifts/leveling kits/etc... they just put some generic spacer lift on there which I had no idea who it was made by but it works and it's what I'm still running with today. However, I'd say it was a ReadyLIFT 3" lift kit after doing my suspension comparison thread and seeing everything available out there. This kit comes with a spacer that goes above the front coilover assembly and it comes with rear coil spacers that fit right on top of the coils. It also came with a diff drop which is in my opinion, a very smart thing to have no matter what kind of lift you are running.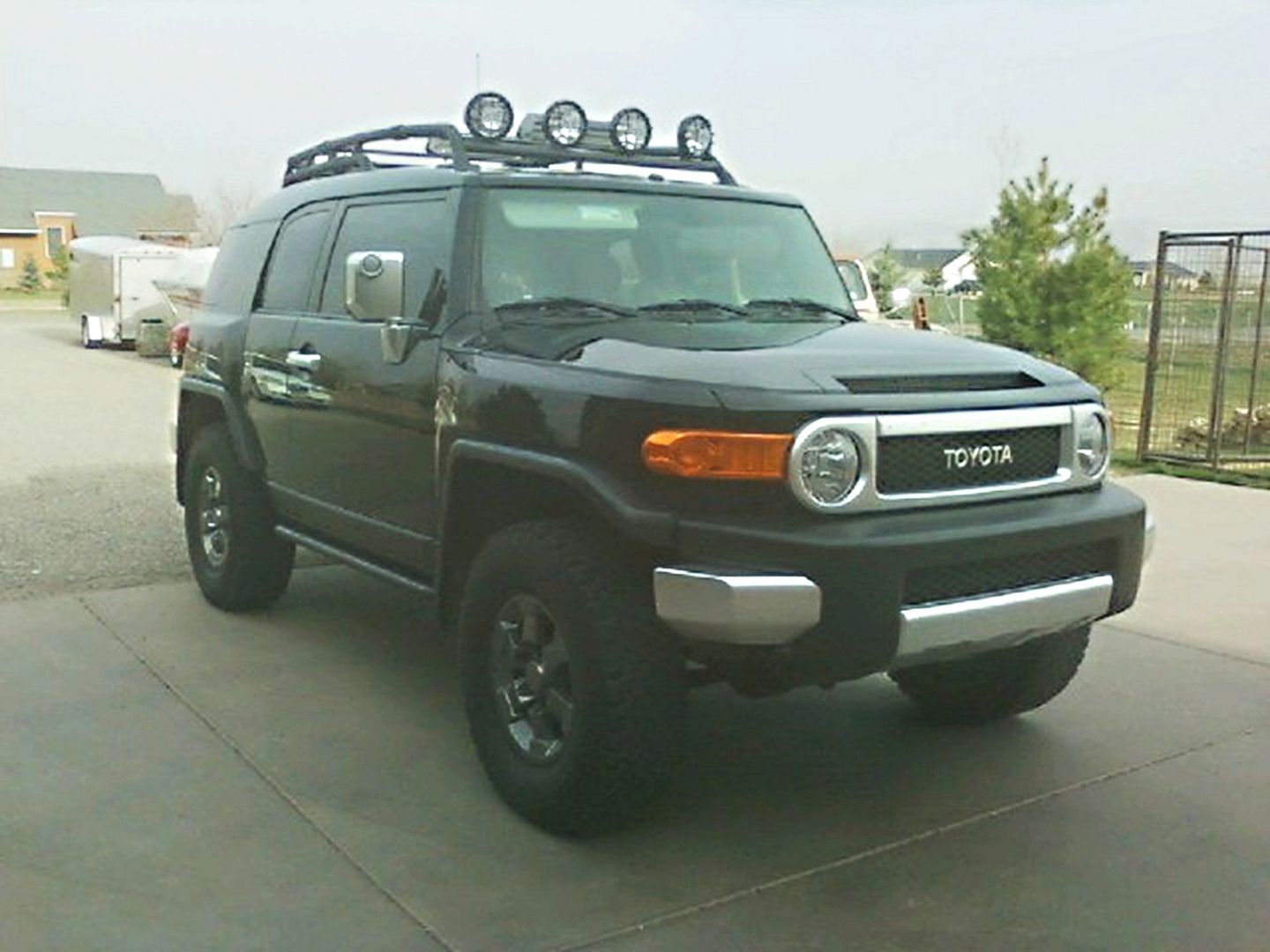 Here is a video my friend made for his film class where he had to make a commercial of anything so he chose my FJ. It's not the greatest video and obviously some of the elements of it were just put in there to be silly but it shows what my FJ looked like before I did anything to it.
Here I took the FJ to a little mudding spot I know of near where I live. I probably still have mud under my hood from that day! lol There was actually so much mud that the engine service lights on my dash started coming on and when i took it to the dealer they said I had dirty sensors and complained about how much mud there was, WELL DUH! It's a 4-wheel drive vehicle! It's meant to be off-road! Mud just happens! But since those early days of owning the FJ, my mudding has dropped to none since I really hate clean up.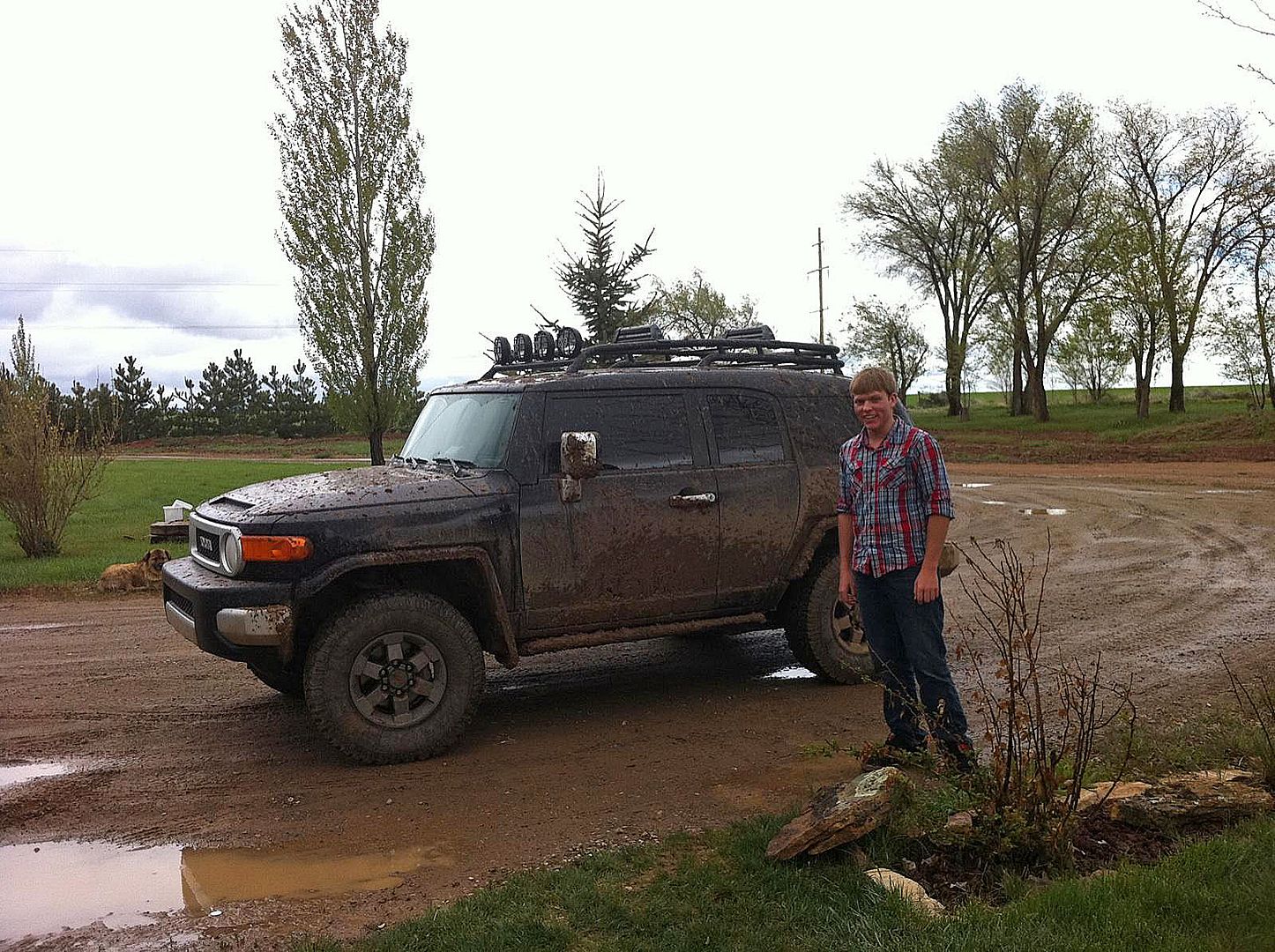 Here are some pictures that show one of the first things I did to my FJ. Because at the time I was SUPER into Transformers, I knew I wanted to make my car a Transformer. So I found some Autobot car emblems online and to make them work well with the car, I said goodbye to the TOYOTA emblem and installed new Carriage Works grilles in both the main grille and bumper grille. They are made from aircraft aluminum so they are pretty durable and I really like the look of them. Plus, they matched the chrome Transformers emblem perfectly! I also mounted a 2nd emblem above the TRD badge on the back door.
It was a little frightening that winter because of how bald my tires were, but i managed. And sorry for the low quality of the pictures, at this time I only really had my old cell phone but they get better, I promise!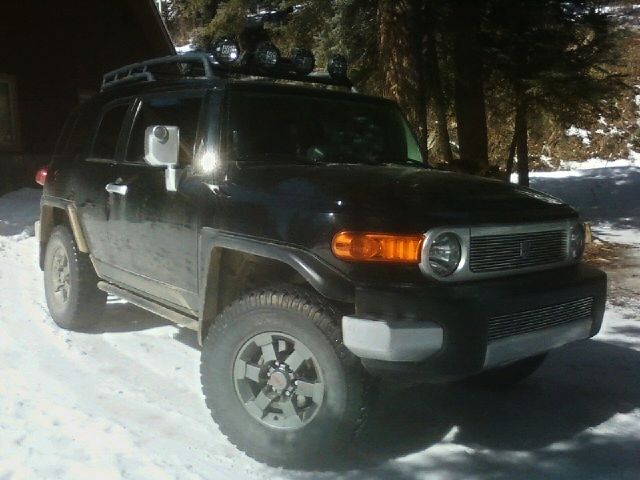 At around this time I realized how I really don't like the look of regular halogen bulbs and I really wanted something brighter. So I got LEDS!! I ordered all of mine from
superbrightleds.com
and they work great! I was able to replace my license plate lights, interior dome lights, reverse lights, and mirror lights with LEDs. What a difference! I chose the "cool white" color option as opposed to the "warm white" and "natural white" colors because I like that more bluish/cooler look to them. I did however choose a "natural white" colored LED for my back up light since I wanted it as bright as possible. Here are some before and after pics showing the mirror light difference. It may not seem like much of a difference but whenever I have my mirror lights on, I can actually tell a difference from when they're on or off unlike before!
Here are some pictures though of a trip I took in April of 2012 where me and the local Boy Scout troop went to southern Utah to a trail known as "The Twist". I had a really good time and I let some of the troop leaders try out my ride so they could experience it themselves. And as you can see, another leader had his own FJ, and he is actually the reason I have mine, you could almost say he was my "inspiration."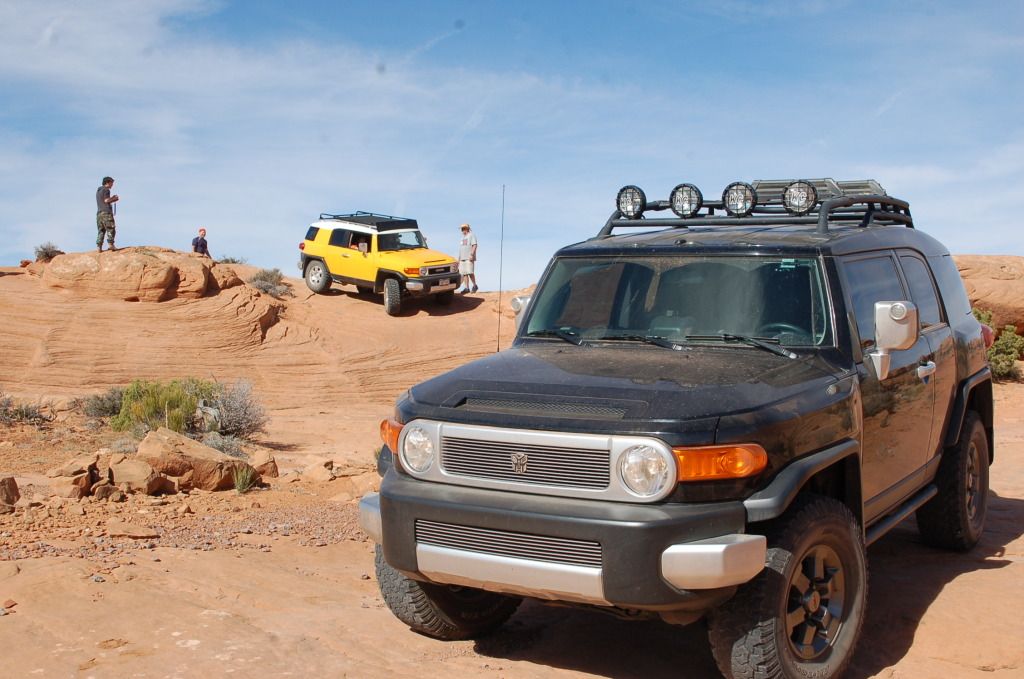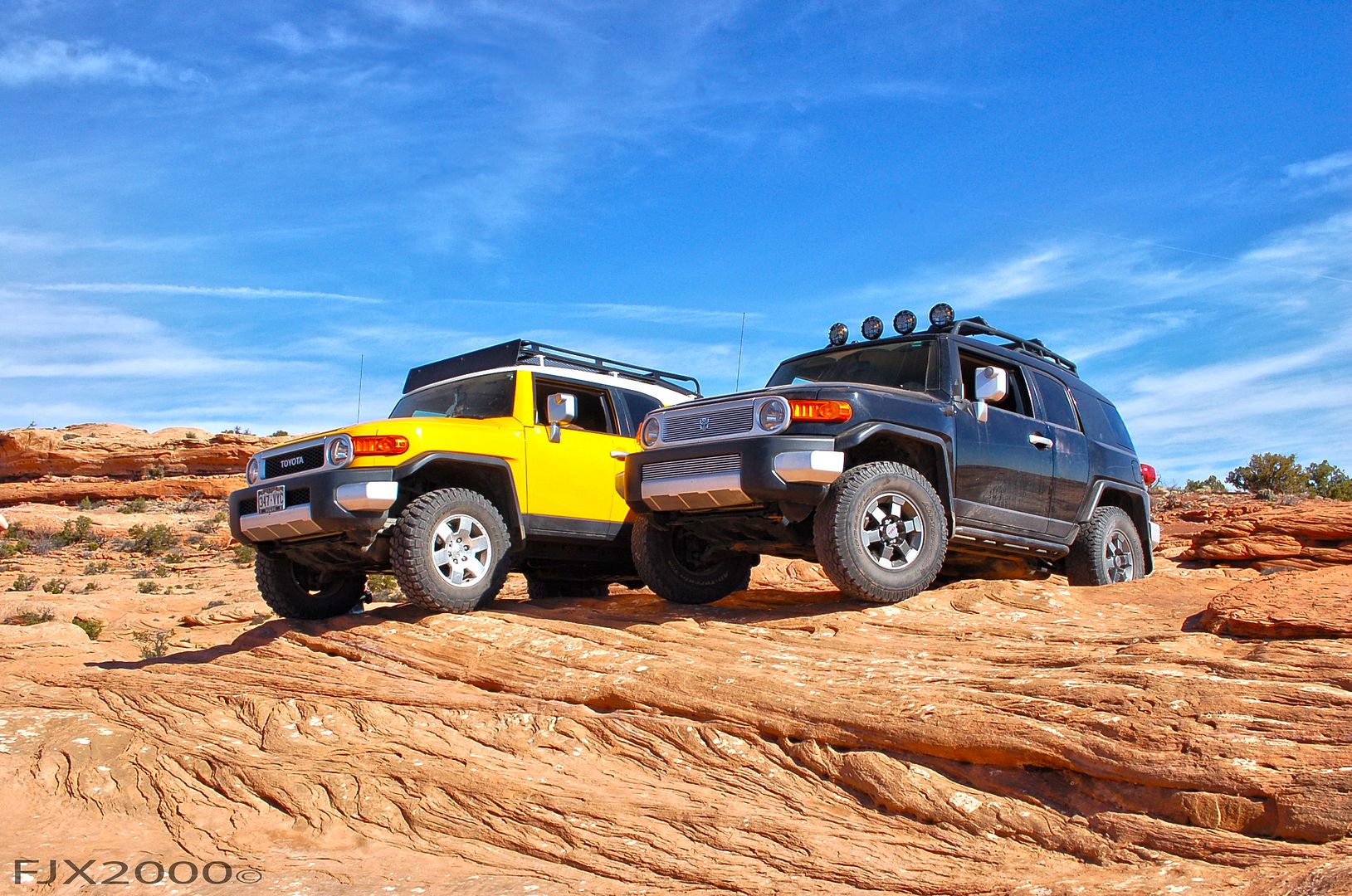 Here are some pics that I took on the same trip as the pictures taken above. I decided I wanted to do something crazy (for the first time) so I pulled up onto that big rock until that rear left tire came off the ground. This was the first time I got onto only 3 wheels, but it defiantly wouldn't be the last!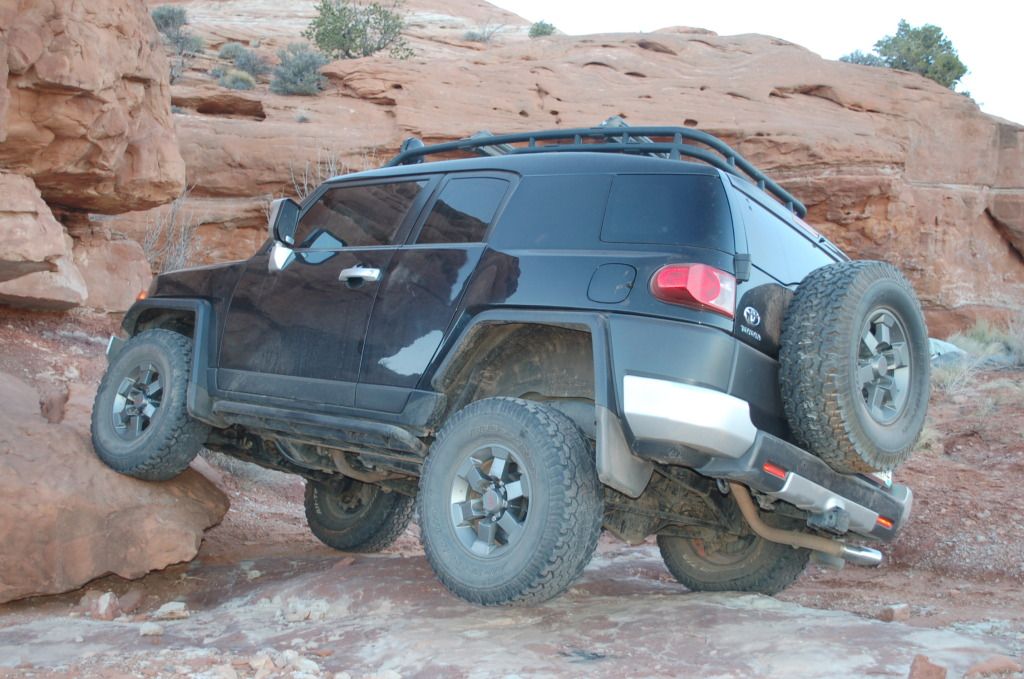 I also decided around this time that I needed a way to add some extra light inside the car at night and to add a cool, unique look to my FJ, so I got these installed by a local audio shop (Audio Box).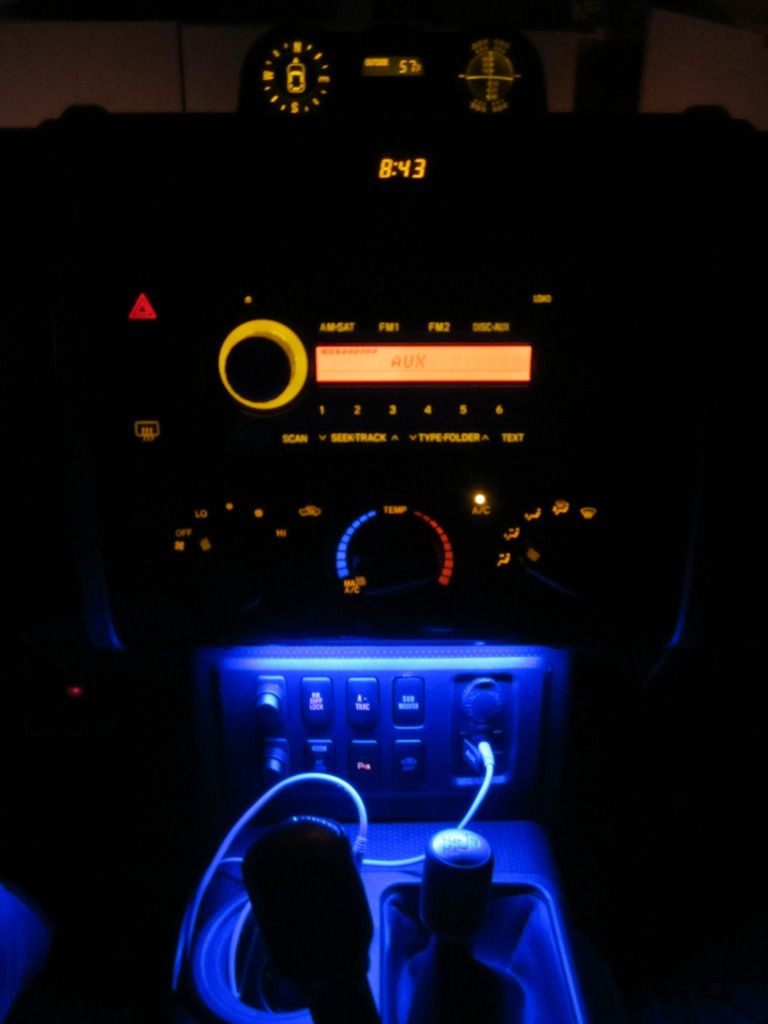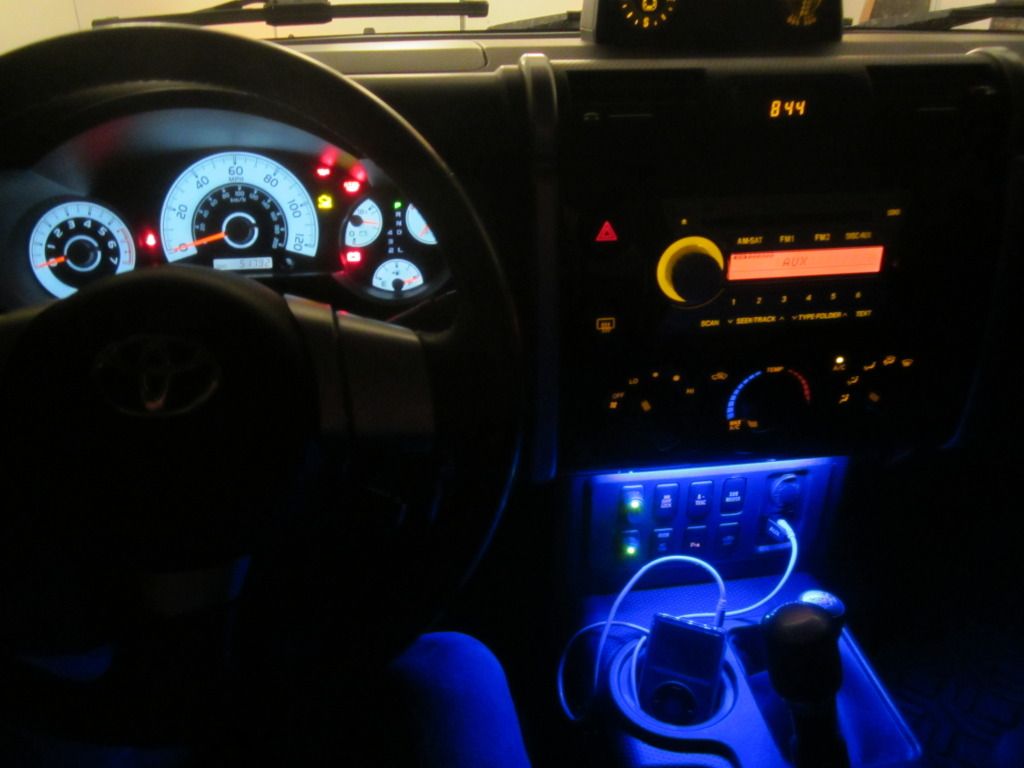 These were two 6 or 8 inch blue LED strips that I picked up from AutoZone and going to a professional to get them installed was such a good idea, that way I didn't have to worry about taking the dash apart or messing up the wiring or anything. Plus in the end, it has a super clean/professional look to it. The switch for it is actually that light red dot you can see in the bottom left hand corner of the picture. It is installed on that plastic piece right under the steering wheel but it's placed off to the right. I've replaced that rocker switch since then with one that has a blue LED in it so it matches the blue LED strips very well! In the end it adds a cool look to the FJ and it helps me see those center console buttons, switches, and my iPod a ton better at night time.