Discussion Starter
·
#1
·
This is a pretty long post about a
new type of part failure that you should know about
and get underneath to check right away. You don't want this one to happen to you.
It's also about the greatest folks in the world - and they were all at the Summit.
I was leading the Imogene 9:30 group and was close to the summit at 13,100 feet. Right here at the exact moment in BobtailFJ's picture below I heard the famous snapping sound that some us are accustomed to. However I wasn't doing anything wild, just going slowly up this rise. I guessed it was just a rock.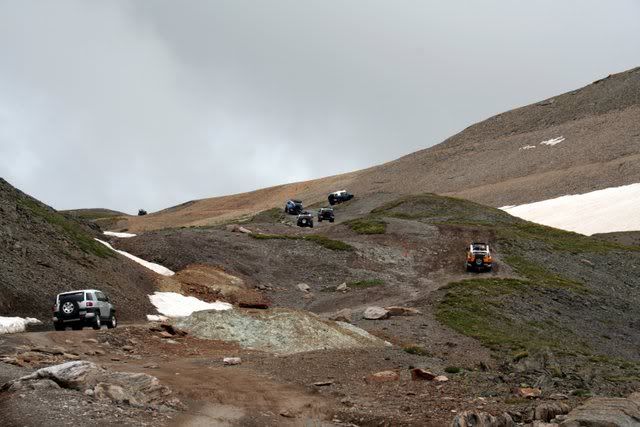 A few minutes after we were just about at the top, my oil light went on. Well... isn't that special.
Looks like I didn't only break a CV, it wasn't even in there! The CV itself is completely gone with just the outer tulip remaining. The half-shaft was just rattling around inside it until we ziptied it. This didn't make sense since it was a very moderate run. And no, I don't have gobs of horsepower that spit out drivetrain parts. Ray's (PureFJCruiser) photo:
But even better, under the pan there was the Exxon Valdez itself, happily creating a little La Brea Tar Pits for future visitors. For a moment I hoped I was actually Jed Clampett and had discovered a bubblin' crude.
There was no visible damage anywhere to the skid. In fact the FJ had driven just fine the whole time. I basically just fumbled with my stupid little toolkit until I could figure out what to do now. PureFJCruiser 's pic:
At this moment I had the entire descent to Telluride ahead. With no engine, power brakes, or power steering. And my whole family inside. And worse, no power to the Nintendo.
I have to apologize to everyone for forgetting about the oil. The Trail Teams went up and cleaned it up right afterward apparently. Next time I will be thinking clearly about this very important factor.
So now I was going to have to coast. This is where wonderful FJ friends shine. DominicG volunteered to drive right in front of me in case I couldn't stop. Now who in their right mind would position themselves in front of a nearly brakeless FJ all the way down to Telluride? I will always appreciate Dominic's life-risking help.
I discovered the brake booster would run slightly under battery alone. If I kept up a little speed the steering was possible but pretty hard. By the time we got to the bottom I was at about 6 volts. Braking was either all the way on or off. The speedometer was dead so I can't say how fast we were going but it was probably the usual speed.
At the bottom I was ready for lunch and a heroin overdose. It was time to tow back to Ouray. My towstrap was a fine Pep Boy's model, because who needs a strap? Come on, that's for dorks. Well, I would now pay dearly. At about 10 feet long, I was riding so close to Dom's rear end that I could have entered the Priesthood. Dom must have felt the same fear I do at Demello's.
So for twenty panic-stricken miles I tried to keep from bashing into Dom until my brakes finally completely went away. That was a lot worse than coasting down Imogene in fact.
Suddenly, we were warmed by the sight of the great Scorpion looming behind us. I could not hide my Pep Boys strap in time before Larry walked over, however. So after the expected tsk-tsk and finger wagging from Uphill, he respectfully handed over his family heirloom tow strap, monogrammed, leather embossed and signed by his dear departed uncle. It said:
"Young Corporal Uphill, no matter what valleys and hills you conquer, always remember me by this, my most prized strap, given to me personally by Ted Kennedy from the tow truck guy in Chappaquiddick"
.
For the next several miles Mr. and Mrs. Uphill were treated to the sight of the towstrap dancing between my front wheels. Since my brakes were either all the way on or off, if I touched them it would pull the rear of Dom's truck up into the air, and dirty laundry and nasty magazines flew out the rear window.
When I finally ran over the towstrap and broke it in half I decided to feign a smile for my last minutes on this earth.
Uphill found himself suddenly very fortunate; by the side of a lonely road with 3 things. First, the guy who had destroyed the family towstrap. Second the guy who has been linked to his cute youngest daughter Emily. Third, a loaded .40 ACP in the dash. Here he is handing me a grave marker for Dom and I before getting down to business.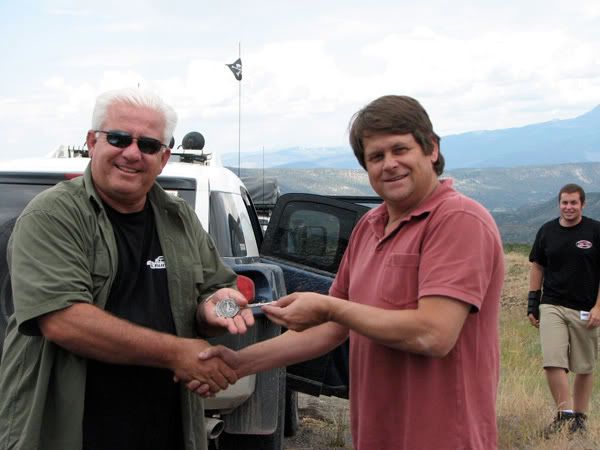 I thought fast and told Larry about Dominic and Larry's other daughters too, so I was given a pass to get towed to Ouray. AAA upgrade baby.. do it!!! It pays back in spades.
The next morning Thong (TCao) and I went out to see the damage. Here is his photo. This is looking up with the front diff in the foreground and the engine lower case in the background.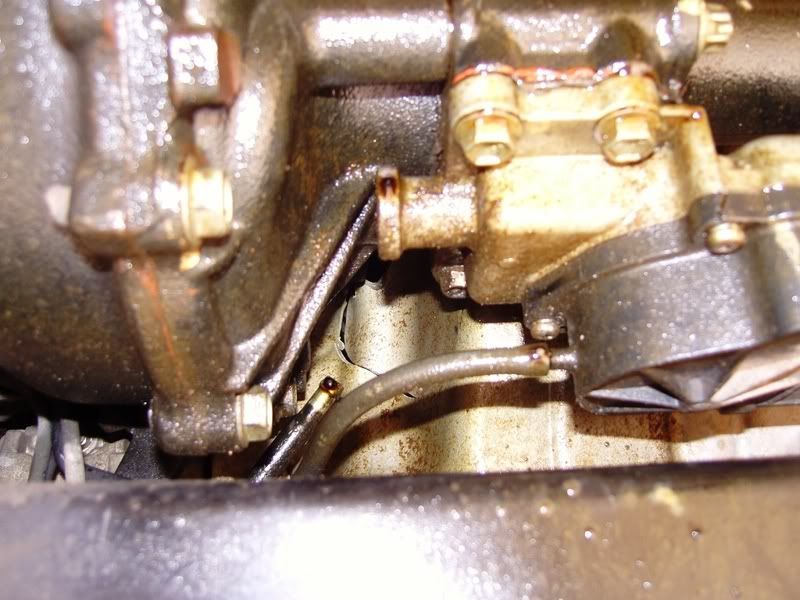 Thong was a great help and has built what many think is the nicest FJ out there. It is absolutely minimal and functional, to the point. No extra nothing and everything works exactly as it's meant to.
Here is what had broken. Below in red are the two support brackets that hold the front diff to the front crossmember. These pictures are from a Tacoma but are the closest I could find.
These are probably the worst parts on your FJ. Heavy, brittle iron. They look like they came off Borat's tractor. On the FJ there are two bolts that hold the diff to the bracket. Well, those bolts were GONE.
This is what you need to check. Please make sure that all four bolts on each of the two brackets are completely tight. This will be a huge PITA if you have a skid.
If your bolts back out as mine did, in 4WD one of the brackets will break. What happened next is that the diff came up hard and broke the CV into so many pieces that they all fell out. The added leverage propelled the diff up into the aluminum engine case. I can say that the iron front diff is probably over 100 lbs, and the aluminum engine case is about 20.
Here is how Toyota should make these brackets. This is from some Fabtech lift kit for Tacoma.
Continued Below