Version 2.0 is on page 6 with some other cool stuff too
http://www.fjcruiserforums.com/forums/suspension-steering-tech/154893-superflexy-cheap-more-expensive-if-youre-into-bigthumb-6.html
"Bilstien 5100
#24-186711
front shocks on first/second setting for the old "FJ lean" with stock springs[for easy compression to the bump-stops] and a 0.5" top plate spacer for the extra extension[see explanation in thread].
Lightracing upper control arms to clear the spring at full droop[see alignment tips in thread, but basically zero everything after shifting the wheel forward for 35s]
Metaltech 19.25" medium rear springs
Pro-Comp 29.77" long shocks with 12.68" of travel at the shock out back. ES9000
#929510
mounted as seen on page one with pro-comp 600020 lower bushing, these do contact the lower link and axle housing under full articulation.
1.5" rectangle tube bump stop spacers out back, this and the Spidertrax spacers keep the top of the tires off the top of the wheel well at full tire stuff.
Extended rear brake lines,
Extended: wheel speed sensor lines, diff lock actuator lines via existing slack in lines and brackets, pulled existing slack down on the front lines
Removed: both anti-sway bars, both e-brake line frame side brackets.
A set of 1.25" Spidertrax spacers set the track width out further to help a little too.[offset and alignment are the key to 35s]
all in all, about $1250 + tires[315/70r17 Hankook MT]"
thought the first page needed a better picture to look at and quicker access to the parts list, great to see people taking numbers!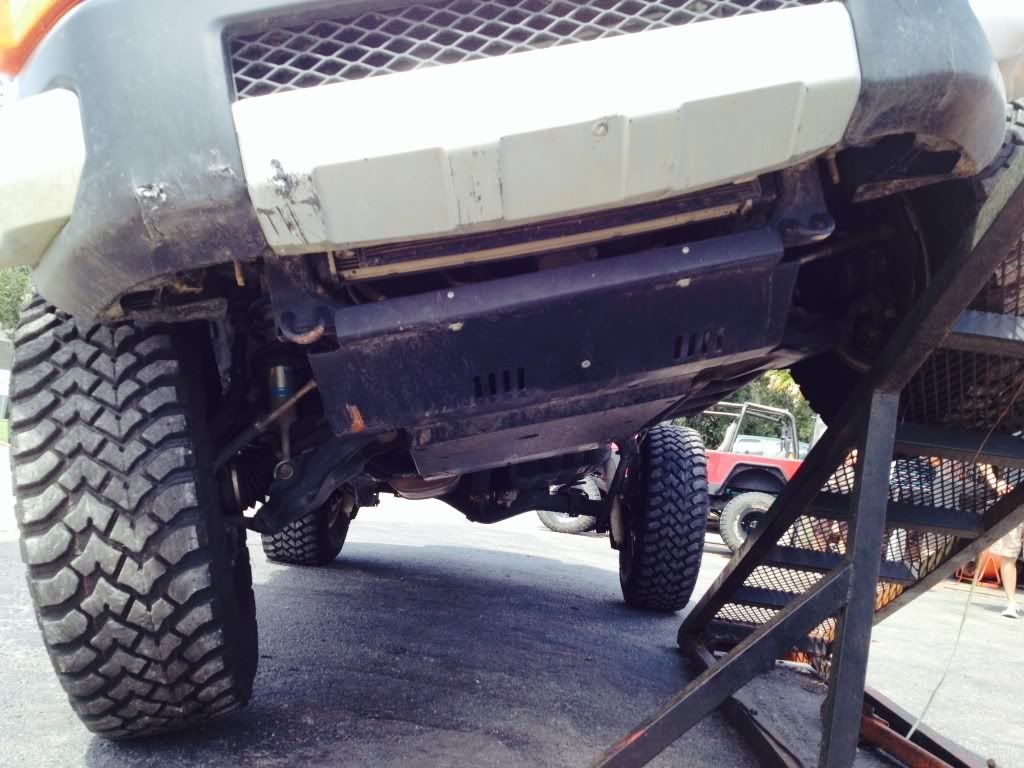 stock springs and little to no lift up front, bump-stop contact on the front A-arms is key.
Old initial post starts again>>>
so i noticed most of the kits out there are sold with rear shocks that are 2 inches shorter than need be and i've never been one for kits anyway. I should say some of them are pretty damn good, like if you want to run 35s then just go get the metal tech long travel rear kit that ****s perfect for 35s. if you're running a smaller tire then adding three inches to the rear bump stops is a pretty heavy price to pay for a 28.5" shock.
speaking of travel only, The front doesn't really matter much beyond matching the spring rate or preload to the weight of the vehicle. I'm running Bilstein 5100s on the 4th setting with the stock spring and no swaybar. $200.
The Rear is a Toytec super flex spring(many of you have this already) with a Procomp ES9000
#926514
, 26.79 inches long with 11.23 inches of travel. no rear sway bar. extended rear brake lines. no need for a limit strap. $180 spring + $100 shocks +$70 brake lines
for better quality the OME LTR shock at 26.23 inches and 11 inches of travel, can be used with very similar results. These have remote reservoirs and run about $250 apiece, IIRC they are designated for the 80 series land cruiser as are the pro-comps i'm using.
about $550 and no sway bars is enough to cover a 2.5" lift and lots of flex.
The rear fully extends with all stock arms and compresses to the bump stop, the front is just onto the bump stop here also, i'll have to see about getting it there sooner later this year.
good luck and go hang a tire below the body of you FJ :bigthumb:
and i just wanted to post these again, two of the best posts on this forum...
http://www.fjcruiserforums.com/forums/suspension-steering-tech/56511-flexing-ome-extra-heavies-ltr-rear-shocks.html
http://www.fjcruiserforums.com/forums/how-technical-articles/57523-ome-suspension-kits-option-guide.html