Discussion Starter
•
#1
•
Okay, a final wrap-up of a few more things that has now completed the "BOX" project.
http://www.fjcruiserforums.com/forums/interior-exterior-visual-tech/28828-ladies-gentlemen-may-i-present-you-box.html
I initially tried a hatch/window strut to keep the forward storage box lid open, but even the lightest-duty strut I could find was overkill and popped that sucker open like a catapult. So, I went with a pair of Stanley adjustable-friction chest lid prop supports. ($5.95 each. Mounting location template is included with the supports.)
I installed a rounded low-profile handle for the forward lid, and added a flush-mounted key lock (1 1/8" long cylinder to account for the 3/4" lid thickness, carpeting and lower hardware).
For additional hold-down support, I fabricated a pair of 1" aluminum brackets that attach to the bottom of the forward storage box and bolt onto the exisiting previous rear seat mounting holes.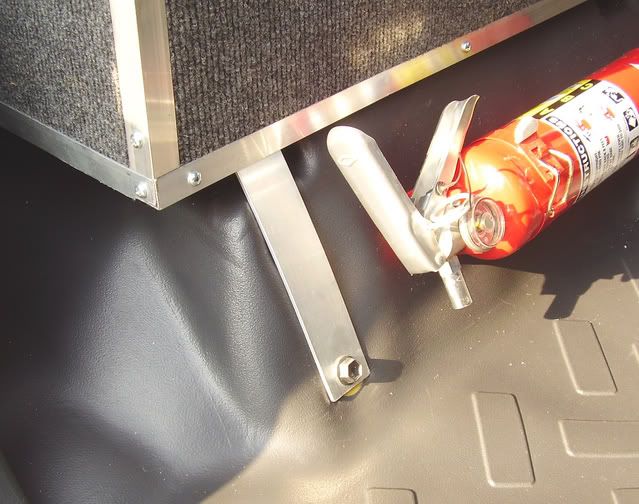 I added four FJC tie-down hooks to the top of the rear storage area (ice chest, additional storage boxes, etc.). A small notch had to be cut on the rear panel of the two drawers to permit opening/closing with the slightly protruding underside hardware of the tie-downs.
And, to answer the numerous PM inquires about the contraption mounted on the front of the forward storage box, it's an electrical remote-activated shotgun lock/rack system.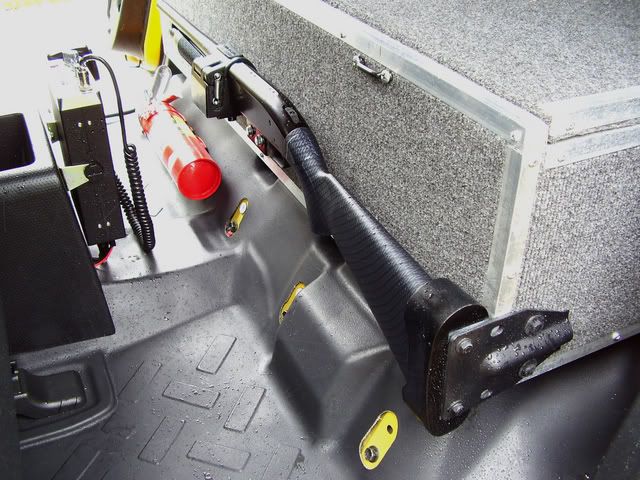 A disguised button on/near the dash releases the spring-loaded lock and allows quick removal of the weapon. (Supplied keys can also open the lock manually.) They're about $90-$130 from most law enforcement supply companies (i.e, Gall's).
Again, if you're undertaking this project (or something similar to it), please feel free to ask any questions you might have. Thank you again for your appreciation of this little endevour.