First of all: WORDS OF WISDOM...... Think your mods through and only do them once instead of multiple times like me! :rofl:
I've had the FJ since June of 06 and have been on the forum since then as well. I saw the concept FJ as many others did and immediately wanted to have one. I honestly didn't expect it to happen but I started calling local dealers anyways. After going to many dealers with $5,000 mark ups over the listing price I finally found a dealership willing to negotiate. So, my order was finally placed at the beginning of June 06. I went with the basic CQ package only getting the rear locker, roofrack, rubber mats and that is about it. I didn't realize it at the time but im glad I didn't invest in the overpriced A-trac option that I would later add for $50. I went with my favorite color that has now been discontinued....BC baby!!!!! :rocker: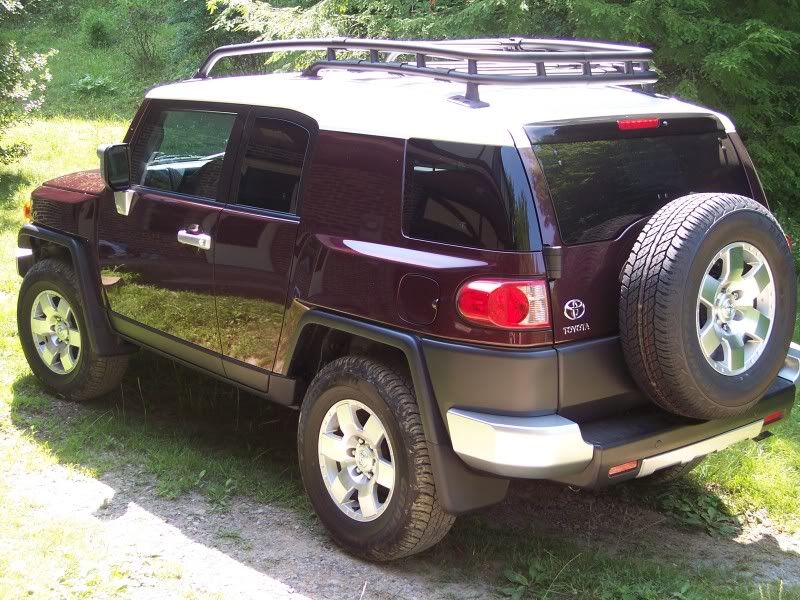 I initially had an interest in changing little things the tires, stereo and speakers. So, I upgraded to a new Pioneer HU with Polk tweeters in the dash, 6.5 Polks in the doors and infiniti 3.5's in the rear panels. I checked different online sites and realized the rear speaker covers were extremely overpriced. So, I decided to make my own speaker covers after viewing this thread:
http://www.fjcruiserforums.com/foru...23-make-your-own-d-pillar-speaker-covers.html
this was only the beginning of the constant modding to the FJ through the years!
I also added the BFG at/ko's not long after my purchase. I changed the tires out over and over and over again. :lol: Here is my first change and also shows my custom tag.......Go Skins!
Later came the remote starter that comes in very handy during the cold winters! One click of the button and the FJ is nice and warm when I get in!
I also decided to add another cosmetic change and also protect my seats at the same time. I added the wet okole seat covers front and back through a group buy:
Over time I started to frequent the site more often. I was searching one day and noticed a local ride happening in Harlan, Ky. I was a little skeptical at first so I started questiong different mods that would be best to add. I decided on a lift and sliders to start first.
I went with the Toytec lift OME springs 884's, top spacer along with rear toytec super flex coils and OME rear shocks. I eventually decided on the trail gear sliders to complete my first off road mods. ****both of these mods would eventually be changed out as well*****:lol: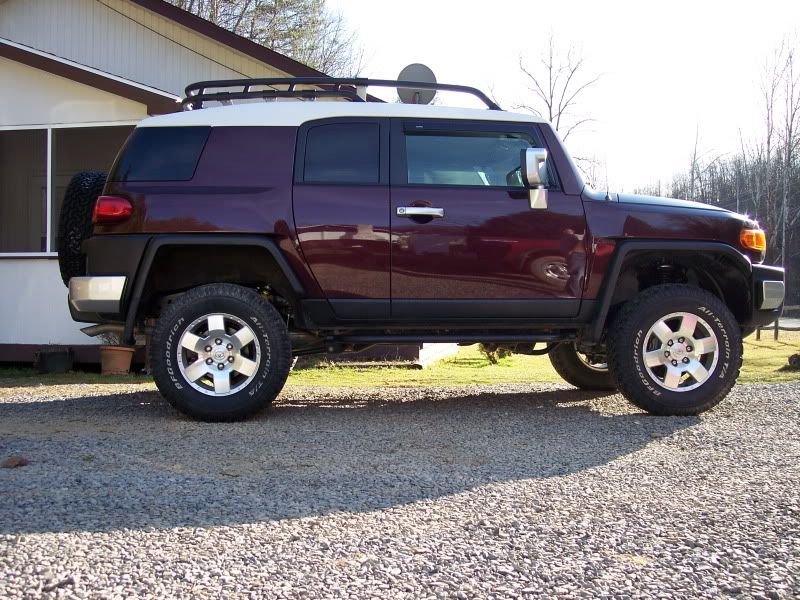 So, with these mods complete I decided that I was going to attend my first off road event. Harlan, Ky April Fools day crawl 07...
http://www.fjcruiserforums.com/foru...lan-ky-april-fools-toyota-crawl-pictures.html
I have to admit that I cringed every time I heard the brush scrape down the side of the FJ taking the clear coat along with it. The brush and over growth was actually terrible on this ride and is the worst I have experienced to this day. So, I definitely was broke in right with scratches. I worked for hours after this trip buffing trying to clean the scratches up but to no avail.
My next purchase was what I would consider my worst mod to date. Magnashields to the rescue!!!!!! Others may like the magnashields but to me they were terrible. In my case they were ok at first but with time I had nothing but problems out of them. Just a waste of money. Here are some pics of the first white FJ and a thread about it....:rofl:
http://www.fjcruiserforums.com/forums/interior-exterior-visual-tech/27115-my-all-white-fj.html
I also saw the need for a CB after this ride. I started with the a handheld cb and used that for a while adding a Bandi mount with 3 foot Firestik.Then surprise, surprise it was time for another change. I decided on mounting a CB in the center of the dash. My CB also has a PA so I can switch it on and hear any chatter on the CB when im out of the FJ.
http://www.fjcruiserforums.com/forums/stereo-electronics-electrical/66381-dash-cb-install.html
Not long after the Harlan ride I attended a ride in Tellico. I had heard several stories about the place so I decided my next investment would be skids. I decided to go with the allpro skids for clearance issues and to protect only the vital parts. I have been very happy with these skids throughout the years. I once again would cringe when my rock rail hit or a skid hit. The armor was doing it's job but as we all know when u hear that first impact there is nothing like it.
http://www.fjcruiserforums.com/foru...ico-june-9th-4runner-jamboree-pics-video.html
So, after this ride I begin to want to add MT's. I decided on adding a 2nd set of bling wheels to put my KO's on and the stock alloys for my MT's. I decided on BFG KM's 255/75/17 for my MT's and I painted the alloys with help from this thread:
http://www.fjcruiserforums.com/forums/wheels-tires/22180-how-paint-your-wheels.html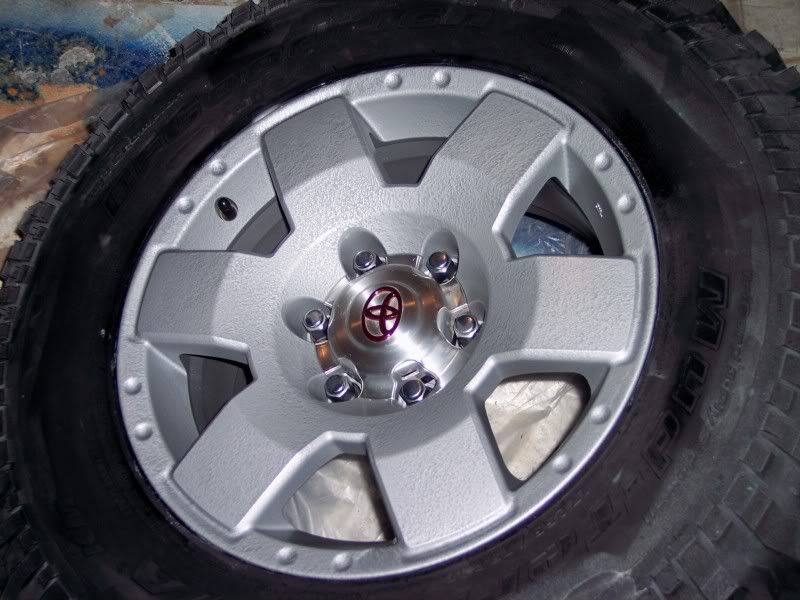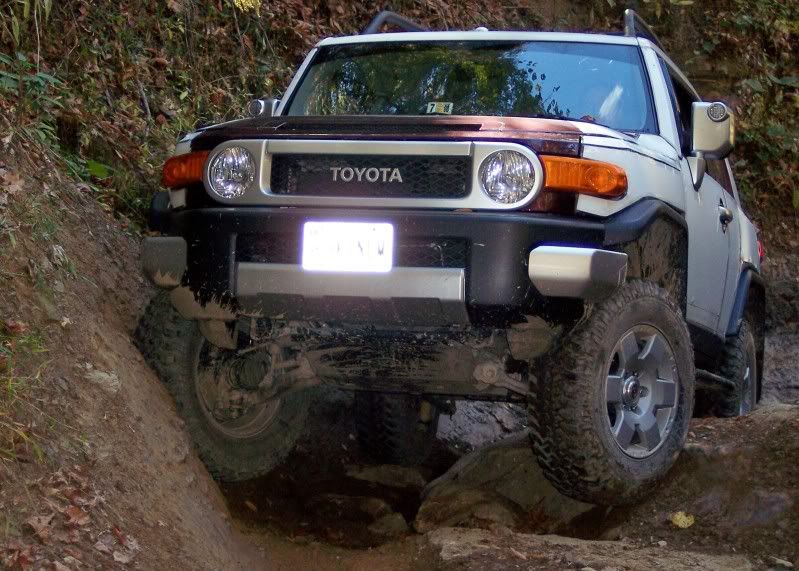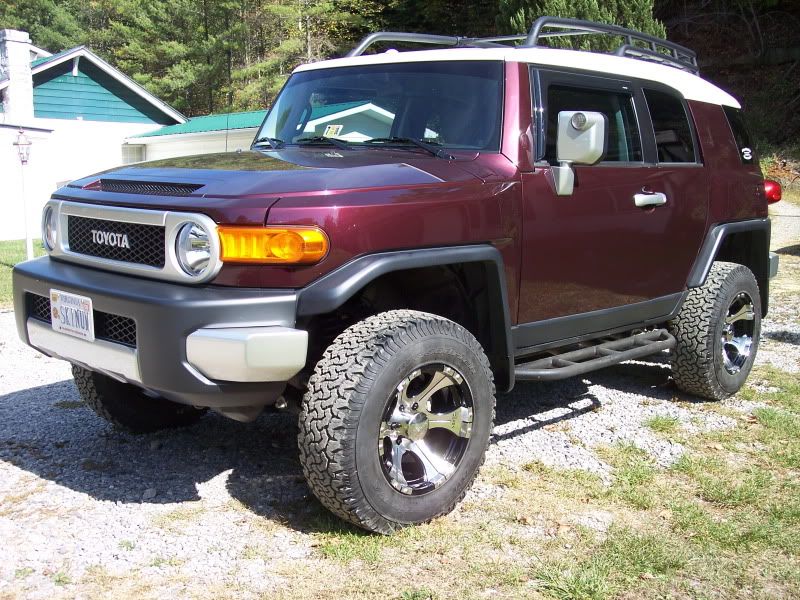 I attended many more rides after this and there was always once common theme. The silver caps on my rear bumper would get smashed in, scratched up or knocked off. So, I decided to add a rear bumper and I went with the allpro rear bumper with hitch. I also have my magnashields on in this picture which were painted a BC like color after they begin to strip and crack.
I also begin to ponder on adding a front bumper so I changed my suspension up front to OME struts and 885 springs.....another change. :bigthumb: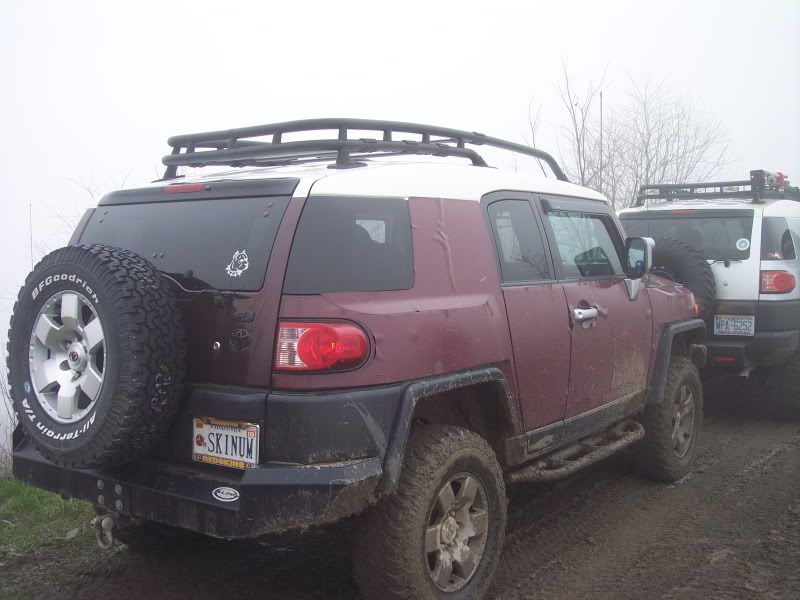 My stock exhaust always seemed to get smashed so I found a solution for that.
I made another change by adding the Allpro sliders. I really like the design of the allpro sliders because of the kickout on the back. I have saw a lot of people receive body damage by not having the kickout. So, I chose to upgrade and they have saved me a lot of headaches.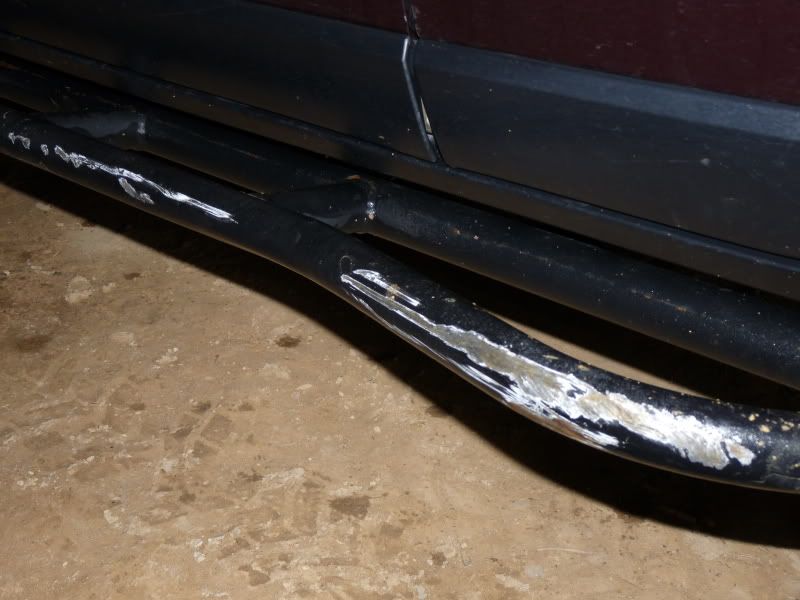 I also found a great deal on some Camburg coilovers that came off of a Tacoma. So, these were added along with the Light racing Uca's. The UCA's got everything back into specs! :clap: