2008 Toyota FJ Cruiser Trail Teams Special Edition
Hey everyone! So a few years back I had my own 2007 TRD Special Edition FJ Cruiser and knowing it was a unique vehicle I wanted to do research so I would know everything I could about this rare vehicle.
My search led me all over the forums, internet, and yes, even to Wikipedia, just so I could know the details of my model and other Special Edition FJs. Finding that information was inconsistent and scattered I set out to make this information clear and available for everyone to have. I started with rewriting the entire "Variants" section of Wikipedia with credible, correct info. And now I have decided to create this thread as a way of sharing with our forum and everyone out there what the truth is about these Special Edition FJ Cruisers and other rare variants.
If by chance any of the following info is faulty or could use more clarification please let me know! I'll edit it right away. Hope this is useful for you and will be an essential resource for TRDSE, TTSE, TTNSSE, and TTUE owners and everybody else wanting to know what the real deal is behind Special Edition FJ Cruisers.
Just for those who may not know:
TRD - Toyota Racing Development
TRDSE - TRD Special Edition
TT - Trail Teams
TTSE - Trail Teams Special Edition
NSSE - Not So Special Edition
TTUE - Trail Teams Ultimate Edition
_____________________________
2007 TRD Special Edition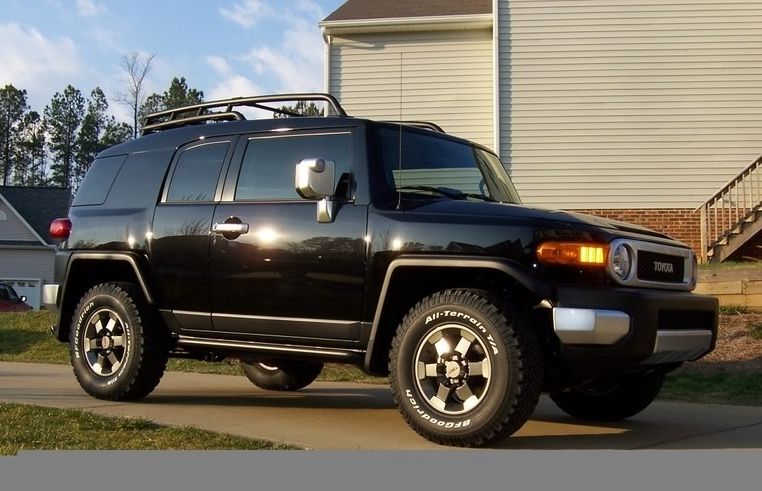 When Toyota set out to make the TRD Special Edition, they wanted something that could carry on the TRD legacy and specifically handle any challenge thrown at it, in this case, the Baja 1000. Toyota Racing Development had experienced pro off-roaders and engineering experts like Rod & Ryan Millen, Bruce Hunt, and Joe Bacal work on piecing together and testing what became the TRD Special Edition FJ Cruiser. From the specific 46 mm off-road tuned TRD Bilstein shocks to the BFGoodrich All-Terrain tires used on 16" wheels, this FJ was designed to win the race and provide excellent suspension performance on and off the trail to compliment the powerful 4.0L V6 engine.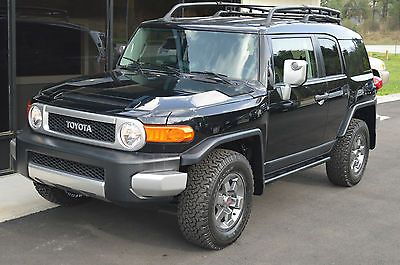 The TRD FJ Cruiser was always fitted with all of the standard bells and whistles offered by Toyota from the multi information display on the dash to the 115V plug in the rear cargo area. But as a way of making the TRD stand out from the crowd of traditional white-roofed FJs, Toyota made this first Special Edition with a monochromatic color scheme; meaning it had both the body and roof blacked out from the factory in the Black Diamond Pearl paint color. Standard on all TRD Special Editions was the 6-spoke 16"x7.5" TRD aluminum alloy wheel in a gun metal gray painted finish unique to only this model. Having the smaller wheel than the standard 17" alloy wheel used on normal FJs provided the tires with extra sidewall for better off-road performance and shock absorption. The tires included on this model are the BFGoodrich All-Terrain T/A KO in a 265/75R16 size. The suspension as mentioned earlier was specifically tuned for off-road driving and was a TRD Bilstein 46 mm shock, perfect for Baja-style driving and handling the FJ's body roll and balance. This model was also standard with the factory rock rails, towing package, and for manual models, the TRD Quickshifter.
Other features found on the TRD Special Edition include the TRD performance cat-back exhaust system, premium 9-speaker sound system with AM/FM/SAT 6-disk in-dash CD changer (including sub woofer), 5-piece TRDSE all-weather floor mats, and rear locking differential and A-TRAC system to compliment the vehicle's 4-wheel drive prowess. One unique thing that came about with the TRD Special Edition was the synchronization of the rear diff lock and Active-traction control for low 4-wheel drive. Before the TRD the FJ had the issue of the locking rear diff overriding the A-TRAC so you could only use one or the other, but after the TRD's release in November of 2006 all FJ Cruisers were outfitted with this synchronization allowing for the rear diff to be locked while the A-TRAC would work on the front axle.
Another item that added to the uniqueness of the TRD Special Edition was the TRD Special Edition badge located above the FJ Cruiser badge on the rear door and also on the passenger's side dash board. (This item is one of the rarest parts to find along with the gun metal gray TRD wheels). These FJs were also fitted with billet aluminum "FJ" door sill enhancements rather than the standard black plastic to protect the bottom of the door sill's paint. Some TRD FJs came with optional features like the TRD cold-air intake, front aluminum skid plate, front bumper aux lights, brush guard, and the roof air dam with lights.
All-in-all Toyota only produced 3,200 TRD Special Edition FJ Cruisers adding to the exclusiveness of this package and starting a legacy of special edition FJs for years to come.
2008 Trail Teams Special Edition
In 2008 as a way to show the world exactly what the FJ Cruiser was made for, and to give a nod to Toyota's Trail Teams across the USA, Toyota created the FJ Cruiser Trail Teams Special Edition. This new special edition was created and renamed to help reinforce that this was a vehicle designed for the trails, designed to tackle the most challenging off-road situations, designed for those looking to get the most of their rig from the factory.
For this model year the Trail Teams Special Edition came in the FJ's Iceburg (white) paint scheme for it's roof and body. But to again set itself apart from just any other all white FJ Cruiser on the market, this model came with black trim all around from the factory including the grille bezel, bumper caps and wings, front and rear valances, mirrors, and door handles. The wheels and tires on the 2008 TT are the same size as is found on the TRDSE, however the wheels came in a black painted finish rather than the gun metal gray. The suspension was also similar but was tuned slightly differently, or as worded by Toyota, "trail tuned,"so most refer to these as TT Bilsteins (TT meaning in this case either trail tuned or Trail Teams) which are blue and silver in color as opposed to the "off-road tuned" TRD Bilsteins on the TRDSE which are red and blue in color.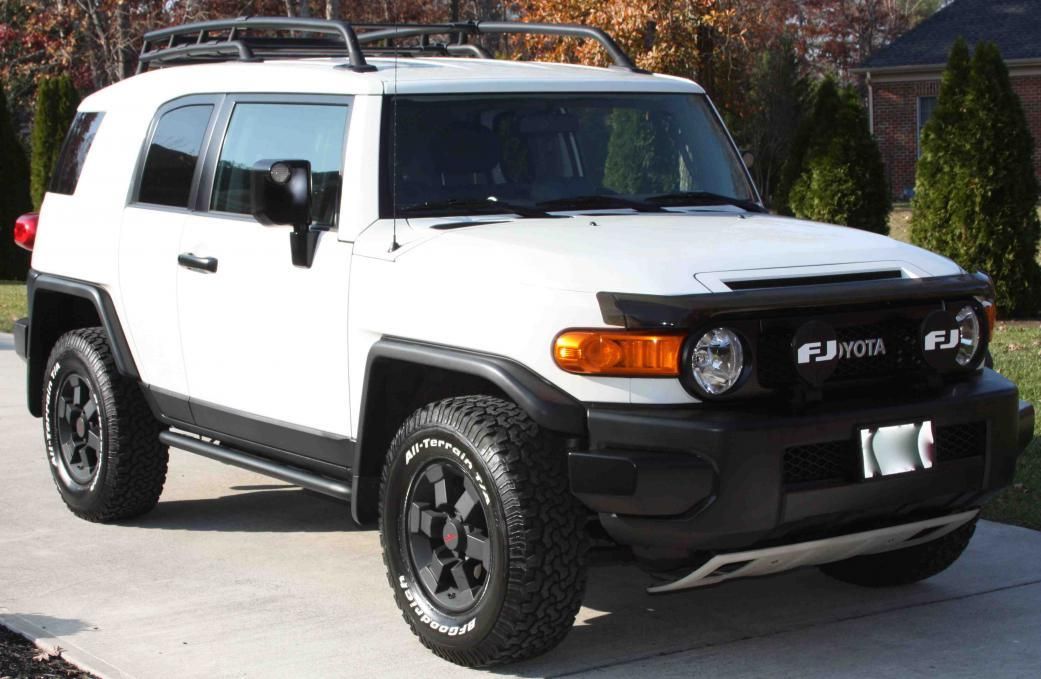 The 2008 Trail Teams was released with the TRD exhaust system, Cyclone air cleaner, rear differential lock and Active Traction Control, and the 5 piece all-weather floor mats with Trail Teams logo. But this Trail Teams had a few standard features not included in the other model years of TT packages; these included the silver aluminum shift knobs, front bumper-mounted aux driving lights, and aluminum rear skid plate (Finding any FJs with the factory rear skid plate is kind of a rarity as their popularity never really caught on). These TTs were also all released with Iceburg color matched interior door trim pieces and a color matched instrument panel which is something that may have gone unnoticed by some with the TRD Special Edition with it's color matched trim simply being black like the TRDSEs exterior.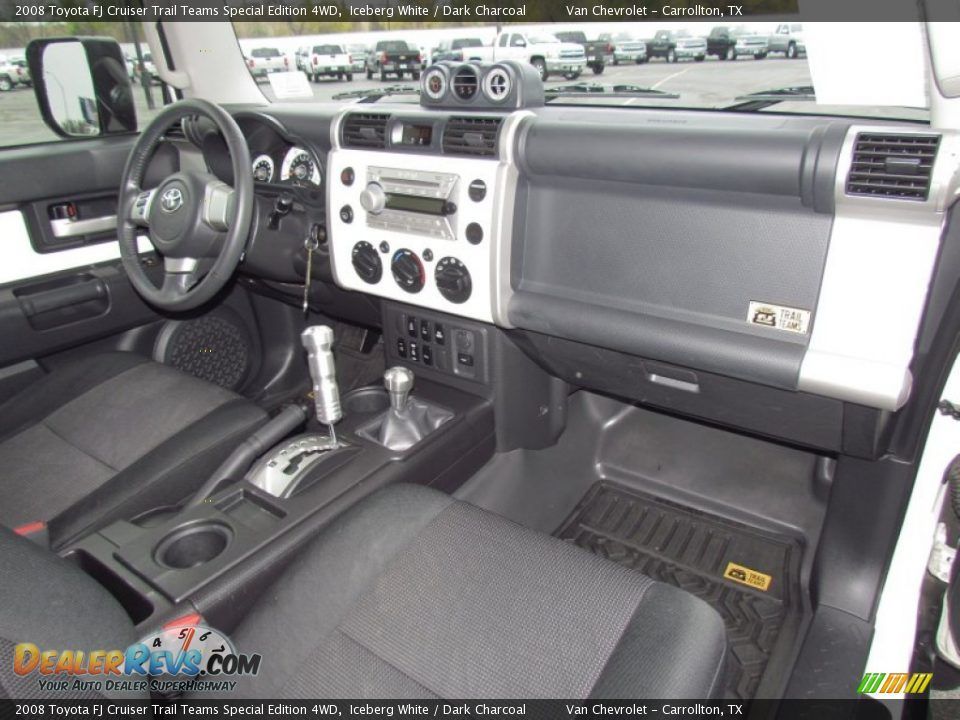 All of the 2008 Trail Teams Special Edition models were manufactured between January 2008 and April 2008. Only 3,200 were made, like the TRD Special Edition, making it a rarity yet the most common of the Trail Teams.
2009 Trail Teams Special Edition
Well the truth is there wasn't a Special Edition produced for the 2009 model year. What initially was supposed to be the 2009 TT later became the 2010 TT. It is sort of a mystery as to why this was the case. Even in the 2009 FJ Cruiser brochure from Toyota it discussed the 2009 Trail Teams. But for unknown or unconfirmed reasons Toyota put a hold on things so we don't officially have 2009 Trail Teams Special Edition.
However it is worthy to note that for 2009 and some other model years, Toyota released the
TRD Package
for 2-wheel drive FJ Cruisers. This was a way for 2WD FJs to get a bit more of an edge off-road but the features weren't nearly as extensive as the true special editions. The FJ Cruisers that have the TRD Package are the Iceburg color with the standard silver trim. However they also included the TRD 16" alloy wheels in the silver finish and with 265/75R16 BFGoodrich All-Terrains. These also had a unique TRD sticker which was placed above the rear fenders and they came with high-speed-tuned TRD Bilstein shock absorbers. In later model years this package wasn't exclusive to 2WD FJs and it may have been offered for other colors. But overall there arent many of these in existance and certain details about them are elusive.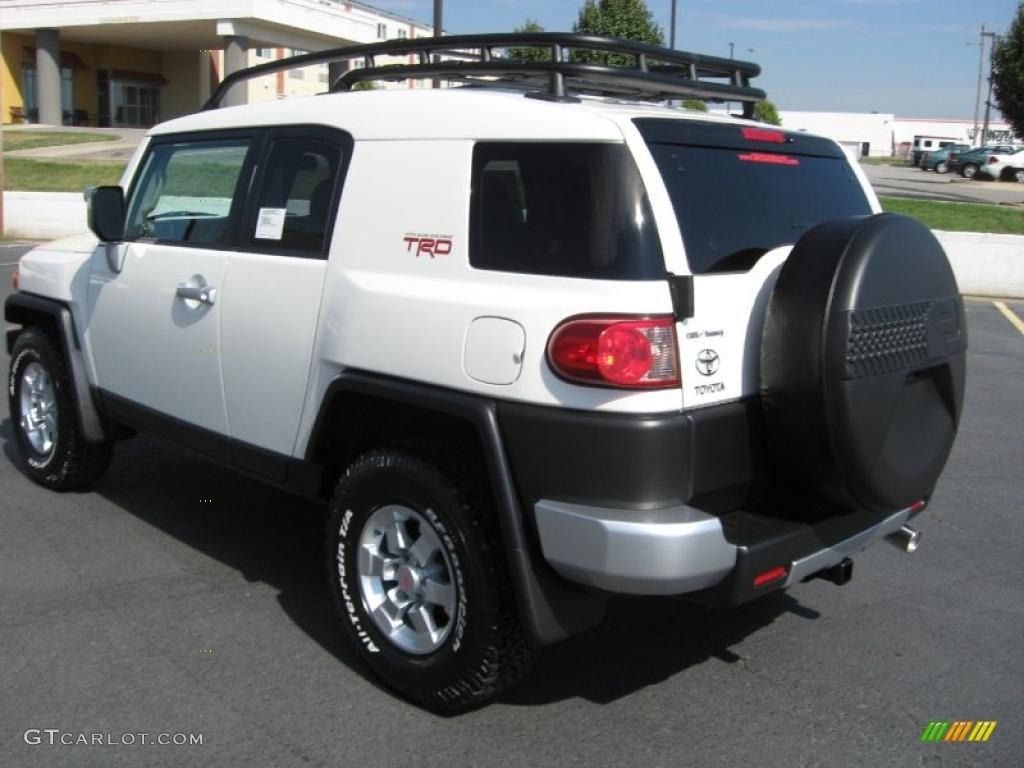 2010 Trail Teams Special Edition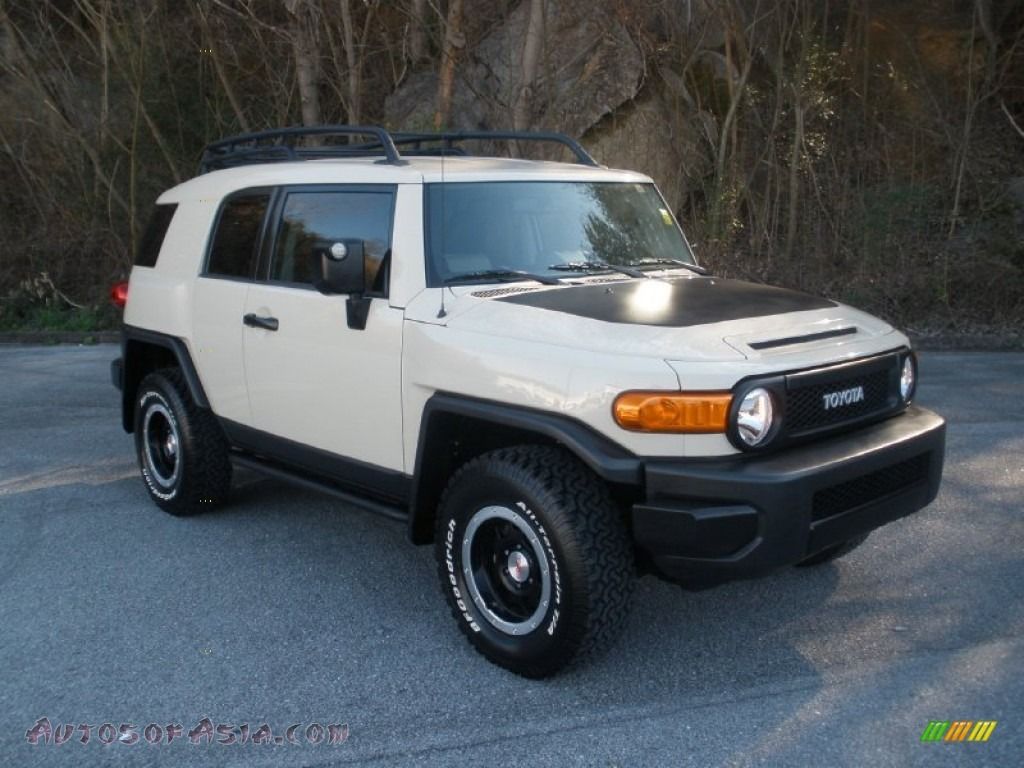 In 2010 a new Special Edition was released in the monochromatic Sandstorm (beige) color. This special edition, like the one before it, was outfitted with the Trail Teams black trim all around, TRD wheels, 265/75R16 BFGoodrich All-Terrain tires, rock rails, and other standard features. One unique thing about the 2010 TT is it came with a hood blackout decal from the factory, its purpose serving as a way to knock down glare from the sun that might make driving more difficult. However it also added a new dimension to the cosmetic look of the vehicle making it more appealing and accenting the black body trim. The TRD wheels used on this TT were of a newer design. Rather than what had been used before, Toyota used the TRD beadlock-style alloy wheels in a black finish. The Trail Teams Special Edition badge was included and located in the same location as the badges on previous Special Editions.
For the first time in a special edition, the 2010 debuted not only the exterior color-keyed trim pieces on the interior of the vehicle's doors and instrument panel, but also Sandstorm colored fabric seat inserts which further added to the exclusiveness and appeal of the TT. Some of the standard but convenient options included with the 2010 TTSE and others include: a cyclone pre-air cleaner, power side mirrors with illumination markers, auto-dimming inside mirror comes with an integrated backup camera monitor, all-weather floor mats and cargo mat, 12V, 100W and 115V 400W outlets, "floating ball" type multi-information display, remote keyless entry, cruise control, rear privacy glass, rear wiper, AM/FM/6-CD/MP3 stereo with nine speakers and steering wheel audio controls.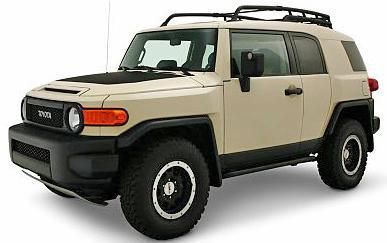 This Trail Teams model is the most rare of the bunch with Toyota only producing 1,500 units. It is debated as to whether or not there was a first and second production run of this model with 1,500 in the 1st run and 1,300 in the 2nd run totaling to 2,800 units but this hasn't ever been confirmed, so we'll stick with 1,500.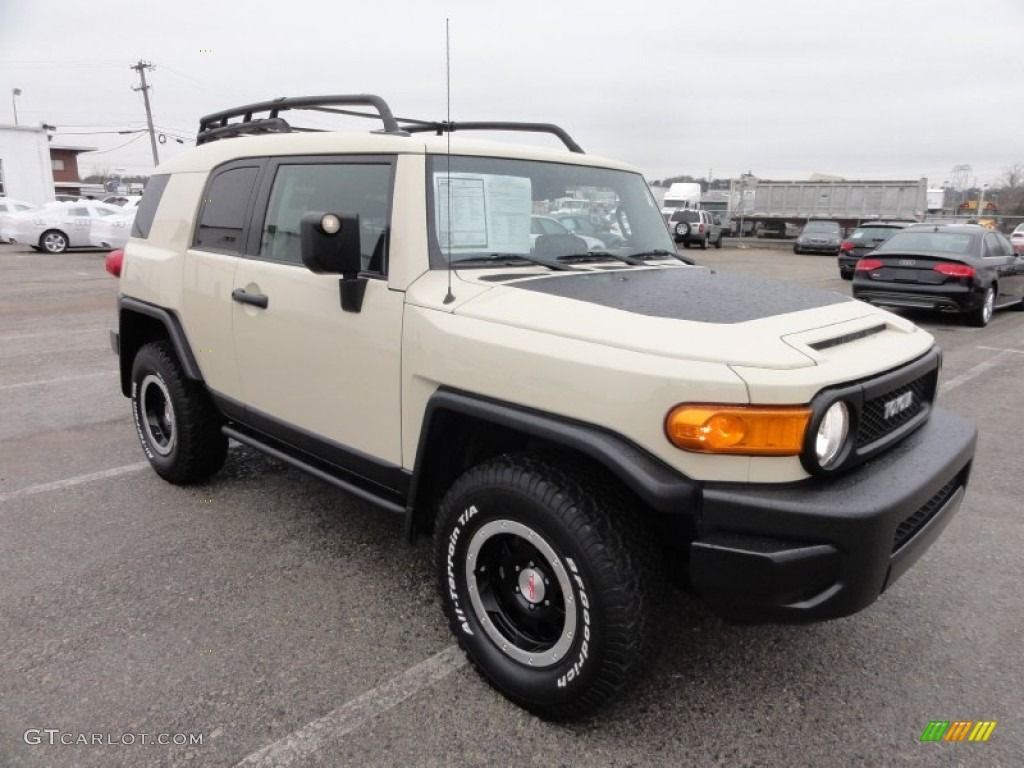 2011 Trail Teams Special Edition
In 2011 Toyota released the Trail Teams Special Edition in their Army Green color. Like those before it the 2011 TTSE had black trim pieces and a monochromatic color scheme. Again Toyota used green fabric inserts for the seats to compliment the exterior color as well as color matched door inserts. Rock rails, trail-tuned Bilsteins, TRD 16" alloy wheels, and BFG All-Terrains were again found on this model year. Toyota included the same TRD wheels in a black finish used on the 2008 TTSE rather than continue the beadlock style wheels.
This model included the rear differential locker, Active Traction Control (A-TRAC), multi informational dash display, leather trimmed steering wheel, wheel locks, backup camera, rear wiper, privacy glass, and more features commonly put into other TTs. But in 2011 Toyota introduced the new JBL sound system for FJs and Trail Teams got the full treatment which featured an AM/FM/6-CD/MP3/WMA player and a whopping eleven speakers in seven locations.
Only 2,500 of the 2011 Trail Teams Special Editions were made setting the standard amount of units produced for all Trail Teams to come.