Discussion Starter
•
#1
•
Through the build up of my FJC, I've been kind of obsessed with ground clearance. I've been documenting the ground clearance as I put various mods on my rig. Now that I've been lucky enough to work with Bud of Budbuilt, I think I've achieved the most I possibly can and my quest for ground clearance is maxed out. Well, that is until I pull a Sol and tear the IFS off. However, that is a few years down the road.
Now for the pics through the years...
Unfortunately, I don't have a picture of the measurement dead stock. The first picture I took was when I put the OME lift on, 885/140 and 895/N71e with stock tires, 265/75/16's. As you can see, this put it right under 12.5" of ground clearance at the exhaust crossover pipe...
This would be considered "stage 2", measuring at the skid plate crossmember between the t-case/gas tank skids. At this stage, I also had the same lift as before but upgraded tires to 255/85/16's (33X10) which gave a slight increase over the stock tires. As you can see in the picture, the ground clearance is just over 12"...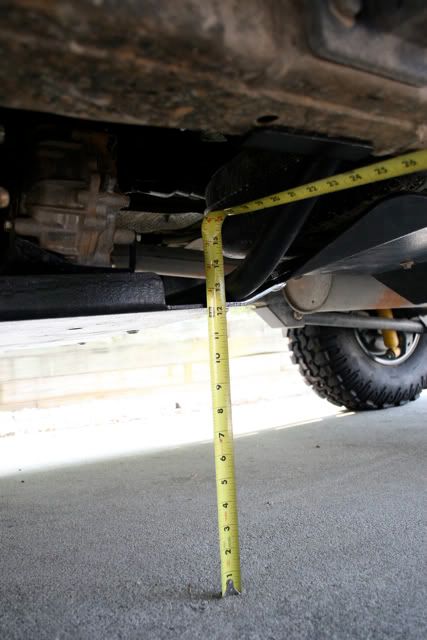 Here is the "stage 3" pic measuring after I put the 35's on. At the same (although a bit bent up from my summer excursion on the Rubicon trail, Moab and Ouray) t-case/gas tank skid crossmember, I had just under 14" of ground clearance...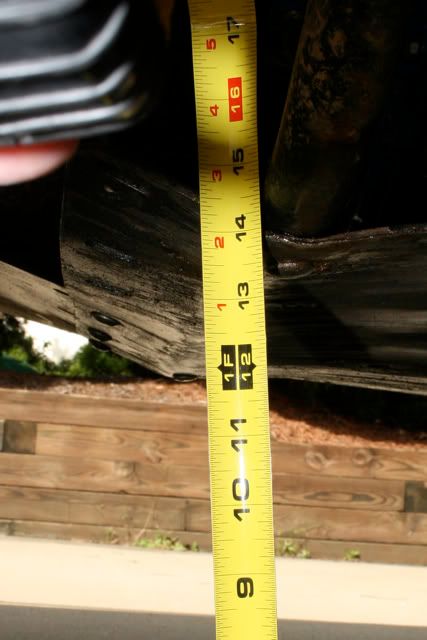 Now, with, as Bud so affectionately calls it, the "Tummy Tuck", we have entered "stage 4" and you can see that I have 17 3/4" of ground clearance....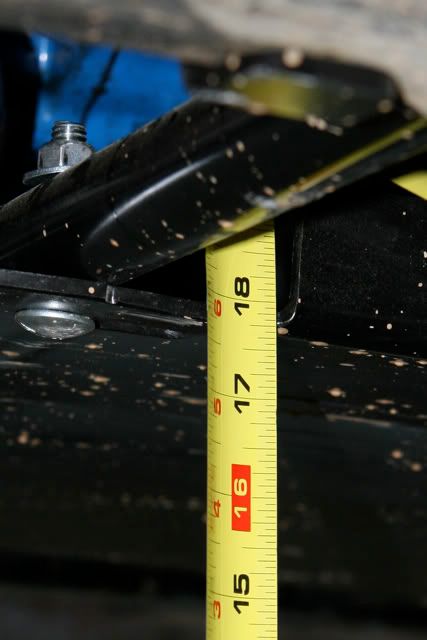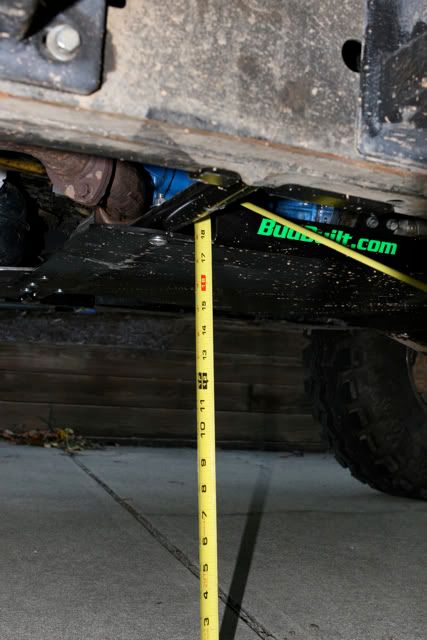 Getting everything tucked up above the frame rails gained 3 3/4" of ground clearance. So, with the Inchworm Lefty transfer case and Bud's newly fabricated transmission crossmember, Bud's re-bent skids, new skid plate crossmember, moving the exhaust, all told gives an effective increase in ground clearance similar to running tires that are 7.5" taller than the existing diameter.
Of course, going with that much taller tire would also increase the diff clearance, which this modification does not do. However, running that tall of a tire would also seriously increase the center of gravity to such a point that wouldn't be a positive change for the FJC.
Obviously, I could never modify my IFS FJC to go from 35's to 42+" tires, that is, unless I SAC it. Even then, running 42's is a HUGE jump in tire size when Sol and Amanda are running 37's on their SAC'd FJC's. That is why this mod is SO highly VALUABLE when it come to truly giving a dramatic change in off-road capabilities of the FJC.
I can't thank Bud enough for allowing me the privilege of being his guinea pig on this upgrade. He is great to work with and did an excellent job. I took it off-road this past Sat and didn't get a rattle, buzz or anything after beating it pretty well. I purposely took some "bad lines" in an effort to see/feel the difference between the last time I was on the trail (2 weekends ago) and this past Sat. I had the full weight of the rig on the new skids/crossmember and it hardly scratched the paint, let alone bend them at all.
I know that he has a great many ideas on how to make this a progressive upgrade so that someone with a stock transfer case can use his planned "clocking ring" to move it up as far as one can, then by using his planned exhaust routing kit, you can gain ground clearance using the new transmission crossmember and getting your skid plates re-bent to fit the new profile.
Bottom line, this is, in my NOT so humble opinion, probably one of the most valuable upgrades for the "serious" off-roader for the FJC. It might not be a huge advantage for doing 90mph on the deserts but once you get into any rocky and/or technical trails, having an extra 3.75" of ground clearance makes an AMAZING difference...
Just a quick shot of the new belly from the trail, thanks Bud...