2010 6MT FJCruiser. Hand built (almost) everything...
To see my FJ in its natural habitat please go here. BTW, the habitat should get a little bumpier after I install my new RCI skids.
Moab Junky's Adventures
I found our FJ on Craig's List 11 months ago. It had 24,000 very easy miles on it. In fact, it had never been off road and was in immaculate condition. The Gentleman was a gem to deal with and graciously met me in Vail Colorado, 2 hours from our homes, to do the sale.
This picture was taken the day we brought it home.
LET THE DEPRECIATION BEGIN!!!
He had the Icon 3" lift installed, Draw Tight hitch and OEM rock rails, the short shift with the TRD knob and a good set of 285/70/17 BFG AT's.
It also has the convenience and off road pkg, rear locking diff and A trac.
Last month it looked like this:
And today, it looks like this:
When my Wife and I purchased our FJ we also had a 2007 2 door Jeep. It was lifted, locked, and turning 35" tires with 5.13 gears.
Off road, our Jeep was the Bomb!!:rocker:
My Wife and I decided to keep both the FJ and the Jeep. I swore many times I would NEVER sell the Jeep.
In spite of all the negative press about them, this little 1/4 ton Chrysler was 100% reliable, and it would climb almost everything we pointed it at.
After a full summer with the two 4x4's, I noticed a considerable amount of garage dust building up on the Jeep. It seemed like every time we had a weekend trip planned, the FJ keys were the ones we reached for. The FJ was always more comfortable, had more room for our dog and all our gear, had the bed in the back, the full sized rear cargo door, the roof rack. It handled better, was safer and quieter on the freeway. Of course it had those two very useful and appreciated suicide doors and most importantly of all, it was built by TOYOTA. Needless to say, our beloved Jeep was sold. (pause for a moment of silence)
This is my third Toyota. If I were to rate auto makers based on personal experience, I would have to put Honda and Toyota at or near the very top. Chrysler would no doubt be bringing up the rear, and I use the term rear, loosely!! (As in two bags of chips, three Mountain Dew's and a half pound of Raisinets loose) We got lucky with our Jeep but that corporation is a total mess. I won't elaborate on some of the things that outfit would not stand behind for us.
My FJ build is probably quite a bit different than most. It will be very tame compared to many of the builds I've seen on here. I will walk you through my thoughts, mods, mistakes, dislikes and future dreams. When I design something that works, I'll sing it from the roof tops. If it fails, I'll post that too, just in smaller text.
I also am open to any input from the members here, for it was you my Friends who gave me the knowledge, courage and desire to purchase this Toyota in the first place. I lurked here for weeks and weeks before pulling the trigger. Thank you Forum Members!!! We love our 6 speed manual FJ Cruiser!!!
My goal isn't to build the most capable rock crawler or to spend countless hours clawing and spinning my way up a nasty boulder ridden hill side. We've been there and done that. I will drive around every mud hole I possibly can. Forget about fording deep water. The only snorkel I will own will be in my mouth and be used at the reef. If I do choose to get it good and muddy, you can bet your bottom dollar it will be washed before the end of the day or trip. I will use my winch to get me out of a pickle, not up a waterfall.
My Wife and I want to go places and see things that the average Joe cannot in his BMW or even stock SUV. If we are in the middle of a wonderful trip, we do not want to be forced to turn back because things got a little dicey. We will lock the rear diff, choose a good line, stack a rock or two if we have to, let the clutch out and let the FJ work its magic.
If we get tired, we will pull over and sleep in the back!!!
On with the build!!
BED/STORAGE SYSTEM:
The first item of business was to make a comfortable bed in the back. I wasted no time doing this. I must say, if I were to build a new sleeping/storage system for my FJ, I wouldn't change a thing.
The two skinny storage spaces on the sides will have a hinged "flip-up access door making access easy when the bed is occupied. I made certain canned goods would fit standing up in these.
The odd shape was designed so I can access the 110 volt outlet on the right and remove my OEM jack from the left side while the bed is in place.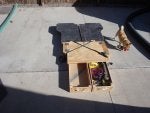 Key components of my system are;
The forward platforms do not rest on the seat backs. I feel if they did the foam in the seats would eventually be damaged.
The platforms fit nicely on top of the cabinet. I ratchet strap them down and fold the seats up for company. No bunk beds so they will have to throw in their own tent.
I can still access the storage compartment that holds the jack and tools. I can also get to the 110 volt outlet without removing the cabinet. I like that.
There are two hinged access compartments on the sides. We can get a can of peaches, bottle of water and a fork while we are in bed!
The cabinet is ratchet strapped down to the factory D-Rings. In the event of an accident it will not turn into a projectile. The sleeping planks are screwed down to the cabinet. The entire setup can be removed in minutes.
The platform legs between the seats have pins in the tops They simply slide inside holes in the planks. No bolts or screws to deal with there.
I installed 10 D-Rings to the top of the cabinet for securing our gear. I still have access to the factory D-rings.
The drawers simply slide in and out without tracks. I sanded and waxed the bottom of the drawers and the cabinet base. They slide effortlessly, make no noise while driving, are secured by a 1/4" pin and are easily removed for stocking purposes. I honestly believe that the trackless drawer system is actually better than one on tracks with bearings. In the garage, no, in the FJ, yes.
The handles are made out of 1" nylon webbing, cost.....FREE. I was able to make the cabinet longer by using this method and don't have to worry about hard handles scratching my rear door skin. I also drilled large holes in the rear of the drawers and cabinet to help air escape while sliding them in and out.
I made a long skinny table that slides out and has a hole in it that accepts a single burner propane stove. I drilled a large hole in it so I can slip it over my gas can carrier tube. Details of can carriers later on in thread.
The platforms are hinged in the front making set up time less than one minute, if the planks are in place. Simply slide the seats forward, fold the extensions out, place a 1" dowel underneath and relax. I curved the planks around the storage compartment so we could utilize that space.
I fold them up and tie them to keep my cargo from shifting forward.
We installed a nice piece of carpeting back there. Holes were cut into it so we could still access the D-Rings. The dog enjoys the carpeting as much as we do.
Last year we arrived in Ouray and it was raining buckets. We pulled over in the Ironton Park area, where Corkscrew pass comes out. Not wanting to get wet and muddy, we crawled between the seats into the back, reached up front and slid both front seats forward and then tilted the seat backs forward. We unfolded the platforms and stuck a dowel under each side.
We covered the windows, turned up the stereo and relaxed in our 6' 2" long bed. To me, that is what excites me most about this rig. Being able to see some rugged country and be fully self contained. Go wherever, sleep wherever, do whatever you want.
Waking up in Ironton Park.
The next night we got prepared. It didn't rain a drop!
For more details on the storage system, drawers, or how the bed was built, please go here: Again, any comments are welcome. Good, bad or ugly!!
Pics of my Bed in the back!!!