All-Pro Off Road
Type: Long Travel Suspension Systems, Adjustable Coil-overs, Solid Axle Swap Kit, and other suspension components
Price: Front Long Travel Kit: $2,698 ; LT Coilovers: $1,699-$2,049 ; Rear Shocks: $159 - $1,299 ; Solid Axle Swap Parts: $2.50 - $1500
Pictures:
Front Suspension Details: All-Pro offers several front suspension items including their popular long travel kit which includes both upper and lower control arms made from 4130 chromoly tubing which add +2" of track width per side, extended brake lines, heavy-duty spindle gussets which require welding, and tie rod extensions. The kit requires long travel coilovers, and All-Pro offers some from Fox. Other kit options which are suggested or are required include their heavy-duty steering kit, chromoly extended axle shafts, and Timbren bumpstops. Other All-Pro items available for individual purchase include their weld-on spindle gussets, upgraded sway bar links, sway bar collars, bumpstops, and long travel outer C.V. boots. One popular item from All-Pro is their stock length 4130 Chromoly Upper A-Arms which have a 1.25" uni-ball and zerk fittings for easy lubrication.
Rear Suspension Details: All-Pro's rear suspension components include Fox shocks in 2.0 and 2.5 versions with or without adjustable reservoirs and their AntiRock sway bar kit, which requires some welding and minor trimming.
Solid Axle Swap: All Pro offers many of the components required for a solid axle replacement if you wish to say goodbye to your independent front suspension. Except for the actual axle, they have most of the parts necessary to do the swap, but obviously labor costs would be extensive and much welding, trimming, and cutting would be necessary.
__________
BDS Suspension
Type: Spacer Lift
Price: $487.60
Pictures: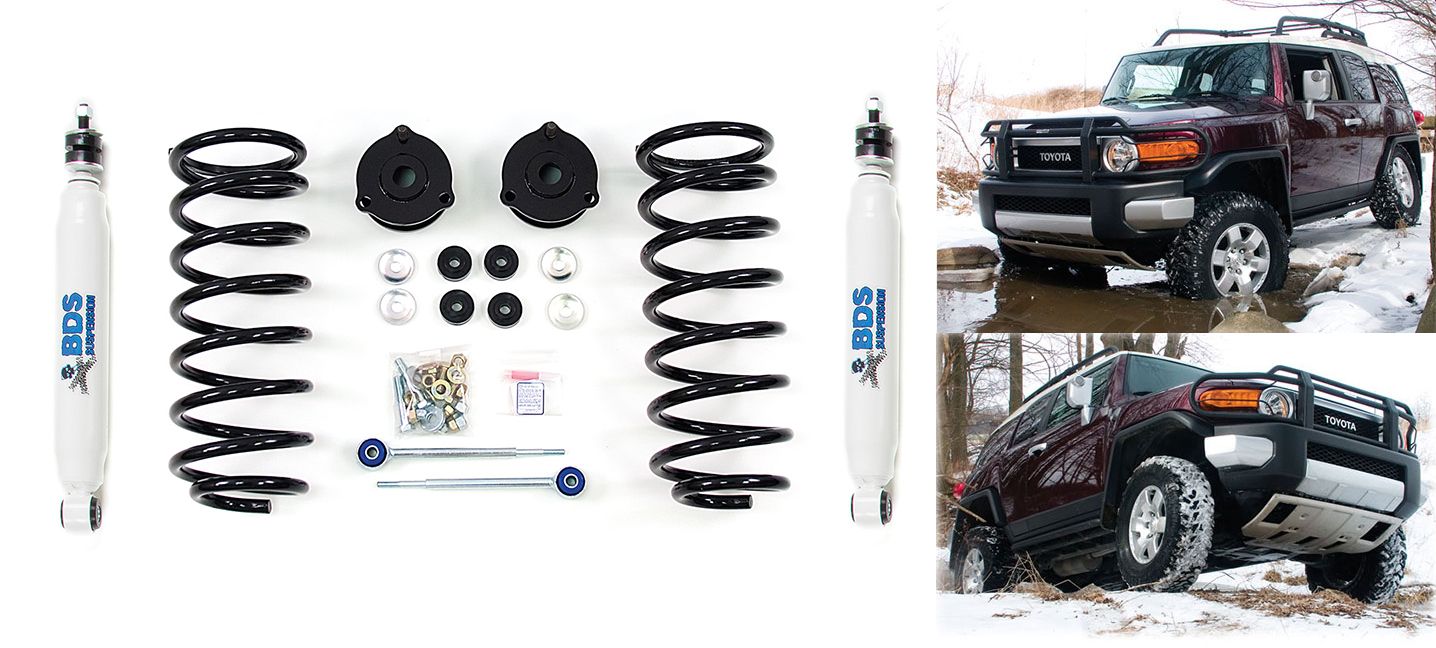 Details: Provides 3" of lift, recommended tire size is 285/70R17. Front suspension of this kit uses a combination top mounted strut spacer along with a preload spacer to lift the vehicle and retain the factory geometry. The rear of this kit replaces the factory coil springs with 2" BDS ProRide coil springs to level the stance and comes with NX² series shocks that retain the ride quality and allow full articulation of the rear suspension. Rear sway bar links are also replaced with longer ones to allow the sway bar to operate in its ideal position with the lift installed.
________________
Bilstein
Details: While Bilstein is the producer of high quality shocks and coils they do not advertise their suspension in "kit" form or even as individual products for purchase on their websites. The only way to obtain Bilstein shocks or a Bilstein lift is through dealers such as ToyTec, PureFJCruiser, etc. Sonoran Steel Fabrication for example uses Bilstein shocks and coils in their lift package, as do some lifts offered by ToyTec, and others can surely be listed. Some of the products offered through dealers will already be pre-assembled, and from some dealers they come disassembled.
The most popular shock by Bilstein used on FJ Cruisers for lifted applications is their 5100 Series shock, which is height adjustable for the front suspension depending on how you mount the coil with the notched mounting plate (most using the "3rd notch" to achieve a 3" lift). However ToyTec offers adjustable coilovers that feature Bilstein 5100s making adjusting easier and more precise. More recently though some have started using Bilstein's newer, larger 6112 Series and 5160 Series shocks for increased performance. The 6112 has a larger diameter therefore increasing dampening power and would be used on the front suspension. The 6112s are also height adjustable like the 5100s. And the 5160s are for rear suspension applications and feature an external reservoir.
The following PDF from Bilstein's website could be of great use to whoever wants to learn more about their suspension:
http://cart.bilsteinus.com/pdfs/off-road.pdf
Another noteworthy thing to add is that Bilstein suspension is what is found on the FJ Cruiser from the factory and then the Special Edition FJ Cruisers feature specifically tuned Bilsteins for more off-road based applications. The 2007 TRD Special Edition FJ Cruiser featured TRD Bilstein "off-road tuned" shocks giving it an edge over the base model FJs. And the 2008 & 2010-2013 Trail Teams Special Edition FJ Cruisers have "trail-tuned" Bilsteins which are often referred to as "TT Bilsteins," the "TT" either standing for Trail Teams or trail-tuned. The 2014 Trail Teams Ultimate Edition FJ Cruiser however got an extra special treatment from TRD and Bilstein. It received "TRD-tuned" Bilstein shocks in the front and rear, specifically with the 5160 Series in the rear with the external reservoirs and with special, red TRD coils in the front which had additional height to them as to allow the TTUE to have a leveled stance.
_________
Camburg Engineering
Type: Coilover sets, long travel kits, standard lift kits, and other suspension accessories.
Price: Stock Length UCAs - $599 to $1395; Long Travel Kits - $3,100 to $7,928; Front Coilovers/Shocks - $310 to $1,959; Full Lift Kits - $1,099 to $2,550; Rear Shocks/Coils - $160 to $1,274
Pictures:
Details: Camburg offers standard and long travel suspension kits and also offers individual suspension components for purchase. Their long travel system will yield up to 15″ travel on a 2WD FJ and 14″ on a 4WD FJ and can be upgraded by adding an additional 3-tube bypass shock. Long travel 2.5" diameter coilovers from FOX, King, or Sway-Away can be purchased with the kit and the LT kit includes Upper Uni-ball A-arms, Lower Uni-ball A-arms, Lower Uni-ball Spindle Adapter, Brake Lines, Limit Straps, Steering Extensions, and Coilover Mounts.
Camburg's Bilstein Entry Level Kit has Bilstein 5100 front & rear shocks along with Camburg's ball-joint UCAs (these can be upgraded to 1.25" uni-ball UCAs). Front and rear coil springs will need to be added which are sold separately. Camburg also has their Factory Fox 2.5" Kit which features FOX 2.5 Factory Series R/R Coilovers for the front and FOX 2.0" Performance Series Rear Shocks for the rear suspension. This kit also includes Camburg's 1.25" uni-ball UCAs and for these kits, the recommended tire size is a 285/75R16 or 285/70R17.
Notes: Other items from Camburg available for purchase individually include their 1.25 Performance Uni-ball Arms, UCA ball-joint cover, limiting straps and clevis, long travel axle shafts, and Camburg/Wheelers rear coils, King coilovers, and Fox coilovers.
___________
Daystar
Type: Spacers
Price: $160
Pictures:
Kit Details: Daystar offers polyurethane spacers that provide 2.5" front lift and 1.5" rear lift to both raise and level the stance of the FJ. There is no Metal-On-Metal contact so the polyurethane absorbs the noise, vibration, and harmonics that come from the suspension and avoids transmitting them to the passenger compartment. Maximum recommended tire size is 32" and it comes with a limited lifetime warranty. Also, the kit is of a top-mount easy-install design so no special tools are needed for installation. Front and rear spacers can be purchased separately.
Install threads:
https://www.fjcruiserforums.com/forums/4x4-off-road-tech/7722-daystar-2-5-front-1-5-rear-lift-photos.html
https://www.fjcruiserforums.com/forums/4x4-off-road-tech/9319-daystar-lift-installed-must-read-if-installing-home-garage-tip.html
http://www.daystarweb.com/attachments/instructions/kt/p11131.pdf
________
Fabtech Motorsports
3" Lift Kits
Type: Coilovers, shocks, and upper control arms
Price: $1,908 to $3,418
Pictures:
Kit Details: Fabtech offers 3 different 3" lift kits for the FJ. They include tubular upper control arms that feature 1.25" OD, .120" wall thick chromoly tube construction with 1" diameter Teflon lined uni-balls. The uni-ball UCAs can be purchased separately and can be used on stock applications or on 6" lifted applications. Kits also include Dirt Logic front coilovers and rear shocks, but no kit includes rear coils. Depending on the level of kit, the coilovers or rear shocks may have external reservoirs.
Notes: It is suggested to use 33" tires with these kits. Body mount chop is suggested. Separate 07-09 and 10-14 kits. Front Dirt Logic coilovers have a 2.5" diameter and rear Dirt Logic shocks have a 2.25" diameter.
6" Lift Kits
Type: Spacer, Coilover, Strut extension
Price: $2,811 to $5,083
Picture:
Kit Details: Fabtech offers their 6" lift kits in either a
Basic
or
Performance System
, the difference being that the Basic Systems use long strut extensions so the factory front struts can be used while the Performance Systems come with varying degrees of adjustable Dirt Logic coilovers. Kits include Heavy Duty 1/4″ Thick, High Arched Crossmember, Ductile Iron Steering Knuckles, Heavy Duty 1/4″ Thick Steel Skid Plate, Impact Struts, Sway Bar links, Rear Upper & Lower Link Arms, and Rear Coil Spring Spacers. The kits will include wither Fabtech performance shocks for the rear or Dirt Logic rear shocks depending on the level of the kit. The stock front and rear driveshafts are retained due to Fabtech's precise suspension geometry. Installation of this system will alter the center of gravity of the vehicle and may increase change of roll over as compared to stock as with all 6" lifts. Cutting and welding is required.
Notes: Recommended for use with 35" tires, and trimming will be required.
______________
FOX Racing Shox
Price: $140 - $1,960
Pictures:
Details: FOX offers multiple shock and coil-over options for FJ Cruisers of all years. You can purchase their suspension specific for 07-09 models and 10-14 models. They offer both Factory and Performance Series coil-overs and shocks. The bodies of the factory style 2.5 coil-overs (which have a remote reservoir option) are a smooth-bore, clear coated, zinc plated, and honed seamless alloy with components made from black anodized billet aluminum with a shaft built from 7/8" hard chrome plated heat treated alloy steel. And then the performance series 2.0 coil-overs which do not have a reservoir option, are made from the same materials as the factory series coil-overs, but it has an aluminum shock body which dissipates heat three times faster than steel. All the coil-over options from FOX are adjustable from 1" of height to 3.5", making this a good option for both stock and lifted applications. Certain Factory Series coilovers require aftermarket upper control arms.
FOX also offers multiple options for the rear suspension of FJ Cruisers. As with the front suspension options, there are Performance and Factory Series shocks. The Factory Series 2.0 shocks have a remote reservoir that is non adjustable and offers 0" - 1" of lift. Then the Performance Series has 2.0 ITP shocks which do not have a reservoir, but come in 0" - 1" lift versions for stock setups and 2" - 3" versions for lifted applications.
____________
Freedom Off-road
Full Kit Prices: $590 - $670
UCA Prices: $360 - $530
Links: $220 - $280
Pictures:
Coming soon
Details: They offer full kits, and individual parts like UCAs, rear upper and lower links, and a track bar. Some of which are adjustable. The full kit comes with adjustable coilovers (from 2.5" to 5" lift applications), rear shocks and coils (for 3" of lift), and extended front sway bar links. Their UCAs can come with either a ball joint or uni-ball.
____________
Icon Vehicle Dynamics
Price: Full Lift Kits: $1,842-$6,373 ; Front Coil Overs: $1,259-$1,848 ; Rear Shocks: $168-$1,890 ; Rear Coils: $247-$300 ; Rear Links/Track Bars: $315-$788
Pictures: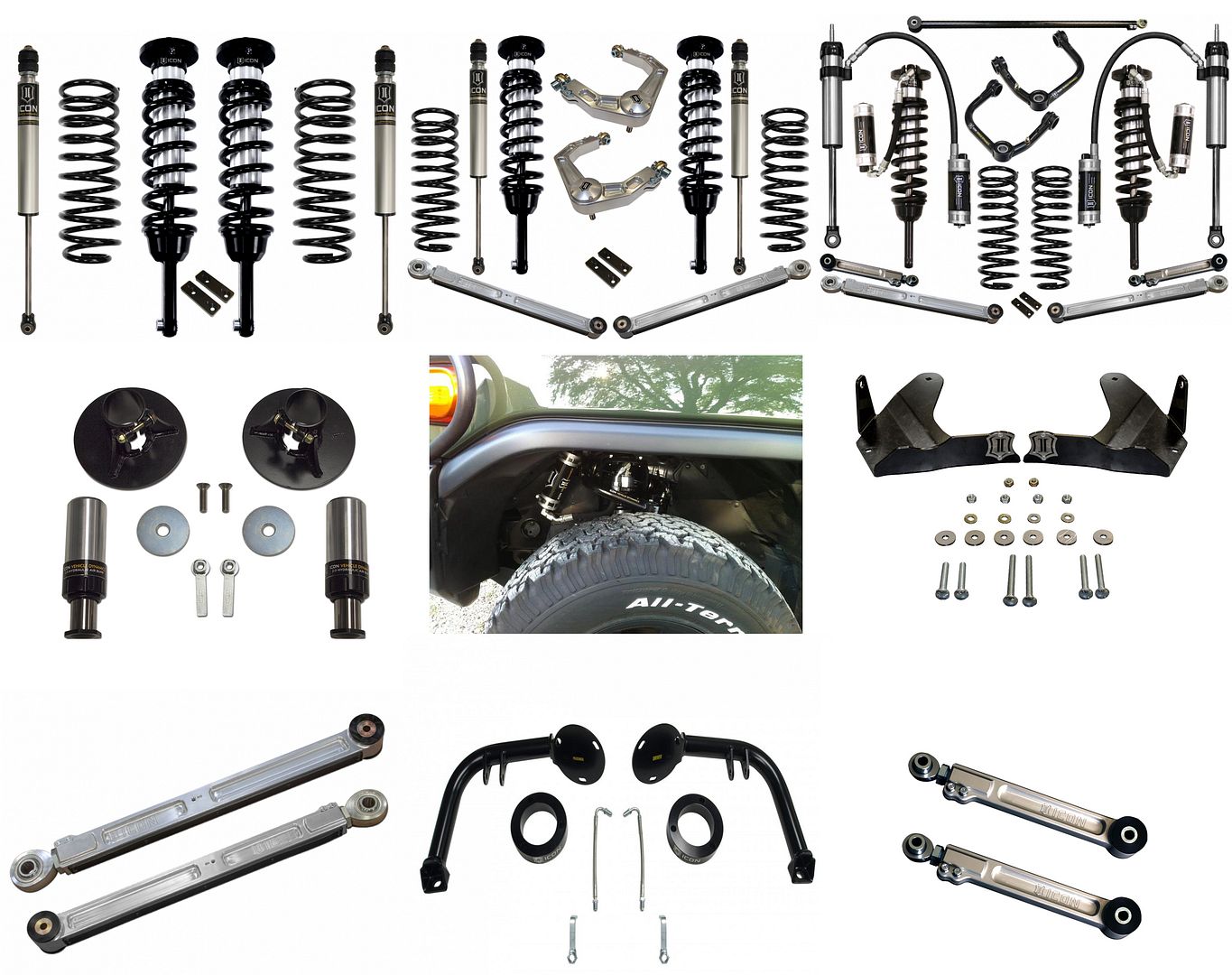 Kit Details: Icon's products come in specific versions for 07-09 FJs and 10-14 FJs. They offer full kits in 7 different stages with the Stage 1 Kit including just the front 2.5" adjustable coilovers, rear 2.0" shocks, 2" lift rear coils, and front sway bar relocation blocks, to the Stage 7 Kit which includes external reservoir front coilovers with CDVC, 2.5 rear shocks with CDVC, 2" lift rear coils, front upper control arms and rear upper and lower links (in either a billet aluminum or tubular steel construction), a rear track bar, and the sway bar relocation kit. Recommended tire size of 33". Icon offers their front coil overs with or without external reservoirs and in either a standard travel or extended travel version.
Notes: Previously known as Donahoe Racing, in 2008 the company was restructured and is now formally known as Icon Vehicle Dynamics. Aside from 3" lift kits, Icon also offers 5"-7" adjustable front coil-overs designed to be used with the Rough Country 6" lift kit. These shocks replace the supplied top load spacer/factory shock combination with a 2.5" Diameter Fine Tuned Race Style Coil-over. Icon also has rear piggy-back shock absorbers in a 2.5" diameter for the Rough Country 6" lift.
Icon also offers products as part of their S2 Modular Performance Shock System which allows for a secondary shock to be added to your front Icon suspension setup. One of the nice things about the S2 system is there is no welding required, it is completely bolt on, and will provide further dampening and doesn't require aftermarket lower control arms. They do offer lower control arm skid plates as well and not only do they provide protection for the stock LCAs, but they also serve as the mounting point for the secondary shock that would go with the S2 modular shock system. It can be purchased as a kit in 3 different stages or as individual components.
Icon also now has a rear hydraulic air bump stop system to reduce rear-end "kick" and to provide increased bottom-out resistance over stock. This kit installs inside the coil, and the bump-stops are fully rebuildable with the ability to be tuned for a custom ride. They also provide no loss in wheel travel. Another item Icon has is aluminium front sway bar relocation blocks for just under $40.
Install Threads:
https://www.fjcruiserforums.com/forums/4x4-off-road-tech/5800-installed-donahoe-racing-coil-overs.html
https://www.fjcruiserforums.com/forums/4x4-off-road-tech/8992-installed-my-donahoe-demello-lift-today.html
____________
Ironman 4x4
KITS: Comfort, Constant Load, and Performance kits with either Gas Shocks (54 mm dia.) , Foam Cell Shocks (60 mm dia.), or Foam Cell Pro Shocks (65-72 mm dia.)
Price: $804-$1,305
Pictures: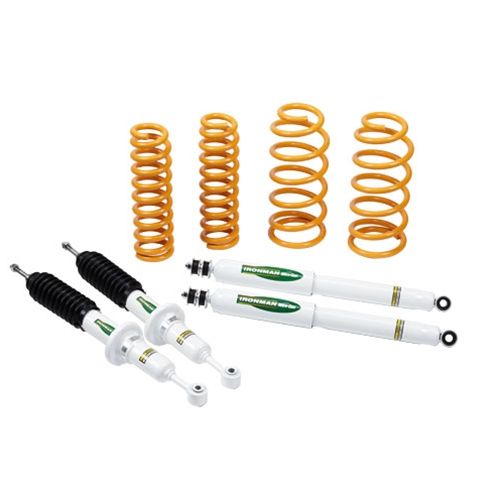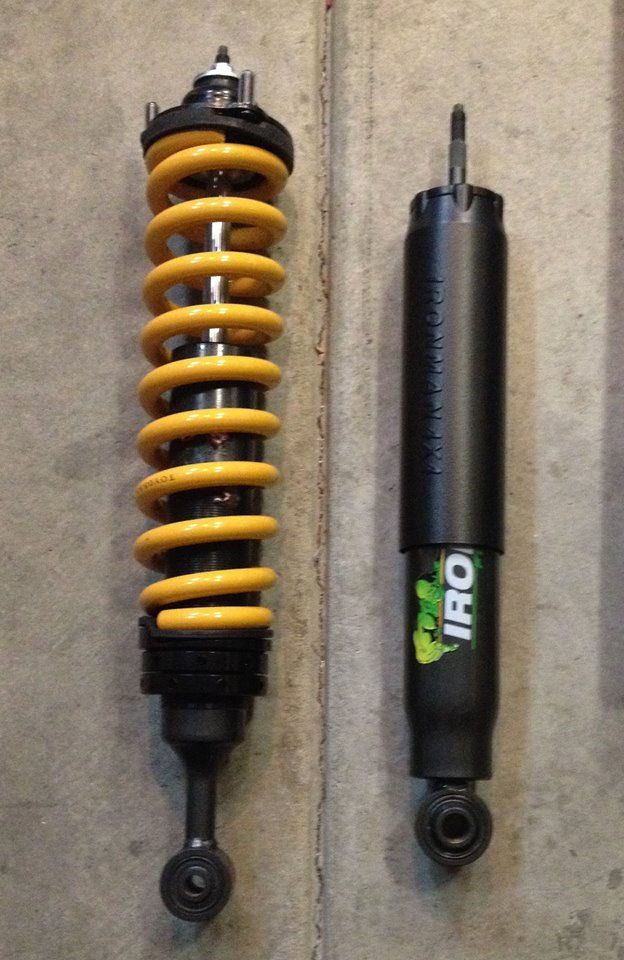 Kit Details: Ironman 4x4 recognizes that there is no single solution practical for the varying needs of 4x4 owners and different driving conditions; therefore, Ironman 4x4 offers a wide selection of matched components. Nitro Gas Soft Ride shock absorbers are best used where comfort is preferred rather than firm control. The softer valving is best suited to light or no load applications. The Foam Cell shock absorbers provide a similar feel to the Nitro Gas shock absorbers, but these shock absorbers feature a larger piston and bore size to allow for more oil capacity which allows the shock absorber to operate cooler in rough offroad conditions or long haul corrugations. The newest Foam Cell Pro shocks are the most durable and robust design to date with the front coilovers developed to be fully adjustable coilovers similar to the BP-51 coilover from OME. Ironman 4x4 also sells a 20mm polyurethane spacer for the rear coils to compensate for added weight to the rear of an FJ.
Notes: Metal Tech offers this kit with the Light Racing Upper Control Arms to further increase performance.
_________
JBA (Jeepin By Al)
Price: Upper Control Arms - $450-$696 ; Front Coilovers - $1,599-$1,689 ; Rear Shocks - $240
Pictures:
Details: JBA is specifically an aftermarket Jeep product company but they do offer a few items for FJ Cruisers including upper control arms. They have a Standard (STD) and Heavy Duty (HD) Version of their ball joint UCAs and they both feature extended ball joint travel over OEM and even other aftermarket uniballs for a full 90 degrees of motion (40 degrees up and 50 degrees down). They are specifically designed for more articulation and especially for high caster. Their STD UCAs have tubing with 5/32" wall and that is 1" dia while their HD UCAs have a 3/16" wall and 1-5/16" diameter with 11 guage guests on the bushing bongs.
They also offer their own JBA Total Control rear shocks and front JBA Adjust-A-Strut Total Control coilovers, but these aren't listed specifically for FJs, just Tacomas. Contact them to see if they work for FJ Cruisers as well. The UCAs have a one-year warranty. And they are also a dealer for Old Man Emu lift kits, shocks, and coils.