The Rock​
From the beginning ​
After a few changes in direction about doing some major mods to my FJ , then deciding to change the motor and s/c , then a few other ideas, After the new TT came out in the Cement color. I toyed with the idea of getting a new one. Then, one came in and I decided to look at it.
12/12/12, I went down and signed the papers .
Here's where the build begins.
2013 Cement TT. Notable mods that are new to me are, Crawl Control and Rear View Camera
"The Rock"
Welcome to The Rock Offroad
It seems like I rack my brain trying come up with a a name and the meaning behind it. This time it was simple, FJess, thought it looked like a rock . Thank you Jess.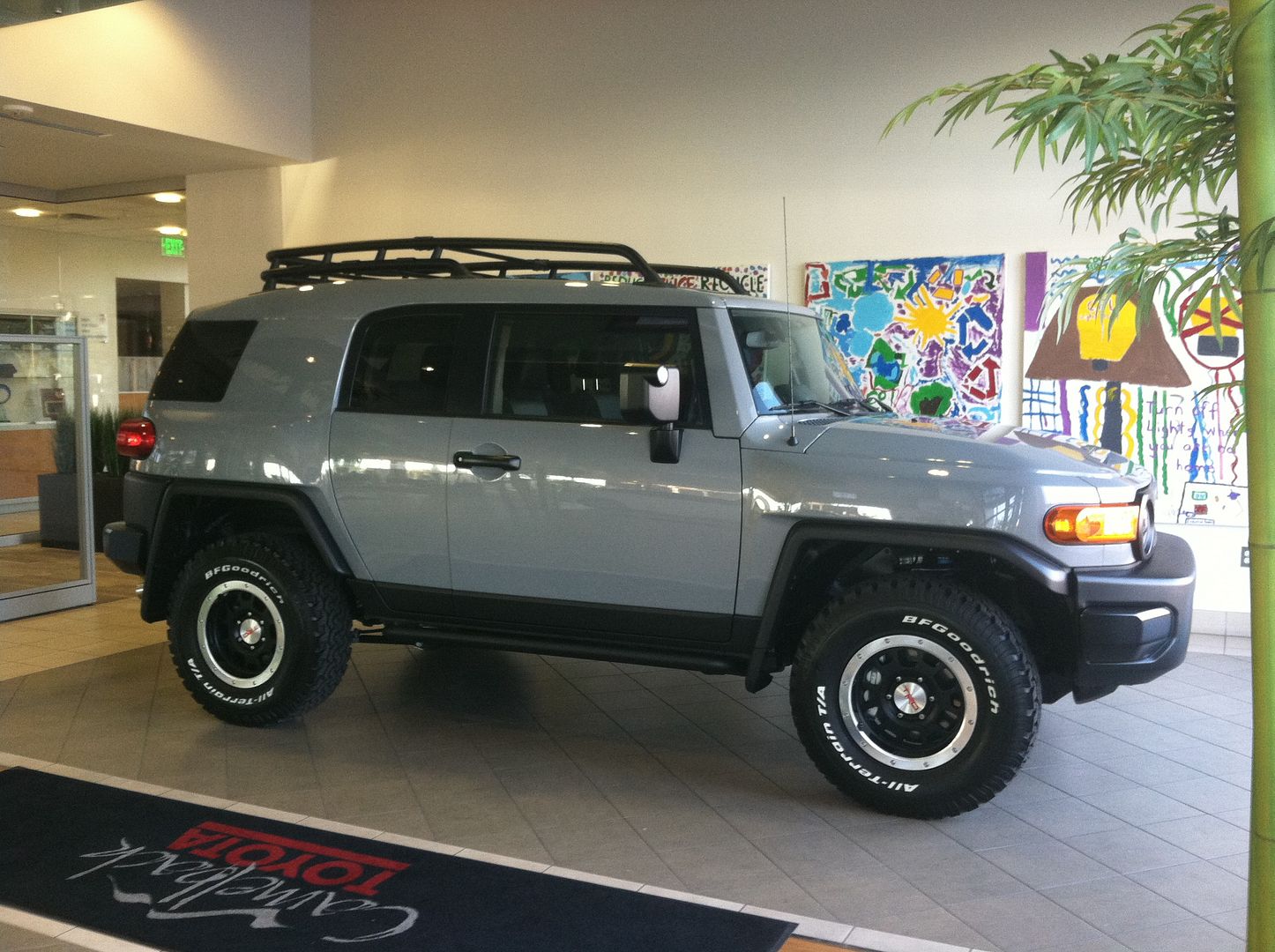 Current pic, as of 9/23/13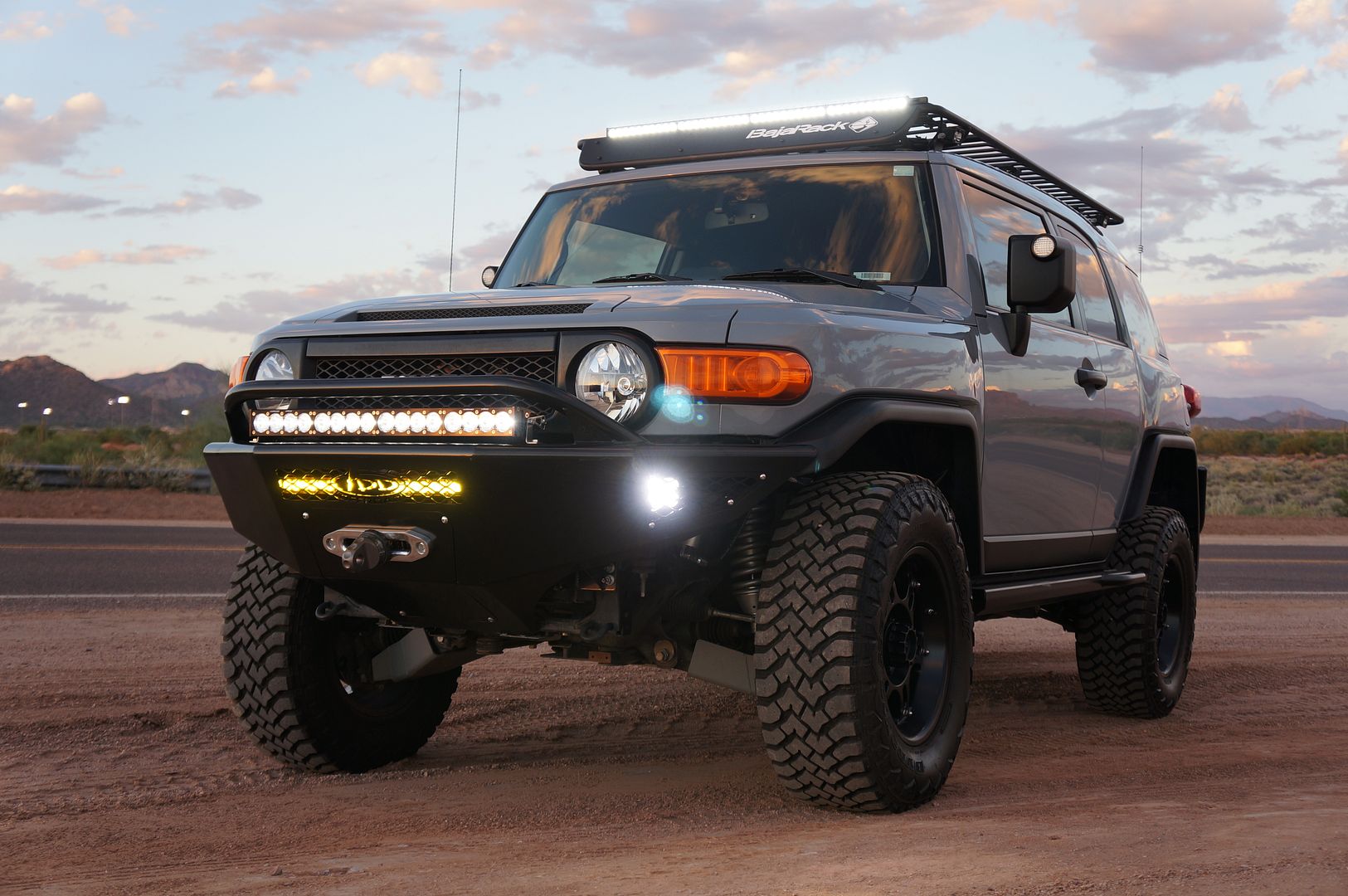 Updated picture November 3rd 2013, the night before leaving for SEMA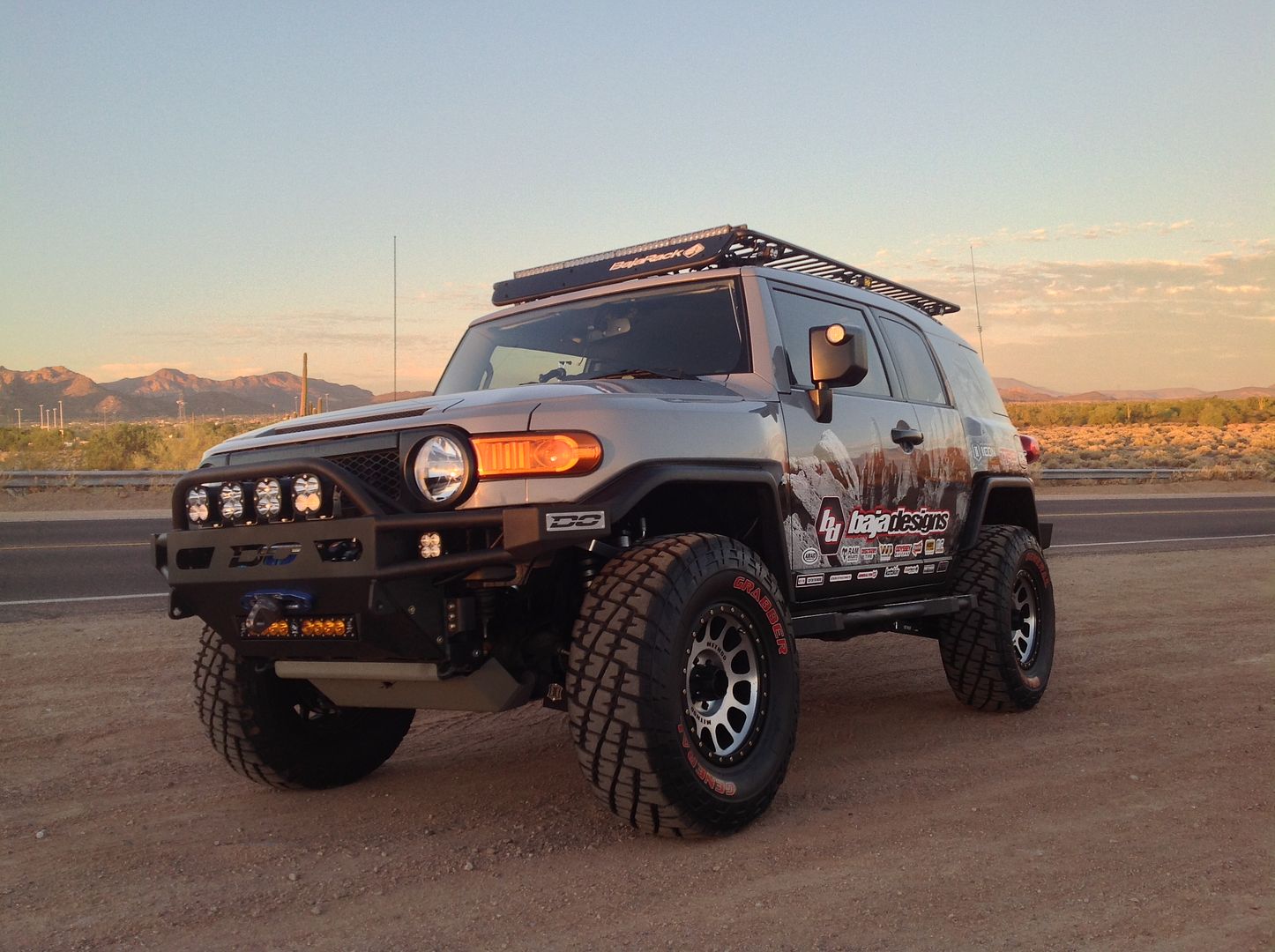 Featured at
Overland Expo May 2013 Flagstaff AZ
SEMA Booth , November 2013 Las Vegas NV
TCT Magazine January 2014
Overland Expo May 2014
FJ Cruisers Summit July 2014
Poster feature for Demello Offroad
Webpage cover Baja Designs
Brochure cover Baja Designs
Mods list
Factory
2013 TT
Crawl Control
A-trac
Locker
Rear View Camera
All the TT Garnishes
Suspension
http://www.fjcruiserforums.com/forums/icon-vehicle-dynamics/208929-rock-goes-icon.html
Icon Stage 6 with CDC
Icon S2 remotes with CDC
Icon rear bump stops
BMC
http://www.fjcruiserforums.com/foru...-tech/159378-body-mount-chop.html#post2376386
Armor
Total Chaos Spindle gussets/with swaybar
http://www.fjcruiserforums.com/foru...sset-install-swaybar-version.html#post2400930
Ricochet Full skid plates
http://www.fjcruiserforums.com/forums/ricochet-offroad/162270-ricochet-porn.html
Icon LCA skid for S2 System
Demello X Wing Sliders
Demello Rally Front Bumper
Demello 3 piece rear bumper Prototype swing out
Boztec Dif Armor
Redline Landcruiser link skids
Superwinch 12.500 Talon
Synthetic Winch line, Factor 55 thimble and hitch adapter
Wheels
Method 17x8.5 NV's Machined
Method 16x8 NV's Machined
Tires
General Grabber Red Letters 35/12.50/17
General Grabber AT'2s 295/75/16
Brakes
TRD Big Brake Kit
Electronics
Odyssey PC 2150 battery
Kenwood 9990HD Head Unit
Alpine PDX V9-5 channel amp
Infinity Kappa 60.11cs component speakers
Focal CVX Coaxials
JL Audio 12" Stealth box
Kenwood 710 Dual band Ham
Boztec Antenna mount
I-Pad Retina for navigation
Ram Mounts
ExtremeAir Magnum Air Compressor, 2 gallon tank, Extreme Outback Products
http://www.fjcruiserforums.com/forums/4x4-off-road-tech/235201-extremeaire-compressor-install.html
Engel 45
portable cb, somewhere
Scan Gauge II
S-Pod/ Dirty Parts Switch panel
http://www.fjcruiserforums.com/forums/member-build-ups/158490-rock-26.html
Dynamat Extreme and insulation of ceiling (post 153)
http://www.fjcruiserforums.com/forums/member-build-ups/158490-rock-16.html#post2424781
Katzkin Leather seats
Performance
Airaid CAI
http://www.fjcruiserforums.com/forums/engine-performance/149635-airaid-cold-air-intake-review.html
Magnaflow SS Cat Back
RK Sport Ram Air Hood
Sprint Booster
Lighting
Baja Racks Utility Rack
Spylight Articulating Light Bar Actuator (inventor)
Baja Designs 40 " Stealth Bar
Baja Designs Squadron XL's on the bumper (4)
Baja Designs 20" OnX amber (inside front bumper)
Baja Designs 8" OnX Wide driving (in front corners)
Baja Designs 20" Stealth Bar (amber) rear facing
Baja Designs S2"s 3x3 per side
Baja Designs 3x3 Squadrons (in rear corners)
Grape Solar 105 noncrystalline panel
Sunforce Charger
Deckseal
Other Stuff
Hornblaster Train horn
Husky Liners
Coming soon
New and improved camera system