Hey ,
This is the build up of my FJ. I'm Starting this tread a little late but Better now before I do way to much to it.
This Is what it looks like as of now.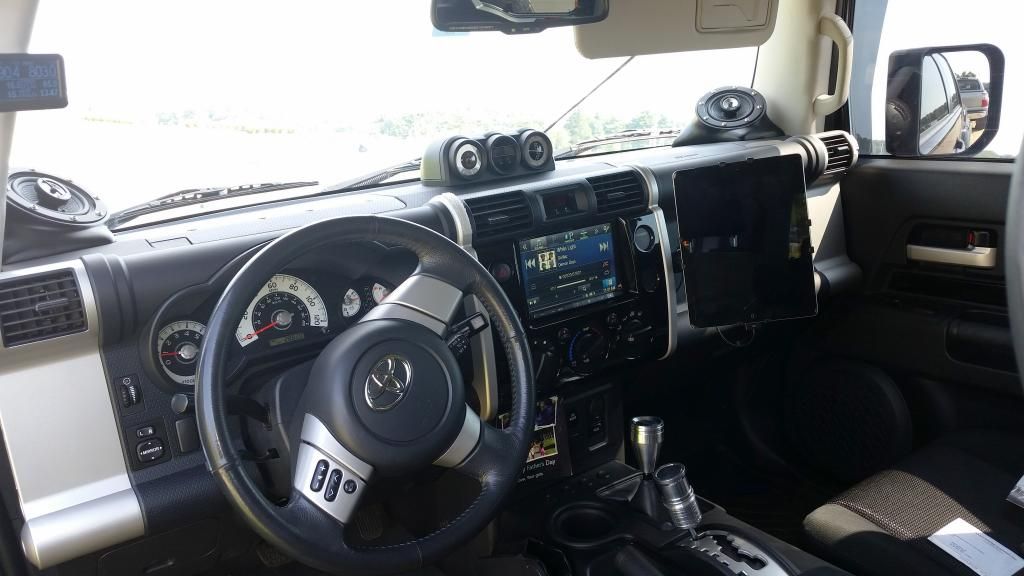 SUSPENSION/TIRES/WHEELS/BRAKES
-3" Pro-comp Lift , Front and rear Coils & ES6000 Shocks
-4x Spider Trax 6061T6 1.25" Spacers
-5X 17" American Racing wheels
-33" Terra Grappler's
-Wheel wells have had sound damping spray
PROTECTION
-N-fab PreRunner With custom reinforcements - Custom Winch Mount coming
-Trail worx Rear bumper with Swing out tire rack and 2x Jerrycan holders – Custom Cut and welded stronger added gussets
-FJ logo cut into Nfab Bumper
-Bushwacker Fender Flares
-Custom Limb Risers
EXTERIOR
-Stubby Ant.
-Trail Teams Door Handles
-Trail Teams Mirrors
-Front Tint
-Top is Vinyl Wrapped Flat Black
-Trail Teams Badge inside and outside car
-APC Baked and painted turn signals
-BAJA Drop in Basket
-Painted and rebuilt front skid plate
-EVO grille
-Mil. Spec 5l gas cans
-Hitch-bought not installed yet
AUXILLIARY LIGHTS
-NFAB Light Bar
-5X KC Roof Rack mounted
-3X KC Pre-runner mounted 8"
-2X KC Rear Facing Roof Rack Mounted
-Rear roof rack Light mount
INTEROR /
-Billet Machined knobs ** Im going to machine the emg. brake next**
-LED interior Light swap
-FJ Mats
-Trail Teams Badge
-Pistol Holster Mount
-Smitty built molle seat cover
-Cut Shift knob
ELECTRONICS
-Billet Ram Mount for dash mounted IPAD
-Alpine INE-Z928HD NAV – Glove box mounted Ipod/usb and AUX jack - Moved to come out dash.
-Stock Subwoofer
-Back up camera on nav and mirror display Extended
-Focal 4" speakers mounted in dash in fiberglass enclosures.
-Ultra Gauge
-** in process of wiring in sub , have av cables ran, going to run some 4awg Anchor Wire after I make up the length and ends.**