Introducing.... The Shroom Seeker: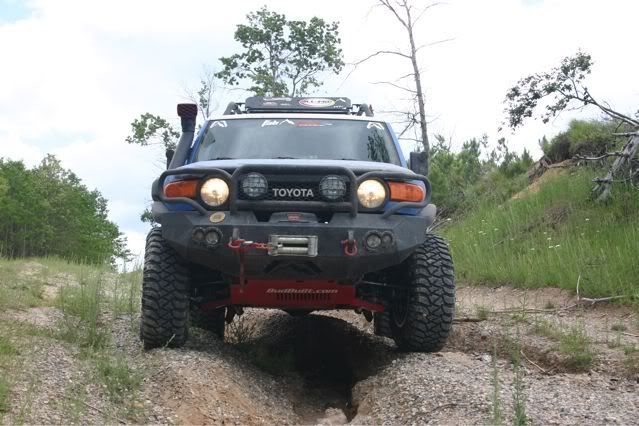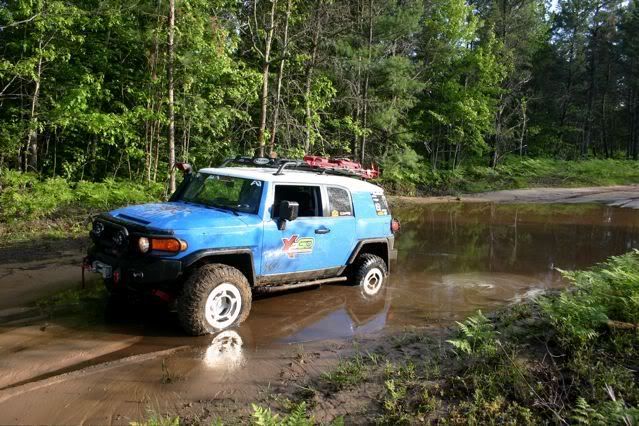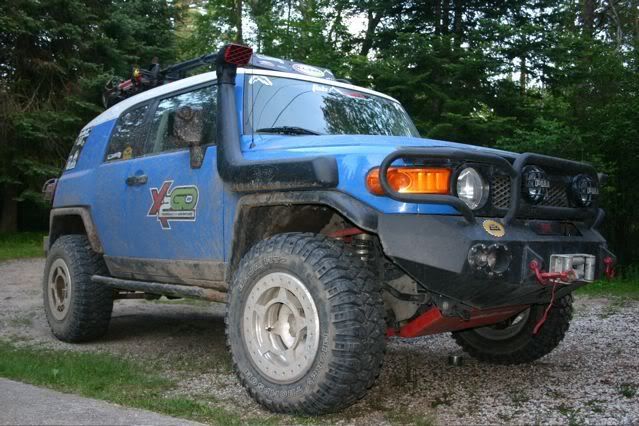 It is a constantly evolving work in progress. Six speed pretty much loaded from the dealer. Here are the mods currently on the vehicle:
Armor-
FabFours front bumper w/ brushguard
Warn Rear bumper
Full BudBuilt skids w/ heavy duty gas tank skid
Total Chaos front control arm skids
Inchworm E-locker motor skid
Manik tail light guards
Billet marker light guards
Budbuilt rock sliders with rear flare
AllPro LCA skids and Shock Mount skids
Suspension:
Front-
ICON long travel front adjustable coilovers
Light Racing front Jounce shocks
Light racing adjustable Upper Control Arm
Allpro Sway bar links and billet collars
Rear-
Light Racing rear Jounce shocks
OME medium rear (soon to be replaced with ICON remote res)
Allpro Pro upper and lower links
Performance:
URD short throw shifter
TWM Performance .44 Mag and M1 Abrams weighted knobs
TRD CAI
Safari Snorkel
Extreme Limits Offroad complete SCUBA mod
Custom Tuned UNICHIP
JBA Headers
JBA catback exhaust
Dirty parts Dual Battery w/ Optima Yellow top
Hyper Voltage System
Hyper Ground cables
TruFilter oil system (probably replacing with Amsoil dual submicron filter)
Nippon ENEOS 5W-40 full synthetic oil
Klotz Free-gear synthetic 75W140 Hypoid
Lighting:
Hella 90mm fog lights and 30mm signal lights in FF bumper
PIAA 525s on front bumper
Interior:
Billet door sills
Rubber mats
Aires Billet grab handles
Billet gauge bezels
Wet Okole Front and rear seat covers
Tuffy locking center console
Billet Pedal covers
Trash bag
OEM switch in blank next to clutch start cancel
UNICHIP map switch mounted in blank
USB port mounted in blank
iPhone/iPod connector hardwired in glovebox
Handsfree phone stuff
US SPEEDO stainless gauge face
Electronics:
Kenwood DNX 8120 w/ Garmin navigation
RAD-1 digital inclinometer hardwired
Passport 9500i hardwired
Wheels/Tires
Poison Spyder Customs Spyderlocks
Mickey Thompson Baja MTZ 285/70/R17
(OEM alloy rims with Bridgestone Dueler AT 285/70/R17 for winter)
Recovery:
Warn 9.5ti winch
60 inch Hi-Lift jack w/ accessories
ARB snatch blocks
various straps, shackles, and chains
VIAIR Ultra Duty 200 PSI OBA system and tools
Two 5gal Scepter fuel cans mounted to OEM rack
Garvin Ax/shovel mount
Garvin Hi-lift mount
OEM hitch w/ receiver shackle
D-rings on front and rear bumpers
Big Red winch hook
Misc:
PIAA Super Silicon wiper blades
Black Tundra Handles
Blackout mirrors and bezel
Garvin front basket
Body mount chop and some fender trimming
removed front mudflaps
Rear door nets
Gobi Rear Ladder
Ordered but haven't received yet or waiting for release:
Lucrum Rear tire carrier/rack system
AllPro weld on spindle gussets
ICON rear remote res. adjustable suspension
14,000 lb. Pull Pal w/ case
Future mods:
CB radio
Hand gun mount
More lights HID or LED... not sure
Supercharger maybe someday but probably not
Front locker maybe
Solar panels
Whatever other cool crap I find to throw on!
I need to thank everyone for being so helpful to my many stupid questions. I especially want to thank Lance (Excrement) and Don (TiTank) for helping and teaching me as we have built up the Fungi Finder. Also thanks to all the guys and girls who come to the fun chill sessions we have.
I'm sure there is a bunch of stuff I can't remember at the moment.... and I'll be adding and changing things all the time. I'll try to edit this post to keep it as accurate as possible. I'll also add some photos of some of the installations and various products I'm running. I absolutely love this truck! Most fun I've ever had with a vehicle.
Oh.... and stickers up the ass! :rocker: