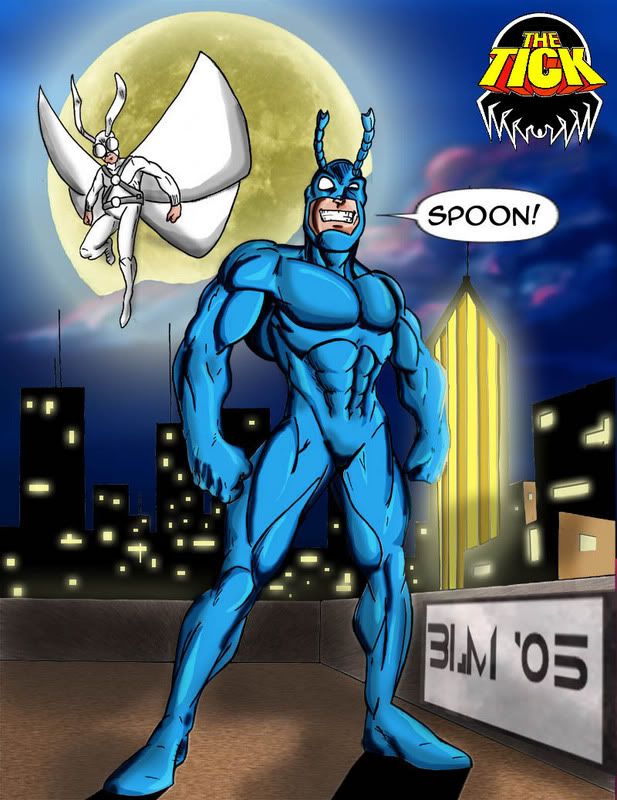 "Like a great blue salmon of Justice, the mighty Tick courses upstream to the very spawning ground of evil."-Tick
THE TICK! Spooooon!
I figured it was time to start my build up...
Why "The Tick"... His superpowers are nigh-invulnerability, which allows him to crash and bang about without injury, like the FJ!
And The Tick and I are in the same line of work.
"It's starting to smell a little like danger in here, or heavily-fried food."-Tick
BEFORE THE MODNESS.
I had really no great intention of building my FJ up. I bought my 2007 used with 16K and never looked back. It came with everything I wanted 6-MT, Convenience Package, Upgrade Package #2, Roof Rack/Towing Hitch Combo, TRD Exhaust, Rock Rails Sliders, All Weather floor mats and even the clutch kill switch!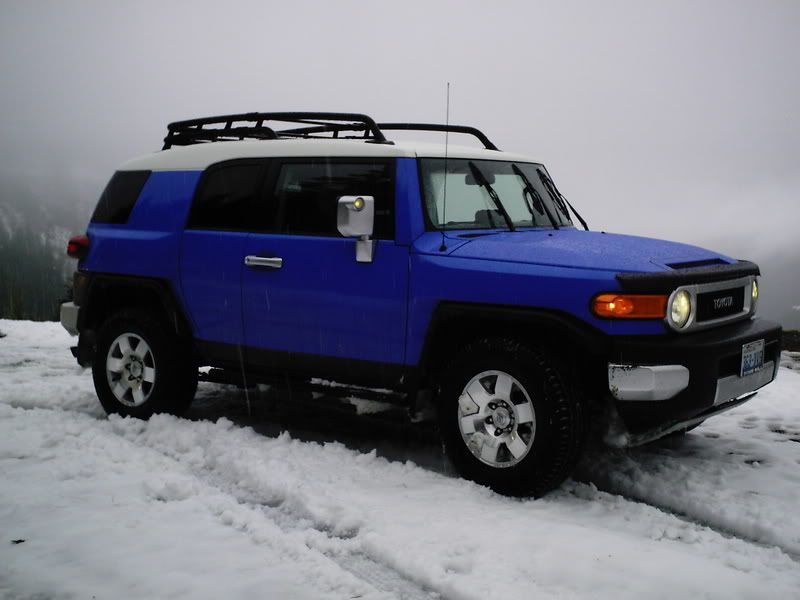 "Ah, savory cheese puffs, made inedible by time and fate."-Tick
THE MOD MADNESS
"Don't make us bite you in hard-to-reach places!"-Tick
HAVE FJ, WILL CARRY.
First mod I did was the
Coleman Roof Rack
mod. I did it thinking I need space for camping gear. And so far NO RUST! I also found a Voodoo blue shovel. I painted an Axe Voodoo blue to match. I have a high-lift Jack, but I leave it off till I hit the trails. If you want more pic's check the thread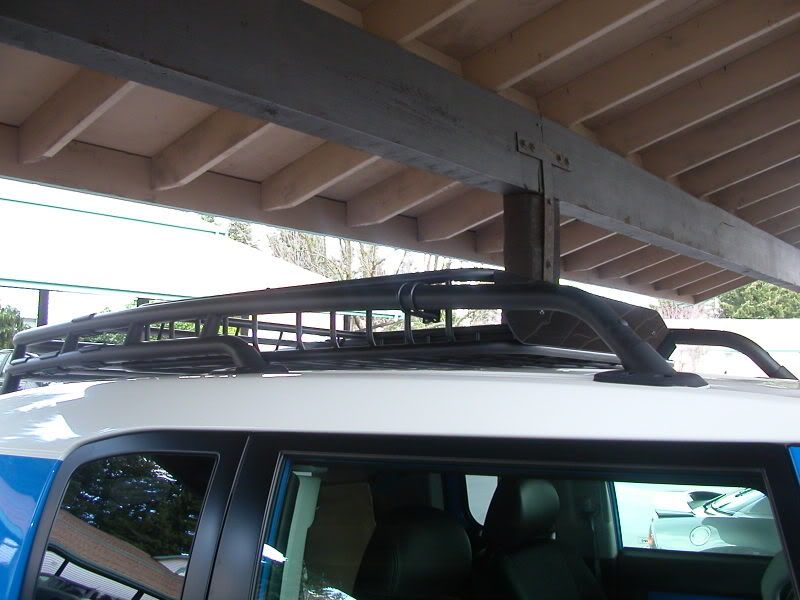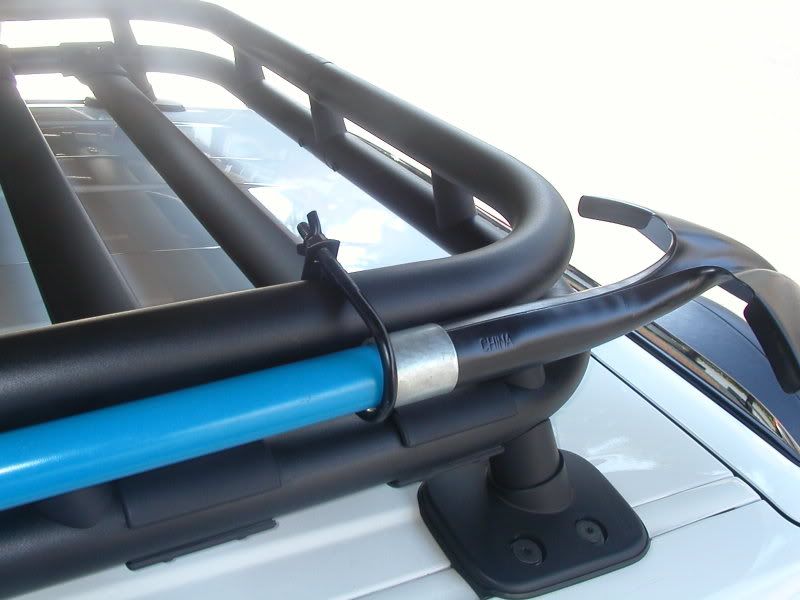 "Honk if you love justice!"-Tick
GREAT WHITE.
I bit the bullet and painted my Bezel white. Scary sanding it down at first, but there was no going back. I love the way it looks! Next is the Mirrors and door handles!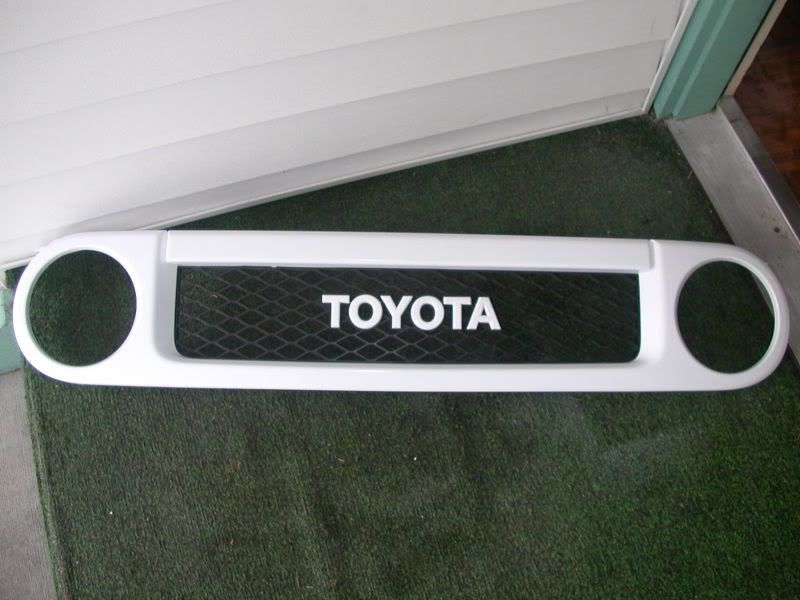 "Can't lose my name, it's on all my stationery!"-Tick
WE DON"T NEED NO….
I attended an event that the Toyota Trail Team was at and got my Badge. I was thinking of getting my hand on another one for the rear.
"He has the mustache of a titan."-Tick
GONNA GET ME A GRILL
I originally purchased the Lucrum mount to install a winch after getting stuck in a deep snow drift and having to get a couple of ATV's help get me out. I then decided I wanted a new bumper instead and got my hands on a Road Armor bumper. I liked it more than that the ARB bumper which was my second choice. I also did the Warn 8000 winch and PIAA 510 in the bumper. Here is my
Road Armor thread
for more pic's.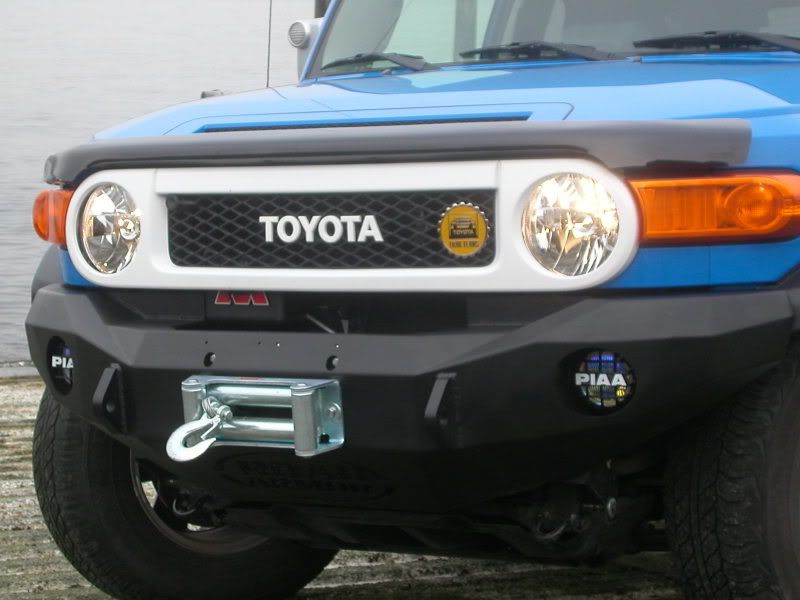 "Oh, science... boring... interest... fading..."-Tick
RELAY RACE
I also did the 12volt fuse box mod with the 12 bladed Blue Marine and relays. I wanted to have very easy access so I placed mine in the glove box.
"Space aliens have neat stuff. Their space cookies are good, too."-Tick
EMU'S!
Installed OME heavy lift. Just got this done. Here is the pre-OME photo. As you can see, the front has some sag due to the weight of the bumper.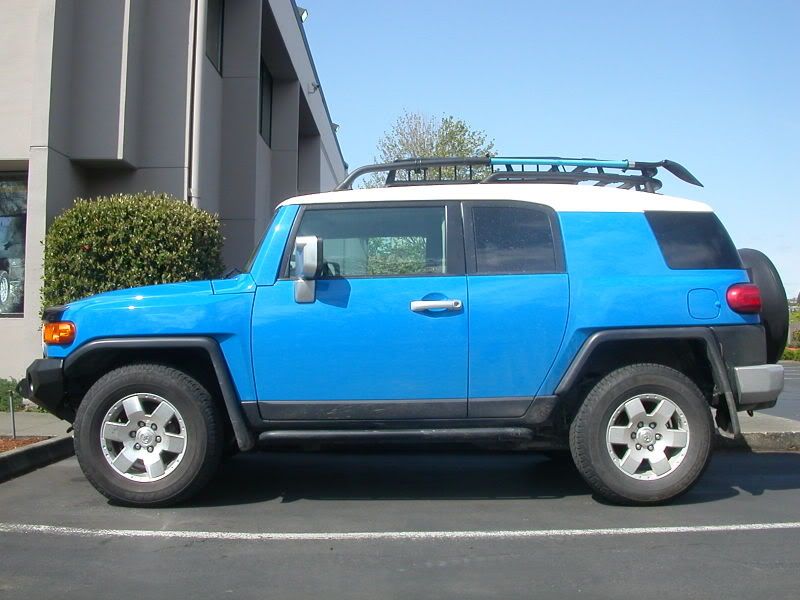 Here is the post-OME photo. Much better!
" "Special delivery! Oh, Arthur! The thrill of modern postism!"-Tick
BREAKER,BREAKER
I received my Bandi mount in the mail from a forum member who had an extra. I bought the Cobra 75WXST and a 3ft Firestix.
I figured while I had the FJ apart, I'd put in two more lighter sockets.
All finshed and done clean.
"I'm taking off the kid gloves, and putting on the very mad gloves."-Tick
Papa got a new pair of shoes!
I got my BF Goodrich Mud/Terrain KM2 285/70/17 for the stock rims. With the OME lift, I didn't need to do the chop! These bad boys did great on the Naches trials.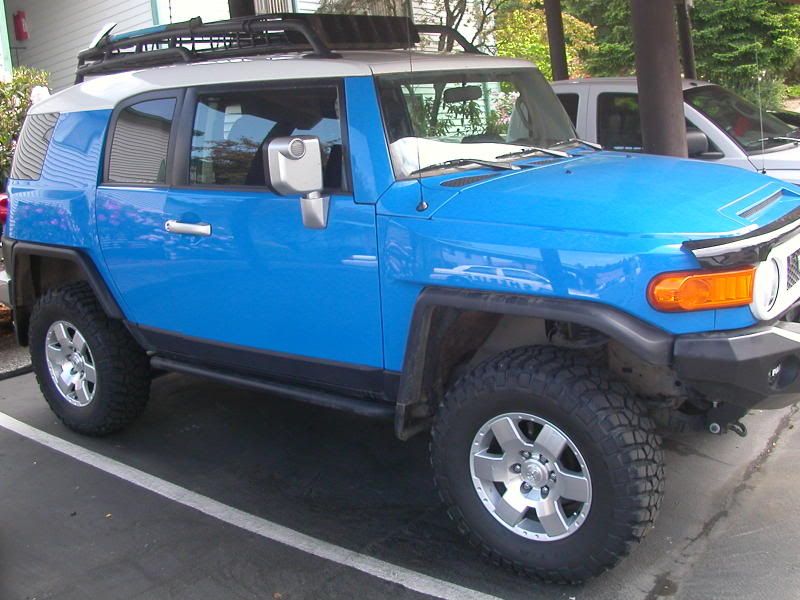 "Well, good gravy! We are a well-oiled machine!"-Tick
AFE, TRD same diffrence
I was cleaning my engine of mud and needed to change the air filter. I changed it alright, AFE cold air intake. Haha... Now the FJ purrs!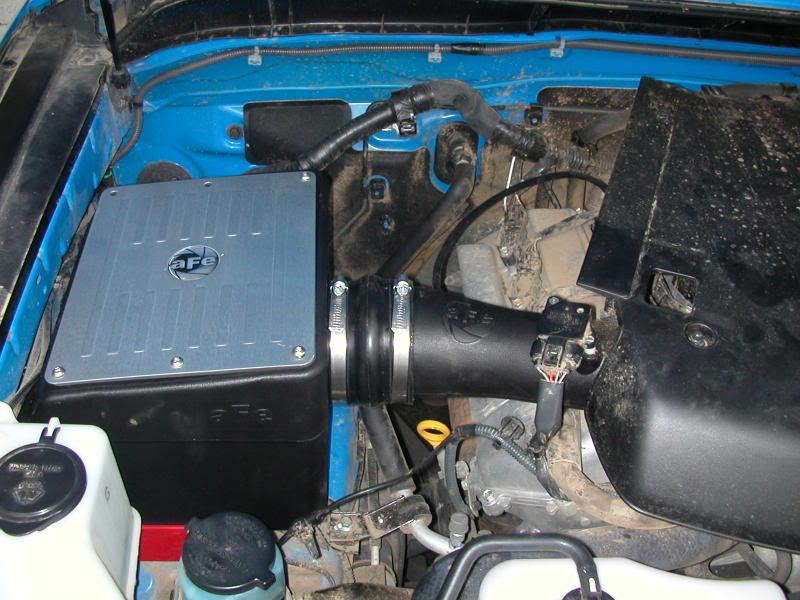 "This is the quietest mess I've ever made" -Tick
Lights, FJ, Action!
With the great deal on the N-Fab bars (which I can't talk about on this forum), I found some good 6 inch lights. I used a plastic plumbing connector and drilled a whole in my roof. I ran the wires through the stock rack and fitting to the roof. I also threw a pair of cheap fog lights for side lighting which turned out great. Now I need to put up the rear N-Fab bar.
I also put the wind/rain guards up too.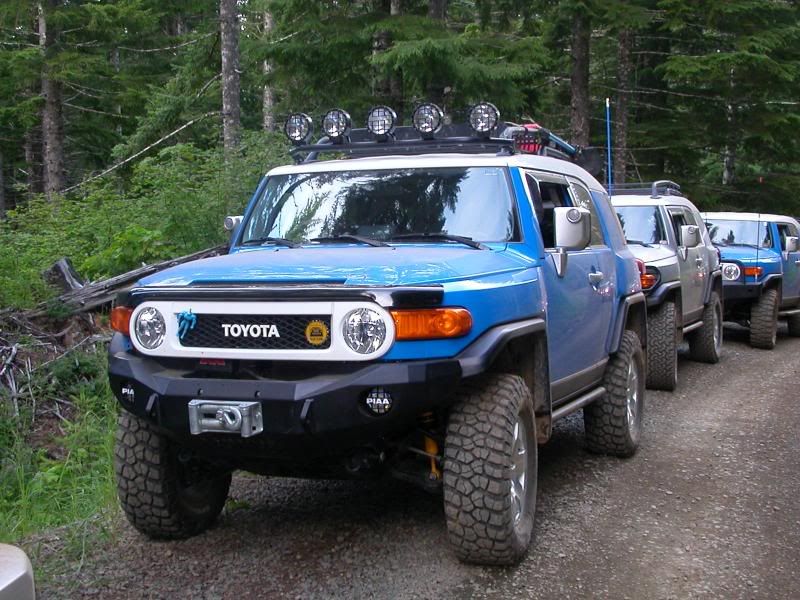 "Don't ever try to swim against the might tide of justice."-Tick
MISC. MODS, DONE AND DONE
I did the breather mods and some cheapy rock lights for the front wheels. I got some used Hi-Lift holders for the rear rack also. The Tick also got his battle scars fixed and door handles painted blue.
"Poppa's got a brand-new bag... of fish!"-Tick
MOD'S IN PROCESS
Rear N-Fab lights bars
Looking at doing HDPE FULL BODY SKIDS
"Wait a minute, you. I heard about people like you. Are you saying you don't believe in Santa Claus? And you call yourselves superheroes?"-Tick
WISH LIST
Rear lower control arms
On board air
rear lights
Rear Bumper
In Dash DVD
Dual Battery
And anything else that I can think of!
"And my middle name used to be Helping People, The Helping People Tick."-Tick
Thanks to all of you guys and the forum for all the ideas and help. I've met a few of you and look forward to meeting the rest. I can't wait to go out with my new FJ friends for off-roading, camping, drinking or modding! See you on the trails!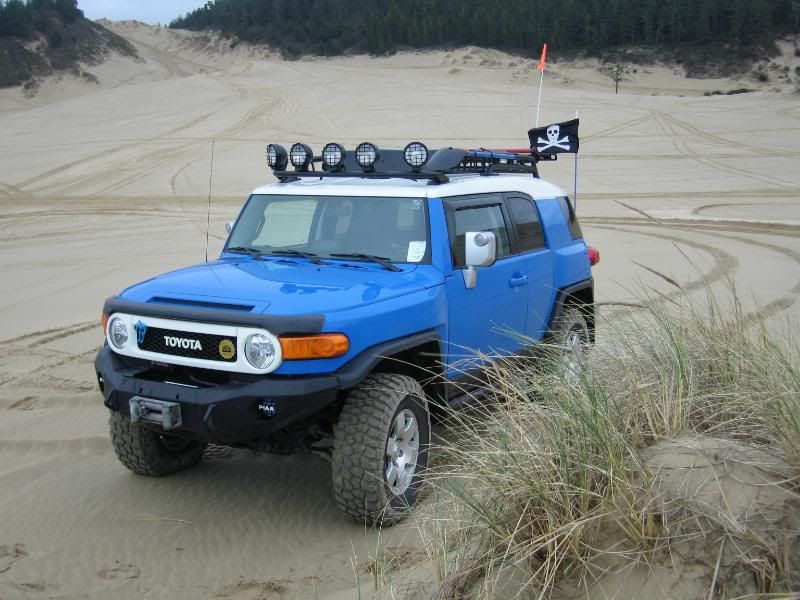 New Tick Adventures Trail Runs, Meets and photos!
Adventures of The Tick!:
Naches Camping 5/16/08-5/18/08,
06/16/08 Nanches pre-damage,
06/27/08 Nanches w/damage,
08/03/08 Browns Camp,
08/17/08 Canada!
,
Naches 09/13/08 Lost at night run,
Cruisin in the Woods 9/27/08.
,
12-03-08 Reiter run w/extra water/mud action!
,
Tayhua-2-7-09
,
Tick's-NWFJCC Spring Dune Beach Run Adventure 3/19/09-3/22/09l
,
Naches, Nanches, Nachos 2009
Just like my FJ….
"I don't know the meaning of the word "surrender". I mean, I know it, I'm not dumb... just not in this context."-Tick