Throwout Bearing Trouble on 6 speeds (lots of tech and pics contained within)
.
UPDATE : PDM now produces a kit for our trucks, thanks to everyone's participation in this thread. I thought I'd update this OP to say this thread has turned into a pretty decent tech & pictures piece. If you have a 6 speed stick, this is worth a look.
I think by now it's fairly obvious that Toyota has a problem with the RA61F 6 speed manual transmission. This has been well discussed on this board as well as the Tacoma World site (
TSB for T/O Bearing Issue: - Page 5 - Tacoma World Forums
). BTW, the Tacoma has the same transmission and has been having the exact same trouble since it's
2005 model year !
Besides the clutch disc problem, there is a more serious problem with the throwout bearing failing and ruining the pilot shaft it rides on. What makes this nasty is the fact that the pilot shaft is one piece with the entire bell housing (cast aluminum) and
can't
be replaced as a separate unit. You must have the
entire
bell housing replaced to properly repair the damage that results on the pilot shaft. That's not good news for owners who are no longer covered by warranty.
Is anyone interested in this approach to a repair :
PDM USA Tranquil Transmission Sleeve Kits
Unfortunately
, PDM does not presently manufacture a kit for our trucks. However, I'm pretty sure I can convince them to produce one (hopefully helped out by this thread).
(NOTE : Based on the interest shown in this thread, PDM has agreed to start production of a kit for our trucks !)
:clap: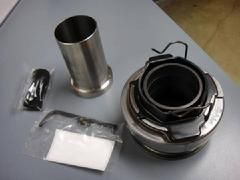 Also, I will mention here that on 12/22/2010, Toyota released a TSB #T-SB-0365-10 for the faulty TO Bearing problem.

Link to Toyota PDF document :
http://www.fjcruiserforums.com/forums/attachments/transmissions-transfer-cases-traction-aids/39379d1293636162-throwout-bearing-trouble-6-speeds-fj-clutch-bearing.pdf
.