UPDATE 9/17/2017
I hard coat anodized (Type III, Class 1) the light pocket bezels and hawse fairlead. It makes the aluminum pieces corrosion resistant and much more wear resistant. I didn't know dye-less hard coat will change the color. It turned out to be a darker shade of grey but it actually looks better than the original silver color. Tuned down the bling a little and looks like a better contrast.
Original Post Starts Here
About 2.5 years ago, I was on my last semester in college. I was taking a course in Finite Element Analysis. The course had a final project for an extensive simulation report on an object of our own choice. While in search of a front bumper, I started the journey to design and analyze my own bumper. Below was my preliminary design from my final report.
The semester passed, I graduated and got an A in that class. But my preliminary design still didn't really turn me on. So this project kept being dragged along as I started working as a full time mechanical engineer. As I continue to learn more about engineering through my job, I made several overhauls on the design. Every time is a little bit closer, but still not quite there. 1 year ago, I posted a thread here to get inputs from all my FJ friends. The suggestions I got really moved this project along.
http://www.fjcruiserforums.com/forums/4x4-off-road-tech/570393-poll-first-bumper-build-project-needs-input.html
Fast forward to this summer, one day I decided to ditch the traditional round fog light hole design and went with a more angular style. This finally got me nodding and smiling in front of the computer screen. Then, I made my first wood/foam board prototype.
After some design for manufacturing tweaks and aesthetics iterations, I placed my order for laser cutting. Ordering quantity of 1 really blew my wallet but I made no compromise. I received my parts on Fri, 8/25. Cleaned them all up and prepared for welding.
Since I'm not an experienced welder, my buddy helped me welded it together. He was so meticulous the whole time and I was really grateful to have him help me. My buddy is super cool so that's why he was welding completely upside down in the picture. (LOL, I couldn't figure out how to rotate the picture so I said let it go.)
One might ask what does my logo on the side mean. It is the Chinese character "匠", which stands for craftsman. You will find this character on Nissan GTR's hand build engine. It means "Takumi", master craftsman, in Japanese. The character on GTR engine is a modern font. For mine, I picked an ancient Chinese font.
Then I need to call myself something in English. "Craftsman" is not going to work for obvious reason. I definitely wouldn't call myself a Takumi. I believe in the value of humbleness and continuous learning and growth. Hence, I call myself as a Tinkerer
Finished! I drove it home in bare steel, and I couldn't stop smiling.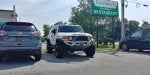 For coating, I chose Monstaliner with Silver Aluminum Chassis Saver as primer, both by Magnet Paint. From my research, this combination provides the ultimate rust proofing and abrasion resistance in DIY market. For the bezel around the light pocket, I could have just laser cut a flat plate. But as a perfectionist nerd, I really want a chamfer around the edge. So I spent the big bucks and had them CNC machined out of 6061-T6 aluminum.
Final results. The moment it went on my FJ, I knew all the hard work and lots of money spent were well worth it.
Separating the shell from the structure is seen on multiple other designs. I like this approach because I can put maximum robustness on the structure (close to the frame), and achieve lighter weight on the shell (far from the frame). More importantly, it allows very easy winch maintenance down the road.
I played with my Hi-Lift jack on my bumper. The extra droop from the long travel IFS made Hi-Lift concerningly unstable...
Here is a close-up to all the features and the texture of Monstaliner.
Right after I installed my bumper. I took off to Appalachian Toyota Roundup with 5 other FJs from FJ Northeasters. It was such an amazing event. I will close off with a picture from the event with my boys and gals from FJ Northeasters.