For years I have always wanted to start a build thread to document my journey with my FJ. And here I am today:smile
The Name
I like the character of a craftsman, someone who is humble, dedicated and good at creating and making things. I enjoy modifying my FJ equally, if not more than wheeling it. Hence I called myself a Tinkerer. My avatar is the Chinese character in an ancient font for tinkerer if you were wondering.
I work as a mechanical engineer. At least where i work, when we design a new part (injection molded, sheet metal, extrusions and etc), we call the first article samples
T-1
(Trial-1). These are always the most exciting parts to receive because they are the first time you touch the real incarnation of your designs. For the first fully functional product we assemble, we call it the
Alpha
build. Whenever I can, I love to design and fabricate some unique parts for my FJ. Therefore, my FJ is my alpha build with T-1 parts.
Latest Profile Pic
May 2019
December 2018
August 2018
July 2018
June 2018
Baby Pic
This is within 1 months I got my FJ new. As you can see, it was covered in plasti-dip ?
Data Sheet
2013 AT with off-road stuff

Front Suspension:
Toytec BOSS + SPC UCA (SOLD)
Rear Suspension:
Toytec Superflex Medium + Bilstein 5100s (SOLD)
OME60071L (in my garage)
MetalTech 1st Gen Medium Long Travel Springs
Modified Bilstein 5160s for Long Arm JK (25-187632)
MetalTech Offset Lower Links
Icon Double Adjust Panhard
Timbren Active Off-road Bump Stops
ADDCO 2301 Swaybar + Skyjacker Links
eimKeith Panhard Correction Bracket
Bumpers:
Tinkerer's Rear Bumper with Cam-lock Swing Out (in development!!)
Armors:
TRD TTUE Front Skid
RCI Integration Plate
Ricochet Transmission Skid
Trail Gear T-Case Skid
Icon Stainless Steel Rear Shock Skids
RCI Lower Link Mount Skids
Boztec Rear Diff Skid
Pure FJ Sliders
Wheels and Tires
Walker Evans 17" True Beadlock Wheels
35-12.50R17 General Grabber X3 Red Letter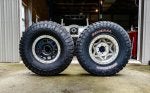 Drive Train
RCV +3.5" Extended Axles (D60 Outter/Plunging 930 Inner)
4.56 Nitro Gears
ARB RD121 Front Air Locker
Other Notable Accessories
Lifetime LED Amber/White Flush Mount Fog Light
Superwinch Tigershark 9500SR
ARB High Output Air Compressor CKMA12
RhinoRack 49" Pioneer Platform + ARB Rack Fit Kit (Instant $150 Saving!!)
Smittybilt Overlander RTT
Auxbeam Aux-trend series 21" Light Bar
Baja Designs LP9 Pro