As some of you may know I am a Master Volvo tech and have access to some pretty nice equipment. I have cruised this forum for quite some time since purchasing my FJ and would like to clear up some misconceptions or opinions.
Here are some facts and then on to the flush procedure that shops can do.
1) The trans is NOT a sealed unit. The fluid is accessible, flushable and replaceable/drainable.
2) Toyota, much like Volvo, does not have an interval for trans fluid replacement but this does not make me comfortable as a technician. The fluid can and will break down as well as carry clutch pack debris that can clog solenoids/harm the solenoid pack. ATF is formulated with friction modifiers and detergents that do not last indefinitely.
3) Drain and fills are perfectly acceptable but only replaces 1/3-1/4 of the total volume. I drained exactly one gallon from the trans pan (one gallon = four quarts). This means you will need to do drain and fills periodically. I would recommend every 30k-45k if you are picky like me.
4) Valvoline Maxlife and BG synthetic ATF are completely acceptable and far cheaper than Toyota WS ATF. I paid $17/gallon from Wal-Mart for the Maxlife.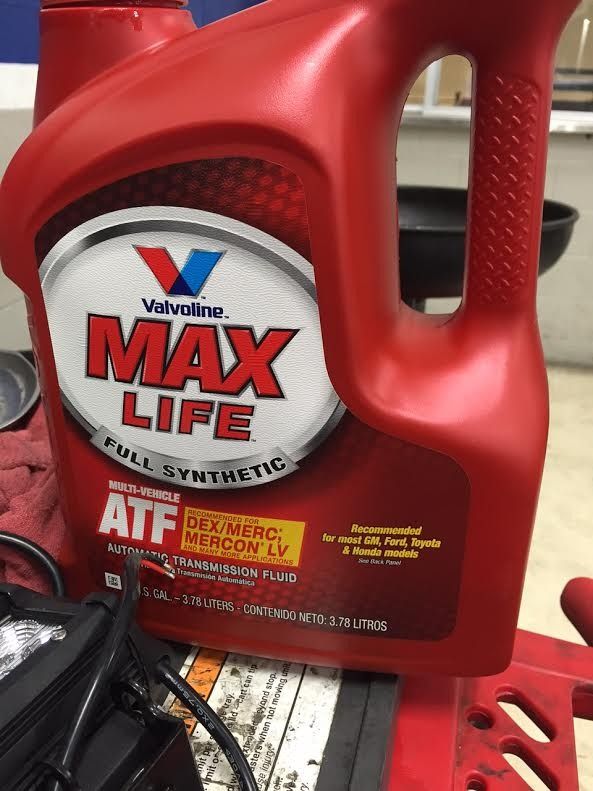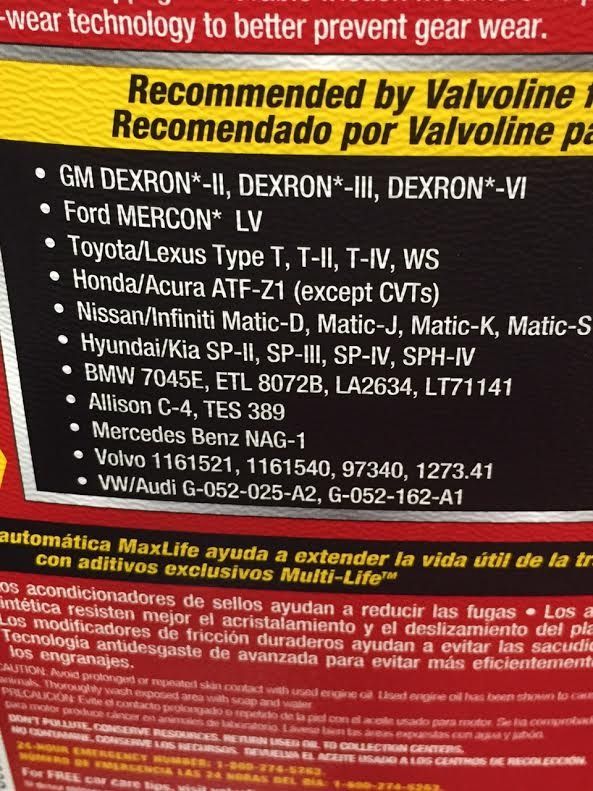 On to the flush!!
Here is the machine that does magic. It has an internal tank with a bladder inside of it (see the second pic). This allows the machine to pump in exactly what is pumped out of the transmission. This keeps the fluid level very close to where it needs to be when all done.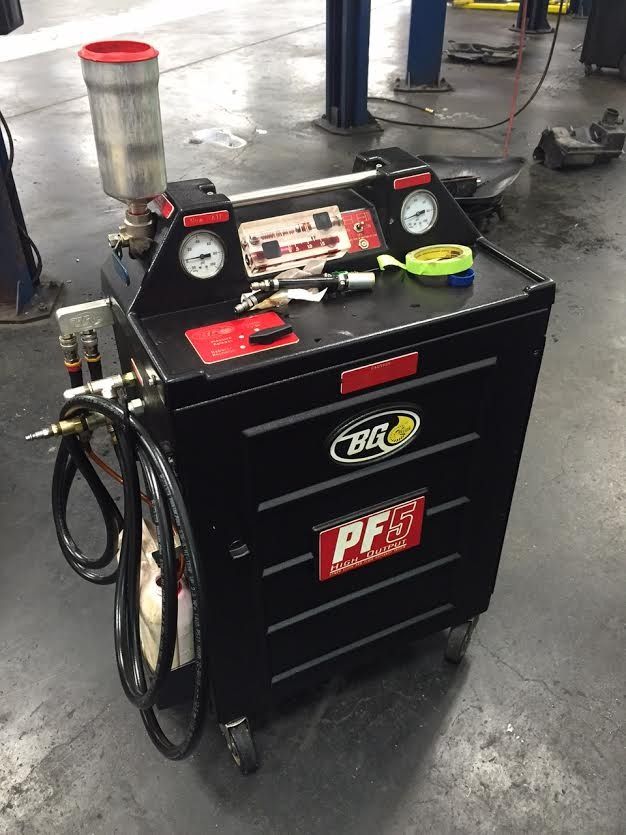 All that is needed is about 4 gallons (16 quarts) of ATF poured into the machine/tank and then you open a transmission line (anywhere in the system) to hook in. I chose the upper cooler hose from the radiator.
You start the vehicle with the flush machine switched to "loop", this means no fluids in or out of the machine. You allow the trans fluid to get hot and pressure to build up in the system.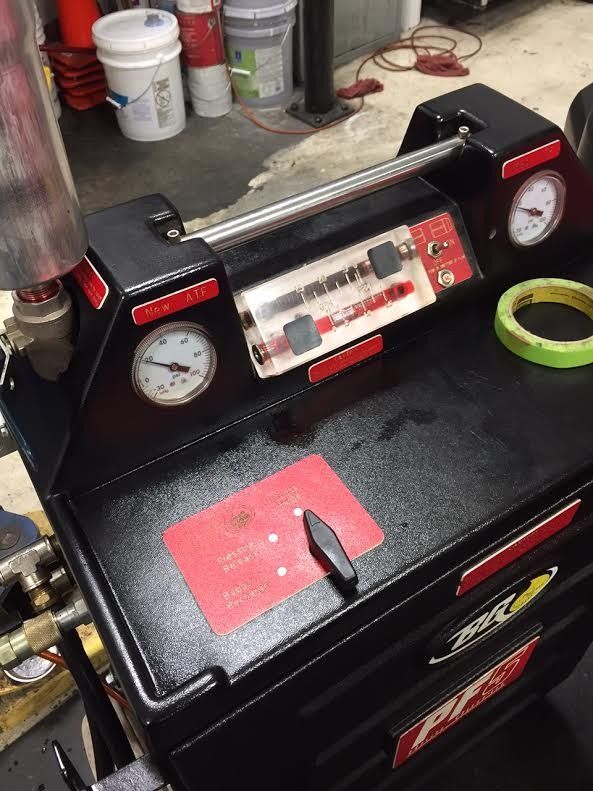 After pressure gets to about 20psi (give or take, varies by vehicle), you switch the machine to flush. Old fluid goes into the tank, pushes on the internal bladder, and then pushed new fluid into the vehicle. There is a window on the machine to see old fluid out and new fluid in. Notice the center glass tubes on the machine. The upper tube is nearly black and lower tube is bright red.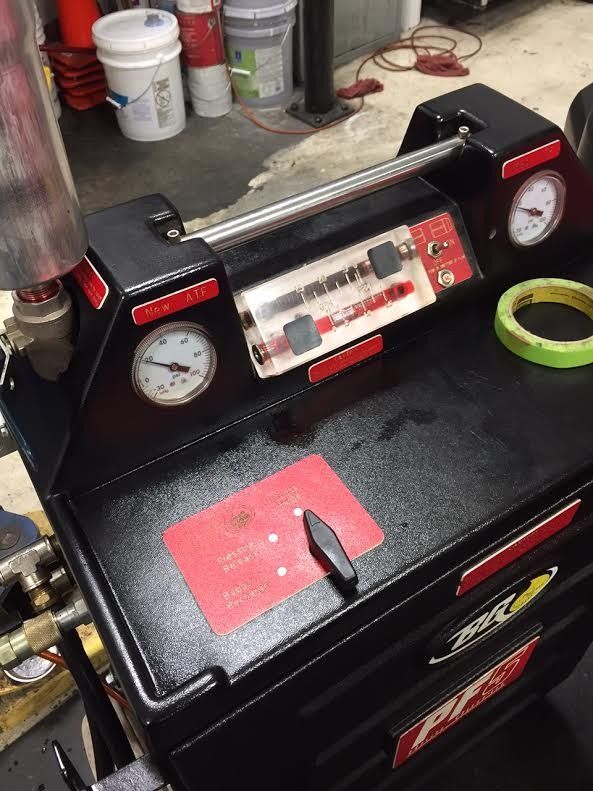 You allow the vehicle to idle, switch through a few gears, and just stand around waiting until A) the machine runs out of new fluids or B) the upper glass tube turns bright red which means the fluid coming out of the transmission is brand new/flush is complete.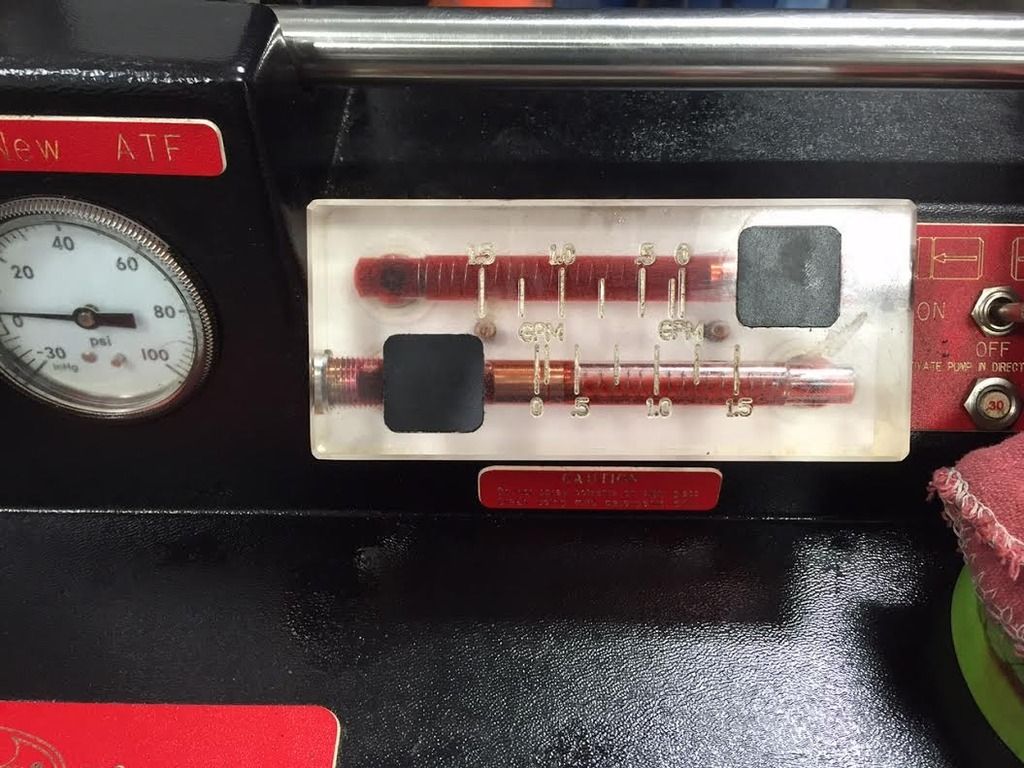 This does not harm the vehicle in any way. My trans didnt have a problem previously but I swear it shift smoother, almost like my Volvo. Let me know if there is anything I can help you with.:rocker: