Discussion Starter
•
#1
•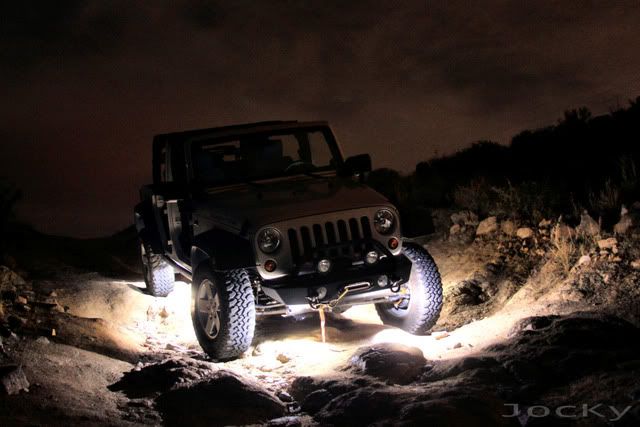 Tantrum kits are the ultimate strobe system on the market, featuring one of a kind LED pods that have lead the Tantrum kits to become popular for way more than just LED strobe kits for your car. Today Tantrum kits are found on the trails of Moab mounting to rock crawling jeeps, the dunes of Arizona for night time illumination where 55 watt fog lights used to be the norm, and in the Baja 1000 providing working light for night time repairs.
Vision X Tantrum LED Strobe and Rock Lights are designed to be easy to use and powerful. Each Tantrum kit consists of eight 1 watt pods, each with 15 LEDs, with a life span of 50,000 hours. The Tantrum pods are weatherproof to perform in adverse weather conditions. Whether on the dunes, on the rocks, or anywhere in between, Tantrum LED Kits are the perfect lighting solution.
LED Pods - Ultimate Functionality
The Tantrum LED Strobe Kit is the ultimate strobe kit. With the included control box, the LED pods can be controlled to be solid on or operate on multiple flash and scanning patterns. The lights can also be controlled by the remote control with a range of 1000 feet. On top of that the control box also has a built-in microphone so it can play along with your favorite music.
Plug and Play
The Vision X Tantrum LED Strobe kit is easy to install, coming with the control box, distribution block, pods, and remote control which connect easily and then plug in with the included cigarette lighter adapter for the ultimate plug and play installation. Check out our LED pods for additional pods that can be wired up directly to a 12volt source.
Rock, Accent or Dome Lights
> Weatherproof Housing For Adverse Conditions
> Solid On or Flash Pattern Operation
> Extremely low 0.67A Draw
Technical Details
Dimensions10" x 18" x 2"
Input Voltage12V DC
Amp Draw (12V DC)0.08A-0.25A
Added Features
• Multi-Speed Scanning and Flash Control
• Multiple Scanning and Flash Patterns
• Cigarette Lighter Adapter Included
• No Ballasts, Bulbs or Lens
• Wireless Control
Kit includes 8 led lights, controller unit, remote, wiring.

***** Purchase Vision X Tantrum LED Lights HERE!!!! *****

USE promocode T4R

Each kit $119 delivered to the lower 48


HIL-STA LED STROBE AND ROCK LIGHT KIT AMBER
HIL-STB LED STROBE AND ROCK LIGHT KIT BLUE
HIL-STG LED STROBE AND ROCK LIGHT KIT GREEN
HIL-STM LED STROBE AND ROCK LIGHT KIT MULTI COLOR
HIL-STR LED STROBE AND ROCK LIGHT KIT RED
HIL-STW LED STROBE AND ROCK LIGHT KIT SUPERWHITE
[/B]
Total Automotive Performance is your source for Vision X LED Lighting! Contact us at 702.979.1577 or

[email protected]

anytime for more information or to order.