The theme of this month's contest was to take a photo in front of some sort of historical or cultural monument. The winner will recieve $100 towards the purchase of any product with any supporting vendor of the forum.
Here are the entries:
Corey
writes:
Greenwater is on the outskirts of Mt Rainier National Park.

Up where we were this past Saturday the famous Naches Trail the pioneers came over from the East to the Western side of Washington state.

We were up not far from there, but you can not drive clear upto it now, to much snow.

The pioneers had to even lower their wagons down steep cliffs using rawhide straps.

The Pacific Crest National Scenic Trail winds in and out of the district on its way from Mexico to Canada, and crosses parts of the Naches.

The Pacific Crest trail is a very famous hiking trail from Canada to Mexico.

More historical info on the area.

http://www.nwjeepn.com/naches1.htm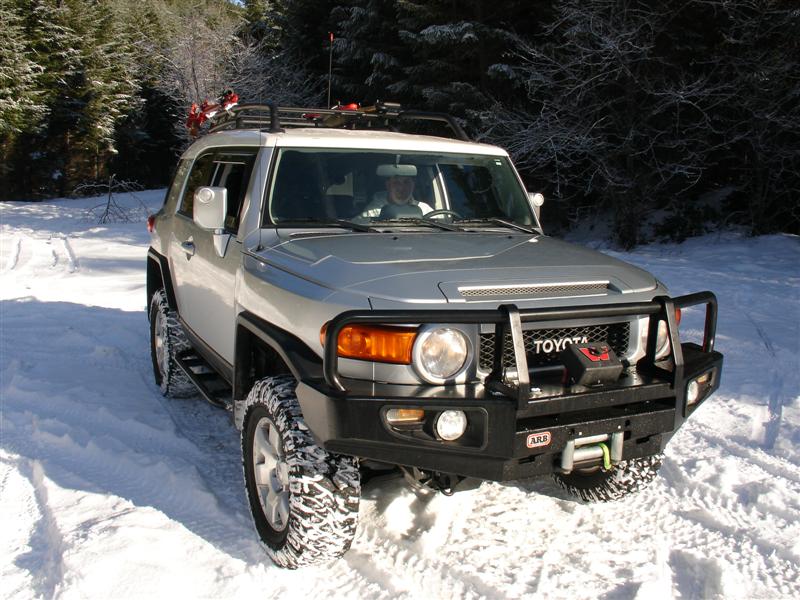 Tony5150RN
took a photo of his FJ at the southernmost point in the United States:
sandabbe
writes:
Here is our FJ, up in the Santa Ana Mts. behind our house, at what is known as Beeks Place, This hand made Rock home was Built by Beek himself, he lived up there as a lookout to the Pacific during World War II to alert the Government if he saw enemy ships and or subs! There used to be a 3 story tower(Forest service and wind knocked it down to 1 story) with crows nests and the like for him to view the ocean with his binoculars.
FJ4GD
took a picture at the Spam Museum in Austin, MN. Who knew?
I love SPAM…SPAMMY, SPAM, SPAM…Here it goes down, down into my belly…

SPAM played an important role in feeding the Allied Forces during World War II and has been around since 1937. To me that makes this a picture of something historic. It's also the only SPAM I want to receive!
BayAreaBilly
took his photo in perhaps one of the most recognizable spots on the planet.
fivestar13
took his photo in Huntsville, AL. Read the sign for a description of what went on here:
Air2Air
shows off his tricked out FJ in front of a historic WWII-era plane (a C47) in Chino, CA:
HMardueno
took a trip out to the Hoover Dam. Ever been there? It's freakin' huge!
CO-Jeff
writes:
And finally,
air
, who lives in Washington D.C., took a picture in front of the Holiday Inn.
Voting will close in 3 days.