To read the original full thread and post questions/comments on this topic, please go to
http://www.fjcruiserforums.com/foru...h-bumper-comparison-warn-vs-all-pro-pics.html
Due to some fitment problems that were specific to my particular FJ, I had to switch winch bumpers from the Warn to the All-Pro. For further explanation, see
http://www.fjcruiserforums.com/forums/4x4-off-road-tech/34534-warn-winch-bumper-owners-q.html
Since I've had a chance to install
both
units on the same FJ, I thought I'd take this opportunity to post up a simple comparison between the two based upon my own personal experience and opinions. ("
Your
mileage and opinions may vary.")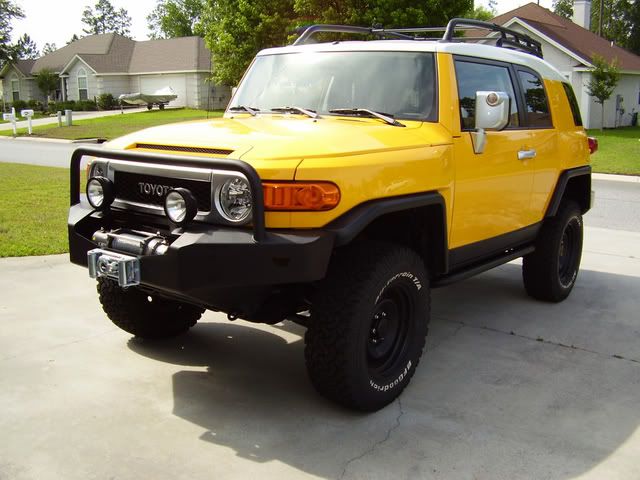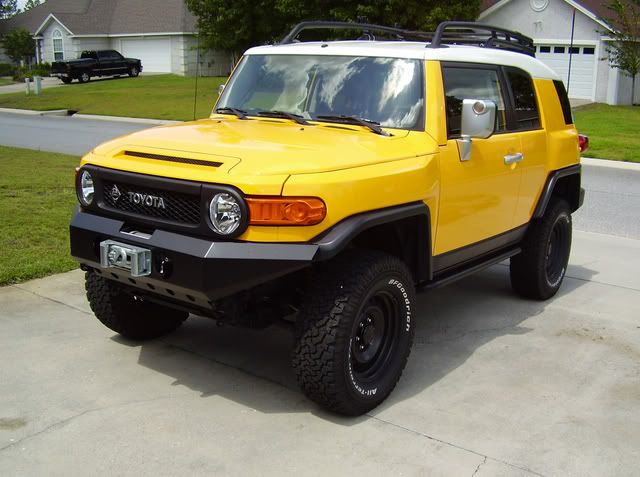 The Warn Winch Bumper Model 73040
Street price - $875 + shipping
Weight 173 pounds (including brush guard and mounting brackets)
Winch tray – open style
Installation time (after OEM bumper removal) – approximately 5.5 hours
The All-Pro Winch Bumper Model 2104FJ-AP
Street price - $799 + shipping
Weight 74 pounds (w/o brush guard; no auxiliary mounting brackets required)
Winch tray – enclosed
Installation time (after OEM bumper removal) – 2.5 hours
My FJ is equipped with the Old Man Emu "heavy" (886/896) suspension and BFG 285 All-Terrains.
Both units required the entire removal / deletion of the OEM plastic front bumper assembly, as well as, the aluminum support cross-bars. In addition, Warm bumper required the removal of the OEM standard skid plate and several other mounting bolts to necessitate the installation of the accompanying support brackets. The All-Pro bumper required some slight bending of the A/C condenser line.
I left my winch control solenoid box under the hood, even after switching bumpers . . . . since it was already there anyway.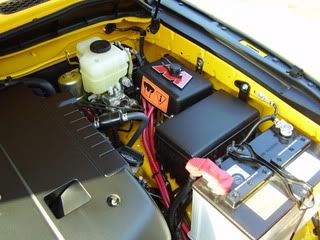 Personal observations and opinions:
The Warn bumper – Pros:
With its great mass and stature, it could probably withstand the impact of a herd of rhinos. Not only does it provide substantial upfront protection with its size, but the multitude of supplemental support brackets ensures that it's not going anywhere, especially during off-axis winching.
The Warn bumper also maintains what most would call a traditional or "classic" look. Rugged in it's overall styling,
and
rugged with its wrinkle finish texture. The massive brush guard hoop makes the bumper look even that much more intimidating.
The open tray design permits a variety of winches to be installed unencumbered, and access to the winch for both installation and maintenance is as obvious and simple as it can get.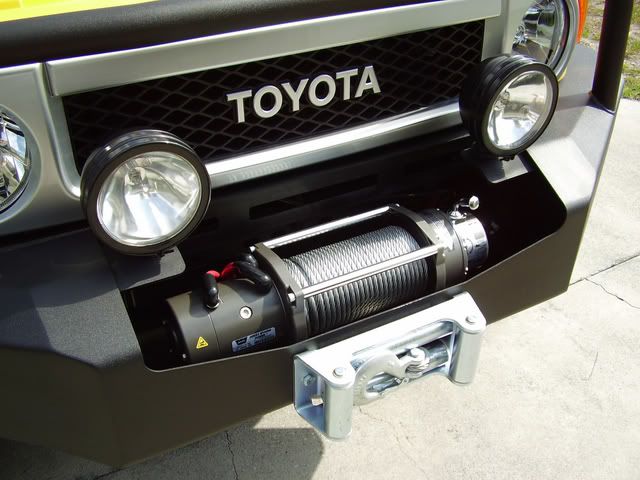 The Warn bumper – Cons:
That great size that gives this bumper its second-to-none "humungous" appeal, is
also
one of its shortcomings. The weight of it (plus a mounted winch) is
more
than noticeable hanging out front of the FJ. I personally suffered a noticeable gas mileage difference of about 2-3 MPG after installation. And, with the equivalent of Rosie O'Donnell sitting on your front end, you definitely notice a slight loss of "git-up-'n-go" during acceleration.
Installation time was over double that of the All-Pro, mainly due to some minor fabrication of the frame mounting area and attachment of the supplemental reinforcement brackets. This is NOT a bumper that you can easily hang up on the front of your FJ by yourself. A minimum of at least one helper is almost mandatory. And due to its enormous weight, the Warn bumper
does
sag the front end quite a bit.
Due to its tight fitment tolerances, unfortunately one out of about 25-30 customers have experienced some problems with lower bracket contact with the frame and body that results in a very annoying clunking sound when encountering small bumps and in some sharp turning instances. Warn provides a set of retrofitted brackets to solve this problem on most of its customers FJ's, but there are still enough slight variances between FJ's that even the replacement brackets won't always fit. Sadly, mine was one of them.
However, I'll give credit to excellent Warn's customer service department for researching and acknowledging this problem, and then
completely
buying back my bumper (purchase price + shipping). And to
me
, fantastic customer service like
that
is just as important as a quality product.
The All-Pro bumper – Pros:
A (
relatively
) simple-to-install bumper that only requires the attachment of the bumper onto the eight primary frame mounting studs and not much more. Final alignment only took about two minutes by simply raising or lowering one side or the other prior to final nut tightening.
Although the All-Pro bumper doesn't share that massive "killer" look with the Warn bumper, its simpler styling does follow the design contour lines of the FJ quite nicely.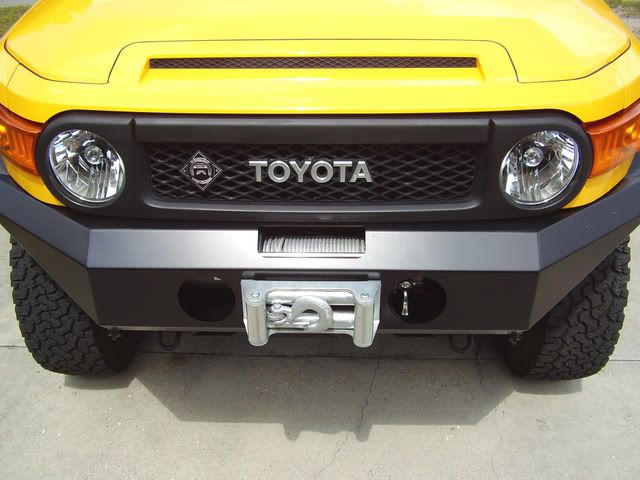 With its super-light overall weight, it's barely noticeable (
if
at all) while driving. Since I've installed it, I have since returned to the gas mileage that I had been getting before the Warn bumper installation. And, my acceleration "pep" has since returned as well.
The approach angle and side-to-side wheel clearance is noticeably better than the Warn. And, the front of the bumper protrudes substantially
less
as well.
The All-Pro bumper – Cons:
While the overall installation of the All-Pro is pretty straightforward, the installation instructions leave much to be desired, especially compared to that of the Warn's detailed step-by-step instructions. Limited blurry photographs within the instructions seldom coincide with the often-confusing text. And, in some of the more important steps, photographs are left out completely.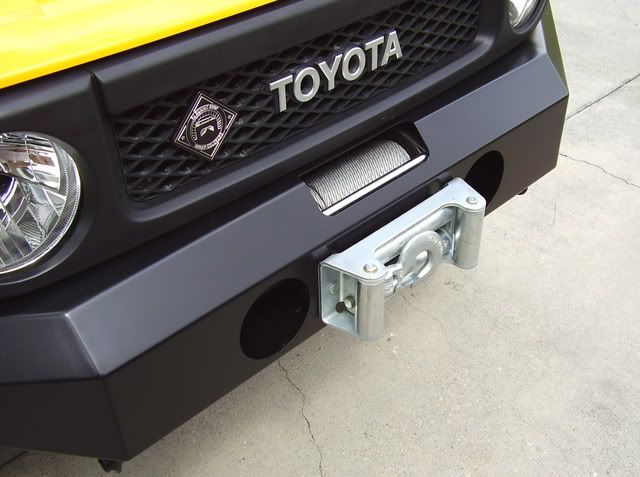 Tightening of the two upper nuts on frame mount studs require a universal joint socket wrench and one heck of a lot of patience. And, accessing the forward mounting bolts for the winch within the winch tray is one of the more difficult tasks that I've experienced on my many mods to my FJ. (Stubby wrenches and stubby hands/fingers are a must.) All-Pro could've easily cut a pair of access holes from the bottom of the bumper (like Warn did) to make this particular job one heck of a lot easier and less time-consuming.
Ground clearance and front tire clearance - Warn vs. All-Pro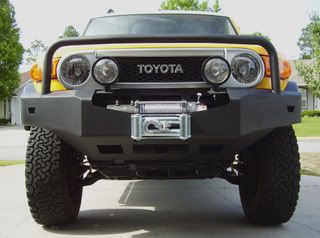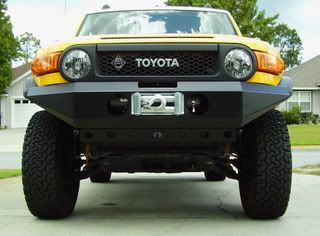 Bumper to skid plate fitment - Warn vs. All-Pro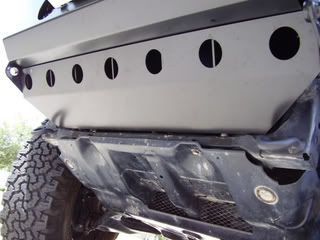 Stance and height from ground to bottom of tow hooks - Warn vs. All-Pro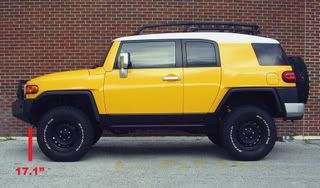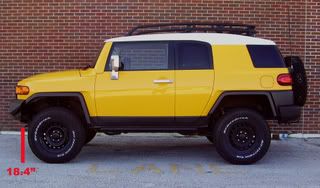 Approach angle and bumper protrusion - Warn vs. All-Pro
(Factory approach angle is 34 degrees with stock suspension and tires.)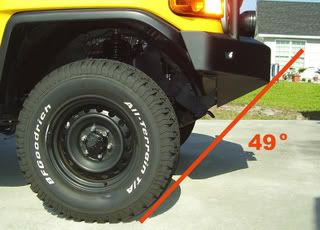 Conclusion:
I hate to come up with a "no winner" wrap-up, but
that's
going to have to be the case here.
Both
winch bumpers have their respective pros and cons, and each fulfills its stated promises within the aftermarket winch bumper arena.
The obvious trade-off between the Warn and the All-Pro is
size and weight
versus . . . . well,
size and weight
. The amount of protective girth that the Warn provides, is countered by the All-Pro's sleek design and light weight.
Which one would
I
personally pick?? Well . . . . I
did
pick both. And, I'd be equally confident with each bumper's capabilities. And, like everything else that's available for the FJ Cruiser, most of it comes down to personal preference.