So here is the story, this last weekend while offroading all was going fine and dandy when suddenly my spotter noticed oil leaking quickly out the bottom of my FJ. Got out and checked myself and sure enough it was true. Thought I must have scrapped by oil pan or something since I currently have no skid plates.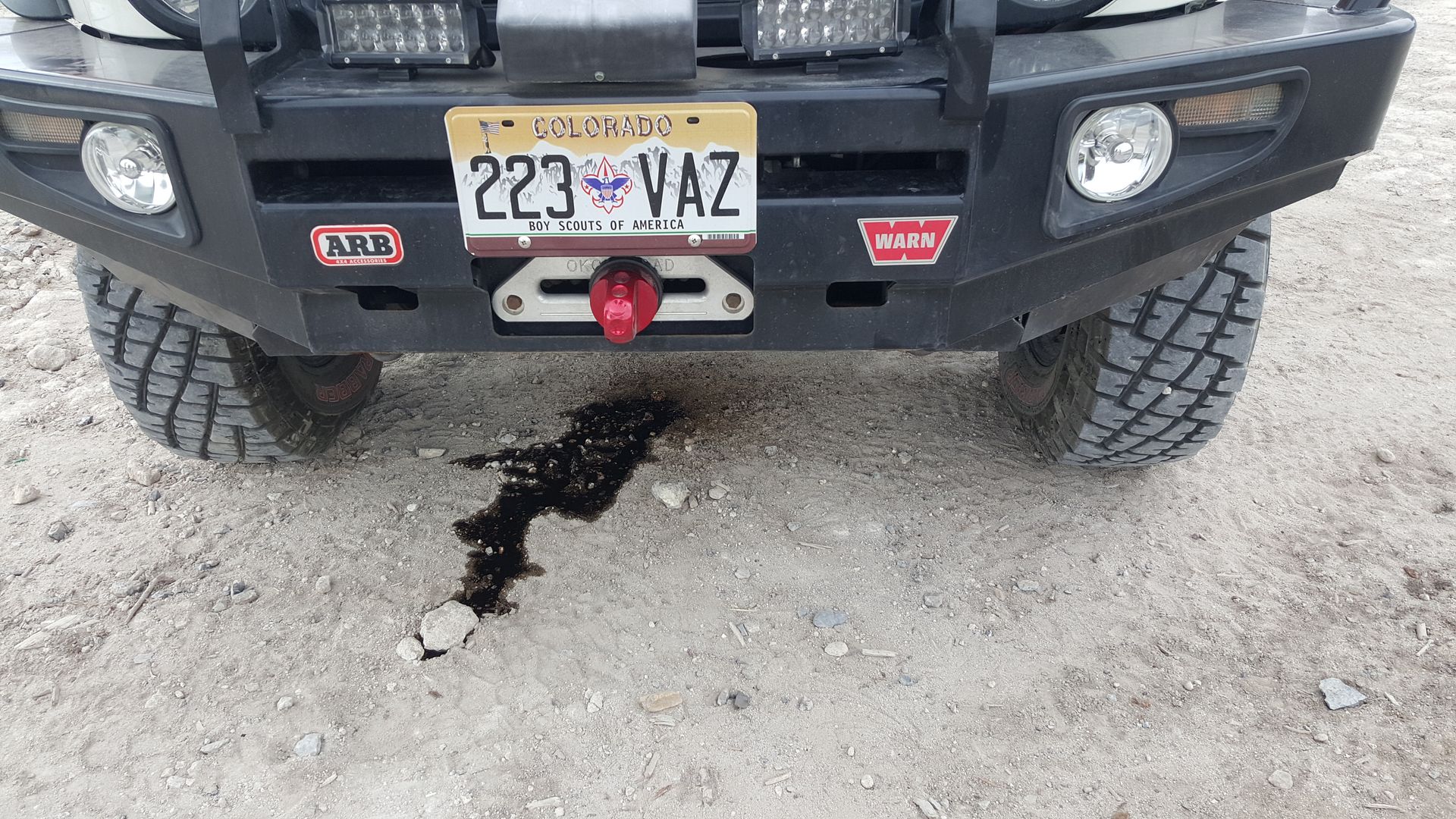 Upon further inspection I noticed the regular oil pan was unscathed from the offroading and so was the front differential, but that the oil was coming from a location further up. Climbed further underneath the FJ and looked up while getting splashed with hot oil in the face is it still dripped out. I noticed a small crack in the area off to the side of the oil pan, so basically the bottom of the engine or what diagrams call the "upper oil pan" or "oil sub assembly".
I was confused how this could have happened. The location was up and out of the way from rocks and everything else in the area was fine, but then I noticed 2 missing bolts that are designed to secure the rear end of the front differential. In the following parts diagram it is part number 90105-12272, these are the bolts that were missing. Without them the front differential had quite a bit of play, and as I discovered, enough to the point that when under extreme stress from torque and articulation that it can contact and puncture the upper oil pan.
You can see in the following photo off to the right side the bracket that has bolts in it and this is the bracket you need to look for to ensure you have the bolts. One bolt is bolted from the bottom and the other side it is bolted from the top. Off to the left are the bracket arms that one would unbolt from the front and then add spacers to if they were installing a diff drop.
A similar event unfortunately happened to another forum member during one of the early FJ Summits, his damage was a lot more than mine though!
So watch this video and then go out and check to see if you have these bolts and if you do, make sure they're tight! Not sure why mine were missing, but I know in the past my FJ had different mods like a 6" lift and diff drop that were removed so some idiot probably forgot to put these bolts back in. Don't let this happen to you! Check the bolts! Could save you over $1,400!
Make sure this thing is bolted!!