Lots of folks both here on the forums and on other FJ groups like on Facebook and such always seem to be asking the same question when it comes to modding their rigs, "WHERE DO I BEGIN?"
Usually these people are fairly new to the FJ Cruiser community or they are just now finally looking to upgrade their setups. Commonly these folks have pretty bone stock FJs or close to stock rigs and are just looking for honest direction of where they should start spending their money to make their FJ Cruiser more capable and protected for offroading. I typed up a general version of the following list recently for someone on Facebook and figured I would share it here in an elaborated form
as my own personal opinion
of where to begin. Take it or leave it, but this is just the path I would do/have done if I were building a rig from stock to ROCK! :rocker:
This list will definitely only apply if you are wanting to build a solid off-roading rig that is similar to what 90% of other off-roading FJ owners do and have done with no problems!
I would also be sure to check out other lists like this one for more advice on where to put your money:
The first $2000
1.
Rock Sliders
- If you don't already have the factory/OEM ones or you just want to upgrade, start with rock sliders. These will offer crucial protection needed for your doors and lower side panels. There are many brands to choose from with many different design features, but I suggest sliders with a kickout at the rear as it will help with cornering around obstacles and making sure your rear body panels are more protected from rocks or trees. I've seen photos on here of someone's trail damage where if they had had sliders with kickouts, their rear fender wouldn't have gotten damaged from a close tree. My uncle,
@Uncle2FJX2000
, has a pretty stock FJ Cruiser and his first big mod was rock sliders from PureFJCruiser after he saw at FJ Summit X how his factory side-steps had taken quite a beating and weren't suitable for taking off-road impacts. If you have the OEM rock rails (which I actually had on my first FJ) you may look at upgrading them. I did use mine and I have seen others use theirs, meaning I have seen the entire weight of one side of an FJ resting on them and scraping against a rock. They get the job done, but they are so tight to the vehicle that they don't offer a lot of protection unless the rock or obstacle is right underneath you. Objects protruding from the side would still easily be able to make contact with the vehicle, and I've read the factory sliders can rust from time to time or be crushed if the impact is hard enough. So going with an aftermarket option is never a bad idea. In the end, rock sliders are a necessity if you want to have a suitable off-road rig and want to avoid the headaches of possible lower body damage on the trail.
Check out this guide from Iconic_ for rock sliders:
Rock Slider Comparison Guide
Standard step rails wont cut it!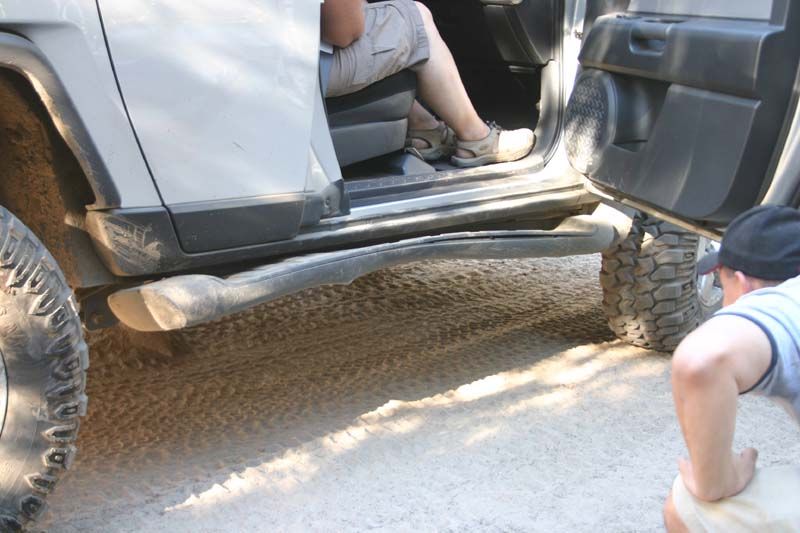 Strong rock sliders are the way to go!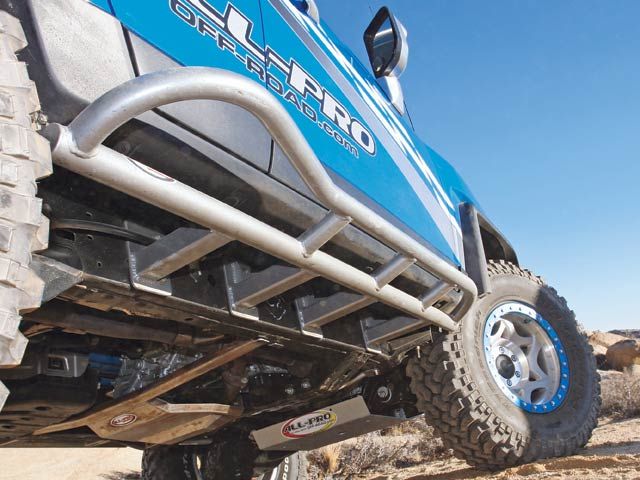 This FJ Cruiser is being lifted completely off the ground by ONLY its rock sliders! Now there is a strong product!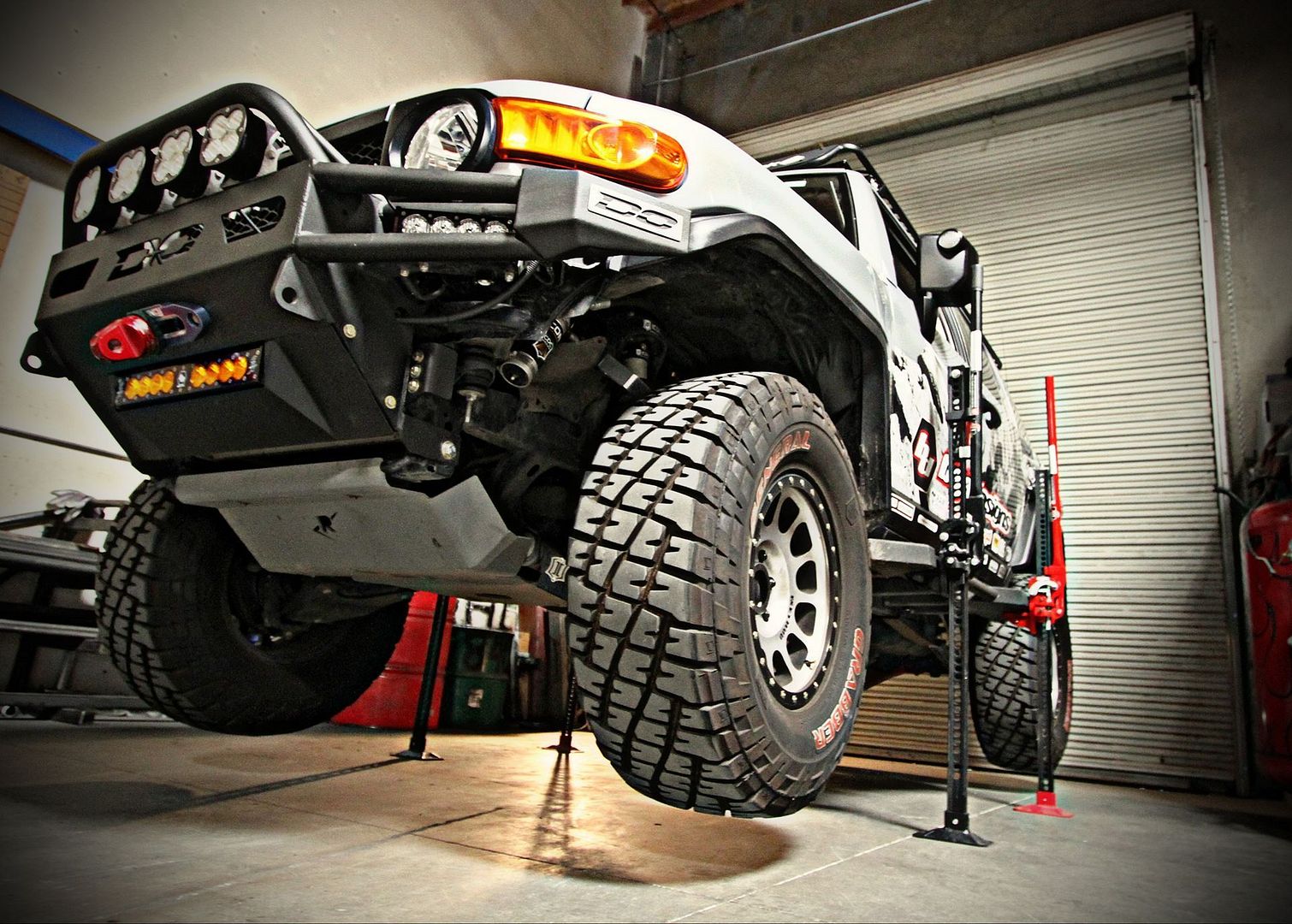 Kick-outs are sometimes a good idea.
2.
Suspension Lift
- I just want to say now that the FJ Cruiser is very capable as is and I would be sure that you get some offroading in with your rig in stock form so you can see just what it can really do. But adding a lift will give your FJ an additional edge as it will increase your approach, descent, and break-over angles and make scrapping on underbody components a little less likely as well as increase the ride quality and capability of your suspension. For the standard FJ Cruiser off-roader, I would choose the most common and capable kind of lift found in our community, a 3" lift. And when I say a 3" lift, I mean a REAL 3" lift. I wouldn't recommend getting the cheaper and therefore more appealing spacer lifts/leveling kits that you see on the market like the somewhat popular Daystar kit or even a Rough Country 3" Lift as it only uses spacers to increase the front ride height. Choose a kit that actually replaces the front strut assembly with new components as well as the rear shocks and coil springs. A 3" Old Man Emu lift kit or 3" Bilstein 5100 lift kit is a good option that is really affordable. Keep in mind however that it doesn't have (much) adjustability, so you can't tune your ride height if your FJ is riding a little high or low in the front like you can with adjustable coilovers. If funds are limited but you still want a kit with adjustable coilovers, look at ToyTec lifts as they have a few options to choose from. With more money you can upgrade to some really top notch kits like King, Fox, Icon, etc. I would spend the money to do it right the first time and get a kit with adjustable coilovers in the front, and if you plan to off-road Baja style, get front and rear shocks with external reservoirs. New upper control arms will also be a great option if you have the extra $$$ as the factory UCA ball joints tend to fail and not do well in lifted applications, especially when it comes to keeping the ideal alignment.
Here is a guide to FJ Cruiser lifts that may help, and as I suggested, ignore the spacer lifts:
The NEW Complete Lift Listing and Comparison...
Go for this! Full coilover/coil/shock replacement and other components.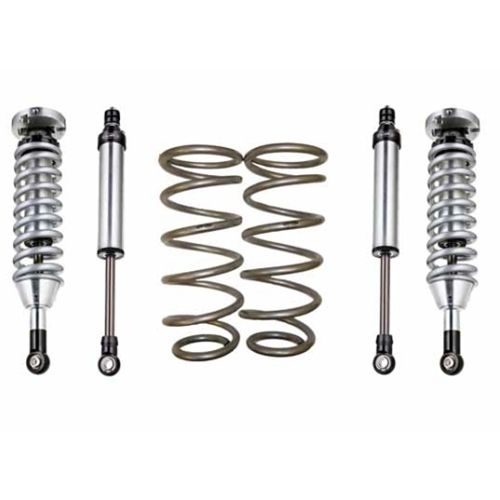 Avoid this! Simple lift achieved by adding a spacer above the front strut or rear coil. Some come with new rear shocks or rear coils but avoid the front spacers!
3.
33" Tires
- For the common FJ Cruiser off-roader, the most popular tire size that tends to have little to no problems when it comes to rubbing is the 285/70R17 (if you have the factory 17" wheels) or 285/75R16 (if you have factory 16" wheels) which is roughly a 33" x 11.50" tire. This is a tire size that has been run since the FJ's beginnings and many people are very pleased with the results. It looks good, performs good, doesn't affect the speedometer much at all or affect engine power/torque, and is very available from pretty much every brand of tire out there. If you really desire to, you can look at aftermarket wheels, but be sure to do your research and see what others have done to see what will fit so you don't have any issues with rubbing. The most common rubbing problem that results when people have an aftermarket wheels or tires is rubbing the frame where the body mounts at the rear of the front wheel wells. With different offset/backspacing than the factory wheels, wider tires, or when folks run wheel spacers, the tire is then able to contact that body mount making a "body mount chop" necessary. You can do plenty of research on here to discover how that is done or how to avoid it. But in general, the 33" tires and a 3" lift are a solid choice and are the most common mod combo by far when it comes to FJ Cruisers. I recommend getting the tires and lift installed around the same time as it will keep your FJ from looking like it skipped leg day at the gym! :lol:
Here is a link to the wheels and tires section of the forum, just go here for all your wheel and tire questions! Be sure to read the sticky threads in that section first as they will help you find the answers to the most common questions concerning fitting any tire or wheel size:
Wheels and Tires - Toyota FJ Cruiser Forum
A classic 285/75R16 on TRD 16" wheels tackling Moab just fine!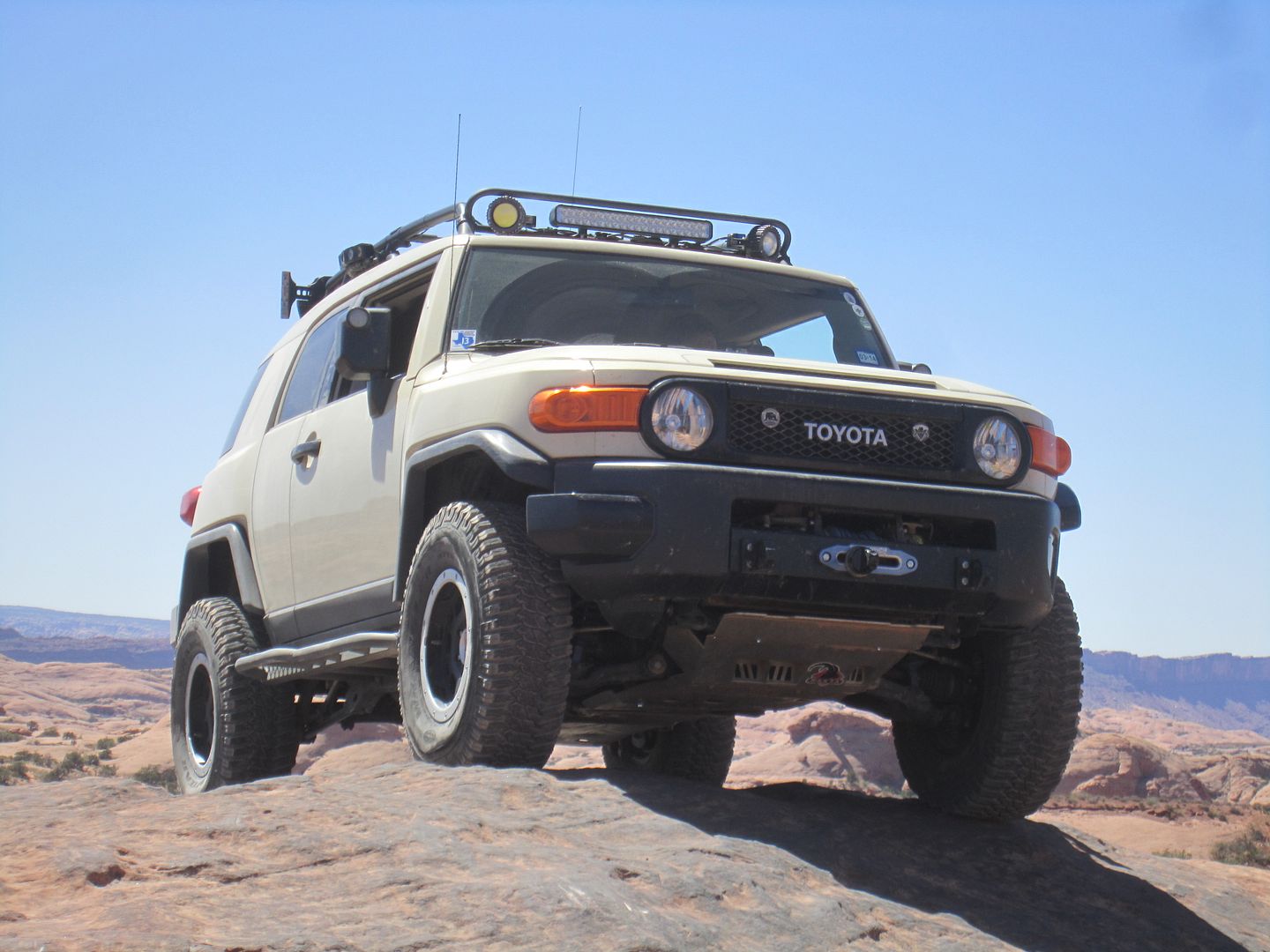 A 3" lifted FJ with 285/70R17s on factory 17" alloy wheels at full turn while off-roading and no rubbing!
4.
Bumpers
- There are many options when it comes to bumpers from those that are of a tubular design to those that are made of plates of metal, but really it all just comes down to your personal preference. Some will be lighter and made of aluminum but most come in steel. Some are designed to have winches mounted in them so then you have a useful recovery tool for off-roading or other situations. Some have large brush guards that will help protect your rig in the event of an accident with another vehicle or animal impact as well as offer off-road protection of course. Do your research and choose a bumper based on your preference and needs. The front bumper is what most will probably focus on, but the rear bumper is also important. Some rear bumpers can have nice swing out arms that are good for carrying equipment and mounting heavier/larger tires to alleviate stress on the rear cargo door of the FJ. If you're looking for the most ideal bumper for off-roading purposes specifically, the lower the profile of your front and rear bumpers, the better your approach and descent angles will be so you'll be less likely to scrape on them when approaching an obstacle or coming off an obstacle. Make sure to check out other bumper related accessories as well from aftermarket lighting to winches and even limb-risers and whatnot.
Here are listings for front and rear bumpers that may help in your decision making process:
The NEW Complete Front Bumper Listing & Comparison...
The NEW Complete Rear Bumper Listing & Comparison Thread
A standard Demello Offroad plate bumper design with brush guard.
A Trailworx Fab tube style bumper design.
A couple Expedition One rear bumper designs including one with a swingout!
5.
Skid Plates
- These pieces of aluminum or steel under-body armor will serve as important shields to protect your FJ's under-side components. You'll find there are companies that sell the major pieces of armor including front bash plates, engine skids, transmission skid plates, and gas tank skids, etc. But there are also those who offer other specialized armor pieces like lower control arm skids, rear lower shock mount skids, or front and rear lower link skids as well as rear differential skids or E-locker guards. With skid plates you'll be so much more at peace of mind when you go off-road and you'll have a lot more confidence to tackle any situation!
Here is a comparison for skid plates that may be handy:
The NEW Complete Skid Plate Listing & Comparison Thread
Photos of Budbuilt skid plates that offer protection of your FJ's underside.
6.
What Next?
- Well at this point if you have done everything prior on the list, you're going to have a solid build! But as we all know, the modding is never complete! Your own goals for your FJ and your future travel plans will greatly determine what direction you may want to go with your mods. For some they may want to enhance the performance of their FJ Cruiser so logical mods for them may include a supercharger, cold air intake, aftermarket exhaust, exhaust headers, etc. But for others they may have plans to overland travel for weeks at a time and the FJ will become their base camp, so dual battery setups, roof top tents, refrigerators, cargo shelves, etc. may be on their radar. Just look at what you want to do or what matters in your eyes to increase the quality of your FJ experience and spend your money according to those goals. The forum will be an excellent resource for doing research for any sort of mod you can think of. Be sure to search around on the forums first when questions arise but if you are needing specific info about a mod, then be sure to ask!
A decked out FJ with 35s, a roof top tent, snorkel, and many other goodies!
Good luck in your building endeavors and I hope this has been a useful list to someone!